Delicious chocolate cake made in a mug and ready in just one minute!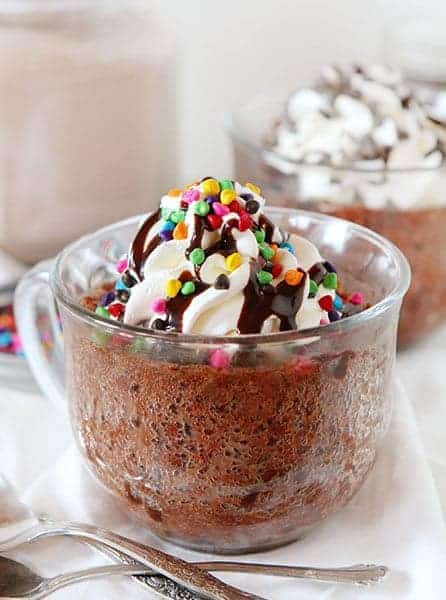 I was lost in a Pinterest rabbit hole the other day. When this 3-2-1 mug cake was in front of me I was fascinated.
I mean, literally in 1 minute the cake was ready. This is a emotional eaters dream come true!
I mean, not that I am an emotional eater or anything. I only eat when I am happy, sad, confused, bored, tired, surprised, afraid, giddy… well you get the idea.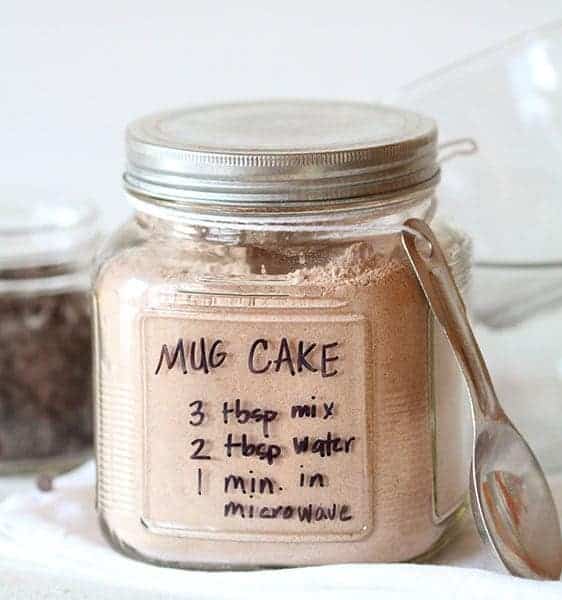 The concept is easy.
One box angel food cake mix. One box any flavor cake mix. Combine.
When ready to eat:
3 tablespoons cake mix
2 tablespoons water
1 minute in the microwave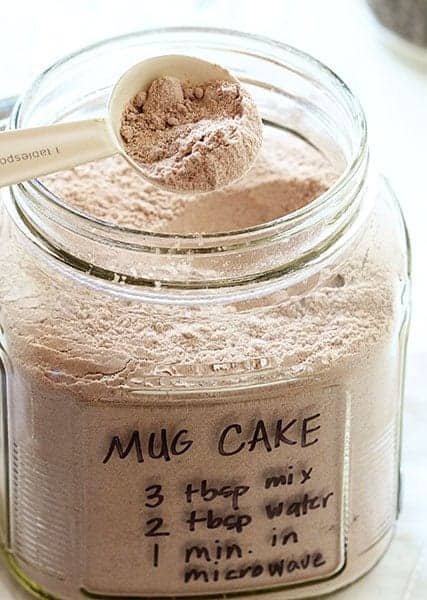 And yes it is that easy!
But lets get real about a couple things.
This cake does not compare to a homemade Perfect Chocolate Cake. Or a Homemade Yellow Cake. Or any from-scratch cake that you make.
What is does, quite beautifully actually, is serve a craving. It's chocolate. It's hot. It's quick.
It's a small portion so you don't have to add 'major guilt trip' to your list of daily tasks.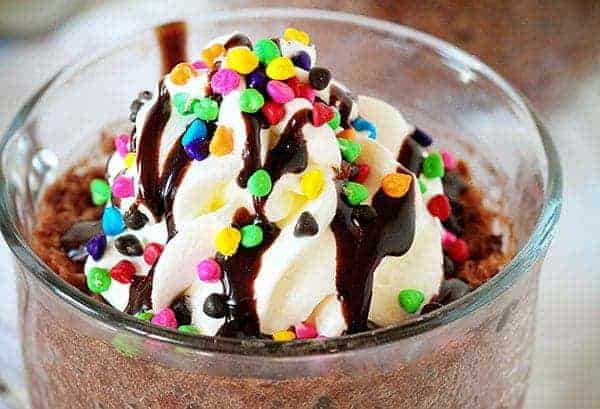 I experimented with a LOT of flavors and settled on chocolate cake with mini chocolate chips and massive fun toppings with sprinkles.
Because, sprinkles.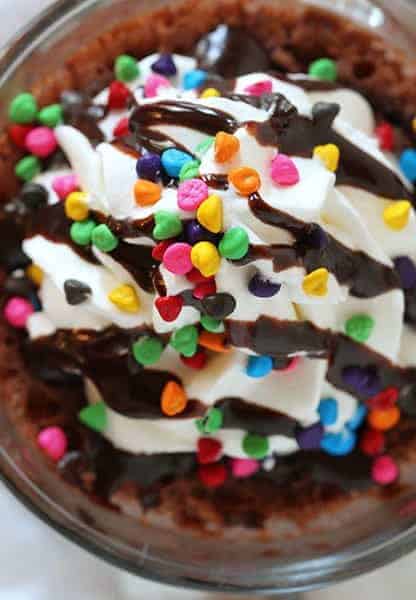 These are Mini Rainbow Chocolate Chips which is right up there with sliced bread in terms of inventions that make my life awesome.
I just want to look at this picture and forget that there is a child climbing on top of my printer and pressing buttons with wild abandon.
On to the recipe!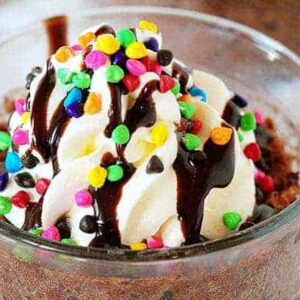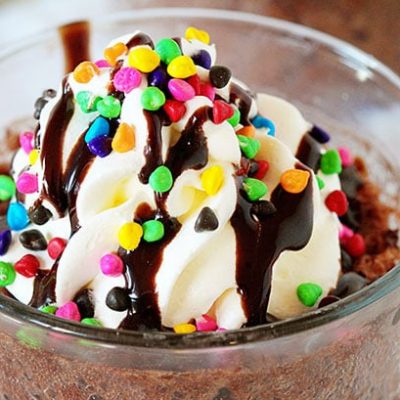 chocolate mug cake (in 1 minute)
Delicious chocolate cake made in a mug and ready in just one minute!
Keyword:
chocolate mug cake
Ingredients
Cake Mixture

1

box angel food cake

1

box chocolate cake

Mug Cake

3

tbsp.

cake mixture

2

tbsp.

water

1

tsp.

McCormick® Vanilla Extract

optional

2

tbsp.

mini chocolate chip

optional
Instructions
Cake Mixture

Pour angel food cake and chocolate cake mix into a large bowl and whisk until combined. Place in an airtight container and store for up to six months.

Mug Cake

Measure out cake mixture, water and vanilla in a mug and stir to combine.

Drop in chocolate chips.

Place in microwave for one minute.

Allow to cool slightly before eating.

Garnish with whipped cream, chocolate sauce, sprinkles, cherry, whatever suits your fancy!
Barely adapted from Duncan Hines.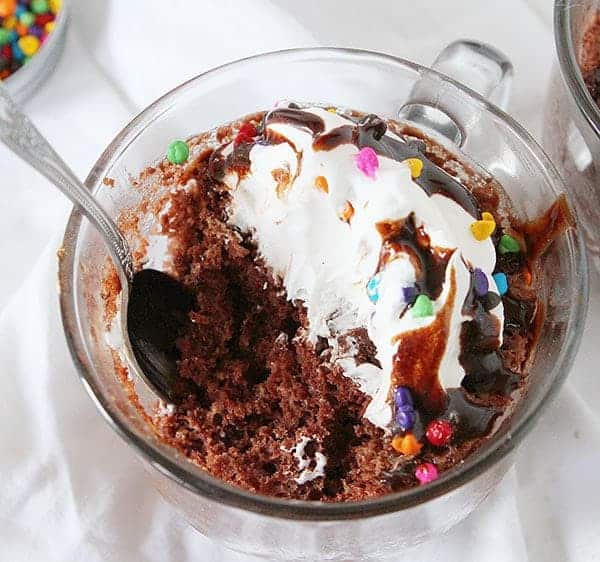 Tips for Success:
The cake mixture recipe is meant to be fun and easy! Play with it. Have fun. Add whatever you have in the pantry! (I love the idea of a white cake with McCormick® Orange Extract in the summer!)
If you want to double the recipe (if you have a large mug as I did) you can. Simply add an additional 10 seconds in the microwave.
If you are adding a garnish like whipped cream, it will melt if the chocolate cake is hot. (which tastes amazing but doesn't look as pretty)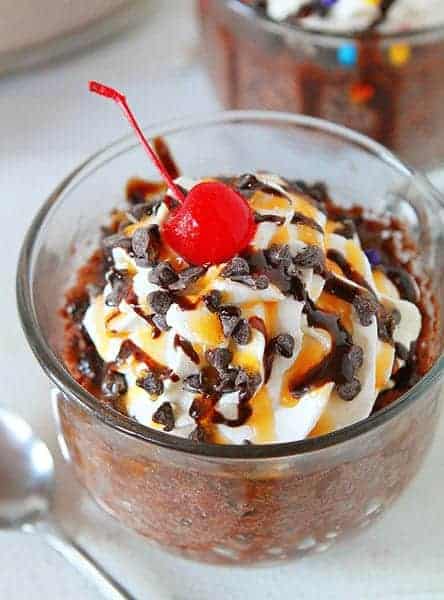 This sweet treat is a hug in a mug!
It was an absolute delight to create this Chocolate Mug Cake with McCormick. Thank you so, so much for supporting the brands that support this blog. I only work with the best, and am thankful that McCormick is willing to partner with me! <3