Chocolate Oatmeal Cookies are a delicious treat that has the perfect balance of chocolate and oats, creating a delightful texture and flavor combination. The soft cookies can be enjoyed as an afternoon snack with a cup of coffee or tea or as a sweet dessert. I also have Oatmeal Chocolate Chip Cookies you will love!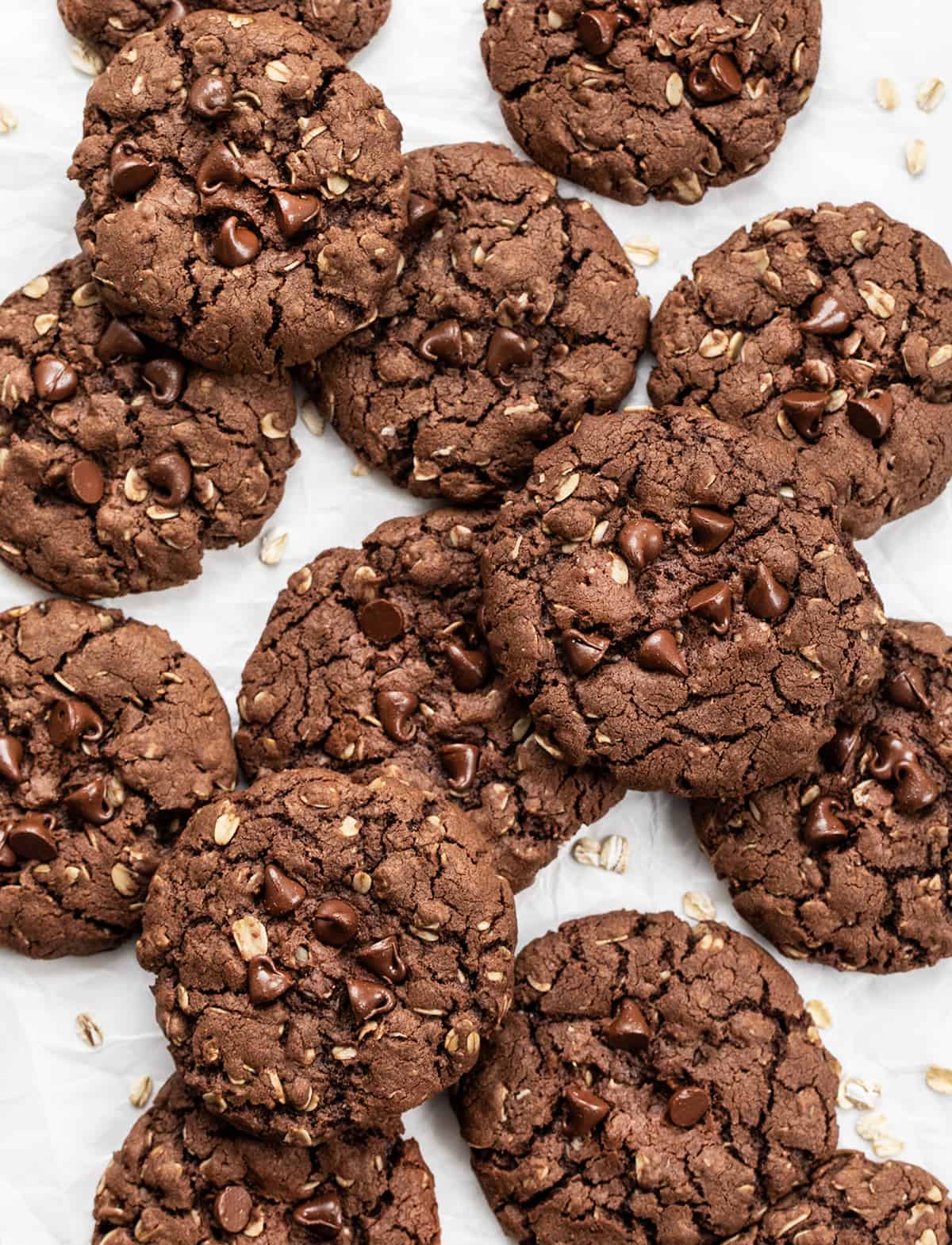 Ingredients & Substitutions
Chocolate: I used semisweet chocolate chips in the recipe. Most of the chips are melted with some butter until smooth. Then, it is added to the cookie dough. Reserve about 1/4 cup of chips for the topping.
Butter: For best results, use unsalted butter. If you are using salted butter, you may want to lessen or omit the salt in the recipe.
Oats: For these cookies, I went with old-fashioned oats, which are also known as rolled oats. These oats have a flat and irregular shape, and they're commonly used in cookies, granola bars, and muffins. They add a nice texture and chewiness to the baked goods. If you don't have old-fashioned oats available, you can easily substitute them with quick oats. Quick oats tend to be more finely textured, which could lead to a softer and less chewy cookie compared to the original recipe. But, you will still have a delightful batch of cookies!
Brown Sugar: Adding light brown sugar to the dough gives the cookies a subtle sweetness with a hint of caramel undertones to each bite.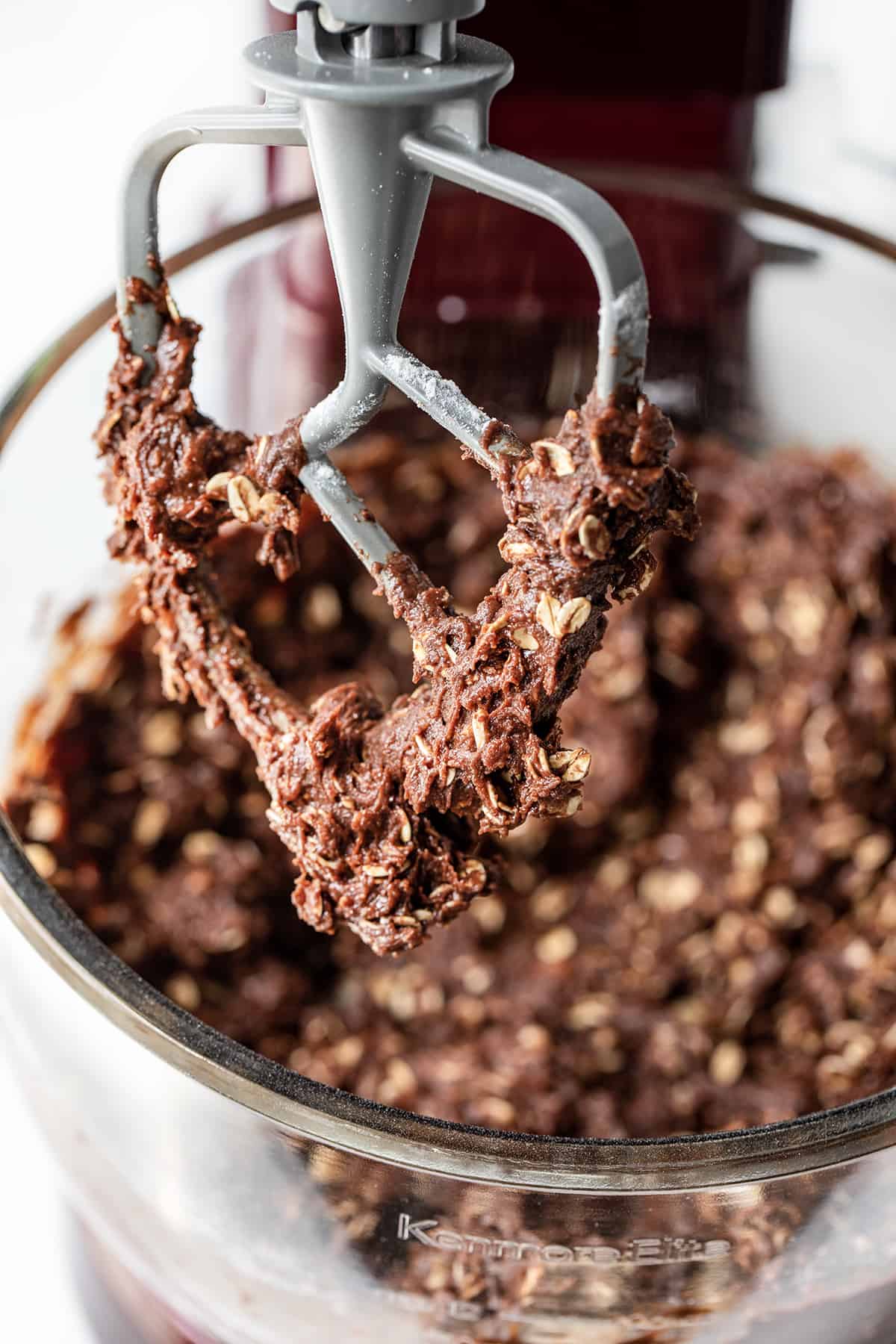 Can I Melt the Chocolate and Butter in the Microwave?
Yes, you could melt the chocolate and butter in the microwave (but it is quite a bit of chocolate). However, be cautious not to overheat it. Use 30-second intervals, stirring in between until melted and smooth. Alternatively, the double-boiler method provides better heat control to prevent burning.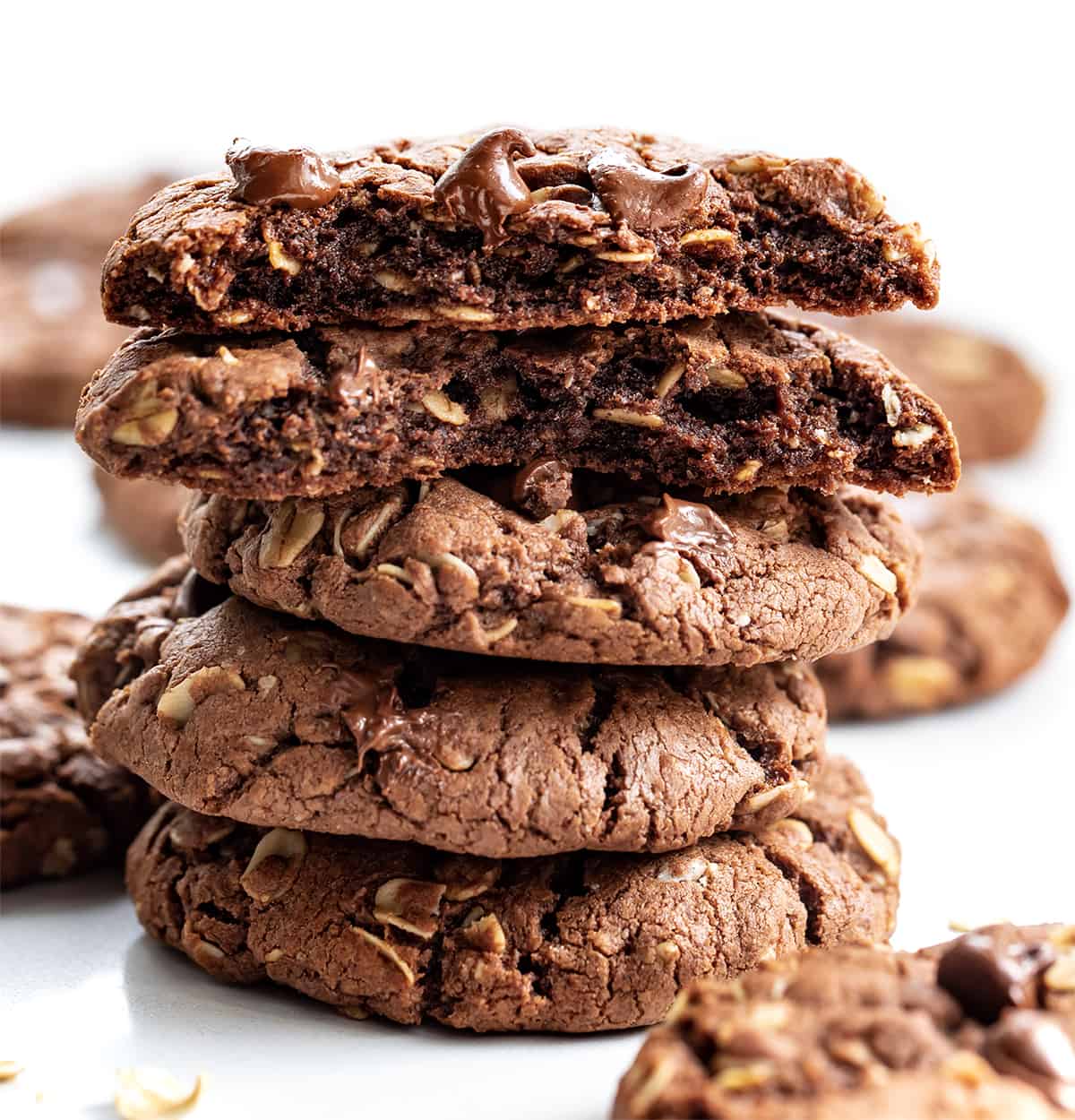 Can I Make Chocolate Oatmeal Cookies Ahead of Time?
Yes! To prepare the cookie dough in advance, you have the option to refrigerate it (covered) up to overnight, or freeze it and bake the cookies at a later time. Here's how to freeze the dough:
After forming the cookie dough, place the individual balls of dough onto a baking sheet lined with parchment paper. Space them apart so they don't stick together during freezing.
Transfer the baking sheet with the dough balls to the freezer and let them freeze for approximately 1-2 hours, or until they are completely frozen. Freezing them on the baking sheet first prevents them from clumping together.
Once the dough balls are frozen, transfer them to freezer-safe zipper bags.
When ready to bake the cookies, preheat the oven as instructed in the recipe. Place the frozen dough balls (no need to thaw) onto a lined baking sheet, leaving some space between them for spreading. You may need to bake the cookies for an additional 1-2 minutes compared to the original baking time.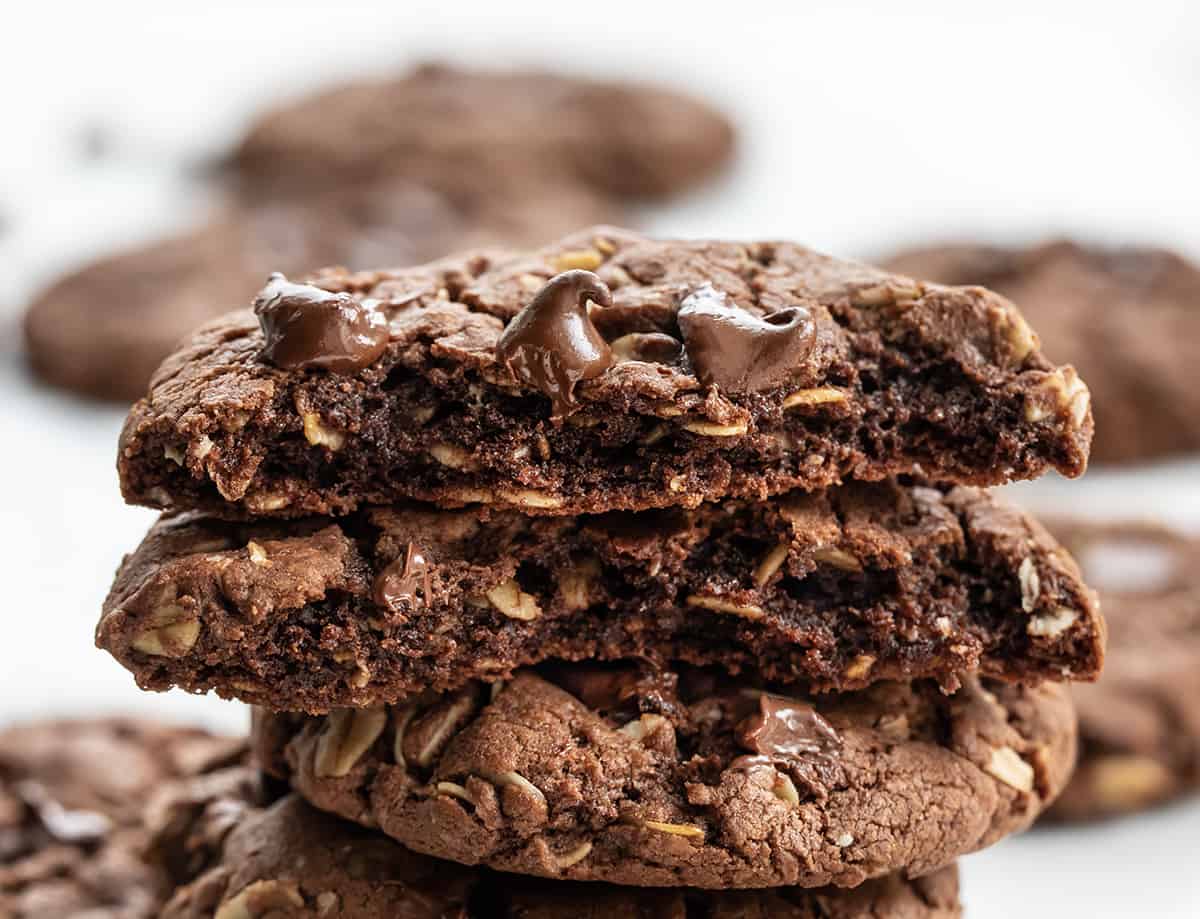 How To Store Chocolate Oatmeal Cookies
Chocolate Oatmeal Cookies are best stored in an airtight container at room temperature. They will last up to 5 days. For longer storage, freeze the cookies. They will last up to 2-3 months in freezer-safe zipped bags.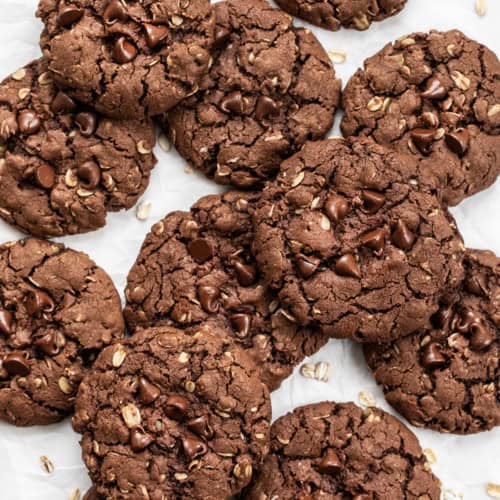 Chocolate Oatmeal Cookies
Chocolate Oatmeal Cookies are a delicious treat that has the perfect balance of chocolate and oats, creating a delightful texture and flavor combination.
Ingredients
1

bag

(12 ounces) semisweet chocolate chips,

divided

½

cup

(1 stick / 113 g) unsalted butter,

room temperature, divided

1 ½

cups

(187.5 g) all-purpose flour

½

teaspoon

baking powder

½

teaspoon

baking soda

½

teaspoon

kosher salt

2

cups

(180 g) rolled oats

1

cup

(200 g) light brown sugar,

packed

2

large

eggs,

room temperature

1

teaspoon

vanilla extract
Instructions
Preheat oven to 400°F. Line a baking sheet with parchment paper.

Fill a pot about halfway full of water. Bring it to a simmer over low heat. Find a heat-safe bowl (glass or stainless steel) that can be set into the pot of simmering water. Make sure the bottom of the bowl is not touching the water. The steam is what will melt the chocolate.

Set aside ¼ cup of chocolate chips. Add the rest of the semi-sweet chocolate chips and ¼ cup (½ stick) of butter to the heat-safe bowl. With the heat on low, use a rubber spatula to stir the chocolate until it is melted and smooth. This takes about 5 minutes. Set aside.

In a large mixing bowl, whisk together flour, baking powder, baking soda, salt, and rolled oats. Set aside.

To the bowl of a stand mixer with the paddle attachment, add the remaining butter and brown sugar. Beat on low speed until smooth.

Add melted chocolate, eggs, and vanilla. Mix until all ingredients are fully incorporated, stopping to scrape down the sides of the bowl as needed.

With the mixer still on low speed, slowly add the dry ingredients until fully incorporated.

Using a 2-tablespoon scoop, drop the dough onto the lined baking sheet. Roll each into a ball. Then, gently press to slightly flatten the cookies. Top with the reserved chocolate chips.

Bake for 7-8 minutes. They may look slightly doughy, and that is okay.

Let the cookies rest on the baking sheet for a couple of minutes before transferring them to a wire rack to cool completely. Enjoy!
Did you make this recipe?
Thank you for making my recipe! You took pictures, right? Well go ahead and post them on Instagram! Be sure to mention me @iambaker and use the hashtag #YouAreBaker.
What the Test Kitchen had to say about this recipe: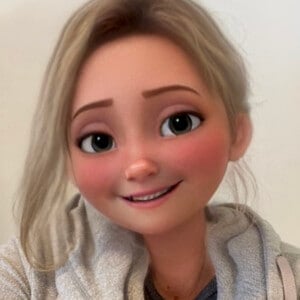 Autumn
This was a fun cookie to test! We all love a classic oatmeal cookie, but this one has an entire bag of chocolate in it! The oat base balances the melt-in-your-mouth chocolate goodness. Definitely get this one on your rotation!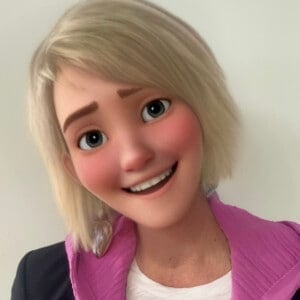 Elizabeth
This cookie has to be one of my favorite cookies I have had in a while. I absolutely love that the chocolate flavor holds its own against the oats for a perfect balance. I also appreciate the texture of the rolled oats.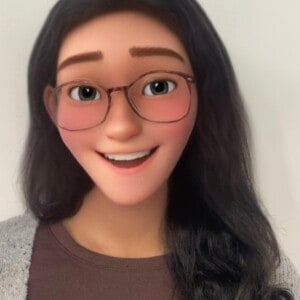 Bella
This is so chocolaty! I really enjoy the addition of oats within this cookie. It helps balance the rich chocolate flavor. It also gives it a unique texture.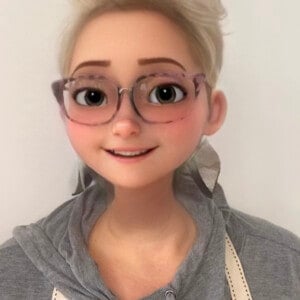 Selena
A super lovely hearty oat cookie. I loved the addition of the melted chocolate. It was a guilt-free treat to eat.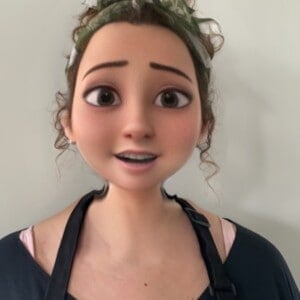 Rachael
This is a delicious cookie! Chocolate, oatmeal and a gooey cookie? Yes please!