Chocolate Peanut Butter Fudge takes my Original Fantasy Fudge and gives it the perfect pairing of chocolate and peanut butter. If you love fudge, be sure to try my Peanut Butter Fudge and Salted Caramel Fudge!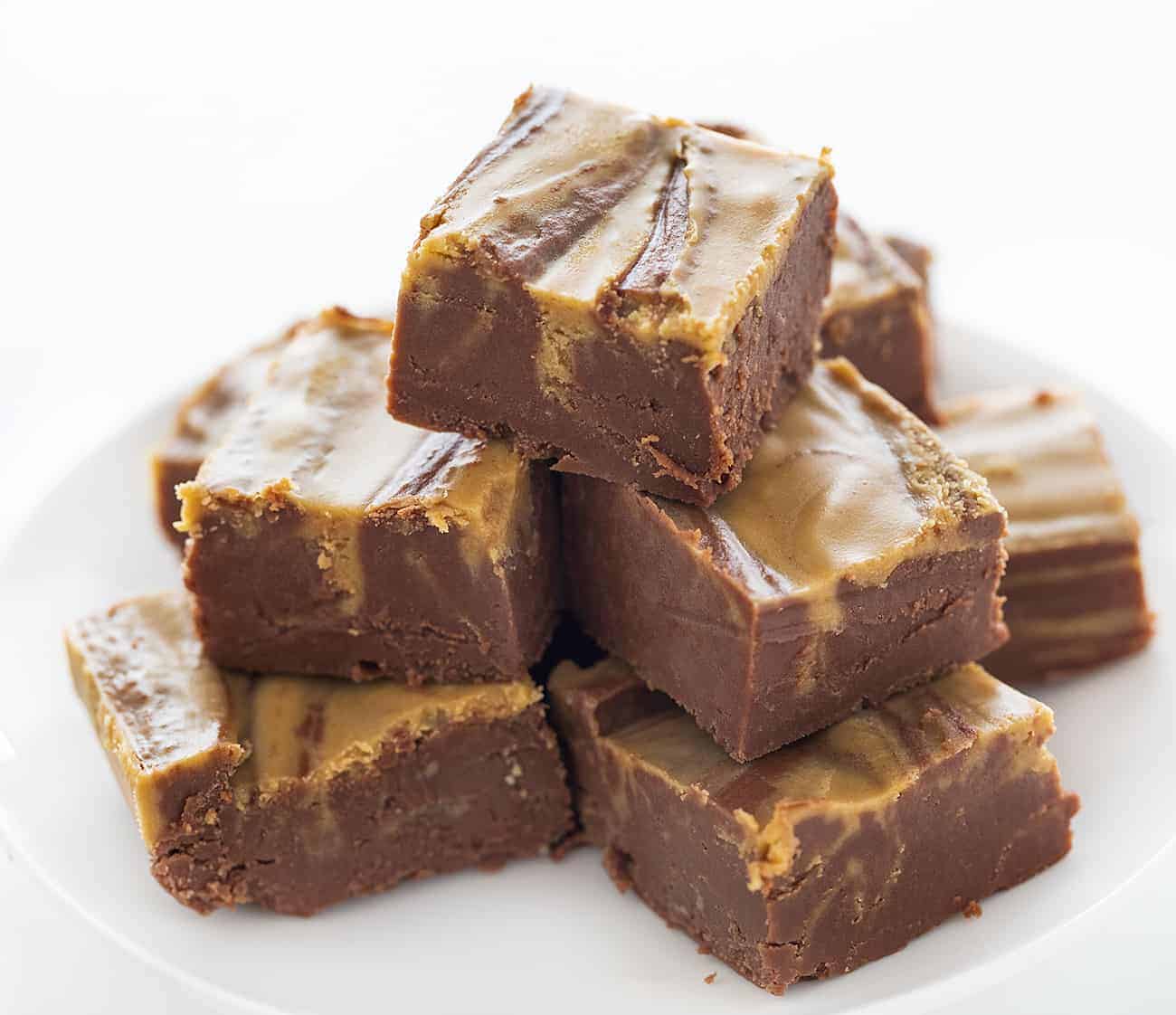 Chocolate Peanut Butter Fudge
There is actually a scientific reason that people love the combination of peanut butter and fudge. It's called Dynamic Sensory Contrast. It has to do with our taste buds loving contrasting textures. But, I don't need a scientific explanation as to why I love this combination so much. I just do! I can't say no to candy with this perfect combination. At least I will have a legitimate excuse when I eat my weight in Chocolate Peanut Butter Fudge😊!

What is a Candy Thermometer?
A candy thermometer, also known as a deep-fry thermometer or sugar thermometer, is used to measure the temperature of a sugar solution. It is definitely an important tool to have when making candy. Just like using a meat thermometer is important for the perfectly cooked meat and measuring cups and spoons are important for measuring ingredients, a candy thermometer has its place in the baking world, for sure! You can find them in most grocery stores and houseware stores. When you use it, just make sure you don't immerse the thermometer directly into boiling water or let the bulb hit the bottom of the pan. It really is a game-changer, or should I say candy-changer, for your future sugary recipes.

Common Problems with Fudge and How to Fix Them
When making Old Fashioned Fudge, or any fudge that requires the sugars to reach a certain temperature, a couple of things can go wrong. The fudge could be grainy and never set up properly. But have no fear, you can save your fudge!
If Your Fudge is Grainy or Too Creamy
This can happen if the fudge is not cooked to a high enough temperature. I have had inaccurate candy thermometers before so I know this can be frustrating when you follow directions to a T. Or, the fudge may have been beaten or stirred for too long. To fix it, scrape the fudge back into a saucepan and add about 1 cup of water. (Anywhere from 1 cup to 1 1/2 cups depending on the recipe you used.) Gently stir the fudge until it reaches 234°. Water can decrease the intensity of flavor, so feel free to add some shaved chocolate over the fudge once it is poured into the prepared baking dish or (with this recipe) top with Reese's peanut butter cups or another candy. After it reaches the proper temperature, pour it into your prepared pan and follow the directions for cooling.
Tips for Perfect Fudge
Make sure your candy thermometer is working properly. You can do this by boiling water and making sure the thermometer reaches 212°F.
Consider stirring less or not stirring at all while the fudge is bubbling and heating.
Take your time! Fudge can be super easy or test your patience. 🙂 If it seems to be taking forever to heat to the appropriate temperature don't give up. It will get there!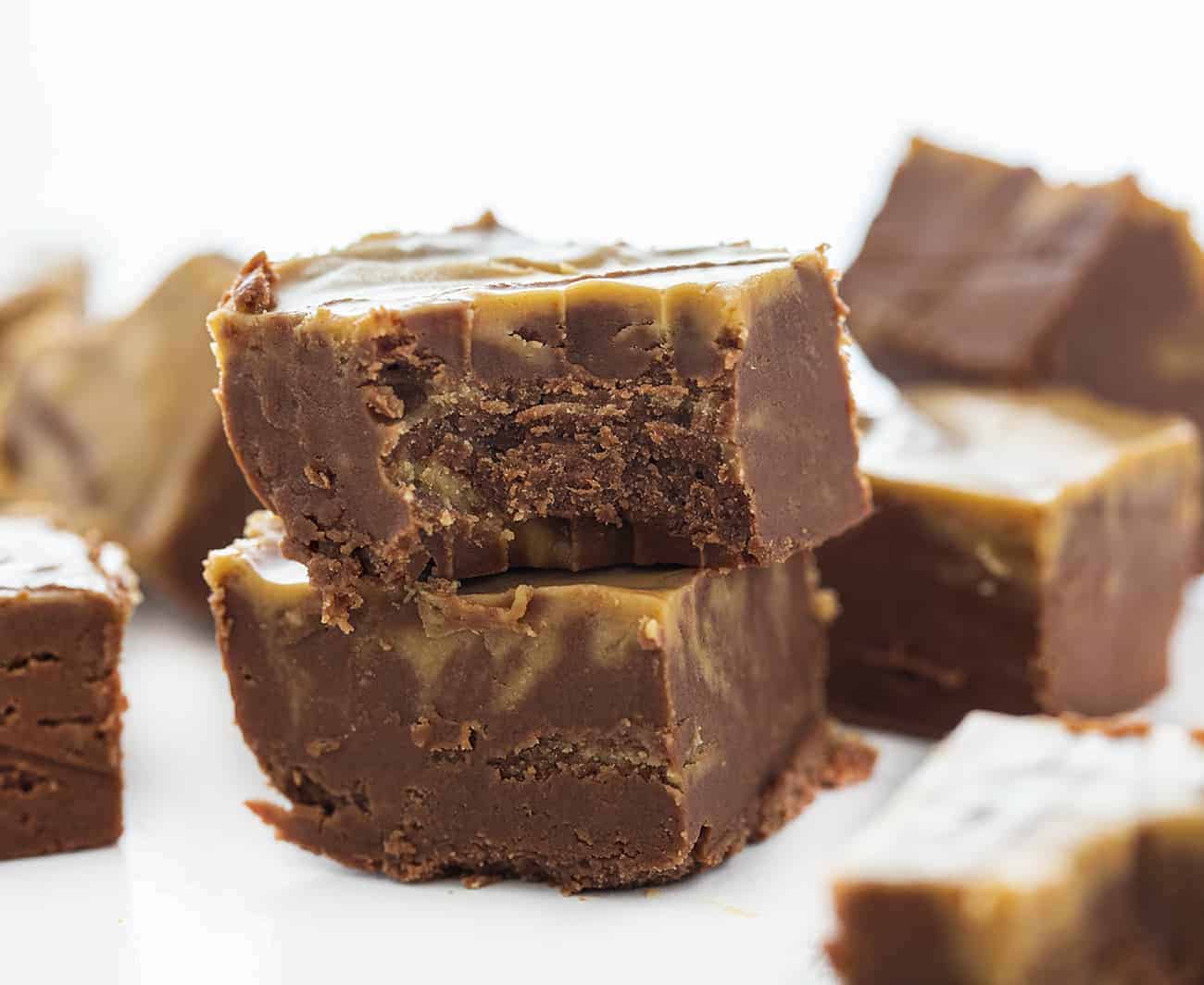 How to Store Chocolate Peanut Butter Fudge
If you are planning on eating it within 2 weeks, you can store the fudge at room temperature in an airtight container. I like to cut it into pieces and separate the pieces with parchment or wax paper. You can also store fudge in the refrigerator for a few weeks. Again, an airtight container with individual pieces is best. If you need longer storage, like months, the freezer is the best option. I like to tightly wrap the fudge with plastic wrap and then place it in an airtight container or freezer-safe plastic bag. Be sure to write the date on it!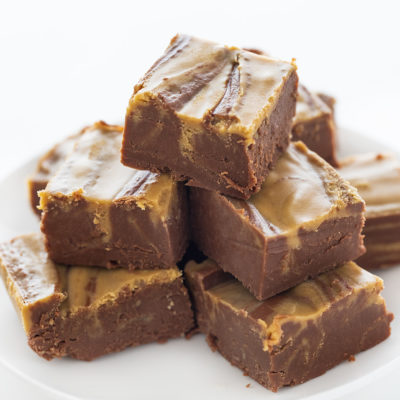 Chocolate Peanut Butter Fudge
Chocolate Peanut Butter Fudge Recipe is a no-fail fudge that is loaded with that perfect combination of peanut butter and chocolate.
Ingredients
3

cups

(600 g) granulated sugar

¾

cups

(1½ sticks / 170 g) butter

⅔

cups

(168 g) evaporated milk

1

package

(12 ounces) semisweet chocolate chips

1

teaspoon

vanilla extract

1

cup

(258 g) peanut butter

1

cup

(125 g) confectioners' sugar

½

cup

(113 g / 1 stick) butter,

melted
Instructions
Line a 9×13-inch pan with parchment paper.

In a large saucepan over medium heat, add sugar, butter, and evaporated milk. Stir to combine.

Bring mixture to a boil. Leave on heat until the mixture registers 234°F on a candy thermometer (about 5 minutes).

Remove from heat and stir in the chocolate chips until melted and thoroughly combined.

Beat in marshmallow fluff and vanilla extract.

In a separate bowl, combine the peanut butter, confectioners' sugar, and melted butter.

Swirl the peanut butter mixture into the fudge.

Transfer fudge to the prepared pan and let it cool about 2 hours before cutting.
Did you make this recipe?
Thank you for making my recipe! You took pictures, right? Well go ahead and post them on Instagram! Be sure to mention me @iambaker and use the hashtag #YouAreBaker.