Snickerdoodle Fudge is a soft and creamy fudge that is full of the classic snickerdoodle cookie flavors of cinnamon and sugar with the addition of white chocolate. Try my Butter Pecan Fudge for another melt-in-your-mouth fudge.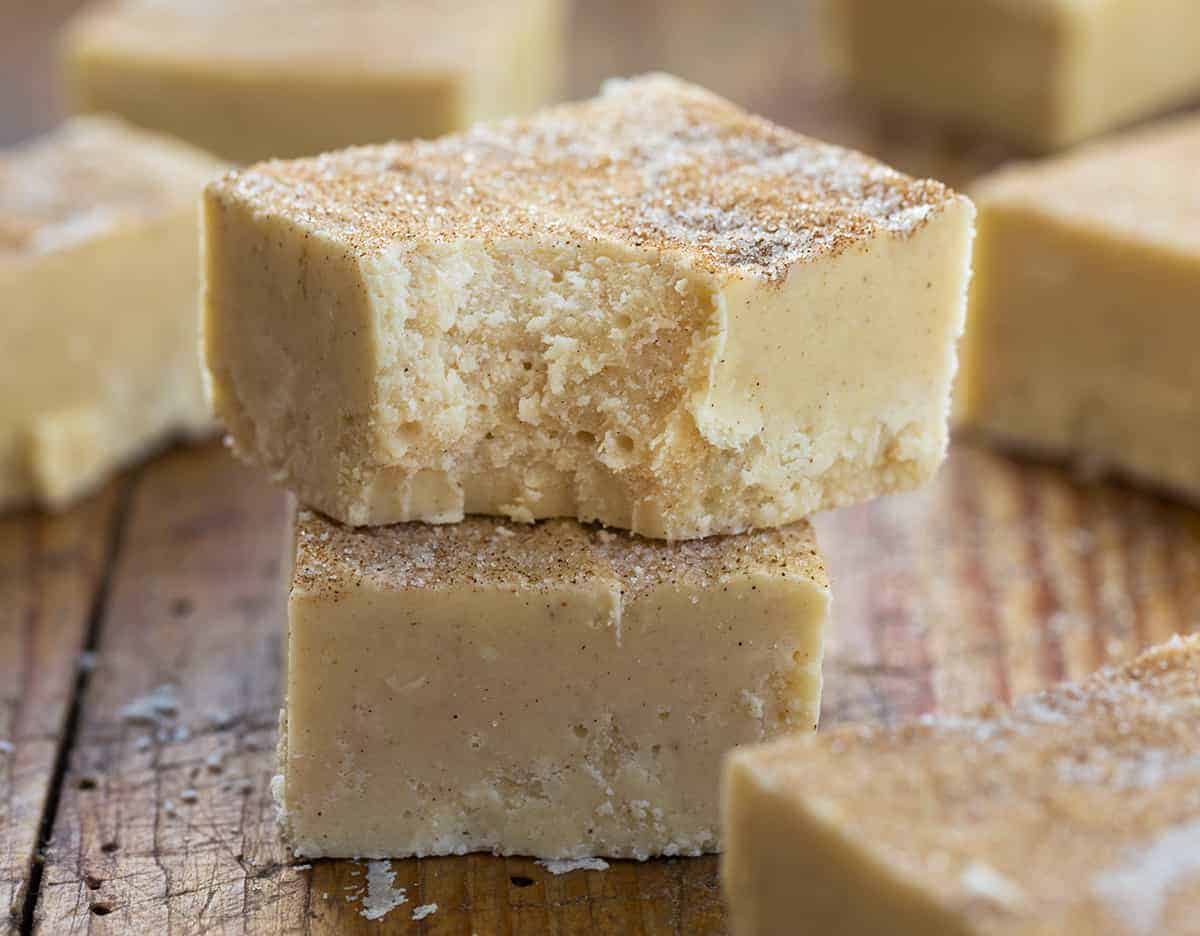 Snickerdoodle Fudge
Snickerdoodles are old-fashioned cookies that have been around since the late 1800s. I have a snickerdoodles cookie recipe if you are craving that! But, if you want the same cinnamon sugar flavor in fudge, this is the recipe to follow. It's easy to make, and who doesn't need another variety of fudge to give as gifts or have around, especially during the holiday season? I also have cookies and cream fudge and sugar cookie fudge that you may want to try.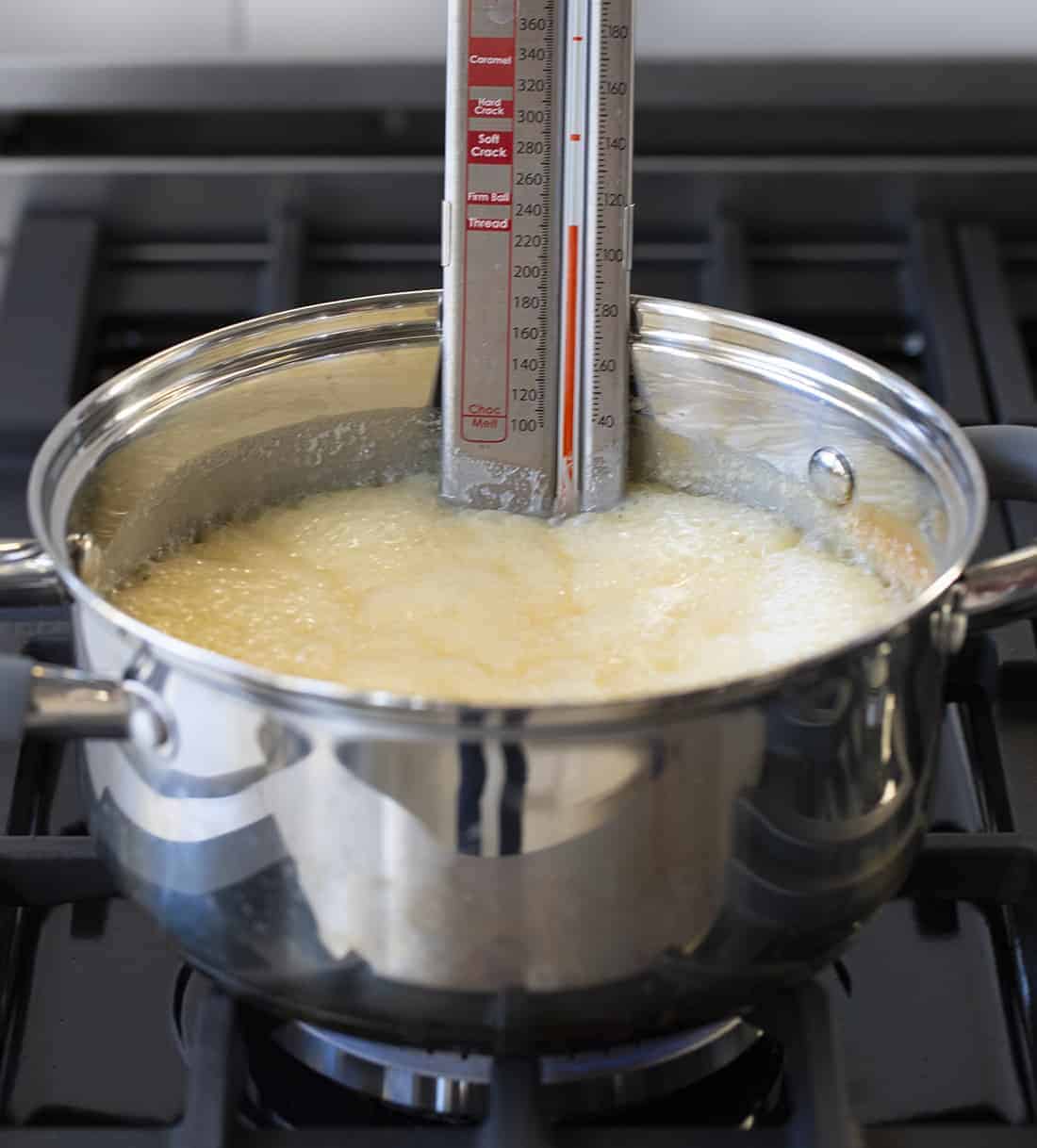 Snickerdoodle Fudge Ingredients
This recipe is easy to follow and pour into a pan to cool and enjoy. There are a couple of ingredients I want to focus on:
White Chocolate Chips: When it comes to white chocolate, you could use 'real' white chocolate (at least 20% cocoa butter) or white chips, or morsels.
Evaporated Milk: Evaporated milk is milk that has had 60% of the water removed. It can be called 'unsweetened condensed milk' (as opposed to sweetened condensed milk, which has added sugar). It is perfect for fudge recipes because it withstands the heat without curdling.
Can I Substitute Sweetened Condensed Milk for Evaporated Milk?
No! Evaporated milk is unsweetened, so in this fudge recipe, it is combined with granulated sugar and other ingredients for the fudge. Do not substitute sweetened condensed milk for evaporated milk; they are not interchangeable. Keep in mind that there are fudge recipes that use sweetened condensed milk (like my Cookie Dough Fudge and Fluffernutter Fudge, just to name a few). But, in those recipes, the same rule applies–do not substitute evaporated milk for sweetened condensed milk.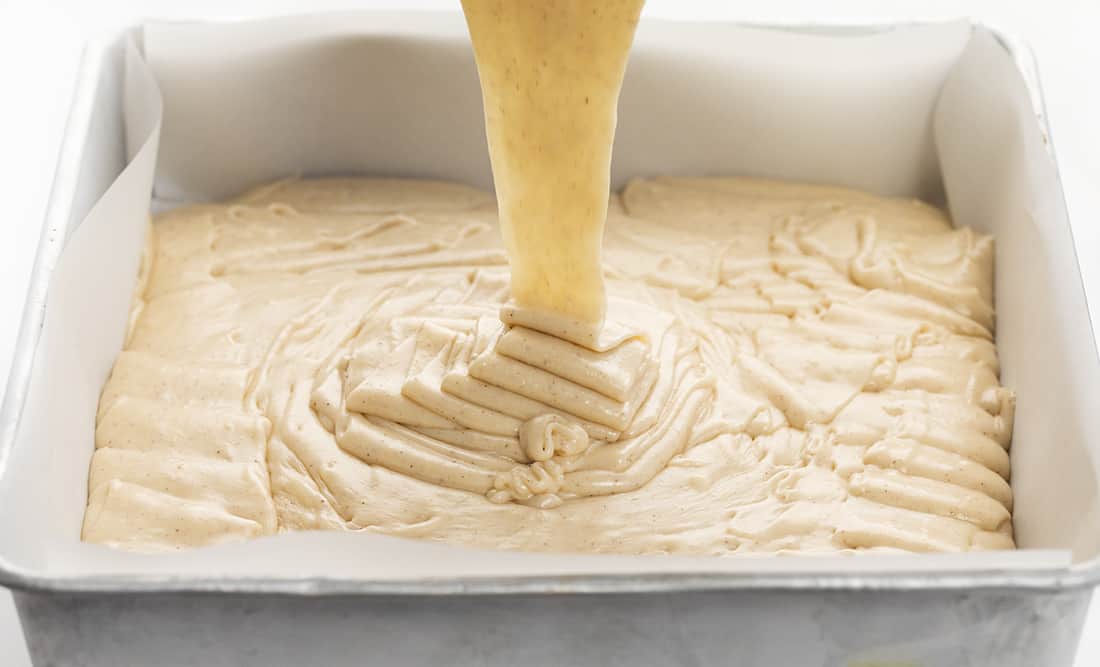 What is a Candy Thermometer?
A candy thermometer, also known as a deep-fry thermometer or sugar thermometer, is used to measure the temperature of a sugar solution. It is definitely an important tool to have when making candy. Just like using a meat thermometer is important for perfectly cooked meat and measuring cups and spoons are important for measuring ingredients, a candy thermometer has its place in the baking world, for sure!
You can find them in most grocery stores and houseware stores. When you use it, just make sure you don't immerse the thermometer directly into boiling water or let the bulb hit the bottom of the pan. It really is a game-changer, or should I say candy-changer, for your future sugary recipes.
How to Harden Fudge
Allowing snickerdoodle fudge to come to room temperature will solidify it and make it easy to handle. You can also pop it into the refrigerator for a couple of hours or even the freezer for about 30 minutes. Fudge is best consumed at room temperature though, so be sure to take it out a few minutes before you want to eat it.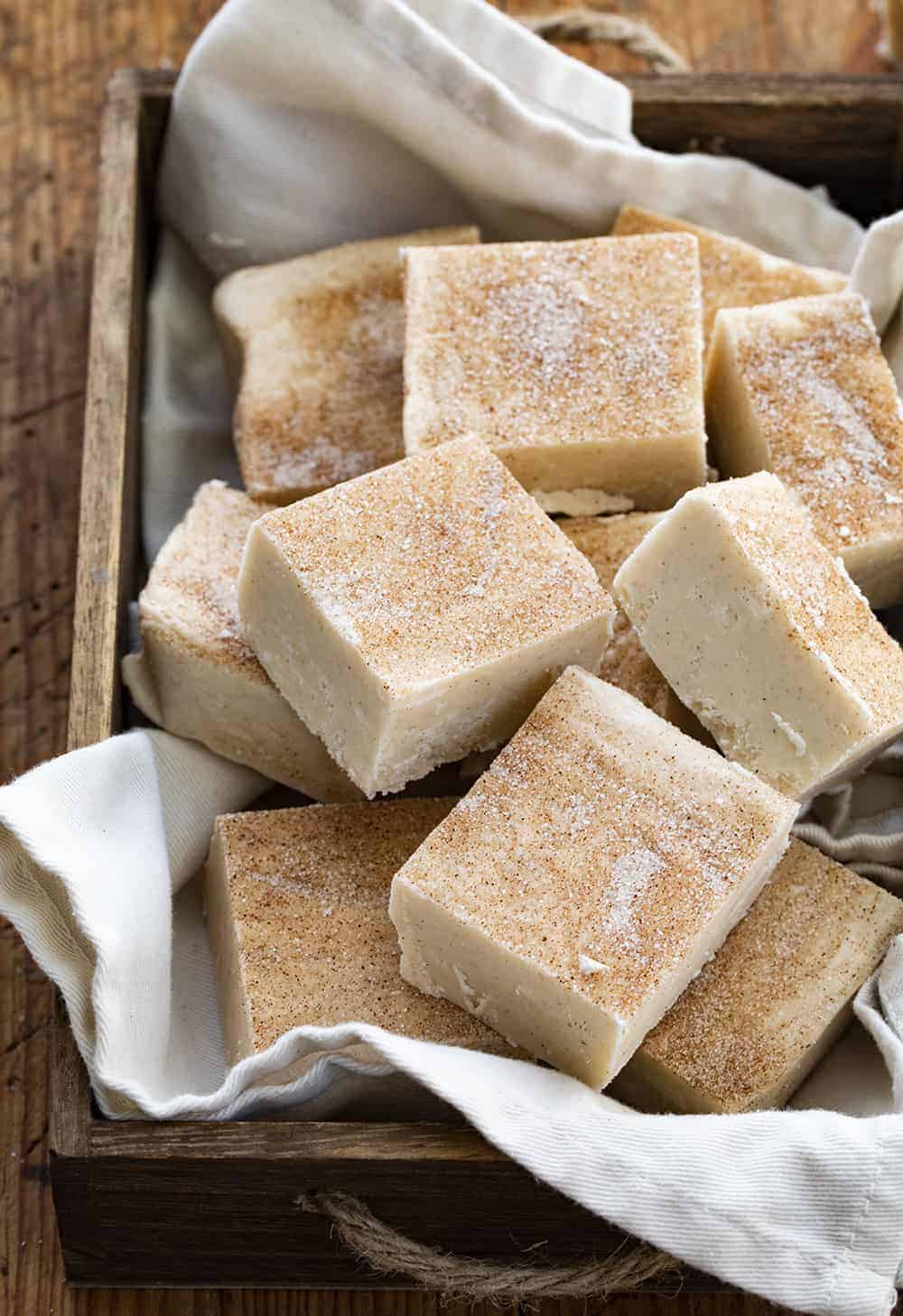 How to Store Fudge
If you are planning on eating it within 2 weeks, you can store the snickerdoodle fudge in an airtight container. I like to separate the layers with parchment or wax paper. You can also store fudge in the refrigerator for a few weeks. Again, an airtight container with separated layers is best.
If you need longer storage, like months, the freezer is the best option. First, I like to tightly wrap the fudge with plastic wrap. Then I place it in an airtight container or freezer-safe plastic bag. Be sure to write the date on it!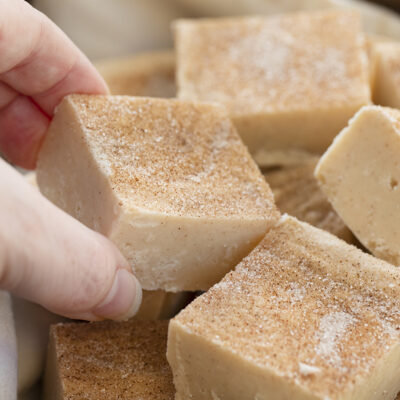 Snickerdoodle Fudge
Snickerdoodle Fudge is a soft and creamy fudge that is full of the classic snickerdoodle flavors of cinnamon and sugar.
Ingredients
Topping
1

tablespoon

granulated sugar

½

teaspoon

ground cinnamon
Fudge
3

cups

(600 g) granulated sugar

¾

cup

(170 g) unsalted butter

⅔

cup

(168 g) evaporated milk

2

cups

(340 g) white chocolate chips

1

jar

(7 ounces) marshmallow fluff

1

teaspoon

vanilla extract

1

teaspoon

cinnamon
Instructions
Line an 8×8-inch baking dish with parchment paper.

In a small bowl, make the topping by mixing together the sugar and cinnamon. Set aside.

In a large, heavy saucepan, heat the sugar, butter, and evaporated milk over medium heat.

Bring the mixture to a boil. Leave on heat until the mixture reads 234°F-238°F on a candy thermometer (about 5 minutes).

Once the temperature reaches 234°F, remove from heat and stir in the white chocolate chips until mostly combined.

Beat in marshmallow fluff, vanilla, and cinnamon.

Transfer fudge to the prepared pan. Top with the cinnamon and sugar mixture, pressing it lightly into the surface. Let fudge cool at least 2 hours before cutting and serving.
Did you make this recipe?
Thank you for making my recipe! You took pictures, right? Well go ahead and post them on Instagram! Be sure to mention me @iambaker and use the hashtag #YouAreBaker.