Peanut Butter Fudge is a creamy, peanut buttery flavored fudge that is an added bonus to all your other fudge flavors. If you love a variety of fudge, be sure to try my Original Fantasy Fudge Recipe and White Chocolate Cranberry Fudge!
Peanut Butter Fudge
I have gotten quite a few requests for peanut butter fudge, so it was time to finally make some! With the holidays here, the more fudge varieties, the merrier! I love to give fudge as gifts, making the pieces into different shapes. It's also nice to have fudge around for a sweet treat for your guests and yourself! I used creamy peanut butter for my Peanut Butter Fudge, but go ahead and try chunky peanut butter for an extra crunch!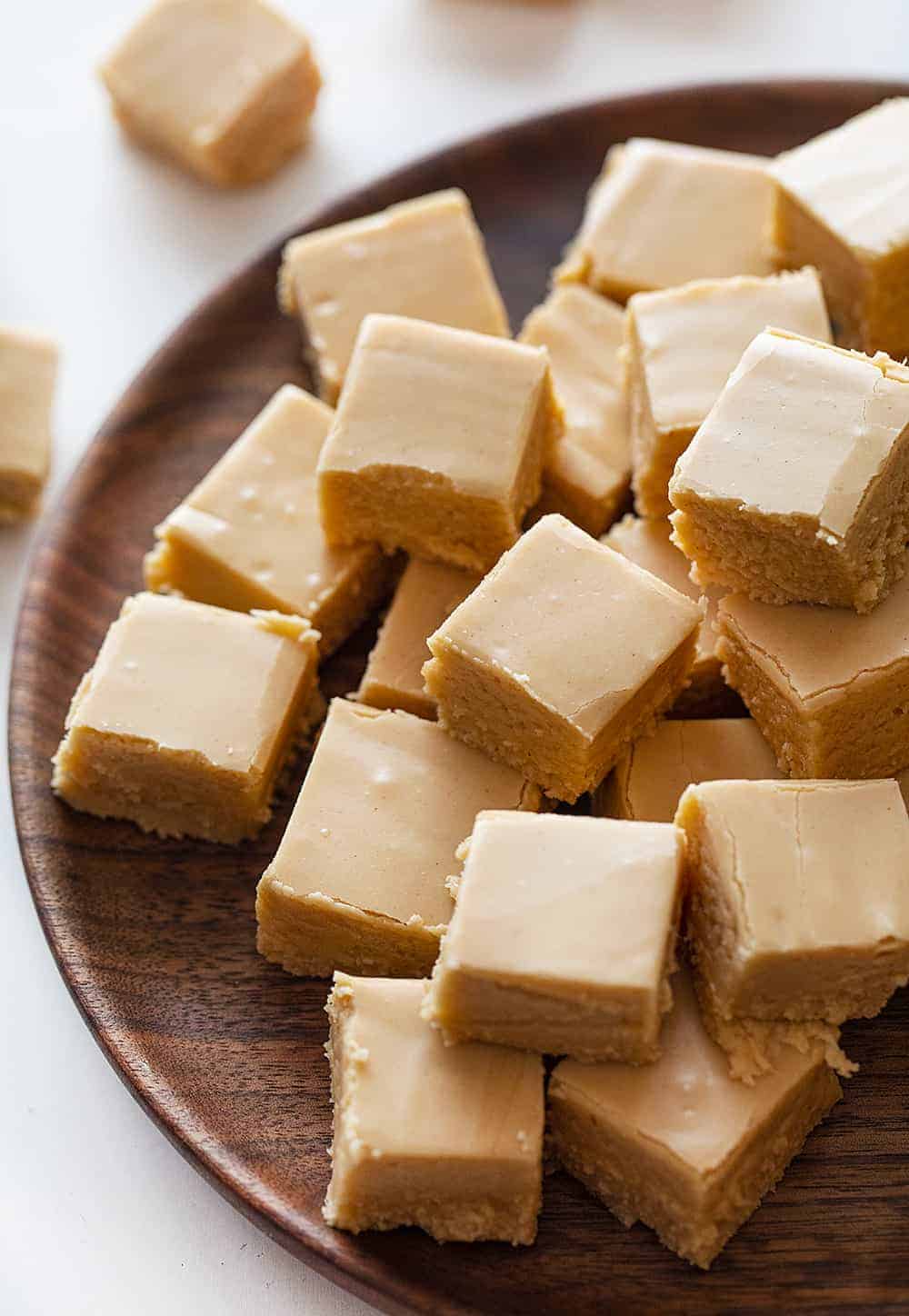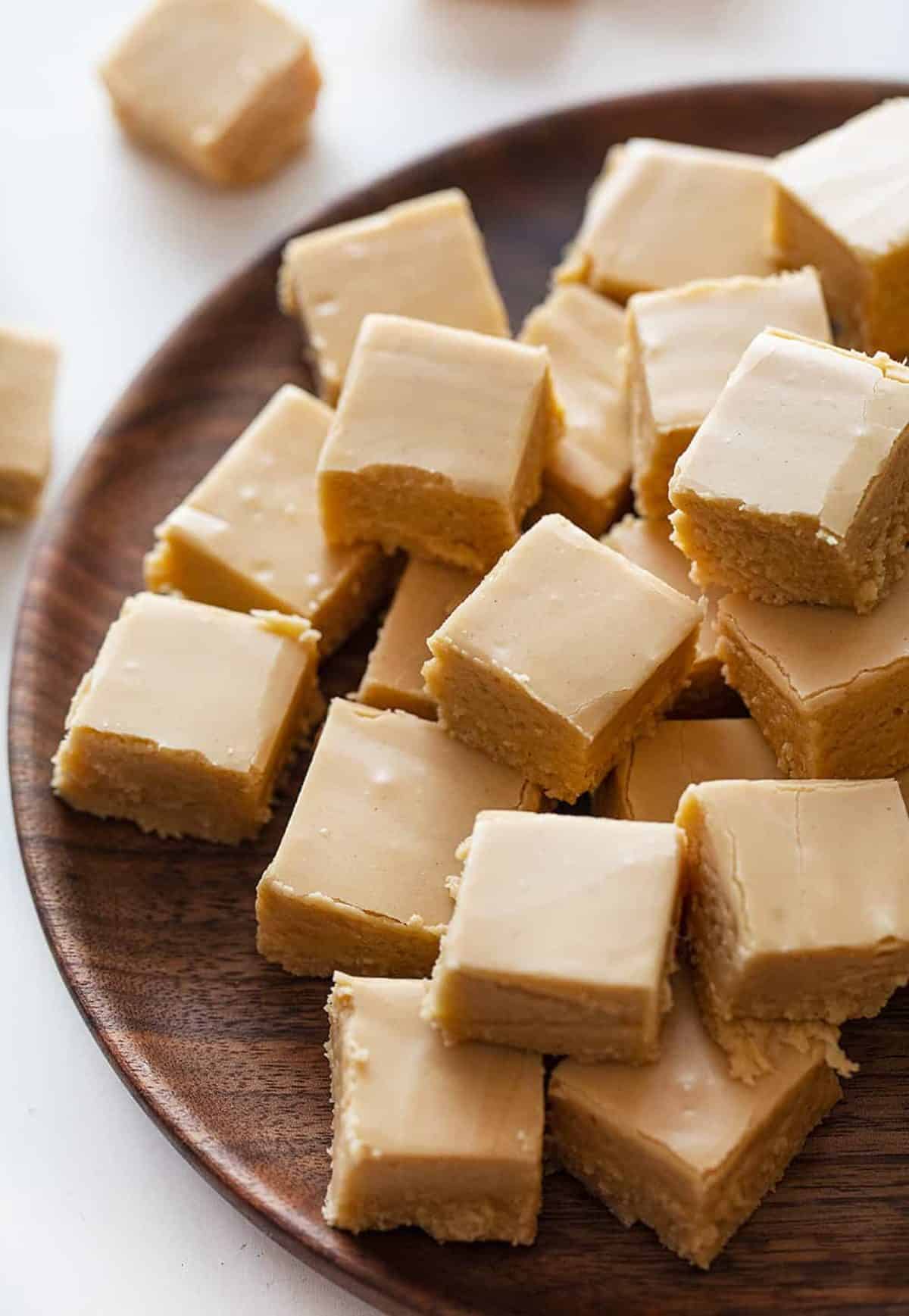 How to Make Peanut Butter Fudge
I am a huge fan of peanut butter and making Peanut Butter Fudge satisfies my peanut butter craving. (And, it's a little more refined than eating peanut butter right out of the jar…😊). When you see how easy it is to make, you will want to make it all year round, not just for the holidays.
Line a 9×13 dish with parchment paper. This will allow you to remove the fudge easily, in one piece when it is ready to take out of the pan. If you don't have parchment paper, foil will also work. Lightly spray the parchment paper or foil with a non-stick spray.
In a large saucepan, mix together the sugar, butter, and evaporated milk over medium heat. Be sure to stir it until the sugar is dissolved.
Bring the mixture to a full boil for 5 minutes. This is where a candy thermometer comes in handy. If you have one, the temperature should read 234°F.
Remove from heat and stir in the peanut butter until it is combined. Then, beat in the marshmallow fluff and vanilla extract.
Spread out the fudge onto your lined sheet pan and let it cool for at least 2 hours before cutting.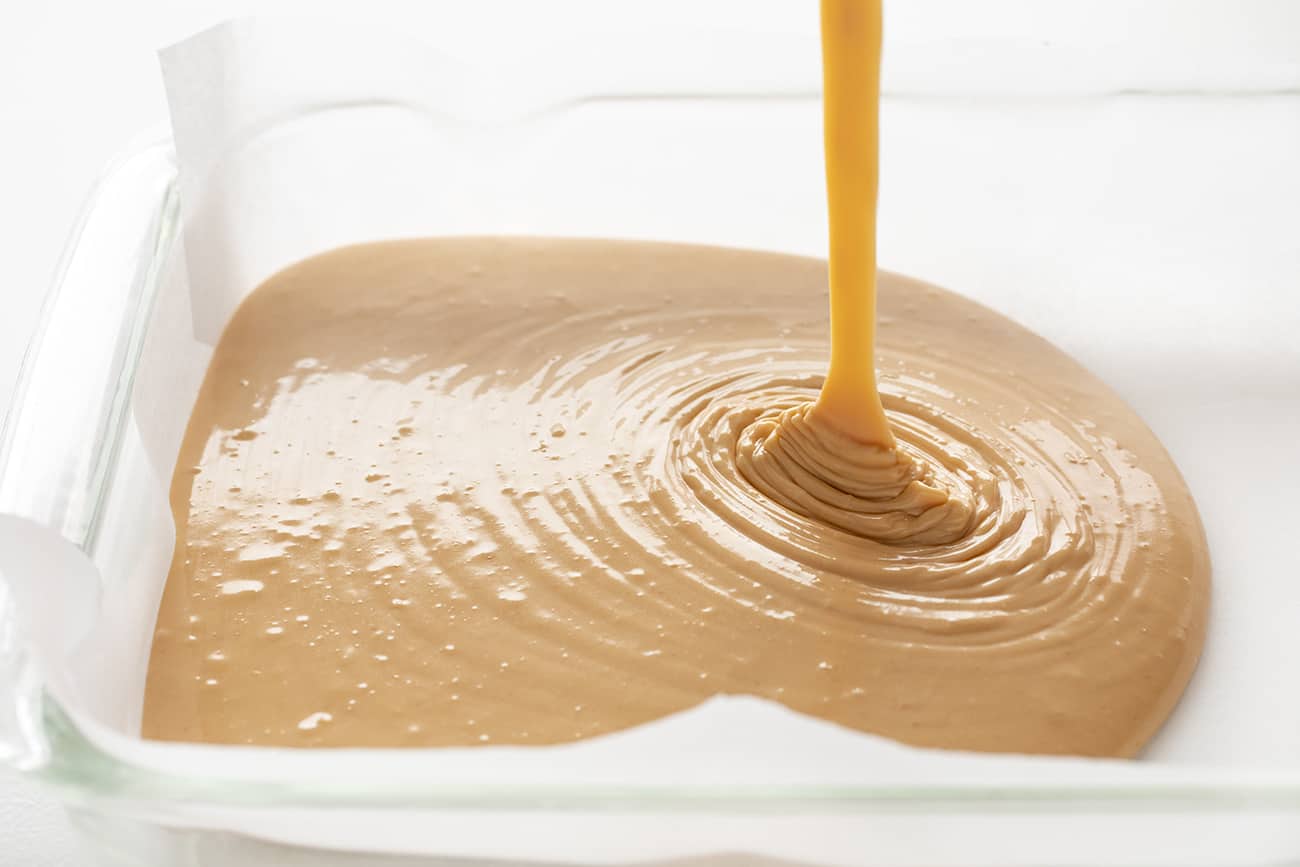 What is a Candy Thermometer?
A candy thermometer, also known as a deep-fry thermometer or sugar thermometer, is used to measure the temperature of a sugar solution. It is definitely an important tool to have when making candy. Just like using a meat thermometer is important for the perfectly cooked meat and measuring cups and spoons are important for measuring ingredients, a candy thermometer has its place in the baking world, for sure! You can find them in most grocery stores and houseware stores. When you use it, just make sure you don't immerse the thermometer directly into boiling water or let the bulb hit the bottom of the pan. It really is a game-changer, or should I say candy-changer, for your future sugary recipes.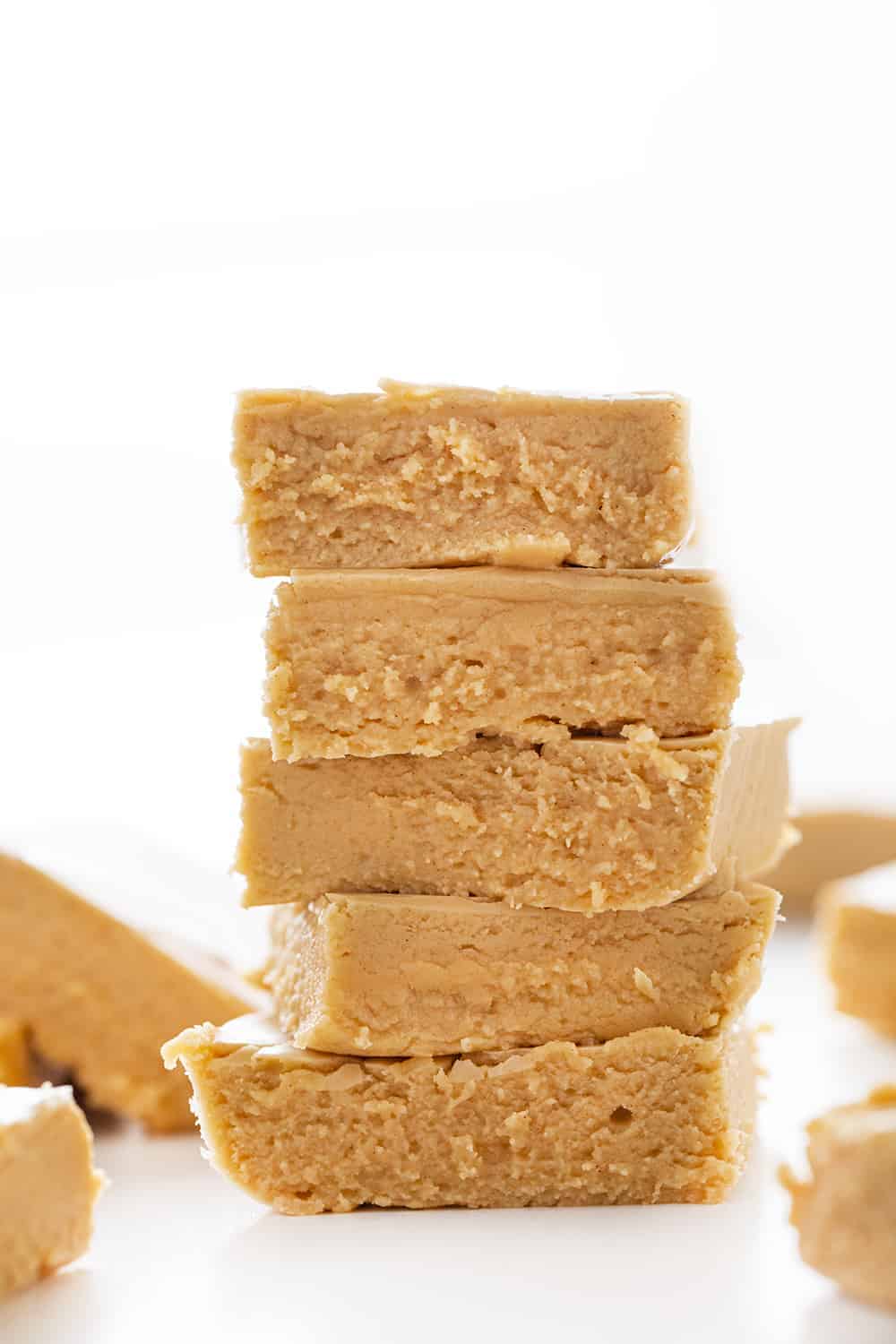 How do you harden Fudge?
Allowing fudge to come to room temperature will solidify it and make it easy to handle. You can also pop it into the refrigerator for a couple of hours or even the freezer for about 30 minutes. Fudge is best consumed at room temperature though, so be sure to take it out a few minutes before you want to eat it.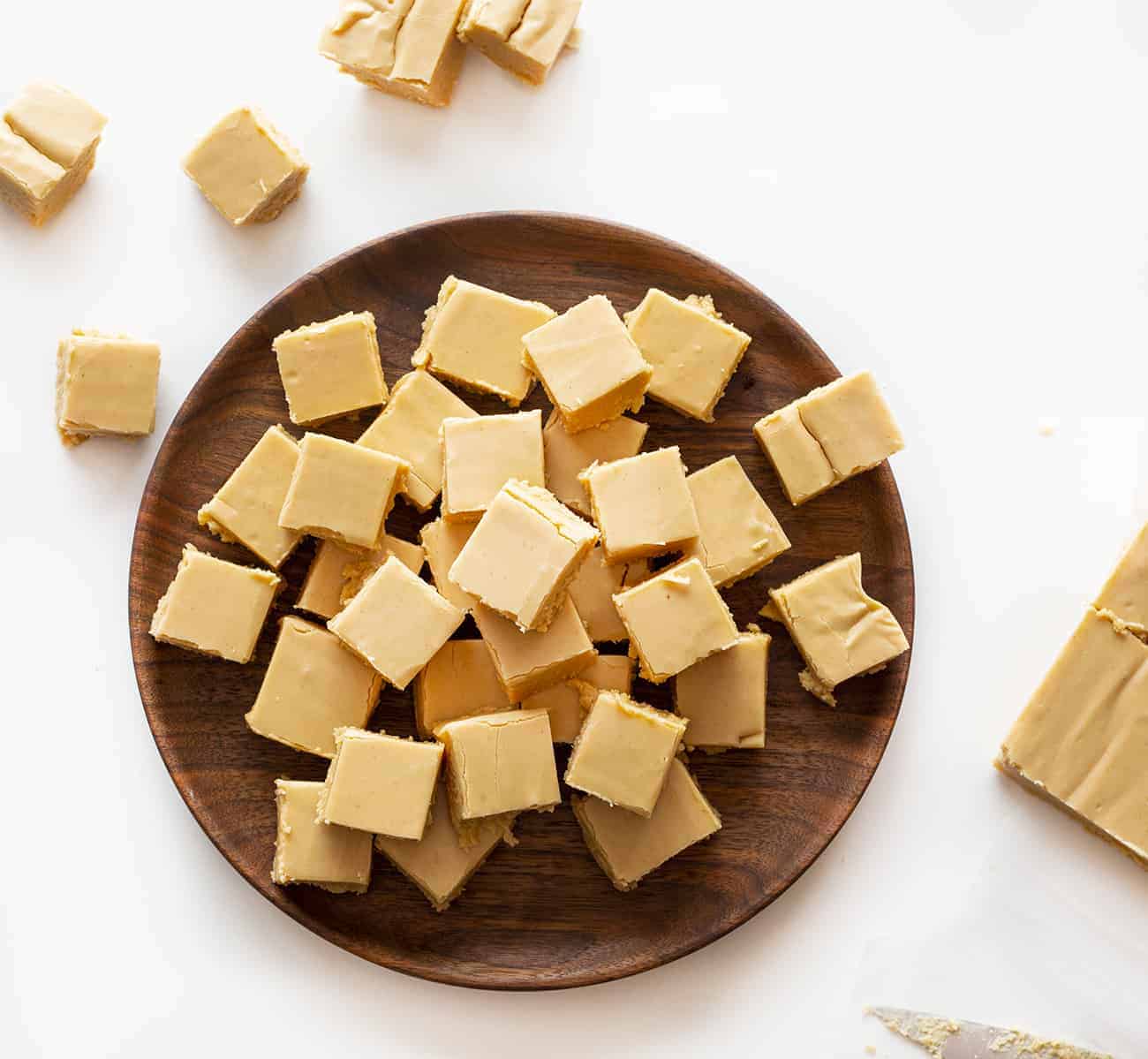 How do you store Fudge?
If you are planning on eating it within 2 weeks, you can store the fudge in an airtight container. I like to separate the layers with parchment or wax paper. You can also store fudge in the refrigerator for a few weeks. Again, an airtight container with separated layers is best. If you need longer storage, like months, the freezer is the best option. I like to tightly wrap the fudge with plastic wrap and then place it in an airtight container or freezer-safe plastic bag. Be sure to write the date on it!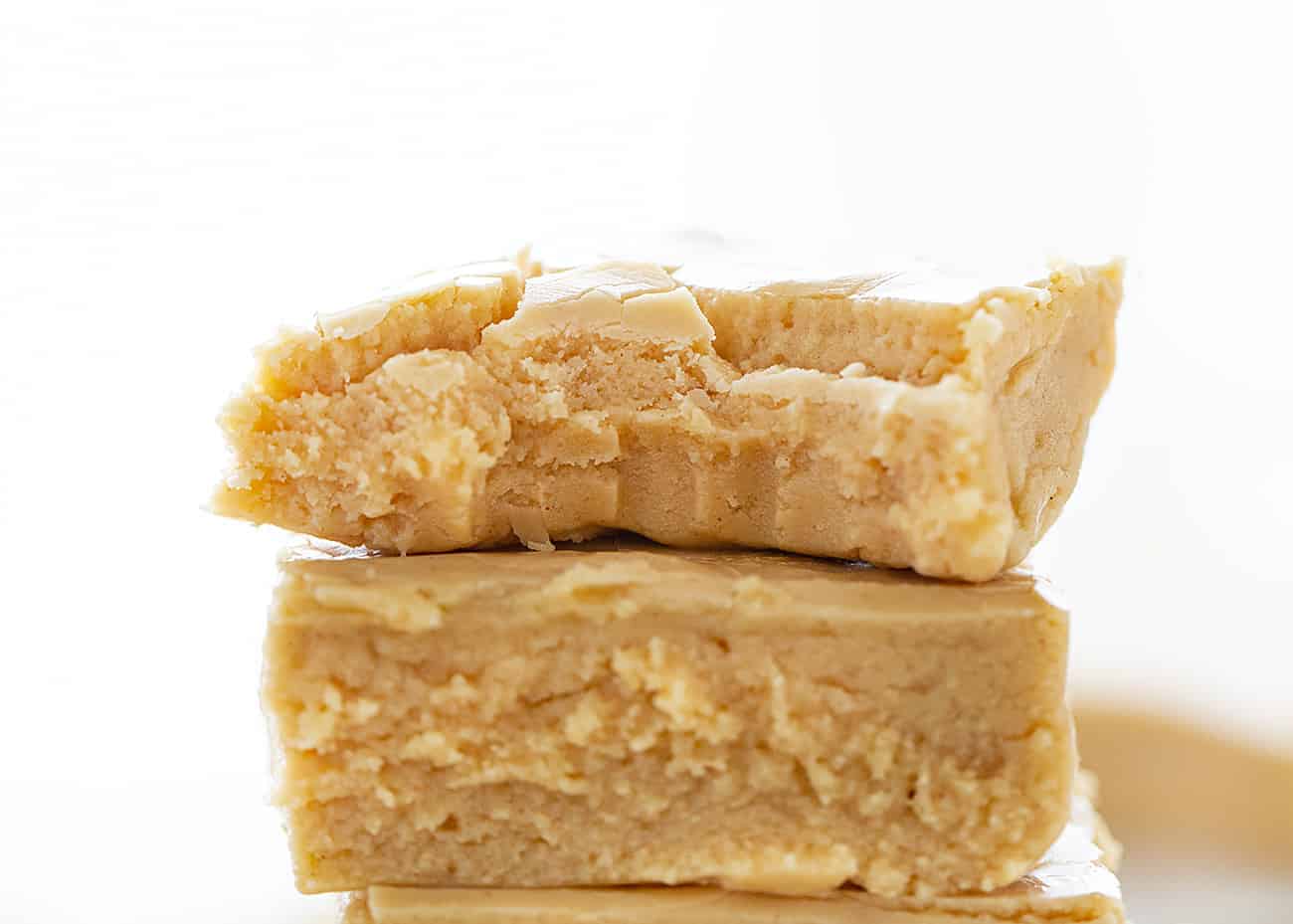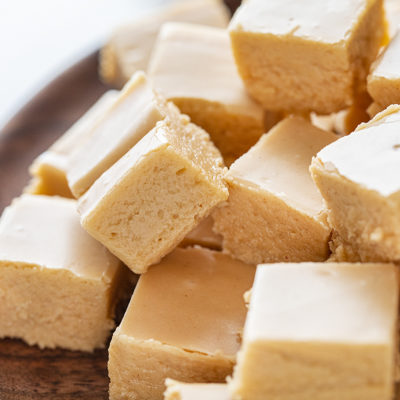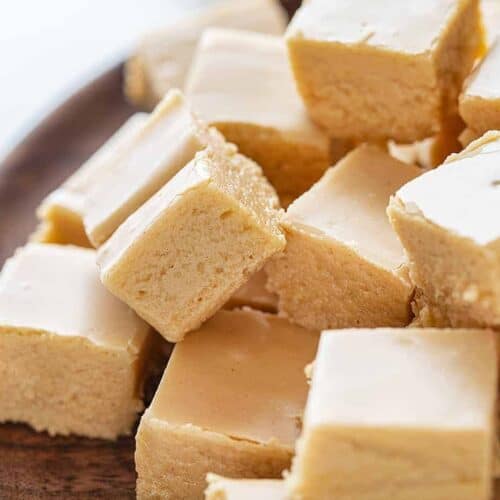 Peanut Butter Fudge
Easy to make and full of creamy peanut butter, Peanut Butter Fudge is another variety of fudge that you have to add to your varieties of fudge recipes!
Ingredients
3

cups

(600 g) granulated sugar

¾

cup

(170 g) butter

⅔

cup

(168 g) evaporated milk

1

cup

creamy peanut butter

1

teaspoon

vanilla extract
Instructions
Line a 9×13 inch pan with parchment paper.

In a large, heavy saucepan, over medium heat, mix sugar, butter, and evaporated milk.

Bring mixture to a boil, leave on heat until the mixture registers 234°F on a candy thermometer (about 5 minutes), stirring constantly.

Remove from heat and stir in peanut butter until thoroughly combined.

Beat in marshmallow fluff and vanilla extract.

Transfer fudge to the prepared pan and let cool for about 2 hours before cutting.
Did you make this recipe?
Thank you for making my recipe! You took pictures, right? Well go ahead and post them on Instagram! Be sure to mention me @iambaker and use the hashtag #YouAreBaker.