This Chocolate Zucchini Cake with Blueberry Lemon Buttercream is a special cake for a special man.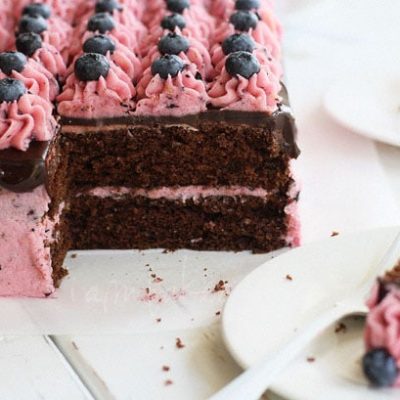 Chocolate Zucchini Cake with Blueberry
This Chocolate Zucchini Cake with Blueberry Lemon Buttercream is a special cake for a special man.
Ingredients
3/4

cup

soft butter

2

teaspoons

vanilla

1/2

cup

milk

1/2

cup

cocoa

1

teaspoon

cinnamon

1

teaspoon

salt

2 1/2

teaspoons

baking powder

1 1/2

teaspoons

baking soda

2 1/2

cups

flour

2

cups

shredded zucchini

3

eggs

2

cups

sugar

Nuts

if desired
Instructions
In stand mixer, cream together butter and sugar on medium speed.

Lower speed and add in eggs, one at a time.

Add in shredded zucchini.

Mix flour, baking soda, baking powder, salt, cinnamon, and cocoa.

Gradually add to zucchini mixture, beating well.

Add in milk, vanilla, and nuts. Beat.

Pour into greased 9x13 inch pan and bake for 1 hour at 350 degrees.
Did you make this recipe?
Thank you for making my recipe! You took pictures, right? Well go ahead and post them on Instagram! Be sure to mention me @iambaker and use the hashtag #YouAreBaker.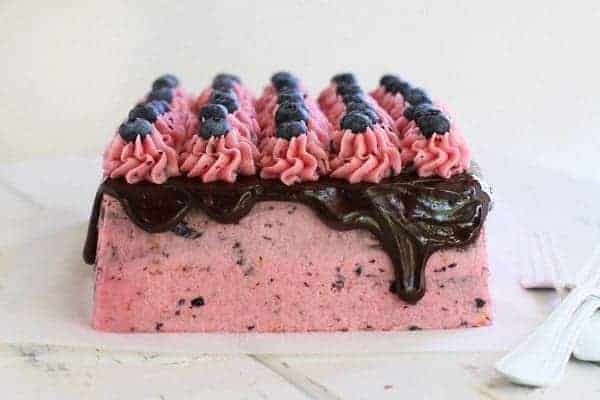 This cake is for my Father-in-Law, Dennis Rettke.
He passed away last week.  Its was very sudden, very unexpected, and has left a huge gaping whole in our family.
Dennis and my Mother-in-Law Patty are quite beloved in their community and around the world.  Since Dennis retired from his job as a   Superintendent, they have traveled around the world.  (Living life without regret!) Thailand, Australia, Alaska, and England just to name a few.
But no matter where they go, Dennis would be quick to tell you his favorite place to go is one where he is surrounded by his eight grand-kids.
As people have come forward to share, story after story told reveals the great depths of Dennis' generosity and kindness.  To call him beloved is a mighty understatement.
Everywhere they went, people were charmed and impacted by these two amazing people.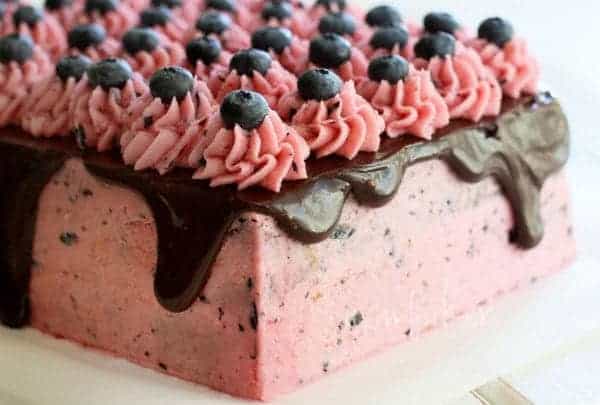 Patty has had guests and family in her home since the moment we heard the news.  She has been surrounded by love and prayers.  Being the exceptional entertainer she is, she has made meals and had desserts and provided nourishment for all.  Of course, many people have generously brought over meals and snacks.  We are so thankful for their kindness.
But this Thursday and Friday, when the viewing and funeral are going to take place, she will have more people in her home than can reasonably fit.  They are coming from far and near… traveling for many hours and even days.
And I wanted to help in any way I could.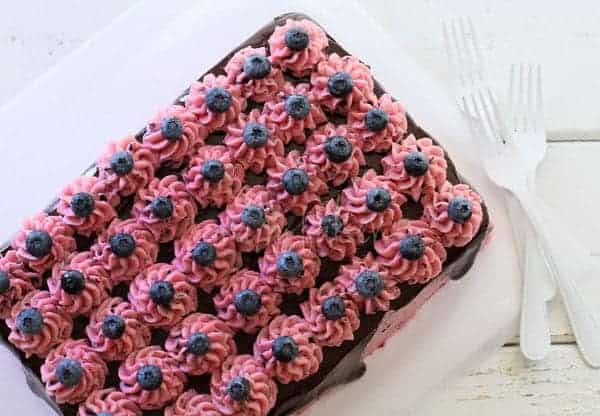 Quite honestly, it has been very natural for me to turn to baking in my grief.  This past week I have made cakes and breads and much more.  But this cake, this cake is special.
It's all for Dennis.
His favorite cake is, was, his wife's specialty.  Chocolate Zucchini Cake.  But Dennis also loved all things blueberry.  So I decided to combine the two to make a cake that would encompass what he loved most.
Normally I try to adapt recipes and make them unique, but not this time.  I wanted to make the cake exactly as Patty does, exactly as Dennis loved to eat it.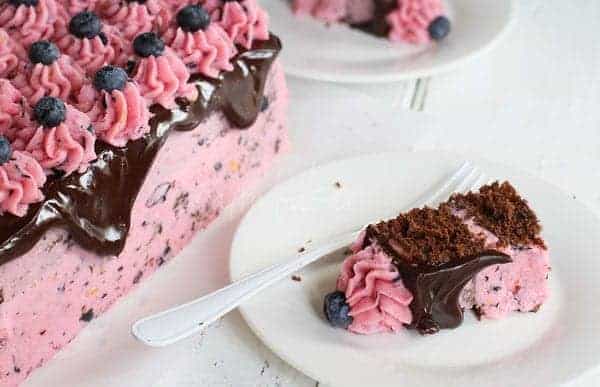 After making this cake I realized how much friends had influenced me.  I recalled a beautiful Dark Chocolate and Raspberry Buttercream Cake that the talented Sweetapolita made.  I also remembered the fantastic Blueberry Buttercream from My Baking Addiction.  For the ganache, I recalled the best and easiest recipe I have ever come across, Ganache Three Ways by Savory Sweet Life.
I am thankful for these talented woman whose talent left such an impact on me that my subconscious mind recalled their creations long before conscious mind did.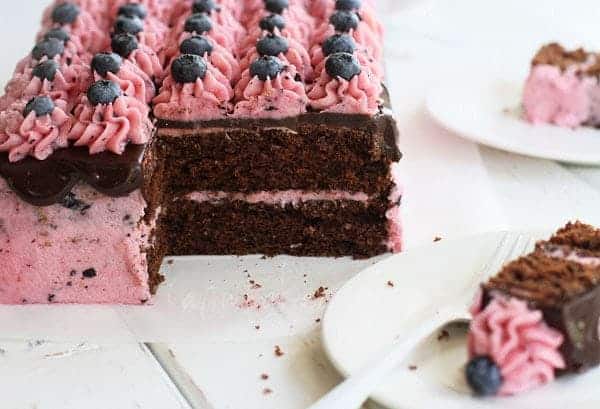 I am sorry to have shared here the deep sadness and grief we are in the midst of.  I normally love to keep this blog joyful and light.  I am just hoping that among all the hundreds of family and friends gathering together to celebrate one phenomenal man, that we can focus on the love and light Dennis brought to this world.
That we can be together and soak up the stories, photos, and memories of someone who truly made the world a better place.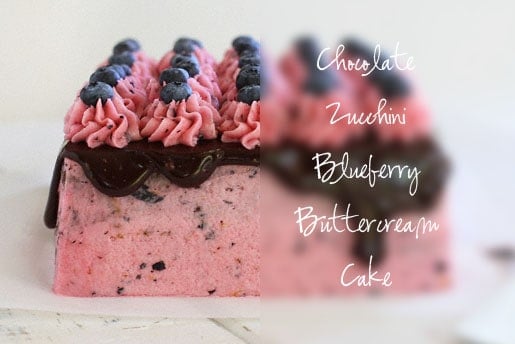 And that over his special cake, we can move towards the future holding his memory, his wisdom, and his unfailing love close to our hearts.