Chocolate Zucchini Muffins are a sweet and delectable treat that you will be craving for every dessert! These moist and rich muffins will satisfy every chocolate lover's taste buds! For more chocolate treats, try my Chocolate Zucchini Cake or Double Chocolate Zucchini Cupcakes!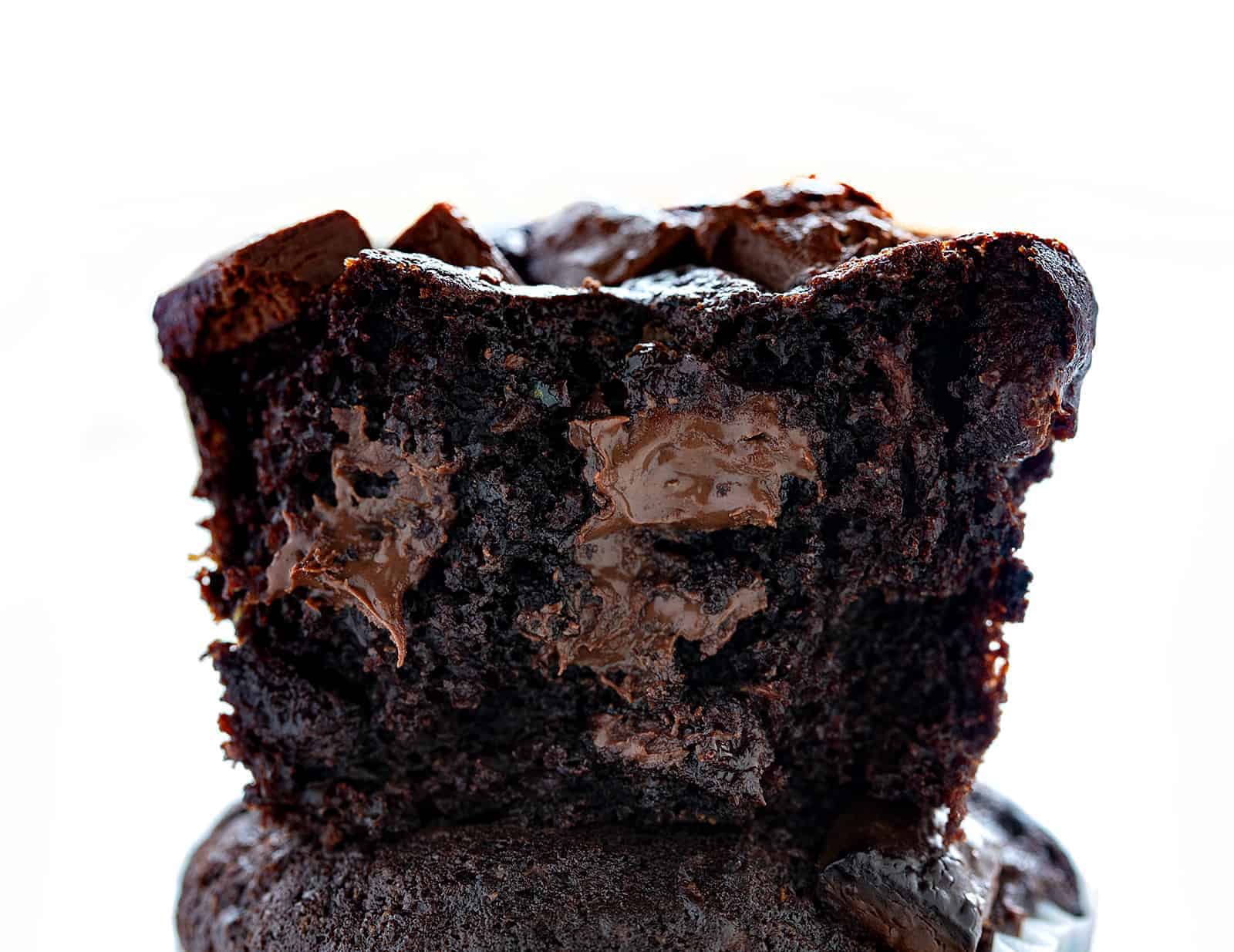 Chocolate Zucchini Muffins
When I make or eat muffins, the talking muffin joke always comes to mind. I still don't really get it, but it's a classic at this point. Two muffins were sitting in an oven. One turned to the other and said: "Hey, it's pretty hot in here, isn't it?" The other turned and shouted, "Oh my gosh a talking muffin!" Anyway, these Chocolate Zucchini Muffins are no joke. No one will believe that they are made with zucchini, but that is actually the secret to the moistness! For those doubters who could never fathom putting zucchini in a dessert, this will change their minds!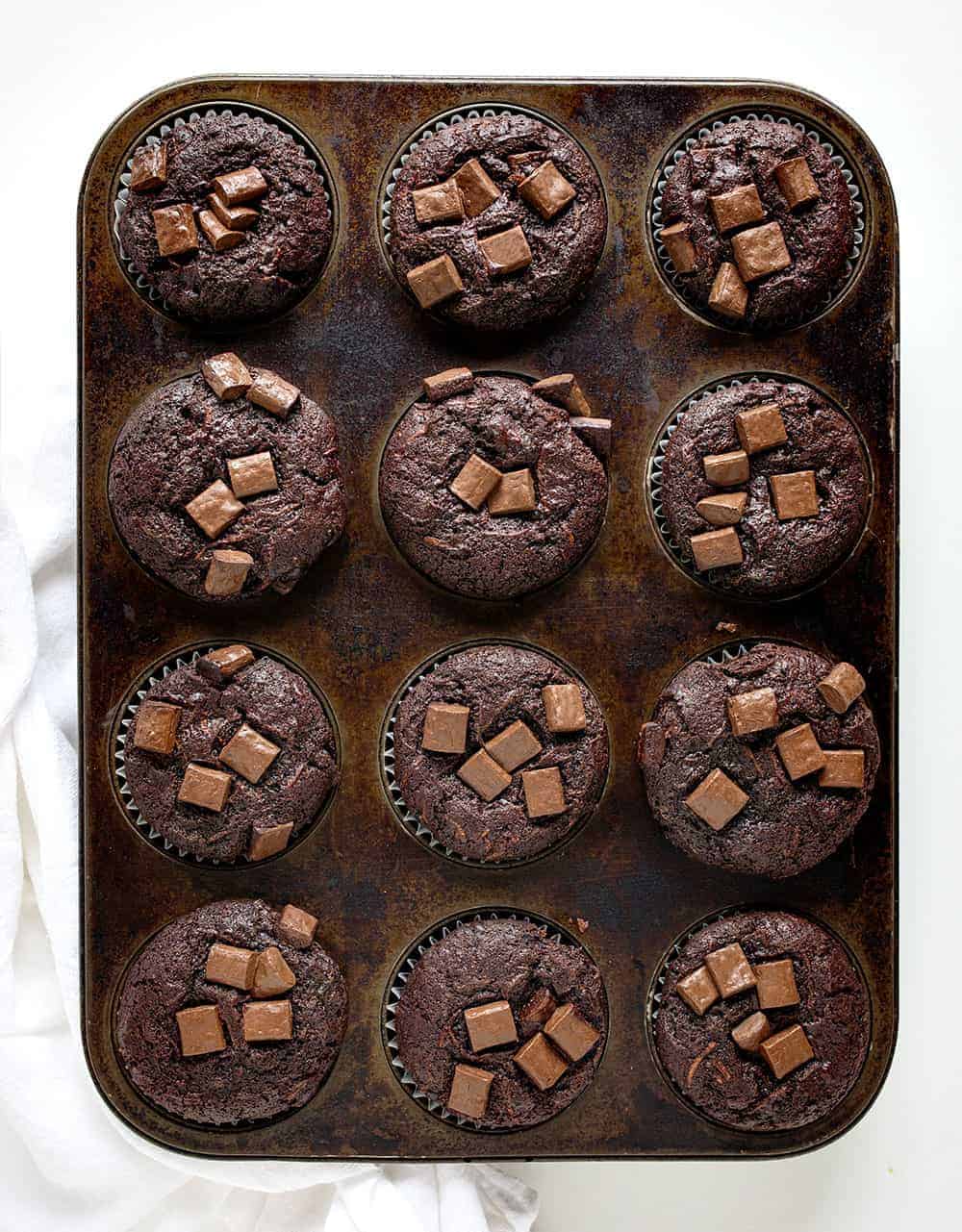 Chocolate Zucchini Muffins Recipe
This Chocolate Zucchini Muffins Recipe is taken from my Zucchini Brownies recipe but in a muffin form. Since muffins are more accepted as a breakfast food than brownies, it would be completely justified to have one of these muffins for breakfast! They are simple to make, and again, the zucchini does most of the work here!
Ingredients:
Vegetable oil
Sugar
Vanilla
Flour
Cocoa powder
Baking soda
Baking powder
Salt
Zucchini, NOT drained
Chocolate chunks
You will notice that there are no eggs or butter added to this recipe. They are absolutely not needed! These Chocolate Zucchini Muffins bake up beautifully and do not need the added air and flavor that eggs usually add. This is a great recipe for vegan friends!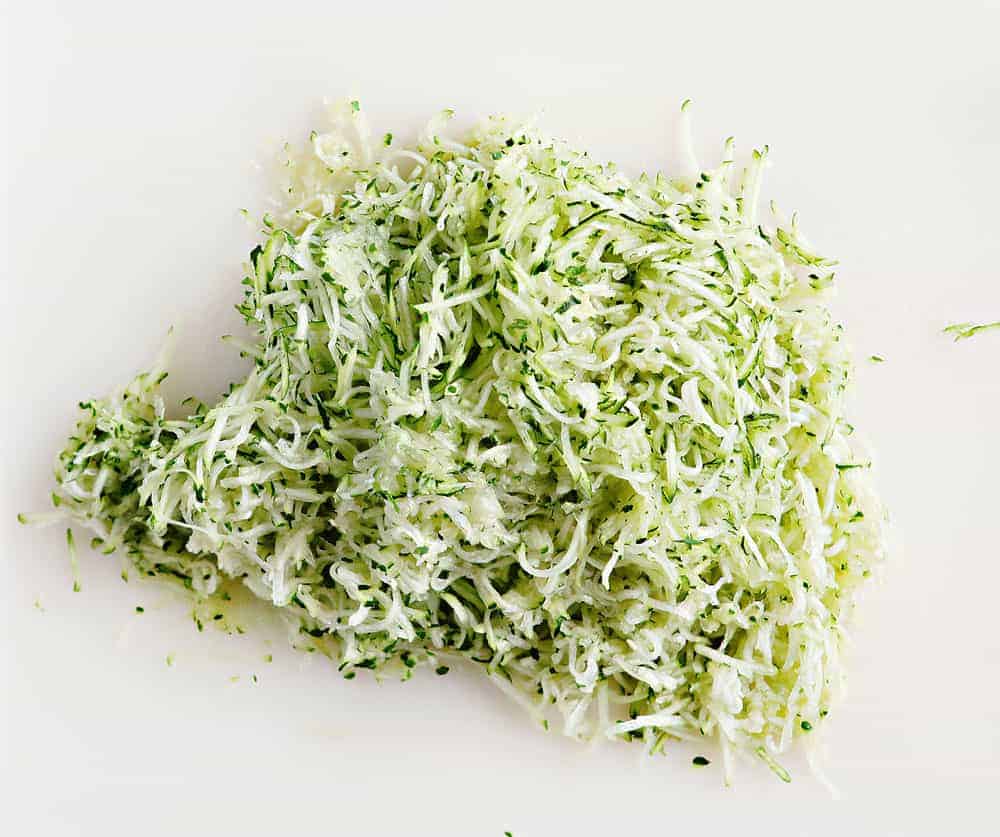 The Secret to Baking with Zucchini
Size matters. A large zucchini will be drier. A small zucchini with have more moisture. Certain recipes work best with different sizes. For instance, I tend to use a medium to small with this recipe because I want the moisture the zucchini brings, but I use a large zucchini for my Double Chocolate Zucchini Cupcakes.
Use the fine side of your grater. Coarser pieces will have a slightly more noticeable flavor and texture in a finished cake or bread recipe. (Farm kids tend to want that!)
Some recipes ask that the zucchini is pressed well with a clean towel to soak up excess moisture or to prevent whatever your baking from getting too soggy. Pay close attention to the recipe that you are making with zucchini as the level of moisture they provide is important. For instance, in this Chocolate Zucchini Muffins recipe, the zucchini is the main source of moisture and should NOT be drained!
Can I Use Frozen Zucchini?
Yes, you can! First, bring the frozen zucchini to room temperature. Since frozen zucchini collects extra moisture, you WILL have to drain it before adding it to the recipe. If your batter looks too thick, you may need to add a little extra oil in the mix, starting with a teaspoon at a time.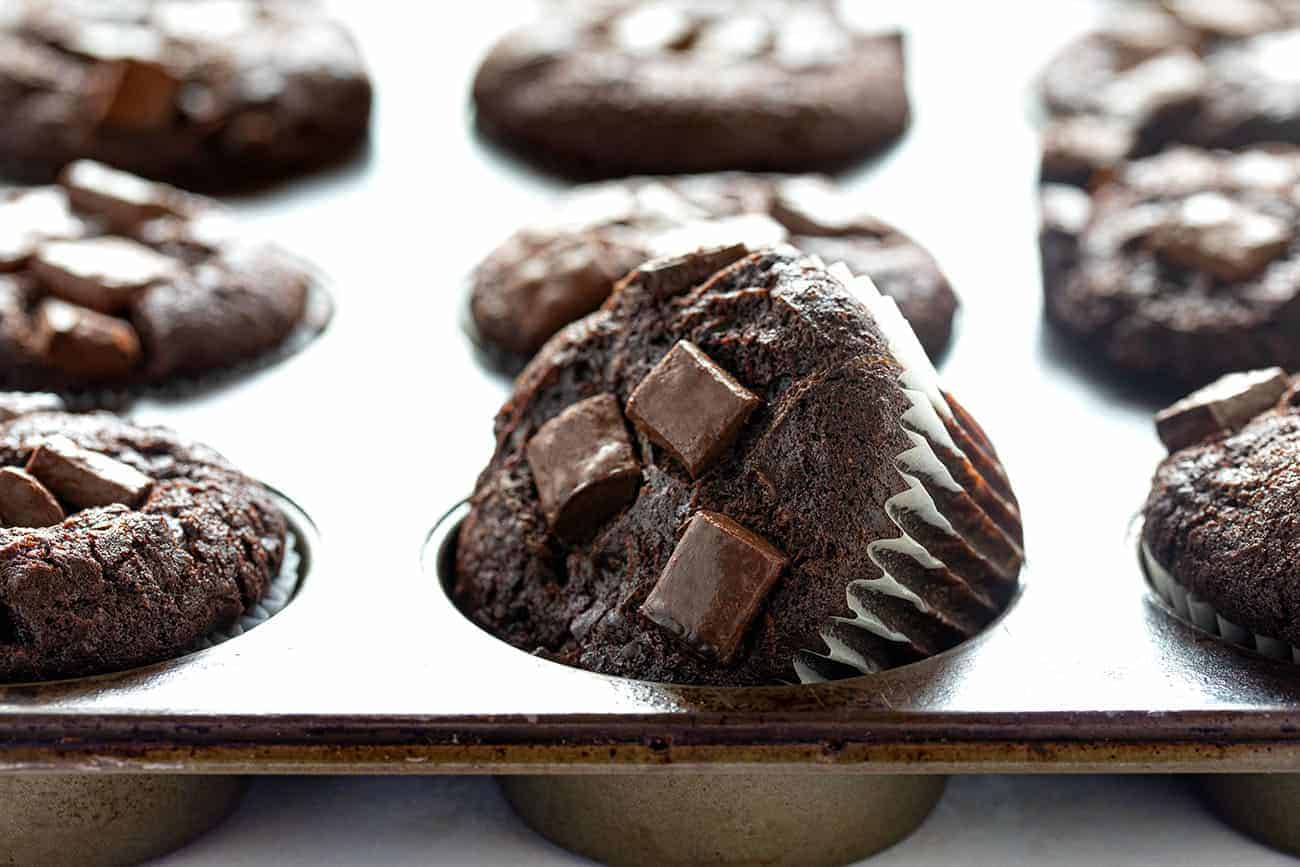 How to Make Chocolate Zucchini Muffins
After you preheat the oven to 350°F, prepare two muffin pans with muffin liners. This recipe will make between 14-22 muffins, depending on how full you fill the liners. If you want an extra-large muffin, check out my Banana Zucchini Muffins! Next, it's all about mixing together the ingredients to make your Chocolate Zucchini Muffins.
I added semi-sweet chocolate chunks to this batch to make the double chocolate. You can add milk chocolate chips, peanut butter chips, white chocolate chips, or no chips! They are so good and so rich the extra flavor is not necessary. (But can be fun!) If you do use chocolate morsels instead of chunks, be sure to use 1 1/2 cups instead of 1 1/4. Reserve a few for the top too!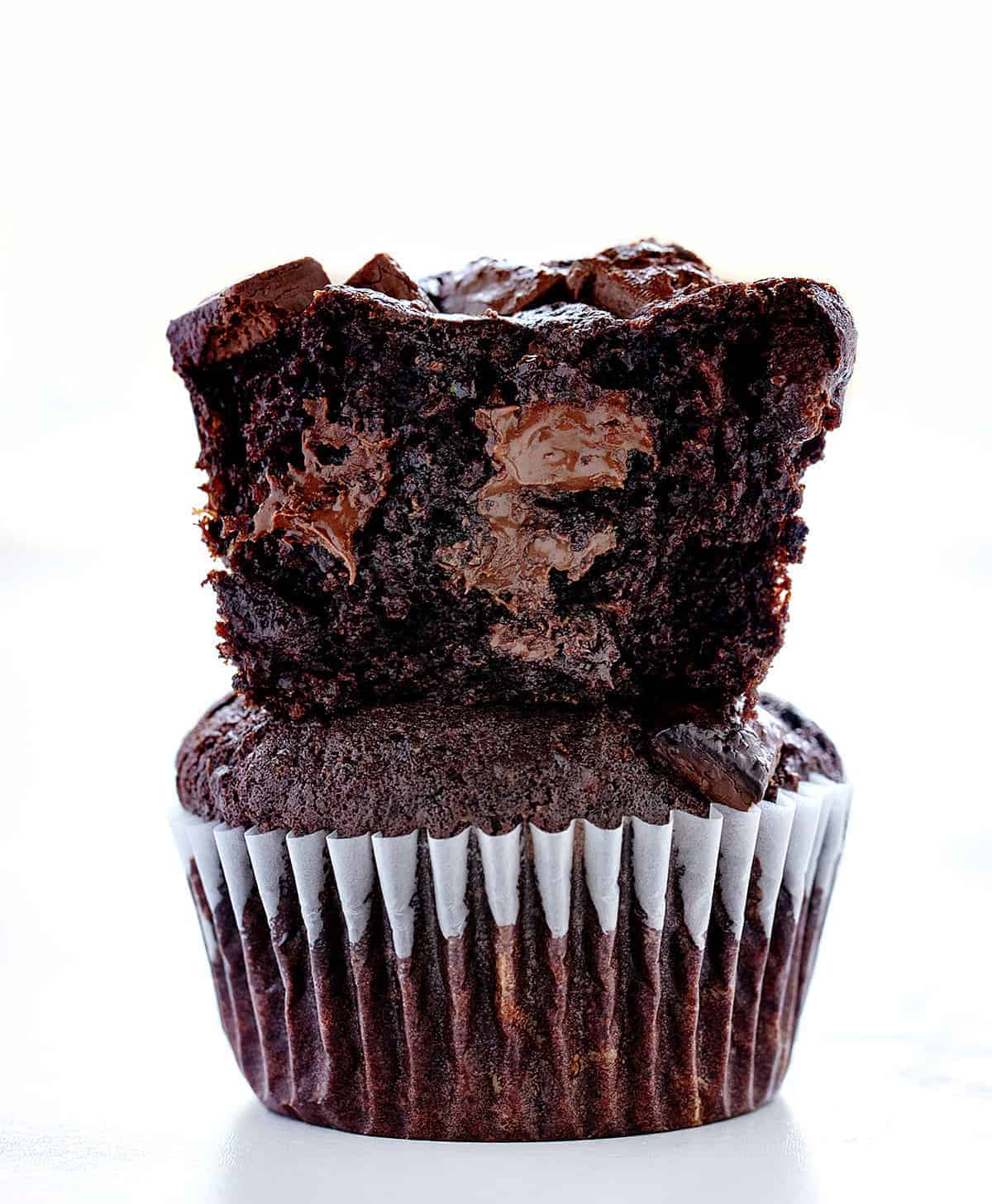 Looking for More Zucchini Recipes?
There is no time to waste to use your summer zucchini, so don't put off these recipes any longer!
Chocolate Chip Zucchini Cookies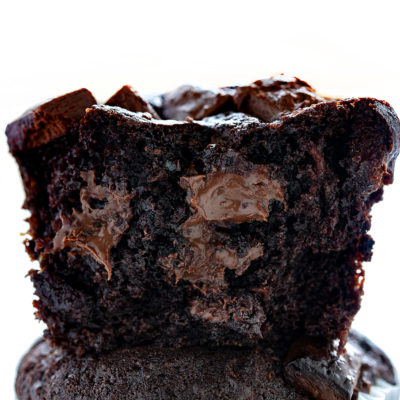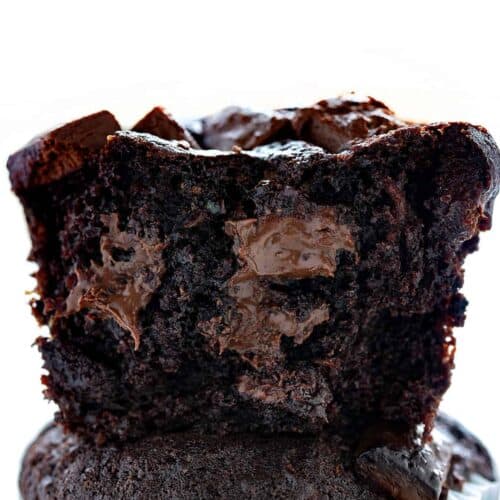 Chocolate Zucchini Muffins
Chocolate Zucchini Muffins are a moist, delectable treat that will satisfy your sweet tooth!
Ingredients
1/2

cup

(112g) vegetable oil

1 1/2

cup

(300g) granulated sugar

1

tablespoon

vanilla extract

2

cups

(256g) all-purpose flour

1/2

cup

(64g) unsweetened cocoa powder

1 1/2

teaspoons

baking soda

1

teaspoon

baking powder

1

teaspoon

salt

3

cups

finely shredded zucchini,

do not drain

1 1/4

cups

(210g) semi-sweet chocolate chunks
Instructions
Preheat oven to 350°F and prepare two muffin pan with 18 cupcake liners. (You will have anywhere from 14-22 muffins depending on how full you fill them.)

In a large bowl or in the bowl of a stand mixer, combine oil, sugar, and vanilla until fully incorporated.

Add in the flour, cocoa, baking soda, baking powder, and salt. Slowly stir the dry ingredients into the sugar mixture and mix until just combined.

Fold in zucchini and the chocolate chunks by hand.

Scoop 3 tablespoons of muffin batter into each cupcake liner. Bake for 25-30 minutes.
Did you make this recipe?
Thank you for making my recipe! You took pictures, right? Well go ahead and post them on Instagram! Be sure to mention me @iambaker and use the hashtag #YouAreBaker.