As a baker there are two things that I value greatly:
1. Time
2. Quality ingredients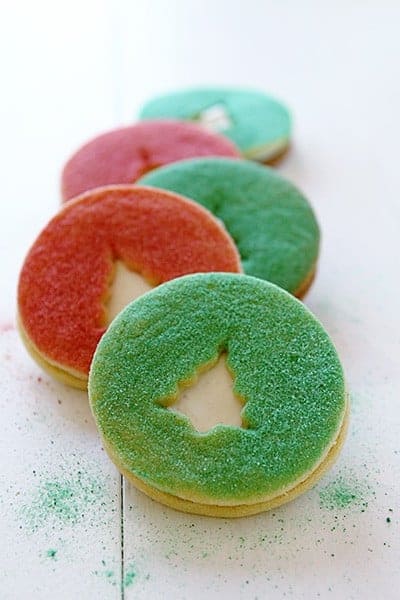 Sometimes, as much as it pains me, I have to set certain recipes off to the side because of the time involved.  This is never a fun choice because we all know that the care put into a recipe is often a direct correlation to the quality and flavor of that recipe.  I mean, cake mix cookies are fine in a pinch, but having a chocolate chip cookie from quality ingredients that took 48 hours to prepare is a magical thing.
Sugar cookies is one of those recipes that benefits greatly from 'rest'.  Chilling in the fridge (anywhere from one hour to overnight!) is a line that is in practically every roll-out sugar cookie recipe.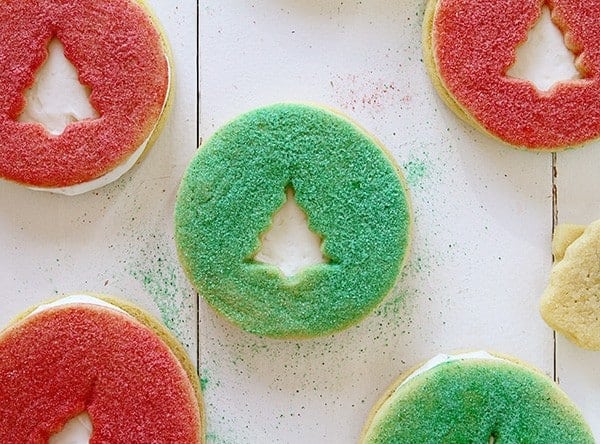 I recently tried a new (to me) product in the world of baking.  It is called Wondra® and is from the folks over at Gold Medal Flour.
Wondra® Quick Mixing Flour has always been known as your go-to flour for extra- creamy, lump-free gravies and ultra-flaky and crispy pie crusts. Its lightness and easy mixing qualities have made it perfect as the dredging flour for fish and poultry. But new research behind the product has revealed a hidden quality that will take this product from the unsung hero of the kitchen to the holiday baking tool that everyone is talking about!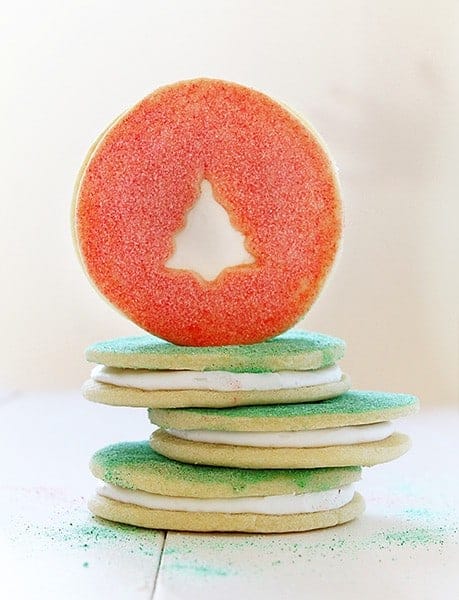 No chilling. No refrigerator time.  No down time.
Immediate sugar cookie gratification.
I decided to try it.  I prepared my dough with all room temperature ingredients and looked at it on my counter.
It took everything in me not to wrap it up and put it in the fridge!  But I didn't.
I rolled it out immediately and started punching out cookies.  I put those un-chilled cookies right into the oven and backed away slowly, expecting the impending doom of unrecognizable blobs of crispy browned sugar cookie dough.
But… it didn't happen.  They baked up beautifully!  The flavor and consistency was just like my go-to sugar cookie recipe.  And they held their shape quite quite well!
This product is nothing short of revolutionary for sugar cookie artists!
To make the sugar cookie sandwiches in this post, I used a very small cookie cutter and cut out the tree image before baking.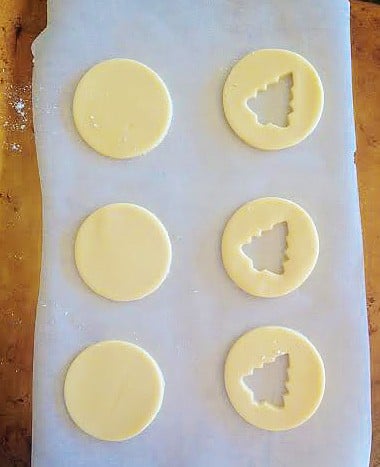 After baking allow cookies to cool slightly and sprinkle the cookies (with tree cut out) with sanding sugar or dusting powder. (I used red and green)
Place a solid cookie face down, fill with about 1 tablespoon of buttercream, then place cut out tree cookie on top.
You now have a perfectly festive, quick, easy and delicious Holiday Sugar Cookie Sandwich!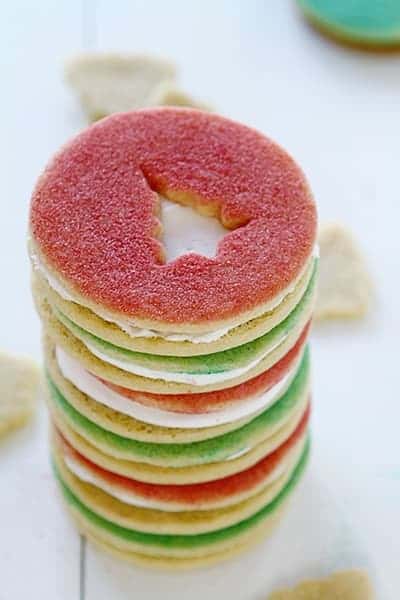 A few tips before using Wondra®:
Do not expect it to look and feel exactly like your traditional all-purpose flour.  Do expect it to work the same, if not better.
Do not be alarmed if your cookie "puffs up" while baking.  Do smile brightly when you remove it from the oven with it's shape perfectly in tact.
Do not expect it to taste different.  Do expect it to taste delicious.
Do not waste one more second waiting on chilling dough or sticky dough or cookies that taste stale in 2 days.  Do use Wondra® and roll out beautiful dough that stays fresh longer!
This post brought to you by Gold Medal Flour and myself.  All recipe testing, opinions and images are my own.