This post is all about (and for) my dear husband, Chad.  I really wanted to take a moment to let him know how much I appreciate him; his patience, his willingness, his kindness, and his knack for jumping in and doing the dishes just when I need it most.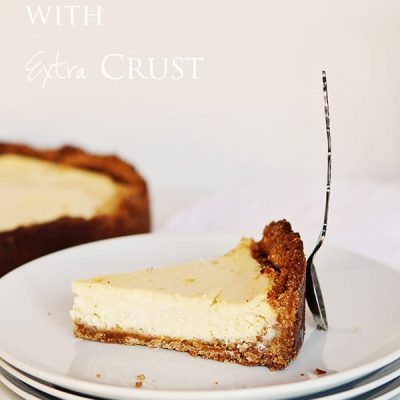 Classic Cheesecake with Double Crust
One of Chads favorite desserts is Cheesecake. Not just any old cheesecake, but cheesecake with a BIG EXTRA THICK crust. The more crust the better.
Ingredients
Graham Cracker Crust
2 1/2

c

graham cracker crumbs

2/3

c

butter

melted

1/2

c

sugar
Filling
2

pkg

8 ounces each cream cheese, softened

2

eggs lightly beaten

1/3

c

sugar

1

tsp.

vanilla extract

Pinch

of salt
Instructions
Crust
In a bowl, combine the graham cracker crumbs, melted butter and sugar. Pat evenly onto the bottom and all the way up the sides of a 8-in. springform pan. Chill for 15 minutes.
For Filling
Beat cream cheese and eggs in a stand mixer on medium speed for 1 minute. Add 1/3 cup sugar, 1 teaspoon vanilla and salt. Continue beating until well blended, approximately 1 minute. Carefully pour into crust.

Bake for 35 minutes at 350 degrees. Remove from oven and allow to cool to room temperature. Chill until ready to serve.
Did you make this recipe?
Thank you for making my recipe! You took pictures, right? Well go ahead and post them on Instagram! Be sure to mention me @iambaker and use the hashtag #YouAreBaker.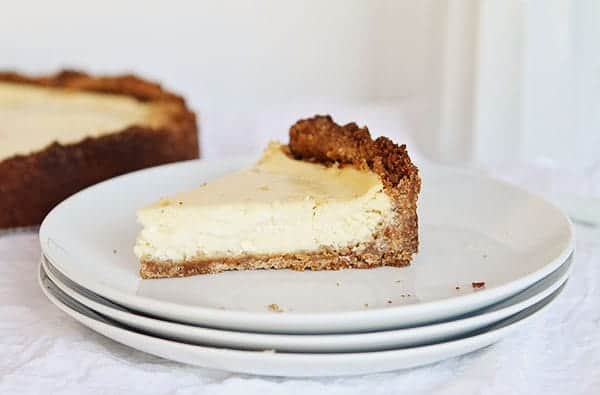 Chad took a few minutes to answer some questions I had for him.  These are me asking him, so when I say "my" I am referring to me.  And as you will be able to tell, my sweet husband is a man of few words. 🙂
What is my favorite blog? I have no idea.  i am baker?
What is my favorite prop? Cake stands.
What is the weirdest thing you have seen me do for a blog post? One time you made 50 cakes in 30 days.
If you had a blog what would it be called? Gardener Hunter Dad
What do you do for a living and what are you hobbies? I am a Project Manager for a construction company.  My hobbies are hunting, gardening, fishing rod building, and hanging out with my kids.
Bonus Question:
Who does the dishes?  We both do.
Note from Amanda:  No, my blog is not my favorite blog.  He is right, I love cake stands.  I did 50 cakes in 30 days for my book!  It was an insane time!  Chad is an amazing gardener , fisherman and hunter. Our home displays many of his mounts. (2 Elk, Bear and a Buffalo)  He works a lot, and is really good at what he does!  He even manages to sell custom fishing rods on the side.  But best of all, he is always willing to help with the dishes!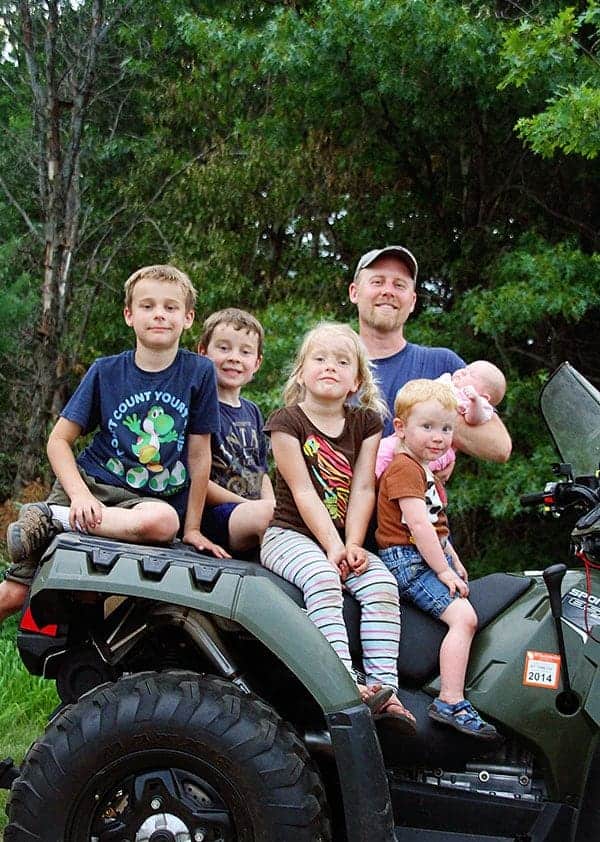 I chose this picture of Chad because I think it represents him well.  He is outside and spending time with his kids!
And now on to the fun part… dessert!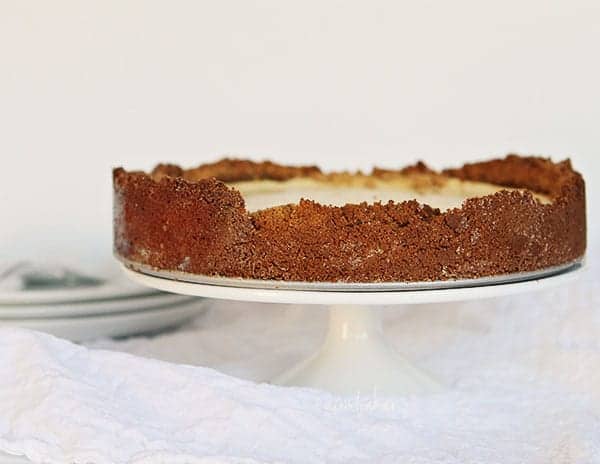 One of Chad's favorite desserts is Cheesecake.  Not just any old cheesecake, but cheesecake with a BIG EXTRA THICK crust.  The more crust the better.
Just look at the cheesecake to crust ratio!
So while I am sharing this recipe with you, I want you to know that you are welcome to halve the crust ingredients to achieve a more, um, normal cheesecake.
I have a fun little surprise that I want to share with you!  While preparing the springform pan for the crust I spread a fairly thick layer of cold butter over the bottom, and it ended up just slightly caramelizing the very bottom of the crust.  The added texture and sweetness was amazing!  If you are making this for your family and don't mind using them as guinea pigs, I hope you will give it a try! 😉