Let me get real down and dirty here.
I dont know what to pray.
In August my Father in Law died suddenly of a heart condition.  Six months later my husband was diagnosed with the same condition.  So I prayed, "Dear Lord, we trust you with Chad.  Whatever Your will, may it be done."
I re-evaluated our lives and tried to pinpoint sin.  I had conversations with God about acceptance and faith.  I told God, " I believe that You will only bring us through trials to draw us closer to You and further Your kingdom.  Its all about Your glorification."
That is what I am supposed to say right?  That is what I am supposed to believe?  I mean, I do.  God loves me and wants the best for me.  His greatest desire is to fully know me and be in a relationship with me.  He would put any trial in our paths that would ultimately lead to a greater trust and faith in Him.
I never so much as let myself entertain the words, "Just heal him Lord.  Just make my husband well.  I know you can do anything God, please just heal him."
I don't dare.
My faith is strong!  My faith is steady!  I know God can heal, I just don't want to test Him.
The truth is, I desperately just want to beg Him to make Chad whole.  When I sat in the room and watched them shock Chad's heart, there was peace.  Seeing his heart go from a normal sinus rhythm right back into AFib… its like I could feel God there.  The pain and grief of knowing that this treatment didn't work…it wasn't overwhelming.  There was a calmness.  Like I knew it was God's will.  (Even just saying that feels awkward, please don't think I am minimizing the situation in any way.)
I am afraid.  Terrified.
Afraid to ask for His healing.  Afraid that for some sovereign reason we wont get it.  Afraid of feeling rejection.  Afraid of losing my husband and not being able to praise God like Job so graciously did.
Job 1:21
And he said, "Naked I came from my mother's womb, and naked shall I return. The LORD gave, and the LORD has taken away; blessed be the name of the LORD."
And most of all, I am afraid of losing my relationship with God.
Maybe healing Chad is not in His plan.  He knows the big picture right?  Who am I to walk in and say, 'Nope.  Not this trial God.  We love and trust You just fine thank you very much.  Lets just get some healing now OK?"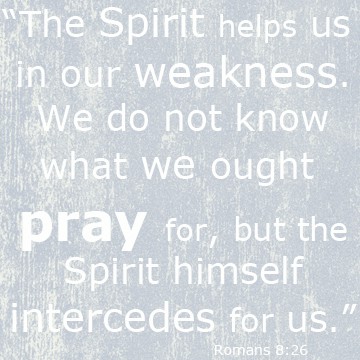 Romans 8:26-27
In the same way, the Spirit helps us in our weakness. We do not know what we ought to pray for, but the Spirit himself intercedes for us through wordless groans.  And he who searches our hearts knows the mind of the Spirit, because the Spirit intercedes for God's people in accordance with the will of God.
God even goes so far as to guide me when He knows I am lost praying.  He searches my heart!  But are the desires of my heart all that matter?  Or do I need to say the words… and believe He will provide?
What if my prayers are wrong… and not answered like I want them to be.
Just feeling confused and a little broken.
And my question is, Do you expect God to answer your prayers?  What do you do when He doesn't?