If you don't want ooey gooey cheese covering every single nook and cranny of your scalloped potatoes then look away. These Cheesy Scalloped Potatoes are perfection! If you happen to want an easy Crock-Pot Scalloped Potato, I've got ya covered. You may also love my Potatoes Au Gratin with Smoked Sausage.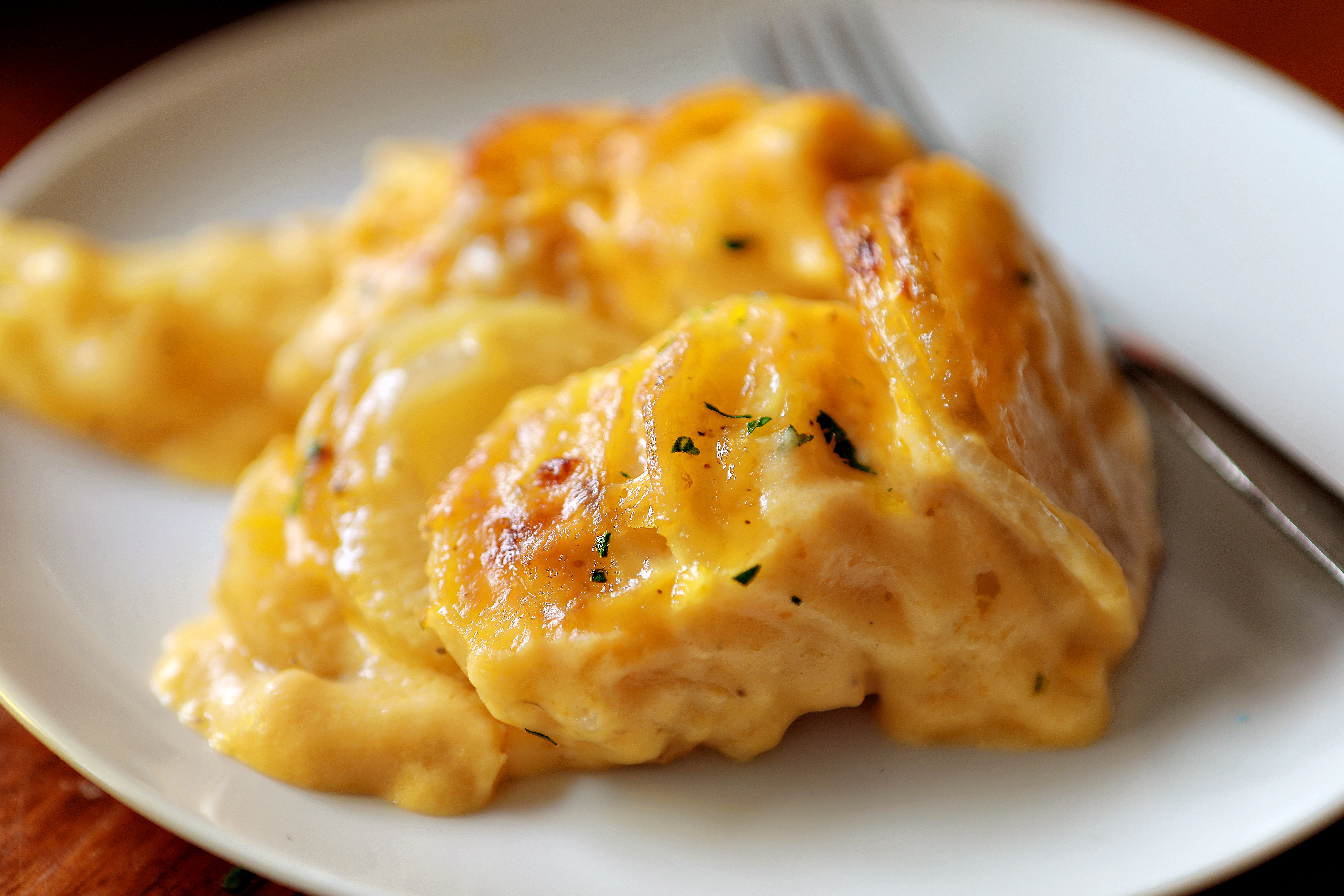 Cheesy Scalloped Potatoes
For this recipe, I take a cream sauce and smother it over thick-cut potato rounds.  I like to use a mandolin so that our potato slices come out the same every time.  This is seriously the most amazing cheesy scalloped potato recipe that I have ever had.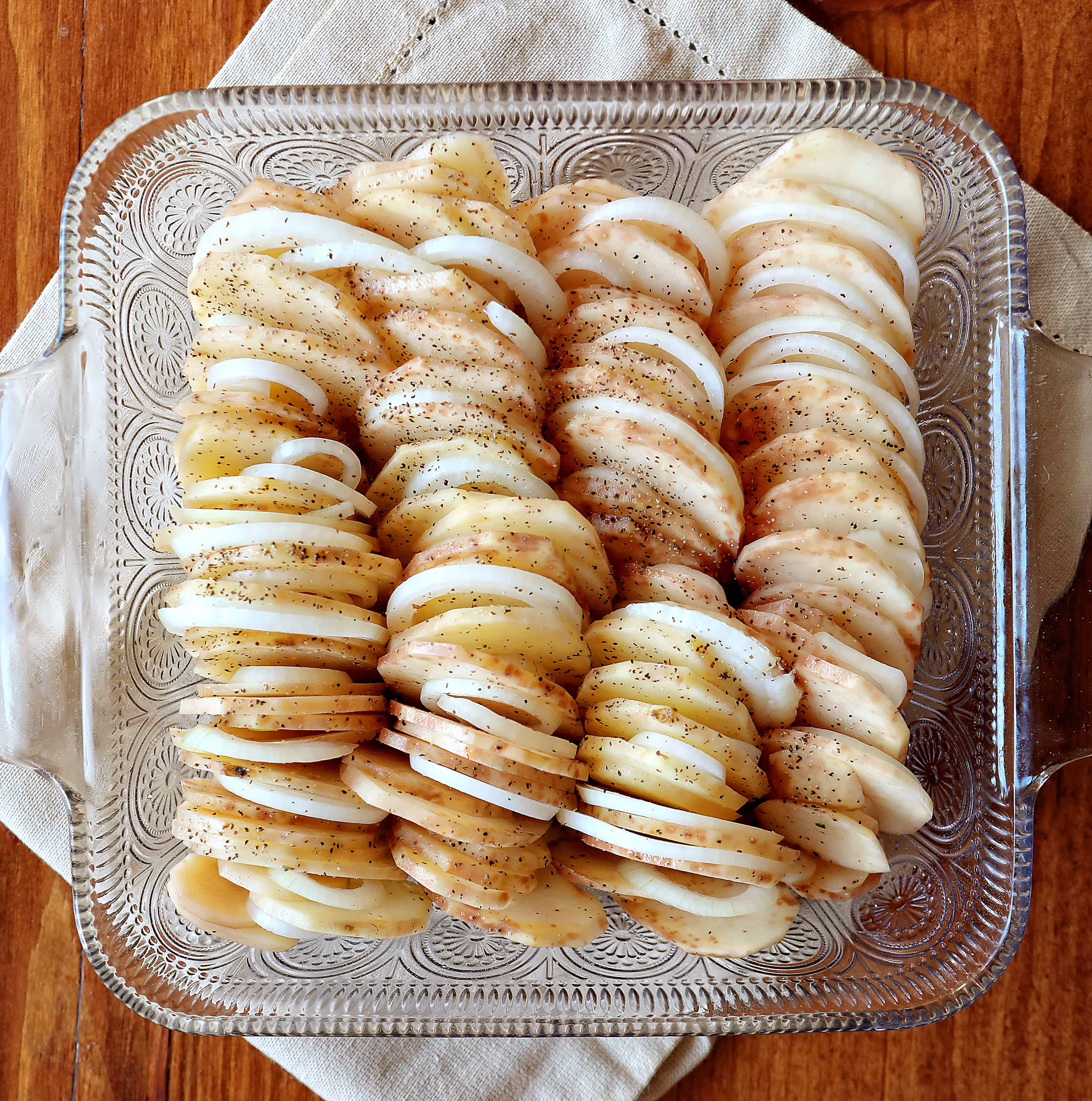 Scalloped Potatoes vs. Au Gratin Potatoes
Why is there so much confusion about scalloped potatoes versus Au Gratin Potatoes? Well, they are very similar. So, we are calling our dish cheesy scalloped potatoes, and let me explain why we can do that. We are basically combining the best parts of both dishes.
A traditional scalloped potato dish consists of sliced potatoes layered in a casserole dish and baked with heavy cream and lots of herbs. A traditional Au Gratin Potato dish, on the other hand, has grated cheese sprinkled between the layers, resulting in a cheesy, more decadent dish. In both dishes, the potatoes are cut into rounds, but the potatoes used in scalloped potatoes are often cut a bit thicker than those in au gratin potatoes.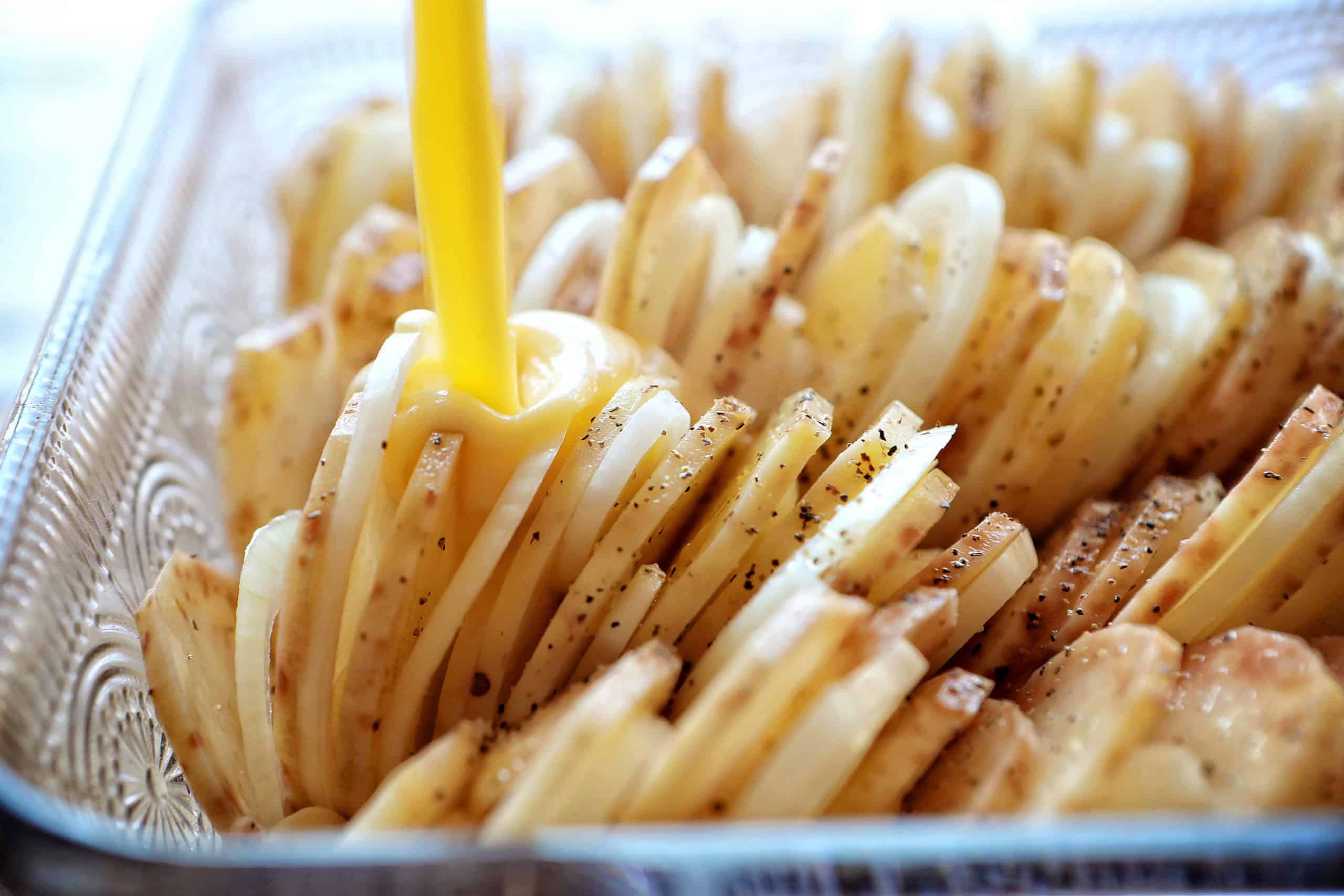 What Potatoes are Best for Scalloped Potatoes?
When choosing a potato for scalloped potatoes, I recommend a Russet potato (like I used for this recipe) or Yukon Gold potatoes. These two kinds of potatoes are starchy enough to help thicken the sauce and they will also turn out soft and tender. If you choose a more waxy potato, they may not soften up. Also, slice the potatoes as evenly as you can (which is why I recommended a mandoline earlier). Keep the thickness from 1/8 of an inch to 1/4 of an inch to ensure the potatoes are cooked evenly.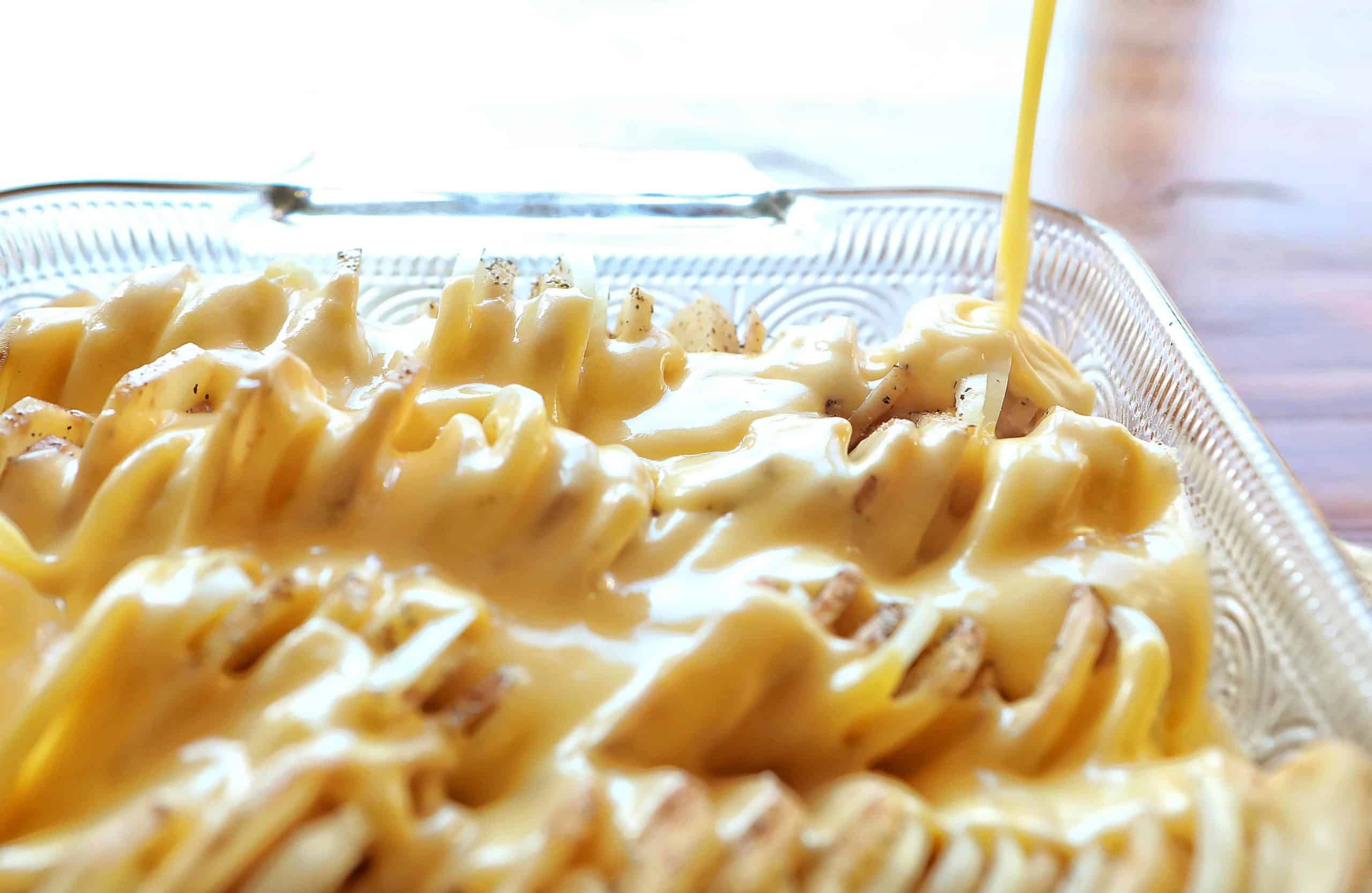 Cheesy Scalloped Potatoes and Ham
So many people have asked if this could be combined with Ham. Without a doubt. This would be amazing with the addition of ham! I would maybe cube it and put it in between the rows of potatoes. Really, all you need to do is add it to the ingredients list, it will incorporate with the rest of the recipe just fine. That would take this from a side dish to a knock out the main course!
No matter which way you decide to prepare this cheesy scalloped potatoes dish, you will not be disappointed! Neither will anyone at your dinner table. Seriously? What is there not to love!?
I love to pair this with other holiday favorites like the worlds WORST stuffing, roasted carrots, creamy mashed potatoes and herb butter roasted turkey!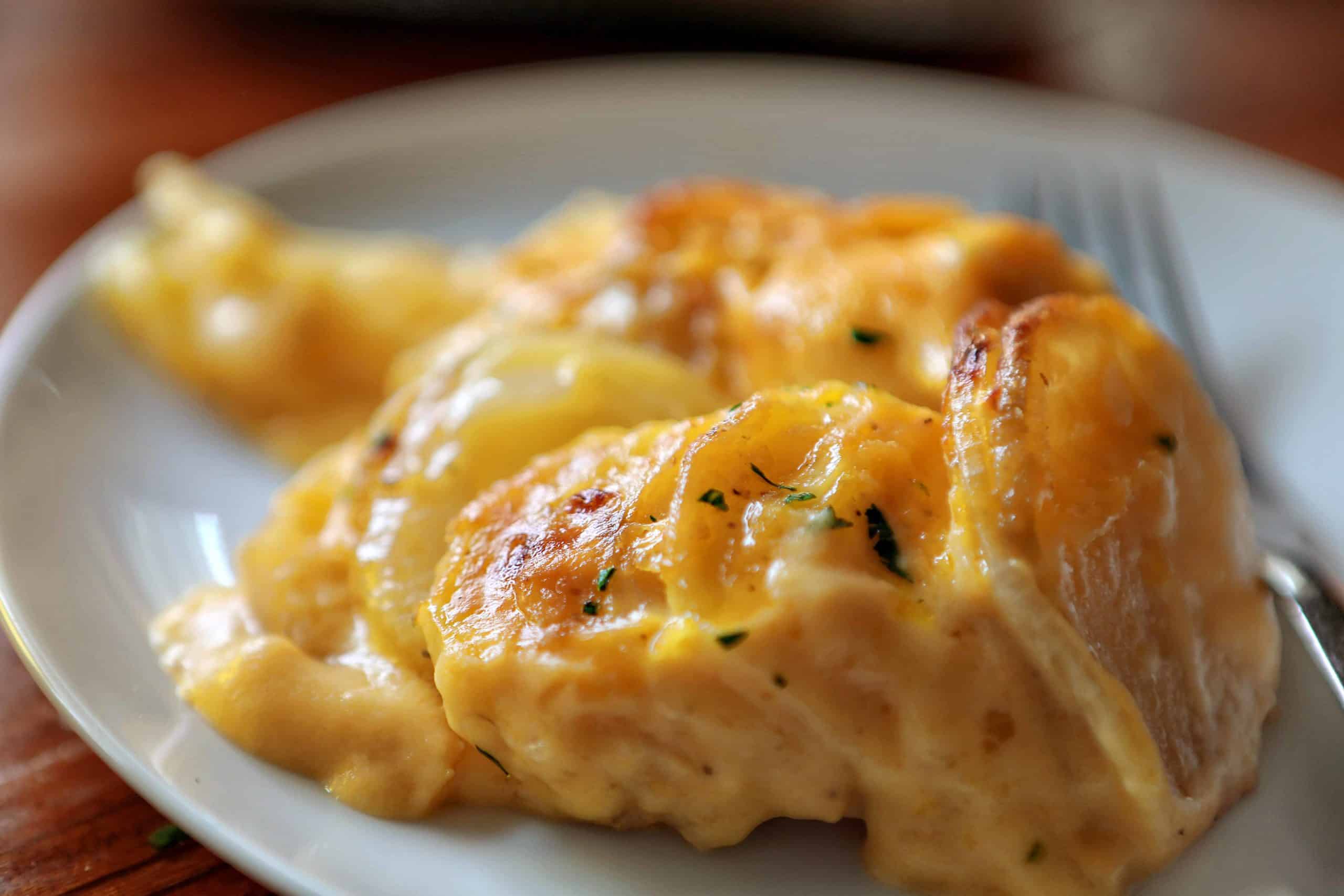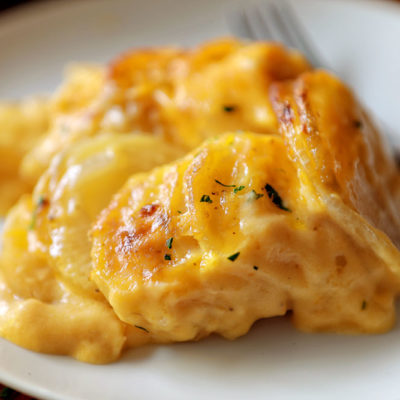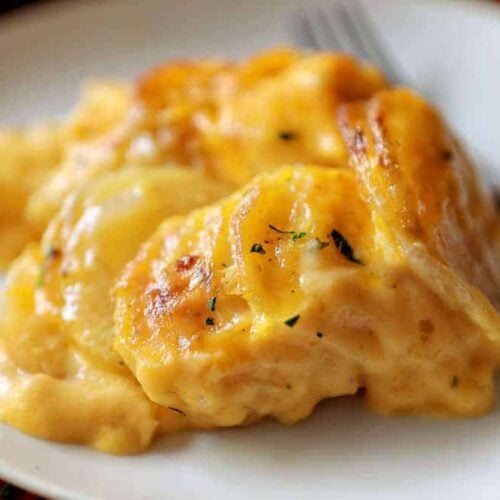 Cheesy Scalloped Potatoes
If you don't want ooey gooey cheese covering every single nook and cranny of your scalloped potatoes then look away. These Cheesy Scalloped Potatoes are perfection!
Ingredients
4

russet

potatoes,

peeled and sliced into ¼-inch slices (about 2 pounds)

1

yellow

onion,

sliced into rings

3

tablespoons

unsalted butter

3

tablespoons

all-purpose flour

½

teaspoon

kosher salt

2

cups

whole milk,

room temperature

1 ½

cups

mild cheddar cheese,

shredded

salt and pepper to taste
Instructions
Preheat oven to 400°F. Lightly spray an 8×8-inch casserole dish with nonstick cooking spray.

Arrange the potatoes and onions in the prepared baking dish, staggering potato and then onion.

In a medium-size saucepan, melt butter over medium heat. Mix in the flour and salt, and stir constantly with a whisk for one minute. Stir in milk. Cook until mixture has thickened.

Stir in cheese all at once, and continue stirring until melted and smooth, about 30-60 seconds. 

Pour the cheese sauce over the potatoes, and cover the dish with aluminum foil.

Bake for 85-90 minutes, or until the potatoes are tender.

For a crisp topping, change the oven setting to broil after the potatoes are baked. Broil until golden brown.

Season with salt and pepper to taste and serve.
Did you make this recipe?
Thank you for making my recipe! You took pictures, right? Well go ahead and post them on Instagram! Be sure to mention me @iambaker and use the hashtag #YouAreBaker.