Blueberry Muffins are sweet and fluffy muffins made with fresh blueberries, homemade blueberry syrup, and a crumble topping. Double the blueberry! They are a delicious breakfast, snack, or treat to enjoy with a cup of coffee or tea and a great way to use up ripe blueberries! I also have Blueberry Cream Cheese Muffins you will love!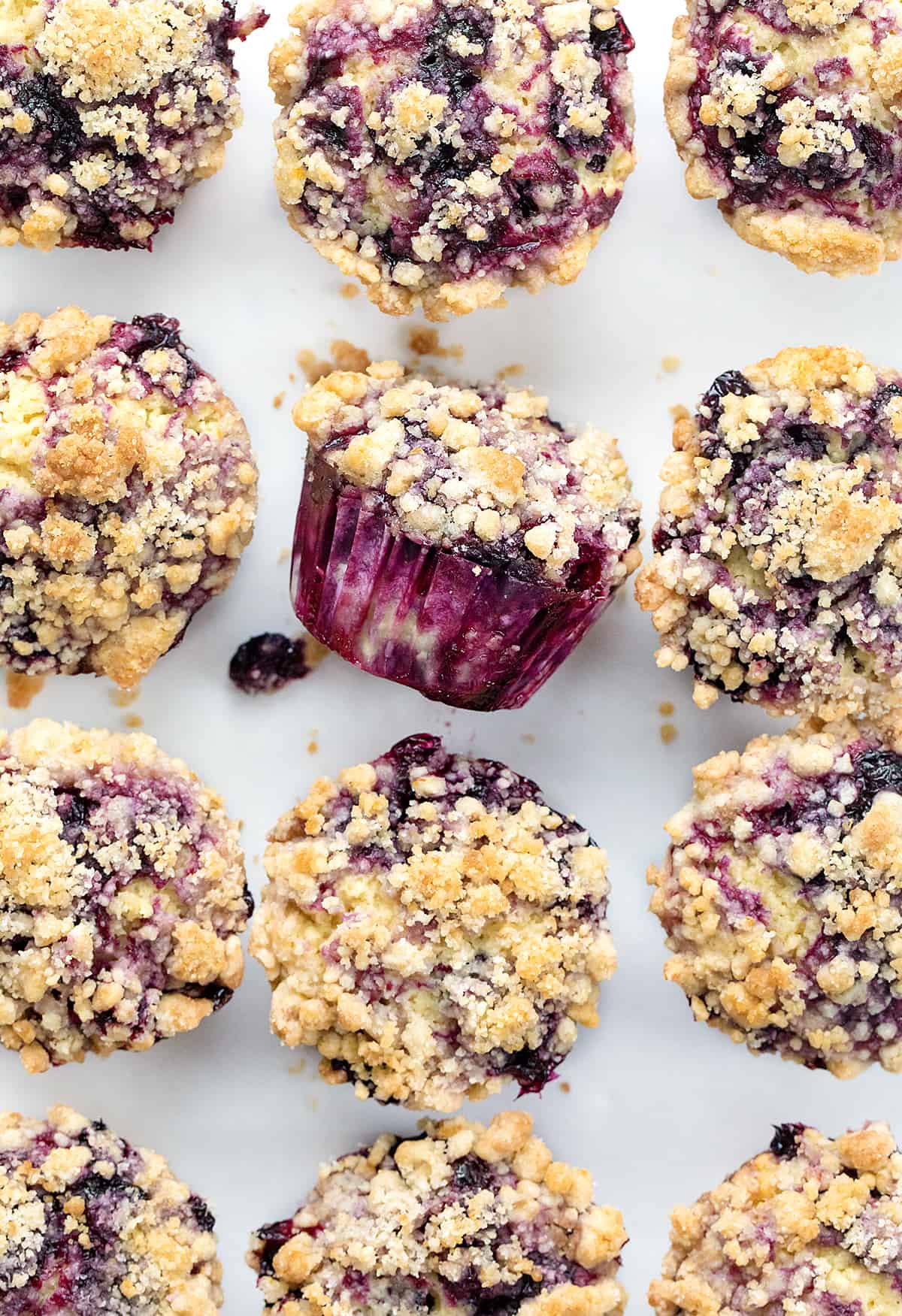 Ingredients & Substitutions
Blueberries: Either fresh or frozen blueberries (thawed) would work in both the muffin batter and the syrup.
Blueberry Syrup: If you don't have enough blueberries to make the syrup, you could use the store-bought syrup in a pinch. This is the recipe I used for my 'gourmet' Blueberry Marshmallows.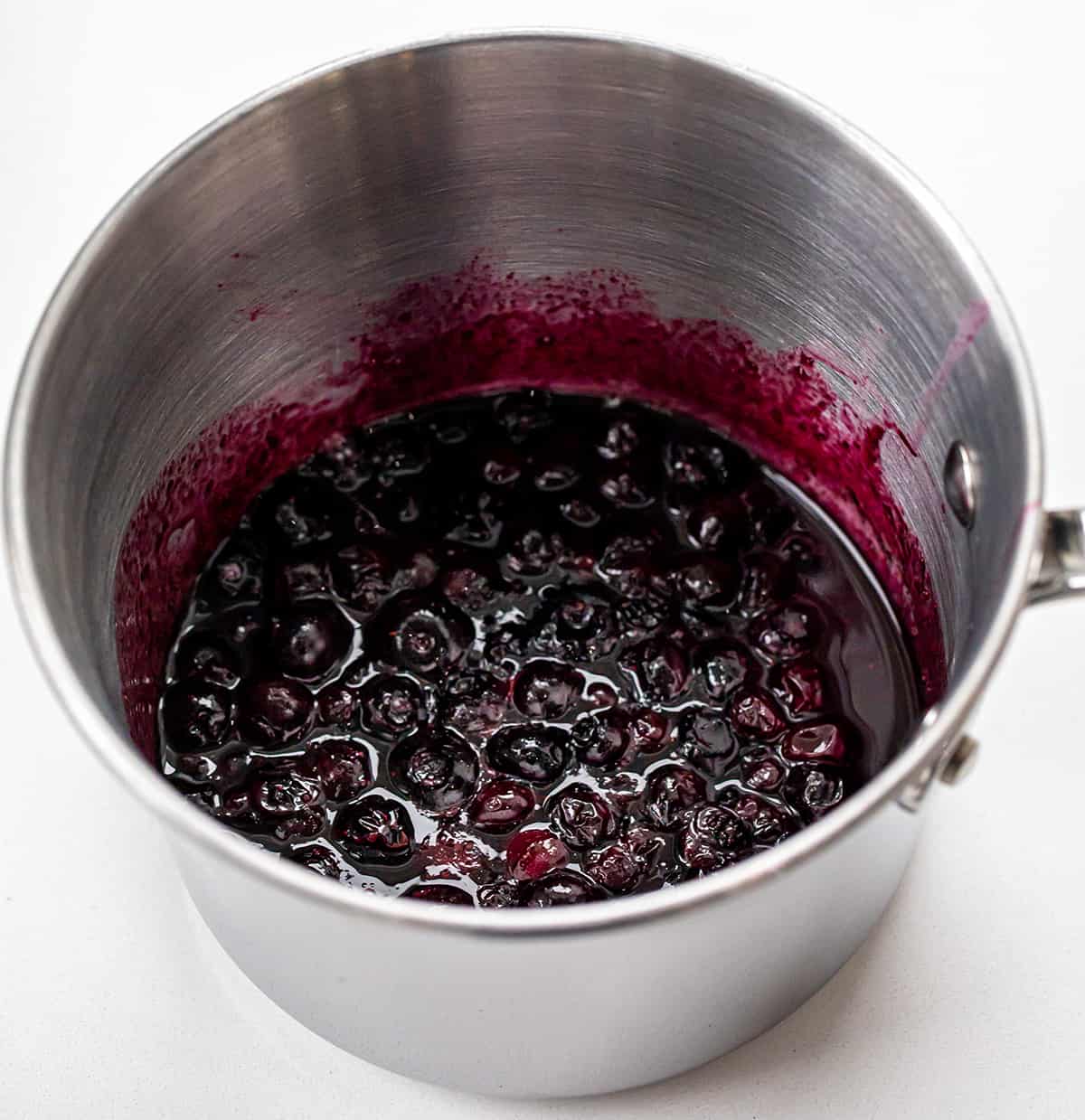 Crumble Topping: The crispy and buttery crumble topping is the perfect complement to these fruit-based muffins. You can get this made ahead of time and store it in an airtight container in the refrigerator for up to a week.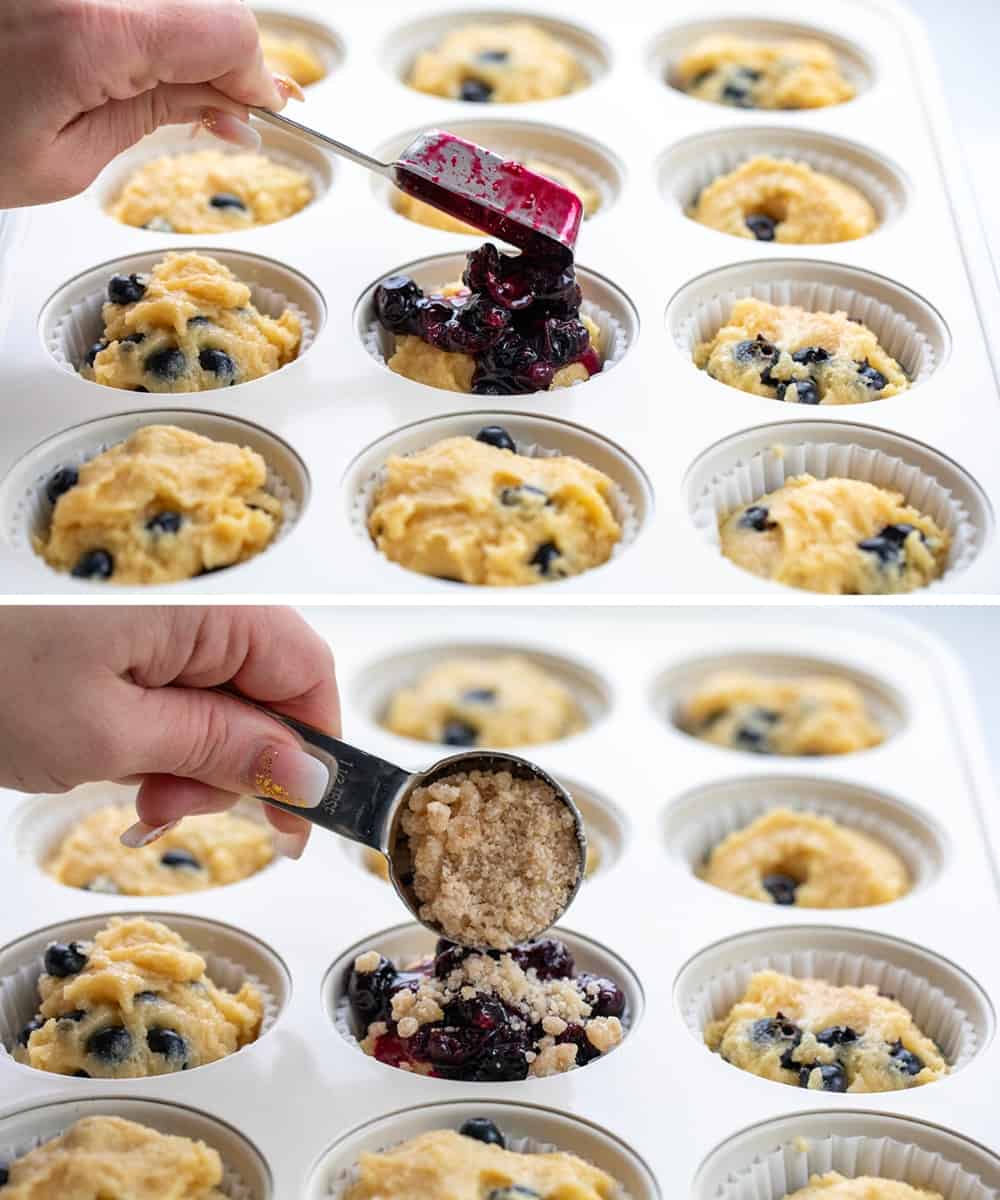 Can I Make Muffins Ahead of Time?
Yes, you can make blueberry muffin batter ahead of time by combining all the ingredients, except for the blueberries, and storing it in the refrigerator overnight. The next day, fold in the blueberries and proceed with baking the muffins. This method is a great time-saver and allows you to have fresh blueberry muffins ready to be baked when you want them. It's important to note that the batter should be used within 24 hours for best results, but can be stored up to 48 hours in the refrigerator.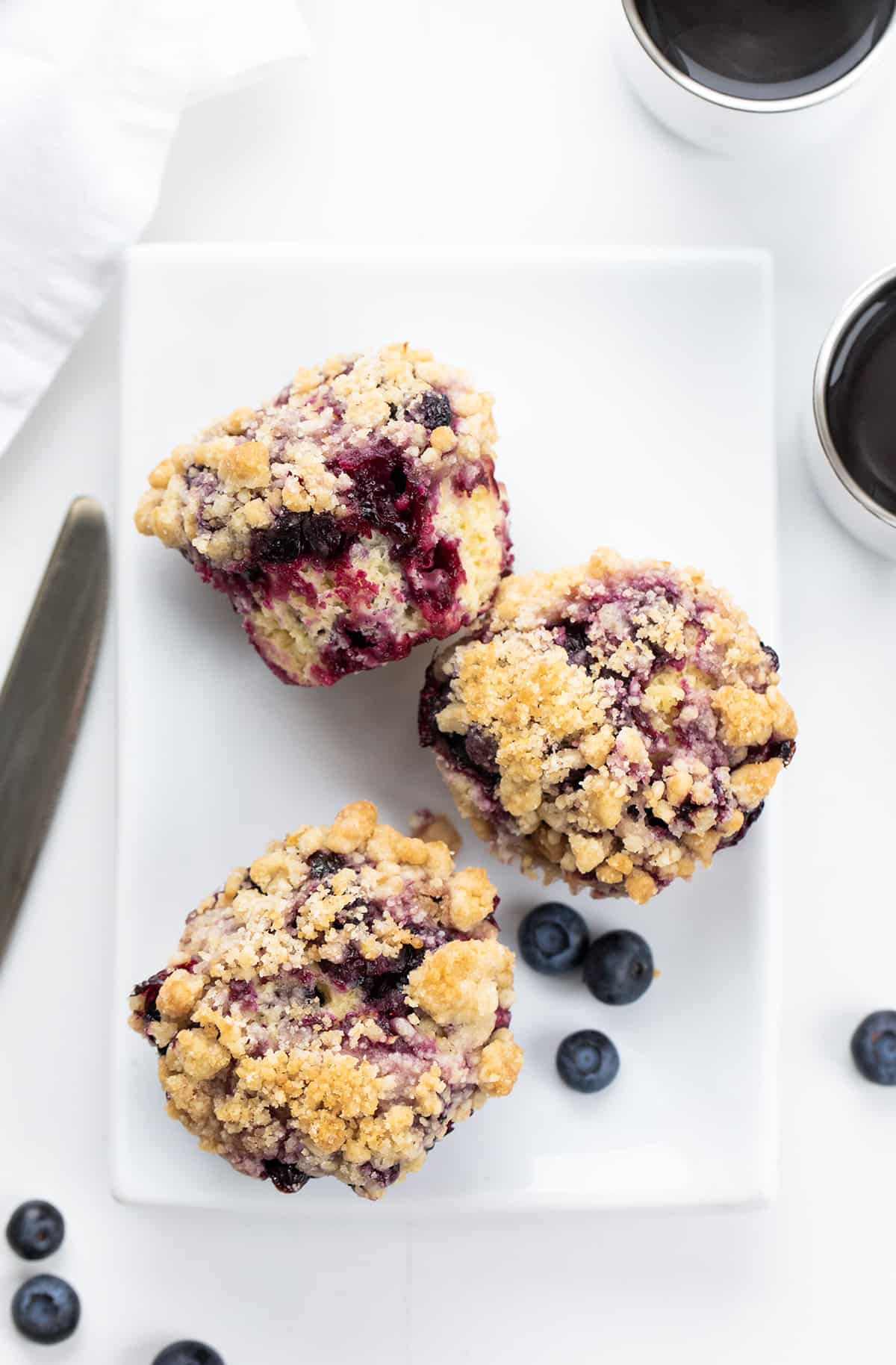 How to Store Blueberry Muffins
There are a few ways you can store blueberry muffins.
Room Temperature: Because they are best enjoyed at room temperature, this is usually the recommended way to storing. Use a larger sealable plastic bag or an airtight container to store the muffins in a single layer. Some folks recommend adding a piece of paper towel to the bottom so that it will soak up any condensation. This may not be necessary if your muffins are properly cooled before storing. However, if I use an airtight container, I will often add a piece of bread to the container, torn in half, and fit it in between the muffins. The bread will soak up moisture as well. Best enjoyed within 2-3 days.
Refrigerator: (Refrigeration, in general, dries out baked goods faster so a typical muffin recipe shouldn't be refrigerated.) Place in a sealable plastic bag or airtight container and then place into the refrigerator. They should keep for up to 5 days. To reheat, remove from refrigerator and pop into the microwave for 10 seconds or just allow muffin to come to room temperature naturally, about 15 minutes.
Freezer: To freeze, place cooled muffins into a freezer-safe sealable plastic bag or a freezer-safe airtight container. Pack them as closely as possible without crushing them, removing as much air as possible. Label with the date and recipe name. They will last up to 3 months.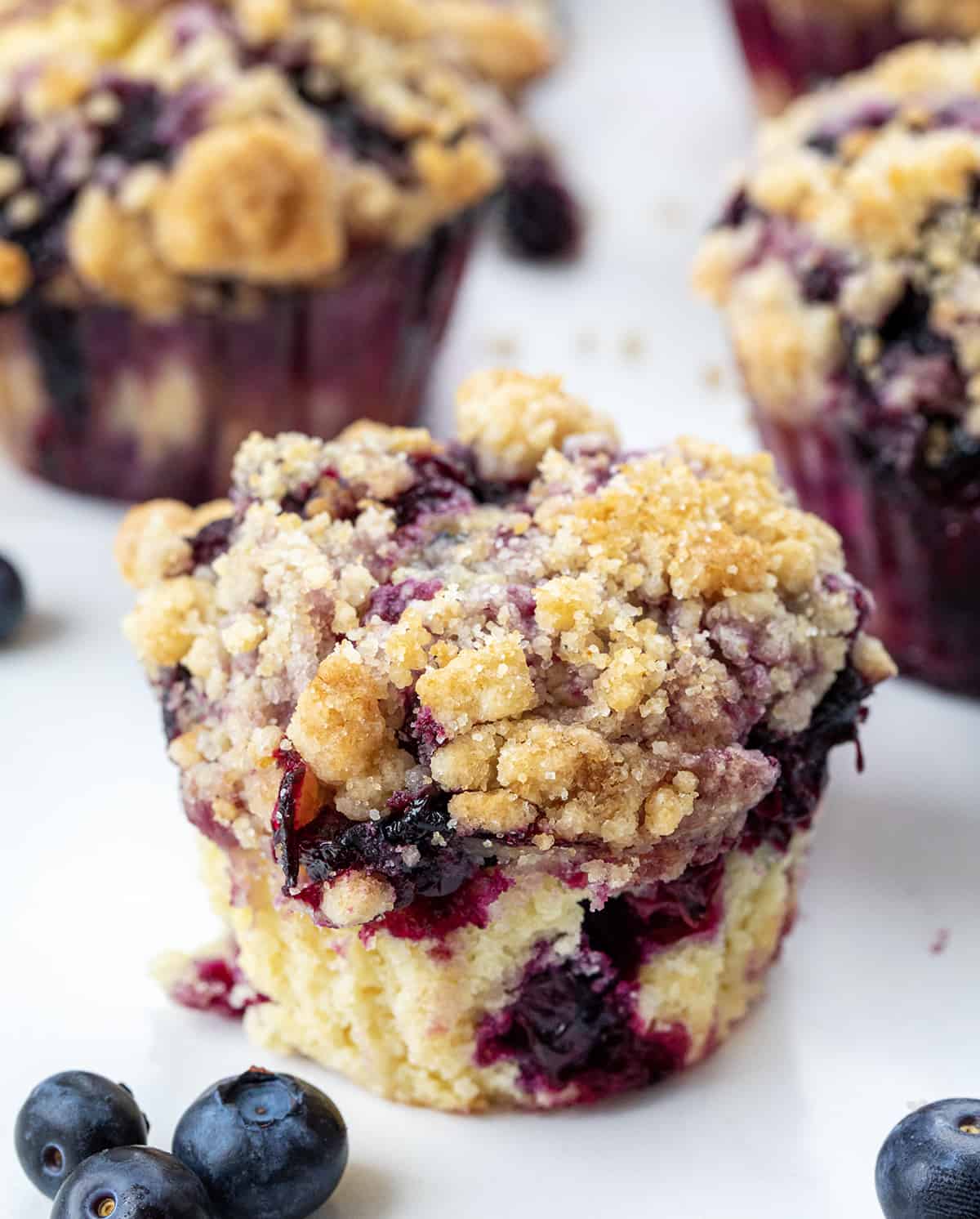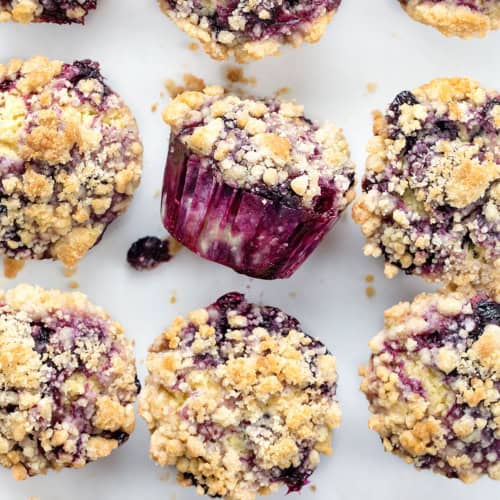 Blueberry Muffins
Blueberry Muffins are sweet and fluffy muffins made with fresh blueberries, homemade blueberry syrup, and a crumble topping.
Ingredients
Blueberry Syrup
1

cup

(148 g) blueberries,

fresh or frozen

1

tablespoon

granulated sugar

1

tablespoon

lemon juice
Blueberry Muffin Batter
2

cups

(250 g) all-purpose flour

1 ¼

cups

(250 g) granulated sugar

1

teaspoon

baking powder

½

teaspoon

kosher salt

½

cup

(1 stick / 113 g) unsalted butter,

melted and cooled slightly

2

large

eggs,

room temperature

2

teaspoons

vanilla extract

½

cup

(122.5 g) whole milk

1 ½

cups

(222 g) blueberries,

fresh or frozen
Crumble Topping
½

cup

(62.5 g) all-purpose flour

⅓

cup

(67 g) granulated sugar

3

tablespoons

light brown sugar,

packed

¼

teaspoon

lemon zest

1

pinch

kosher salt

¼

cup

(½ stick / 57 g) unsalted butter,

melted and cooled slightly
Instructions
Blueberry Syrup
In a small saucepan over medium heat, mix together the blueberries, sugar, and lemon juice. Heat until the sugar is dissolved and the blueberries are broken down, or about 5 minutes. You may need to break down the blueberries a little more with a fork. This will make about ¾ cup of syrup.
Blueberry Muffin Batter
Preheat the oven to 425°F. Line a muffin tin with paper liners.

In a medium bowl, mix together the flour, sugar, baking powder, and salt.

In a separate bowl, whisk together the melted butter, eggs, vanilla extract, and milk.

Slowly add the dry ingredients to the wet ingredients, mixing until just combined. Do not overmix.

Gently fold in the blueberries.
Crumble Topping
To make the crumble topping, mix together the flour, granulated sugar, brown sugar, lemon zest, salt, and melted butter in a small bowl.
Assembly
Fill each muffin cup just about full with the batter.

Spoon about 1 tablespoon of blueberry syrup on top of each muffin.

Sprinkle about 1½ tablespoons of the crumble topping over each muffin.

Bake for 10 minutes. After 10 minutes, reduce the oven temperature to 375°F and bake another 19-21 minutes, or until a toothpick inserted into the center of a muffin comes out with a few crumbs, but no wet batter.

Allow the muffins to cool in the tin for 10 minutes before transferring them to a wire rack to cool completely.
Did you make this recipe?
Thank you for making my recipe! You took pictures, right? Well go ahead and post them on Instagram! Be sure to mention me @iambaker and use the hashtag #YouAreBaker.
Original recipe found in Cooks Illustrated Magazine.