I happen to think that food bloggers are one of the most uniquely creative, talented, and diverse group of bloggers out there.  Not only do they need to have skill in the kitchen, but with photography, writing, and food styling.
Talk about mulit-talented!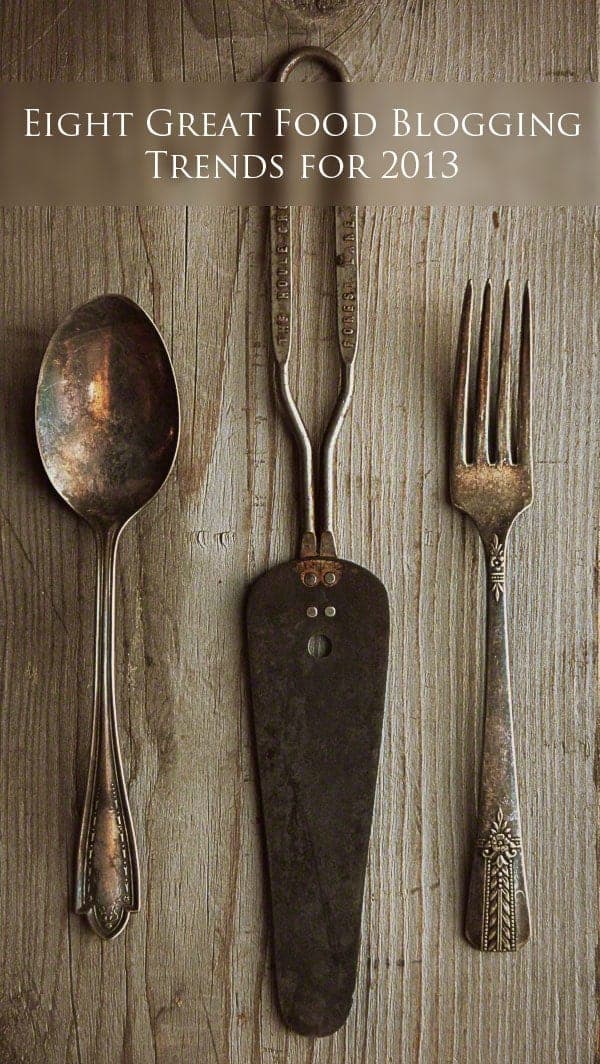 MY LATEST VIDEOS
I have noticed some creative and fun trends recently and really hope they stick around for a long, long time! (Be sure to share below what your favorites are!)

Bakers Royale and What Katie Ate are masters at this photographic feat.  It is certainly not easy to have a dark background, sometimes dark food, dark props and create a picture abundant with light and texture.  And don't forget that the ultimate goal is delicious looking food!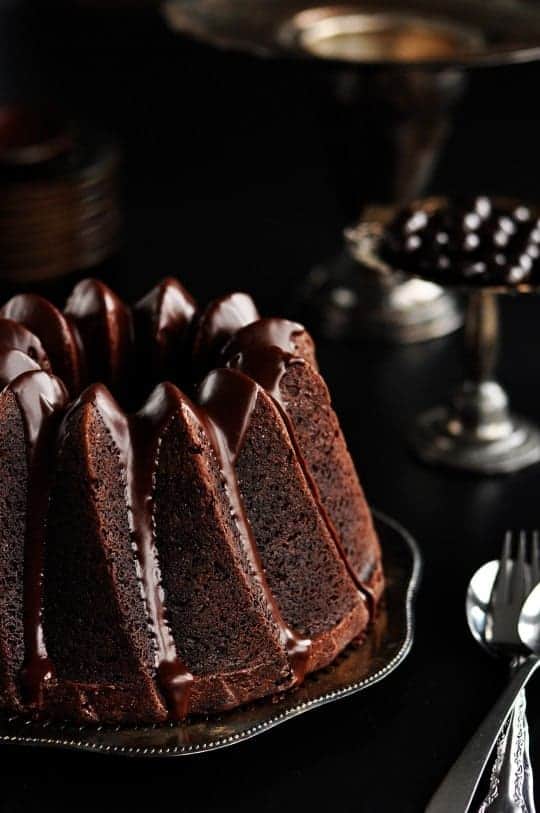 Image courtesy of Sweetapolita, Chocolate Espresso Bundt Cake with Dark Chocolate Cinnamon Glaze
Just look at the stunning cake from Sweetapolita!  How she managed to get all the light, texture and detail in her shot is well beyond my skill set!
According to YuppieChef, if you want to try and achieve this look opt for dark fabric, pewter or antiqued metals, or well used wood cutting boards and tables (for backgrounds).
Also, don't disregard actions (photoshop) or presets (lightroom).  While we should also strive to get the perfect shot in the camera, a little editing can go a long way!
The Pioneer Woman has a couple free action sets for photoshop as well as photoshop elements,  there are numerous youtube videos for Food Photography,  MCP Actions has more actions than I can count,  and Totally Rad Lab is a great place to play around and discover the potential of what editing can do. (They even have a free trial!)
Quick tip: If you want to run an action on everything but the food in your picture, use your Photoshop Quick Selection Tool (looks like a lasso) around the food.  Then run your action, and everything but the area that you have selected will have changed.
Gourmande in the Kitchen has an amazing tutorial on how to arrange moody shot. (with Peter Georgakopoulos.)

I am a huge, huge fan of distressed and antique silverware and dishes.  They can make dramatic statements as a focal point or background.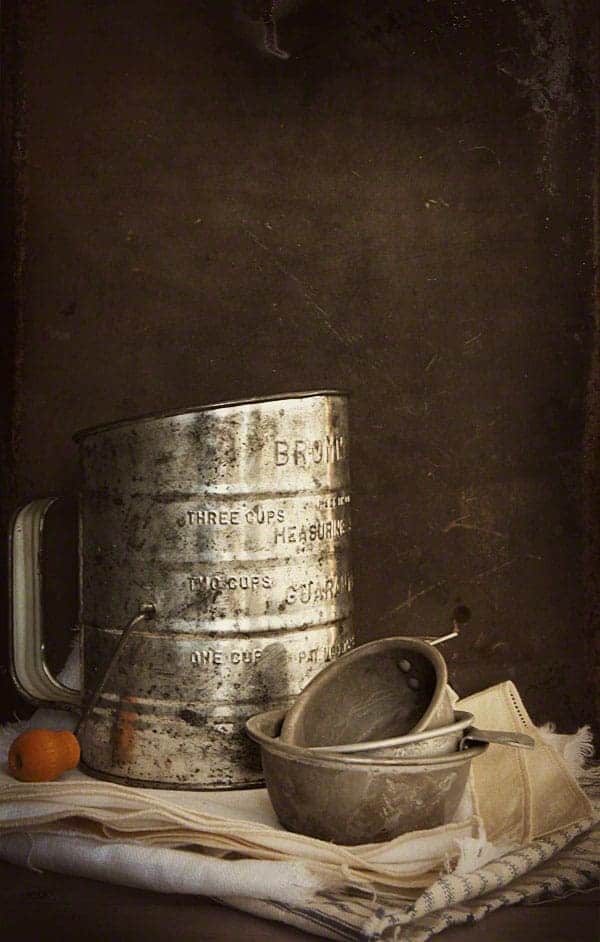 Pewter is beautiful as is tarnished silver and distressed metals.  Jadeite, vintage stoneware, and depression glass are just a few of the amazing additions you can make to your food prop stash.
But remember to think out of the box with your collection!  I have an old cookie sheet (maybe well used is a better term) that has great texture and contrast.  Pair it with a Pioneer Woman's 'vintage' action (at about 30%) and it almost looks like its from the 1900's.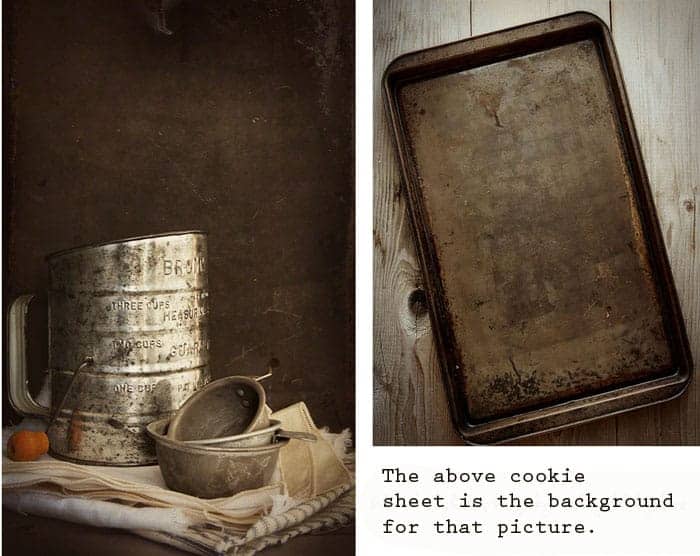 I also used that same cookie sheet in my post for Triple Chocolate Sugar Cookies!
Vintage cake stands, dishes and hand towels are a personal favorite, as they lend such a beautiful muted color and delicate texture.
Naomi from Bakers Royale did a great post on Finding Food Props. (with Sylvie Shirazi)
I also have a Pinterest board with many great food prop ideas!

The beauty of this is instant gratification.  Your eyes are typically met with a larger shot that encompasses all the elements of the food.  Then posted right next to it is a close up, detailed picture of something the photographer wants you to focus on.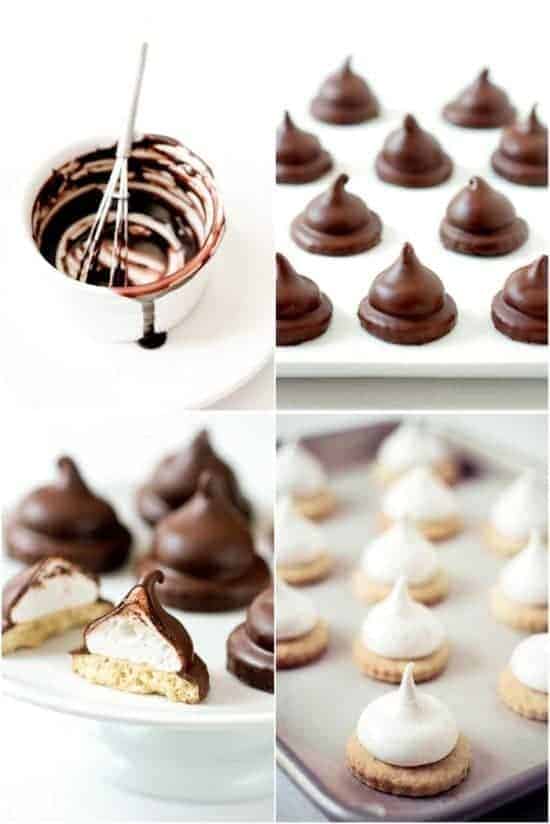 Image from Tartelette's post Chocolate Covered Marshmallow Cookies
While I have yet to even attempt this clever visual juxtaposition, I am a big admirer of others who do it so beautifully.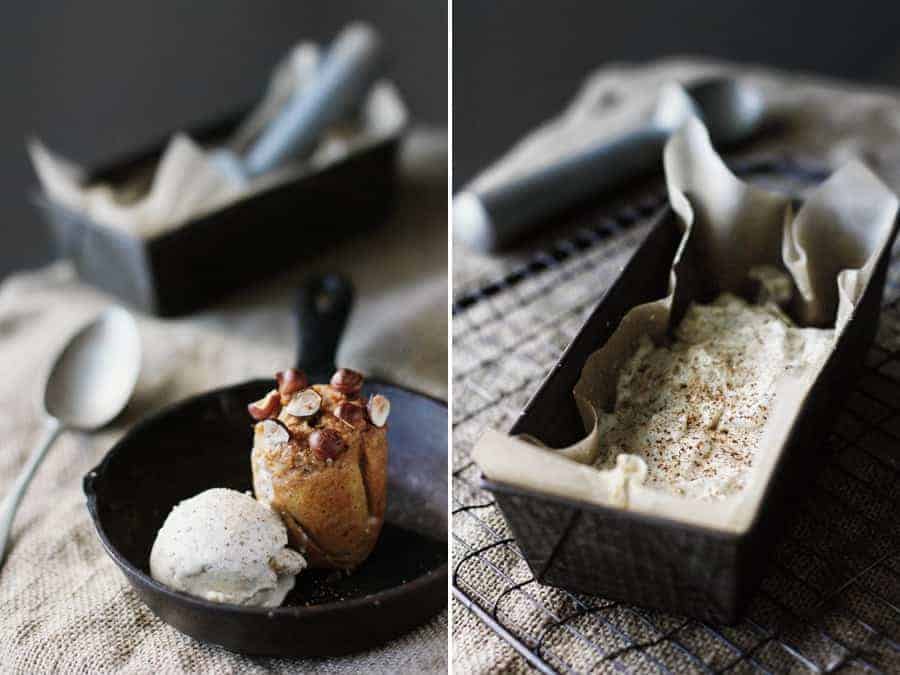 Image courtesy of Roost Blog, Butternut Squash & Hazelnut Bouchons with Toasted Nutmeg
 Caitlin, the awesomely creative force behind Roost Blog, does this with such raw talent its overwhelming.  Her ability to pair images with seem-less transition is nothing short of stunning.
I cant wait to see all the new and creative directions this trend will go!

Since I have been either pregnant or nursing for the last nine years(yes, seriously) , I cant actually partake in the gorgeous adult beverages that so many are sharing.  So the talented Russell from Chasing Delicious is going to share some of his expertise as well as photography.  Be sure to check out The Boys Club for more amazing concoctions!
Take it away Russell!
Cocktails are coming back in full force and all you have to do is look at a few of your favorite food blogs to see this new trend. I love seeing my favorite bakers, chefs and home cooks take on cocktails because like any dessert or meal, there are endless possibilities for cocktails. Not only that but modern cocktails can be beautiful and they are a great way to highlight fun and unique ingredients.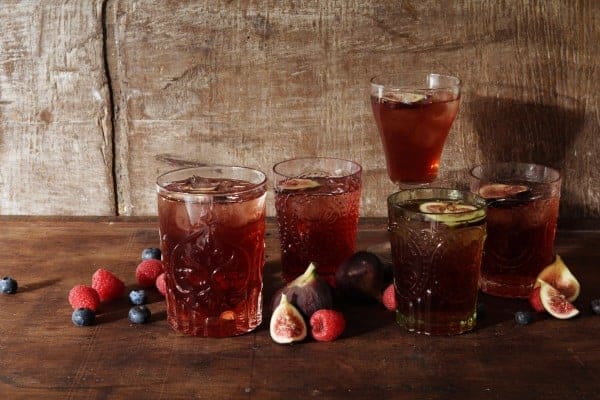 Recipe By: Guest Blogger  Naomi Robinson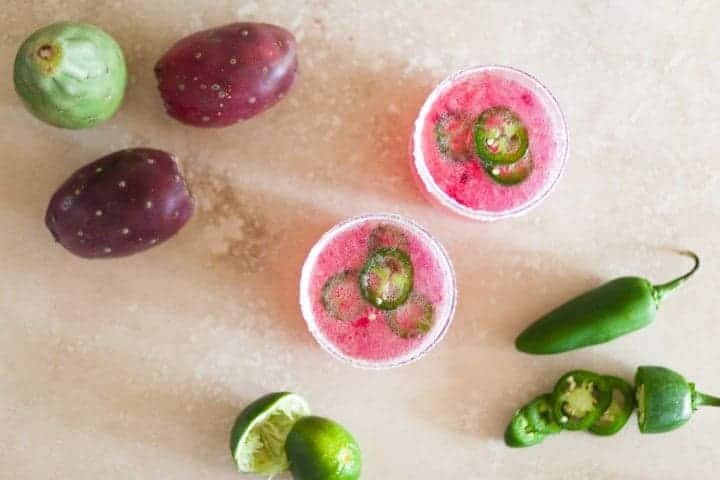 Recipe By: Alex Young
Photo By: Russell van Kraayenburg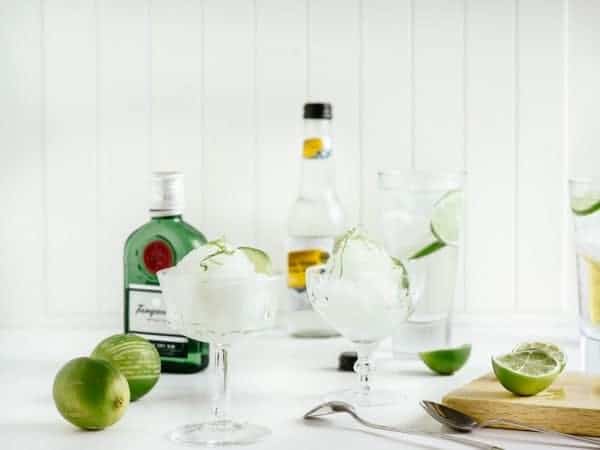 Gin & Tonic Sorbet
This is a sneak peak!  More stunning pictures and the recipe will go live on
The Boys Club
site on Feb. 28th!
Recipe by: Peter Georgakopoulos

In food blogging (as in all avenues of life!) there are critics.  People who want to discredit you if your ingredients are not all organic or gluten free.  People who wont read your blog if you use a box cake mix or willfully shun you if your spaghetti recipe substitutes zucchini noodles for the pasta.  Who assume you know nothing if your following is less then what they deem appropriate.
Its easy to want to conform to the naysayers, simply to make the harsh feedback stop.  Its easy to do what everyone else is doing. (I know because I am guilty of this!)
But I am thankful to those of you that don't.
When I see people being true to what is their reality is, I support it in any way I can.  Some dont always bake from scratch or buy locally grown organic.  It's important to acknowledge that how others write, style, photograph, and share their experience is just as powerful and significant as our own experience.
Just because someone does things different doesn't make them wrong.  Just different.  I hope we, as a community,  can stop dismissing others for not rising to an imaginary standard of excellence that some have set.  We all have value.
And speaking of value, don't let strangers determine it for you.  When you hit the publish button and know that you wrote a great post with an enjoyable dish, don't let minimal traffic or less comments than you would like change its value.
Your voice and your perspective is the greatest thing you can offer the blogging world.  Anyone can blog about chocolate cake, but its your style and passion that set you apart.

Marnely from the popular blog Cooking With Books shares her perspective on dining local.
I live on an island that basically provides for our every need. From an Alpaca Farm that creates wool clothing to keep us warm during the winter to The Grey Barn that is making cheese for our pizza nights. Living on Martha's Vineyard (off the coast of Massachusetts) has opened my eyes on how important supporting local artisans and food producers is. These small-batch makers are the same people we see at the post office and are trying to make an honest living. Heck, we even have a local coffee roaster, Chilmark Coffee. Oh and an awesome lady that makes natural and organic beauty products from herbs and honey in her garden! The focus on local and sustainable food is hopefully not a trend or a fad, but a way of life that we all start to embrace as our own.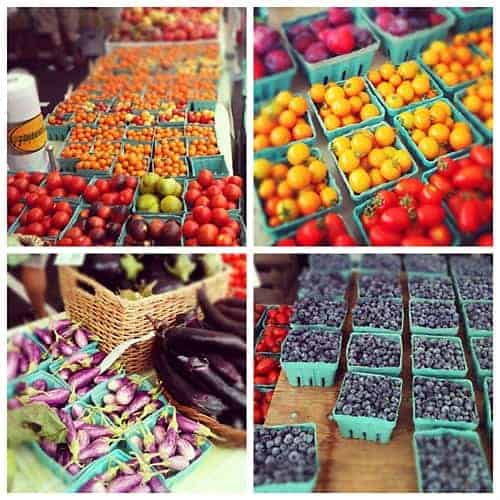 Image courtesy of Savory Simple
The amazingly talented Jen from Savory Simple shares her thoughts:
I try to buy local and sustainable ingredients as often as possible for many reasons. One of my favorite activities is perusing our local farmer's markets throughout the year. The bright colors and fragrant foods are very inspiring to me. The food tastes better, partially because it's so fresh but also because I know I'm supporting small local businesses.
Seeing bloggers talk about the importance of buying local and all the benefits is such a refreshing and motivating perspective. Knowing that so many people are making earth conscious, health conscious, and  even wallet conscious choices definitely makes me want to be a better consumer!

Helen DuJardin is one of the most sought after and respected food photographers of our time.  While she would never claim to be a pioneer in this style, I cant help but give her that credit. She has brilliantly learned to incorporate overhead shots with varying angles and always manages to find the way that best flatters the food.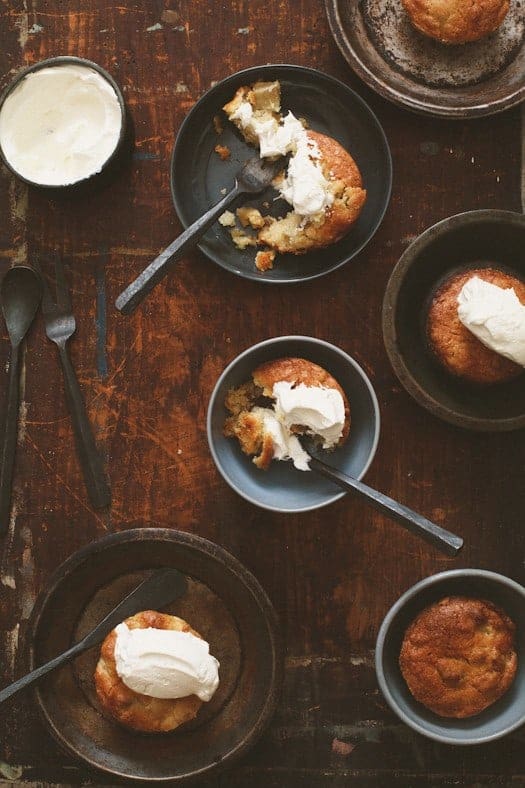 Image courtesy of Tartelette, Apple Walnut Cakes with Mascarpone Cream
Do you want to perfect your overhead shot?  Try these three tips from the pros.
1. Set up on the floor.  If not possible, get an inexpensive step stool.
2. Texture and accessories are a must.  Utilize foods natural state by not cleaning up crumbs and  keeping used utensils in the shot.
3. No bokeh.  Go for full detail. (Meaning, choose the proper depth of field before taking the picture.  This is your aperture priority setting.)

I happen to love the trend of putting words right on your image.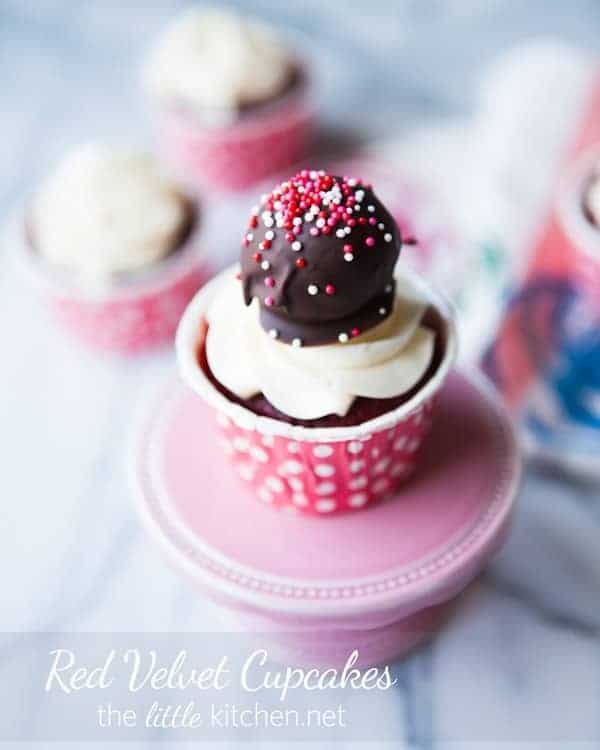 Image courtesy of The Little Kitchen, Red Velvet Cupcakes with Cream Cheese Frosting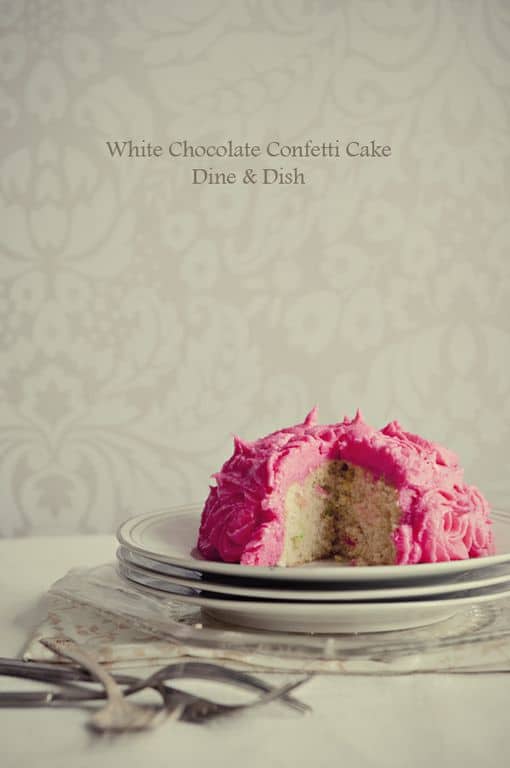 Image courtesy of Dine & Dish, White Chocolate Confetti Cake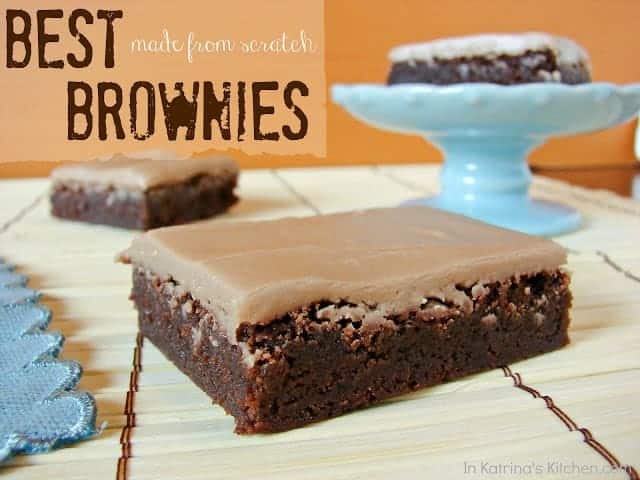 Image Courtesy of In Katrinas Kitchen, Best Made From Scratch Brownies
Food Bloggers are embracing this trend with gusto and its awesome.  The variety and creativity is so fun to see!
However, dont be discouraged if you are not partaking.  Joy the Baker recently wrote a post on 10 Real Talk Blog Tips which says, "Here's the deal:  it's ok if you don't put text on your pictures.  Someone had to say it."  Go Joy! 🙂
Honorable mentions:
Food tied with strings and multi-colored straws.  I cant help it!!  I happen to think these types of styled photos are fun and joyful.  Regardless of what some may say, I hope that this trend continues.
Sharing. I hope this is not just a trend, as it is just a great way to encourage and support one another.  Facebook, Twitter, Pinterest, Google +, Instagram, Vine, Reddit, are just a few of the ways we can share.   If you love someones talent and voice and recipes, sharing it with others is a great way to honor them.  Why not nominate them for a Saveur Site We Love?  Or create a Pin board for your favorite bloggers?  Heck, why not even create a board from your favorite blog? (I have one for Donna Hay, love her!)
So what trends are you seeing in the Food Blogging community?  Any that you love?  Dislike?
Similar posts:
Successful Food Blogs Trends for 2012
Current Food Photography Styles for 2012