These delicious White Cupcakes have a fine crumb and a dense texture, making them ideal for a special occasion! Looking for more Cupcakes? I've got ya covered.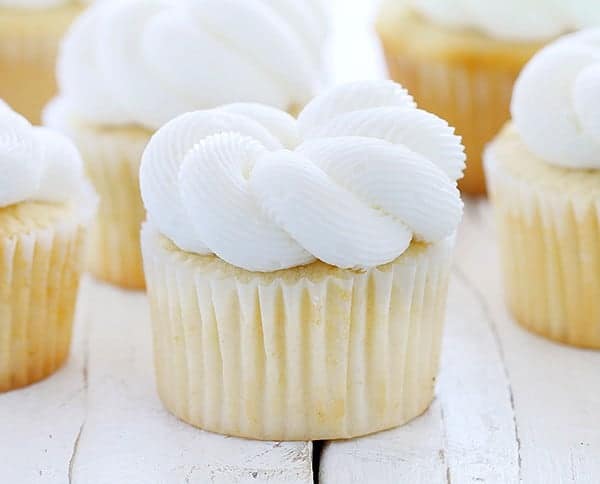 White Cupcakes
One thing I am learning is that in baking, quicker is not always better.
Sometimes it is worth it to put time, precision, and thought into a recipe. I have struggled with this concept over the years, intentionally seeking out FAST EASY SIMPLE recipes. And while those recipes have a place in my very busy life, so does recipes that take just a bit more.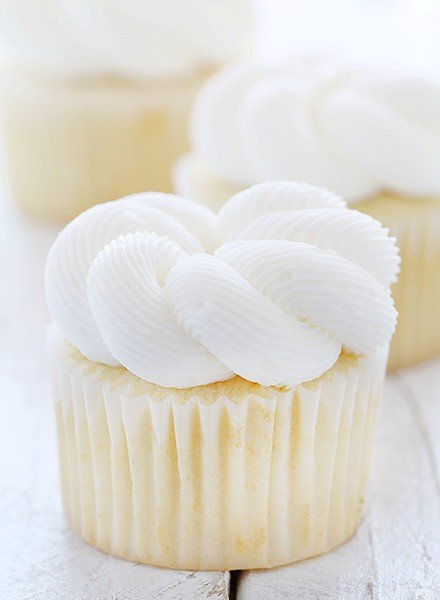 In my search for the perfect white cupcake, I came across this recipe from King Arthur Flour. It is perfect in a way, I suppose. It is not the big, beautiful, domed cupcake you will find at bakeries. Nor is it one of those recipes that you can fuss with the ingredients a bit to fit your needs. I tried! I tried to make it No-Fail and tried to make it with less than precise measurements. It did not work to deviate from the ingredients or method. (and this method is definitely unique!)
That being said… it is the perfect cupcake if you love dense, moist, fine crumb, and delicate texture. It is the perfect cupcake for frosting in that every flavor compliments it beautifully. It is the perfect white cupcake in that it is one of the most subtle and delicious white cupcakes I have ever made.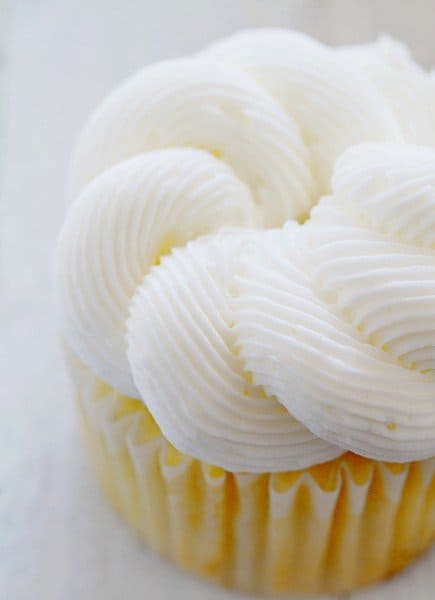 How to Make White Cupcakes
Room temperature ingredients are advised for this recipe. Take the butter, eggs, and milk out a couple hours before preparing the cupcakes.
If you have a big enough oven you can place the muffin tins side-by-side, but I do not recommend baking them on multiple levels at the same time.
You can substitute half of the butter for shortening (as King Arthur Flour does in the original cake recipe) to achieve and even whiter cake. You can also use Imitation Clear Vanilla Extract. Doing these two things will ensure a very white cupcake.
People often ask about almond extract, wondering if they can omit. I don't recommend it in this cupcake. If you have an allergy to nuts simply use imitation almond extract. If you don't like the flavor rest assured, it does not taste almond-y. It simply adds a freshness, a refined elegance, to the overall flavor.
I used this Whipped Vanilla Buttercream recipe to pipe of the design. (TUTORIAL HERE) Again, if you want extra white frosting, use shortening in place of butter and a clear vanilla extract.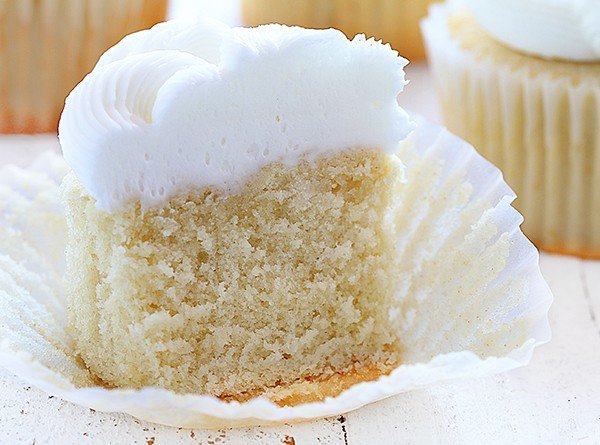 The crumb is divine! I actually had to darken this picture a bit so you could see that beautiful tender and moist texture. Just love these!
Truly the perfect white cupcake.
Here is the tutorial for the Rope Frosting technique I did.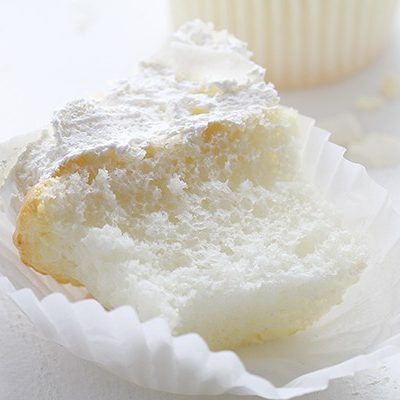 Elegant White Cupcakes
These delicious cupcakes have a fine crumb and a dense texture, making them ideal for a special occasion!
Ingredients
1

cup

(2 sticks or 226g) unsalted butter,

room temperature

2

tsp.

baking powder

2 1/2

cups

(500g) superfine or granulated sugar

3/4

tsp.

salt

2

tsp.

vanilla extract

1

tsp.

almond extract

5

large egg whites

2 3/4

cups

(344g) cake flour

1

cup

(8 ounces or 225g) milk,

room temperature (I prefer whole)
Instructions
Preheat oven to 350°F. Prepare muffins tins with liners. (This recipe yields 24-28 cupcakes.)

In the bowl of stand mixer with paddle attachment, cream together butter, baking powder, sugar, salt, and extracts until light and fluffy, about 5 minutes. (be sure to stop half way and scrape down sides)

With the mixer on the lowest speed, carefully add in egg whites, one at a time, beating well after each addition. (scrape down sides as necessary)

With mixer still on low, add in 1/3 of the flour into the creamed mixture, then half the milk, another third of the flour, the remaining milk, and then the remaining flour. (scrape down sides as necessary)

Using a 1/4 cup ice cream scoop or a 1/4 measuring cup, fill muffin tin.

Bake for 16-22 minutes, or just until cupcakes start to brown and the center springs back when touched.

You can also insert a toothpick into the center of the cupcake, and if removed mostly clean, cupcakes are done. Make sure to not brown cupcakes as they are better when slightly less done.

Remove cupcakes from oven and cool in pan for up to five minutes, then invert onto wire rack. Cool completely before frosting.
Did you make this recipe?
Thank you for making my recipe! You took pictures, right? Well go ahead and post them on Instagram! Be sure to mention me @iambaker and use the hashtag #YouAreBaker.