Creating a fun cupcake cake is not only easy but delicious. These flag cupcake pull-apart cakes are the perfect way to cheer for Team USA!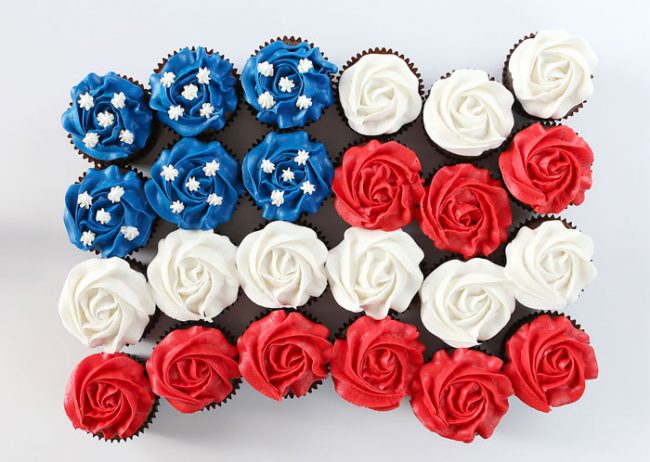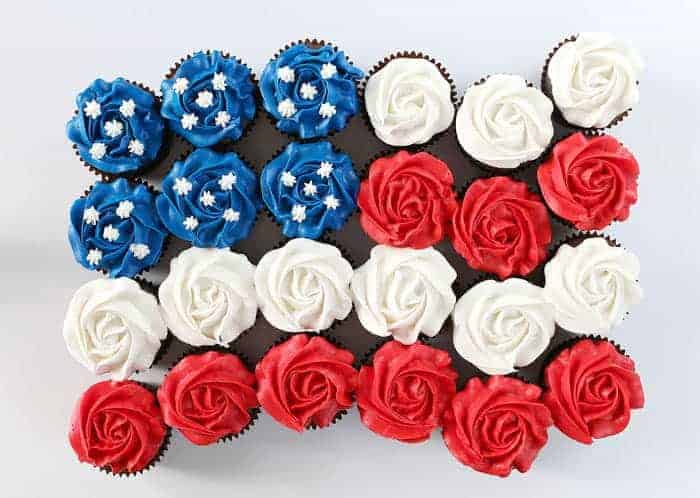 I tried to simplify this cupcake cake as much as possible, wanting to make sure the baking and the decorating could be done in a reasonable amount of time. I specifically make my cupcake cakes with 24 cupcakes in each, which is the standard yield for most recipes.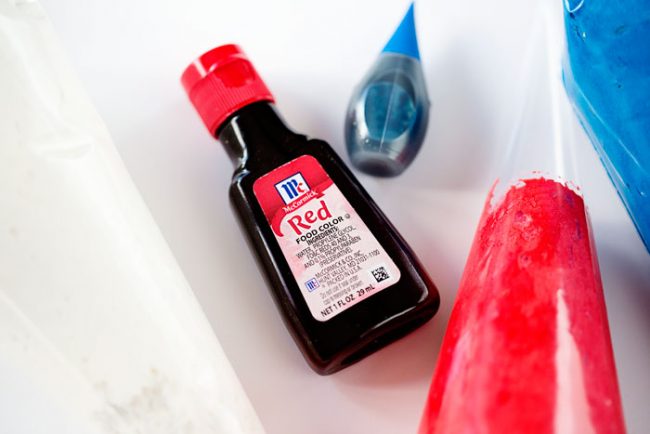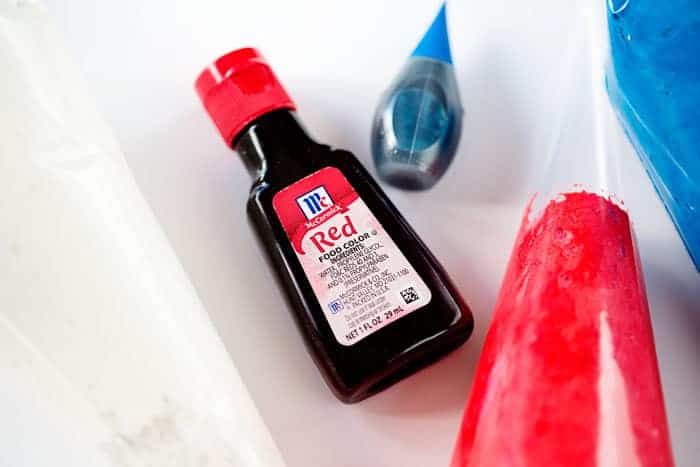 I used McCormick food color because it is easily available to anyone who can get to a grocery store! And I limited my decorating tips to just a few so you would not need to do the extra shopping.
How to Make a Flag Cupcake Cake
24 cupcakes (chocolate or vanilla work great)
double batch of vanilla buttercream
red & blue McCormick food color
2D or 1M tips, #27 tip (or any small star tip)
piping bags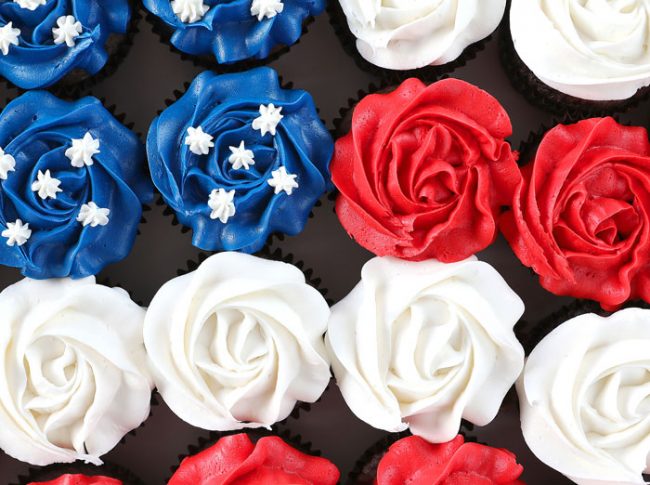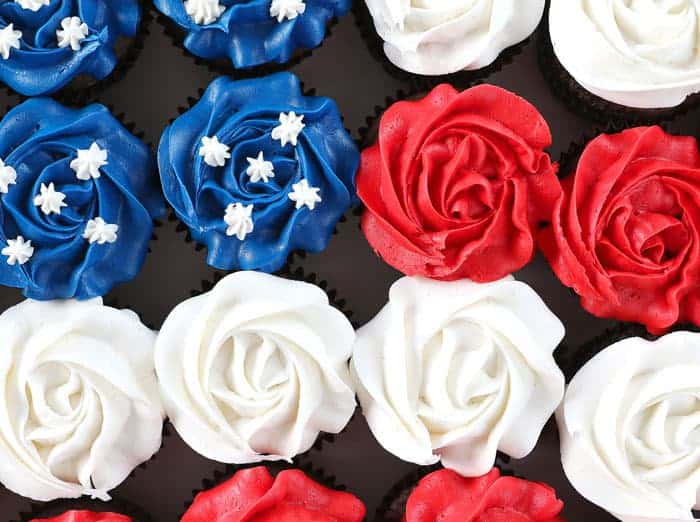 Prepare buttercream and tint 1/3 red, 1/3 blue, and leave the rest white. The first time I tested this I only made a single batch of buttercream and ended up running out of red. When I doubled my recipe I had a little of each color left over but didn't run out. Yay! (You can store your extra buttercream in the fridge for a few weeks or in the freezer for months.)
Lay out your cooled cupcakes in the shape of a flag. I chose to make a "ripple" in the flag so some of the center rows were higher than others. (I purchased a foam board from my grocery store and cut it in half to serve the cupcakes on.)
Add white frosting to a piping bag fitted with a 2D tip. Pipe white rosettes on the last 3 cupcakes in the top row then across the entire 3rd row.
Pipe red rosettes on the last 3 cupcakes in the 2nd row then across the entire bottom row.
Pipe blue rosettes on the first three cupcakes on the 1st and 2nd row.
Now place some white buttercream in a piping bag fitted with a #27 tip and pipe 5 stars on each blue cupcake. (I tried to fit 50 but it ended up looking very sloppy with the way the rosettes are piped, some of the stars were off to the side or falling.)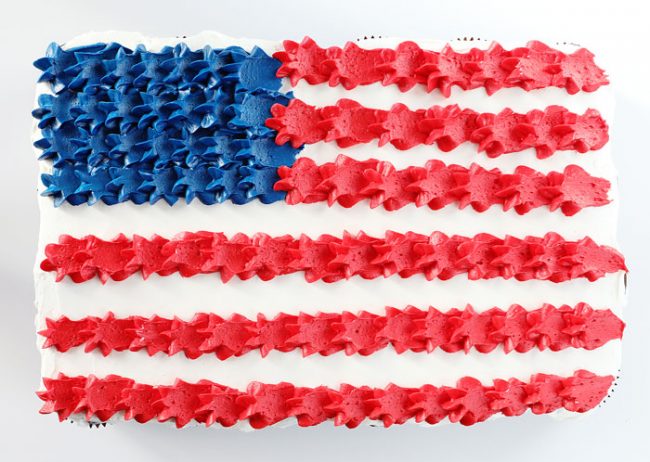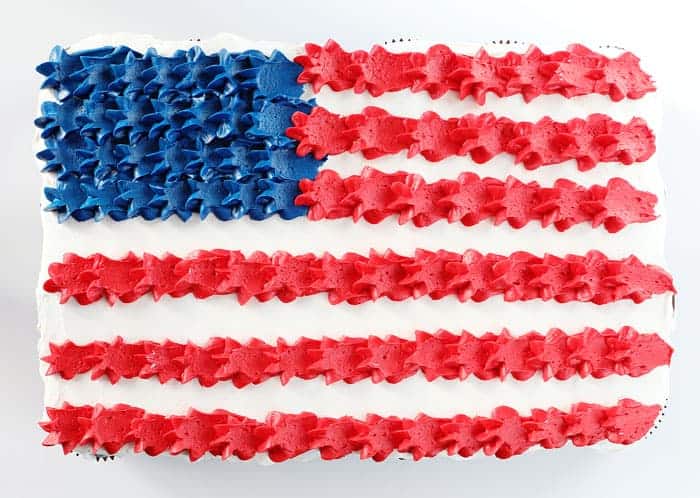 How to Make a Patriotic Cupcake Cake
24 cupcakes (chocolate or vanilla work great)
double batch of vanilla buttercream
red & blue McCormick food color
ice cream scoop
#827 tip (or any large star tip)
small offset spatula
large offset spatula
piping bags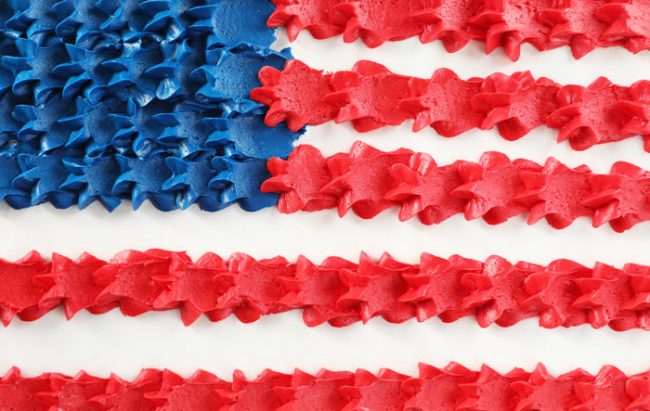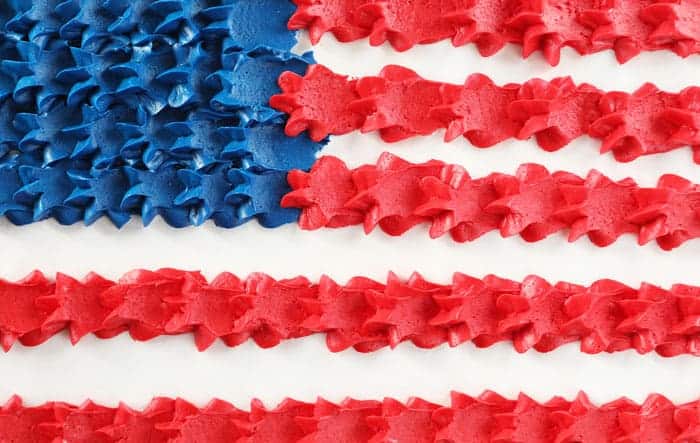 Prepare buttercream and divide in half. Leave one of the halves white. Divide the other half in two, then tint one red and one blue.
Lay out your cooled cupcakes in the shape of a flag.
Using an ice cream scoop, scoop vanilla frosting onto each cupcake. This is a LOT of frosting, but necessary when you are spreading it around and filling in the gaps between each cupcake.
Use a ruler or bench scraper to create guidelines in the cupcake cake so you know where to pipe. There should be a gap between the lines so that white frosting shows between.
Using the #827 tip, pipe a red star in the lower left-hand corner of the cake. Take your large offset spatula and swipe down and away from the star. Repeat this along each guideline you have created.
For the blue portion of the cake, your piping will be done right next to each other leaving no gaps between the stars. You will pipe blue in the upper lefthand corner only.
I kept a paper towel next to me and wiped the offset spatula off as often as needed.
Inspired by Erin Bakes Buttercream Stars and Strips Flag Cake.
How to Make Bright Red Frosting
If it's at all possible to plan ahead, make your icing a day or two in advance. The color will deepen considerably as it sets. The ratio I use is a 1-ounce bottle of McCormick red food color in about 4 cups of vanilla buttercream. I make the frosting as directed and add the food color when I add the vanilla. Make sure it is fully incorporated, scraping the sides of the bowl as needed. I will then dampen a towel and set it over the bowl for a few hours. If the red looks perfect after a few hours I will place in an airtight container and store until needed or place in pastry bags and seal until needed. If the color doesn't seem red enough I will add more food color 1/2 teaspoon at a time allowing it to set for a few hours between each addition. If you have the time to let the frosting rest overnight you will see that it darkens considerably and you often do not need any more food color!
If you had to add extra food color in you may notice a slight difference in taste. Feel free to add a bit more vanilla extract.
The exact same principles apply to making bright blue buttercream.
Check out how I make Red Velvet Buttercream here!
Here is a video of how I made these cupcake cakes:
Creating Cupcake Flags is fun and quite easy to do! Just be sure you have enough frosting on hand and have laid out your pattern ahead of time so you know exactly how many cupcakes you will need. You can, of course, use these for any July 4th celebration or Memorial Day!
Thank you so much for supporting the brands that support iambaker! It is my great pleasure to work with McCormick and share their amazing products with you. Check them out on Facebook, Pinterest, and Instagram. I hope you enjoy these patriotic Cupcake Cake Ideas!