It's all about that cake, bout that cake, bout that cake…
Sorry.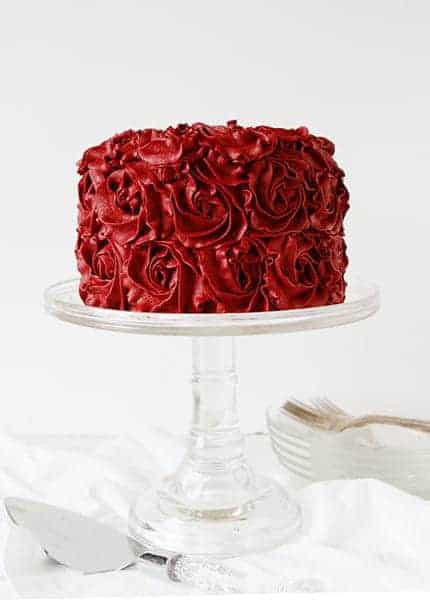 But that song (with my personalized cake-y lyrics) is stuck in my head. Funny thing about it is, it is NOT all about that cake. At least, not for this blog post!
It's all about that buttercream.
Red Velvet Buttercream.
Deep, rich, vibrant and tasty red velvet.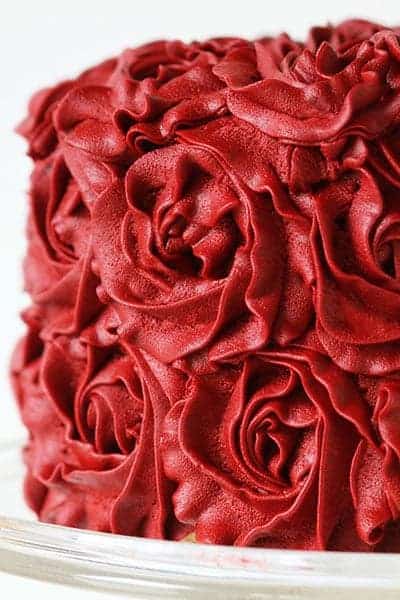 I wanted to show off this red awesomeness with my Rose Cake technique because there is nothing quite as beautiful as a deep red rose. Right? Right.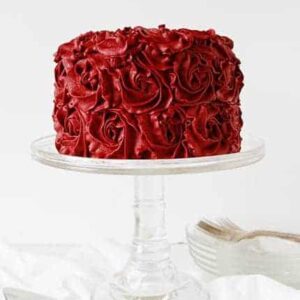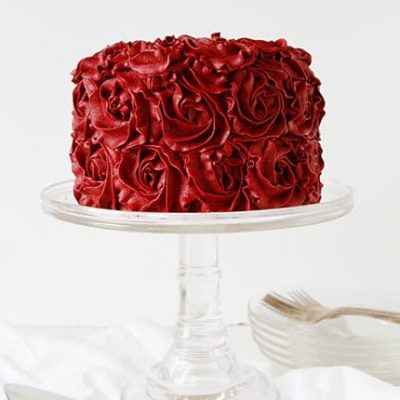 red velvet buttercream
It's all about that cake, bout that cake, bout that cake…
Sorry.
Keyword:
red velvet buttercream
Ingredients
4 1/2

c

confectioners' sugar

1

c

cocoa powder

12

tbsp.

1 1/2 sticks unsalted butter, room temperature

1/2

c

whole milk

room temperature

1

one-ounce bottle Red McCormick® food coloring

1

tsp.

apple cider vinegar
Instructions
In a small bowl, sift together the confectioners sugar and cocoa powder.

In the bowl of a stand mixer, add butter and whisk for 2 minutes on high speed.

Turn the mixer off and add in sugar/cocoa mixture.

With mixer on low speed, add in milk, red food coloring and vinegar. (Carefully pour in food coloring into the center of the butter mixture)

Whisk on low/medium low speed until smooth
Adapted from Perfect Chocolate Buttercream.
Tips for Success:
The most popular question I get whenever I share something red velvet is, "How do you get it so red?" Well, it's easy. Red food coloring. The more you add, the more red it will be. One reason I like this recipe is because there is SO much cocoa, you do not need a huge amount of food coloring.
Red food coloring will darken considerably the longer it sits! If you feel like your frosting is too 'pinkish', put it in an airtight container (PRO TIP: I like to store frosting right in plastic disposable pastry bags) and let it sit for a few hours or overnight. You will see the color deepen.
Yes, you can use all natural food coloring like India Tree. I recommend using the entire bottle .75 ounce bottle for this size recipe. The color will be a bit more mauve, but still in the red family.
To achieve the rosette look I have a picture tutorial here and a video here. This cake specifically uses a CLOSED star tip. Using a closed star tip gets the very delicate ruffle edges that you can see above.
The red velvet buttercream recipe will be enough to cover a 2-layer cake.
To get a nice clean cut, make sure that your cake is very chilled. If you don't care about looks and prefer a light and moist crumb, then room-temperature is a great way to go!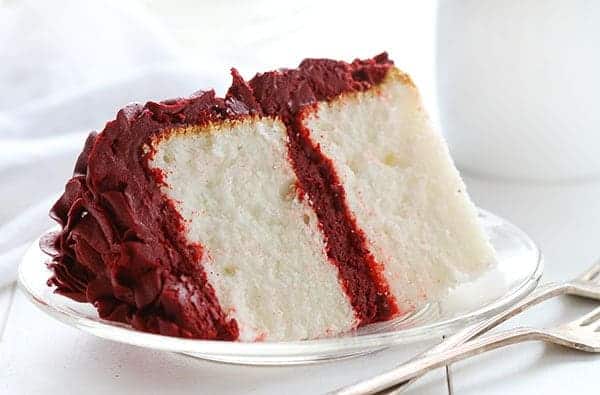 I paired the frosting with a white cake simply because I love the look and idea of a delicate white cake with a rich bold red velvet.
I can imagine that this red velvet frosting would be absolutely stunning with a red velvet cake! Or even a chocolate cake! You really can't go wrong.
As a matter of fact, everything about this is so, so right.
To see more Red Velvet creations click here!