French Baguettes are homemade stick loaves of French bread with a crispy crust and soft, chewy texture baked to a golden brown. Use this bread to make Homemade Croutons or Crostini!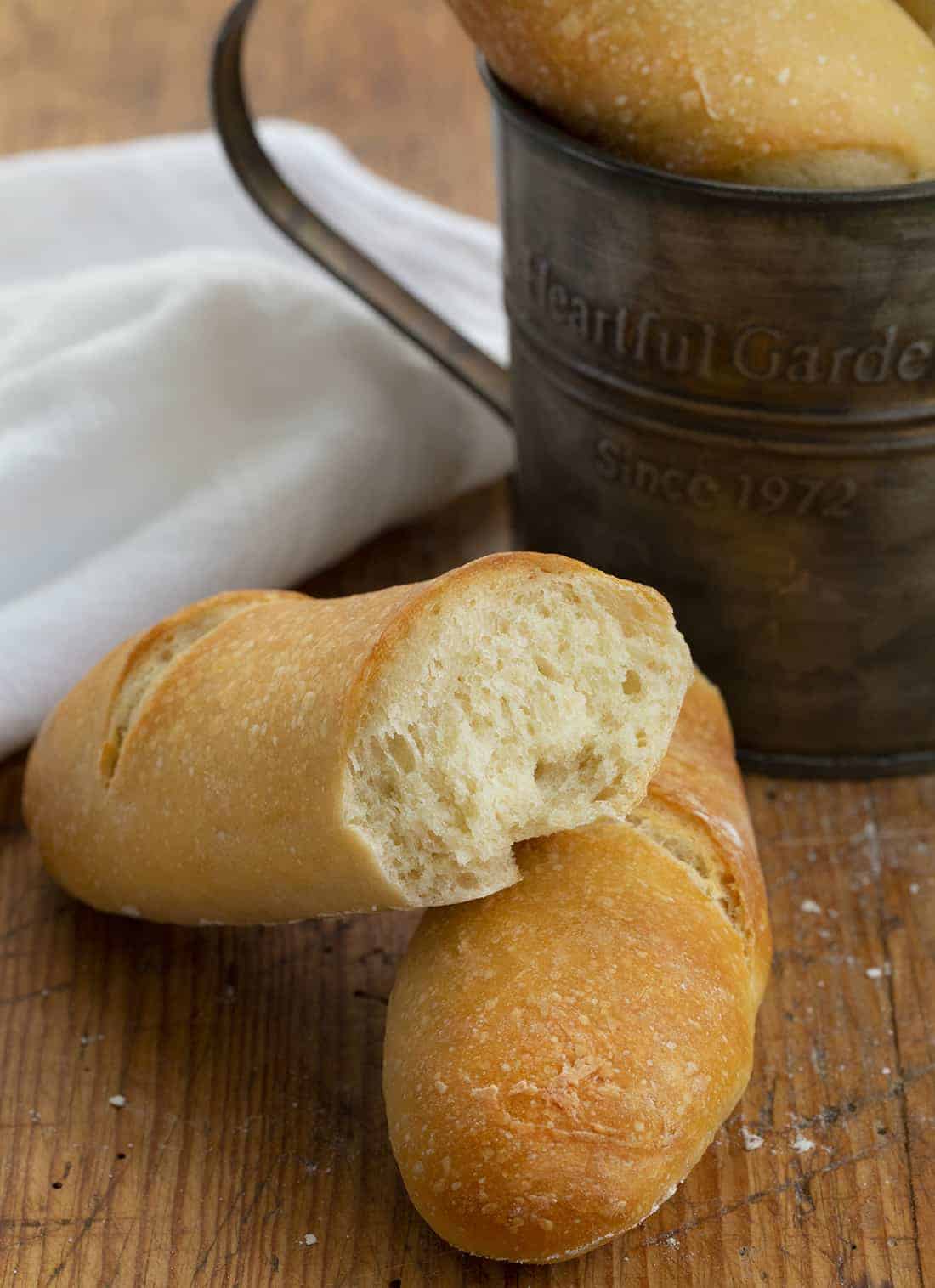 French Baguettes
This bread is known as 'the French stick' because of its long and thin loaf. In fact, the word baguette derives from the Italian word 'bacchetta', which means baton. Although it translates to baton, I would not recommend twirling these loaves of bread. However, I would recommend slicing and eating a piece or two with a bowl of Roasted Tomato Soup or with a Chicken Caesar Salad. The bread is also delicious with just a smear of cowboy butter.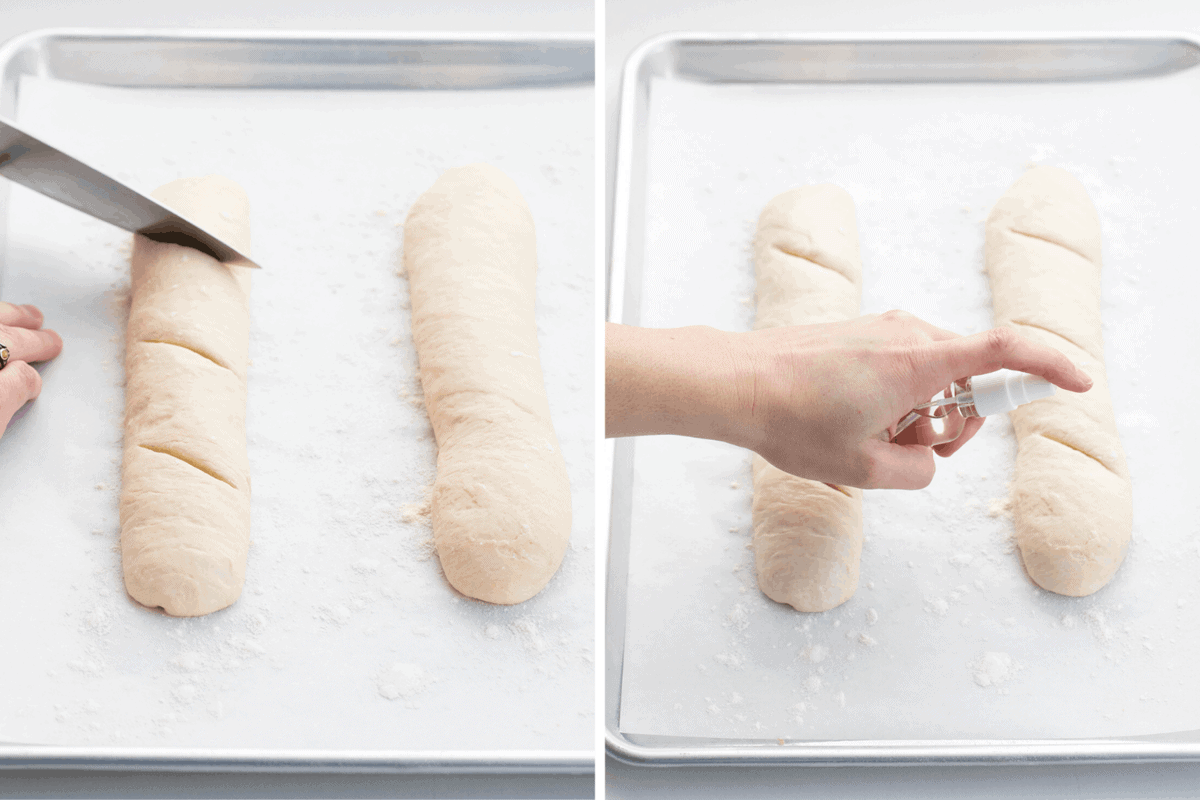 French Baguettes Ingredients
With just four ingredients, you can get the homemade bread loaves made and enjoyed.
Yeast: I used rapid-rise yeast in this recipe. Rapid-rise yeast, or instant yeast, does not have to rest to be activated. And, the water can be at room temperature. If you do use active dry yeast, let it sit in warm water (110°F-115°F) for about 5 minutes before adding the flour.
Water: If using rapid-rise yeast, the water should be at room temperature (sitting at room temperature for about an hour). If using active dry yeast, make sure the water is warmed to 110°F, but no hotter than 115°F.
Salt: Two teaspoons of table salt are used in this recipe.
Flour: All-purpose flour is a great choice for airier loaves of bread like baguettes.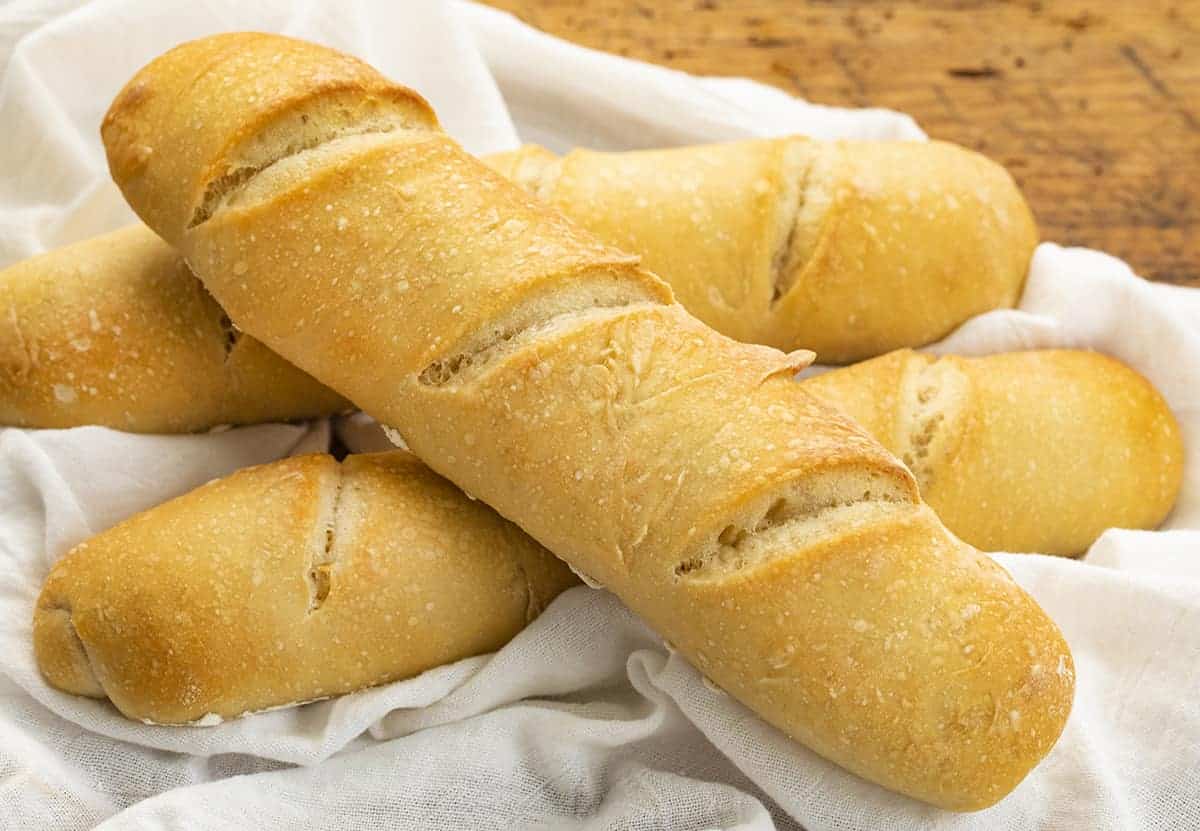 How to Store French Baguettes
To store French baguettes, let them cool completely. Then, place in a bread box or wrap in aluminum foil. The bread will last 2-3 days at room temperature. (Do not store the bread in the refrigerator.) To freeze the loaves, let them cool completely and wrap them (either in slices or whole loaves) in freezer wrap or aluminum foil. Then, store them in the freezer in a freezer-safe container for up to 3 months. Be sure to label and date the container.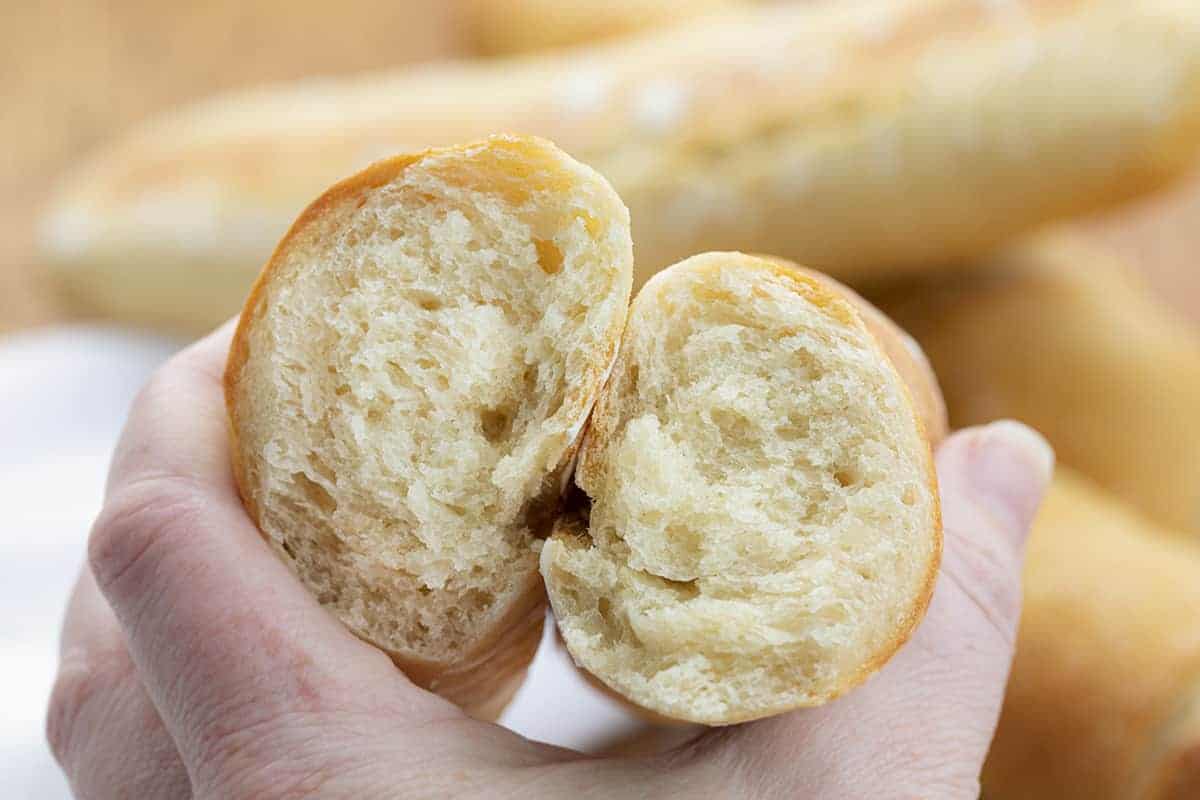 How to Soften French Baguettes
Yes, French bread can go hard quickly, but it's easy to soften to serve with your next day's bowl of Beer Cheese Soup. To soften bread, the best way is to do it in the oven. Wet the hard loaf with water. Then, wrap the loaf in aluminum foil. Place the wrapped loaf in the oven (not preheated) and set the oven to 300°F. Heat for 12-15 minutes.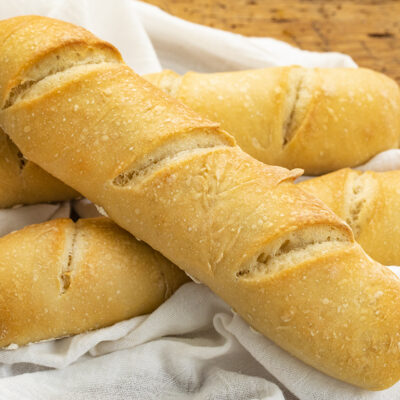 French Baguettes
French Baguettes are homemade stick loaves of French bread with a crispy crust and soft, chewy texture baked to a golden brown.
Ingredients
½

teaspoon

rapid rise yeast

1½

cups

water,

room temperature

2

teaspoons

kosher salt

4

cups

all-purpose flour
Instructions
French Baguette Dough
In a large mixing bowl, combine yeast, water, and salt.

Add flour and mix with a wooden spoon until all of the flour is incorporated. The dough should be sticky.

Cover with plastic wrap and let rise on the counter for 12 up to 20 hours. The dough will be bubbly and sticky.

Pour the dough onto a lightly floured work surface. Dust the top of the dough with a little flour as well. Using floured hands, shape the dough into a rectangle and cut it into four equal pieces.

Gently roll each piece into a long loaf to about 10 inches long and 1½ inches in diameter.

Prepare two large baking pans with parchment paper. Generously sprinkle flour on the parchment.

Transfer the dough to the floured parchment paper. Place two loaves on each pan.

Dust the tops of the loaves with more flour and cover loosely with plastic wrap.

Allow the dough to rise on the counter for 1-2 hours (or until doubled).
Baking French Baguettes
When ready, adjust the positions of the baking racks in your oven to the middle and bottom positions.

Preheat your oven to 550°F, or as high as your oven will go.

Once the oven has preheated, fill a 9×13-inch baking dish with water and place it on the bottom rack.

Using a sharp knife that has been sprayed with nonstick cooking spray, cut 3-4 angled slashes into the top of each loaf.

Spritz the loaves with water and place them in the preheated oven. Bake for 15 minutes, spritzing and rotating the pans every 5 minutes.

When done baking, the baguettes should be dark golden brown and sound hollow. Let loaves cool completely before serving.
Did you make this recipe?
Thank you for making my recipe! You took pictures, right? Well go ahead and post them on Instagram! Be sure to mention me @iambaker and use the hashtag #YouAreBaker.