If you love traditional French Silk Pie, you are going to LOVE it beautifully rolled up into chocolate cake! If you can't get enough French silk desserts, give my French Silk Brownies a try!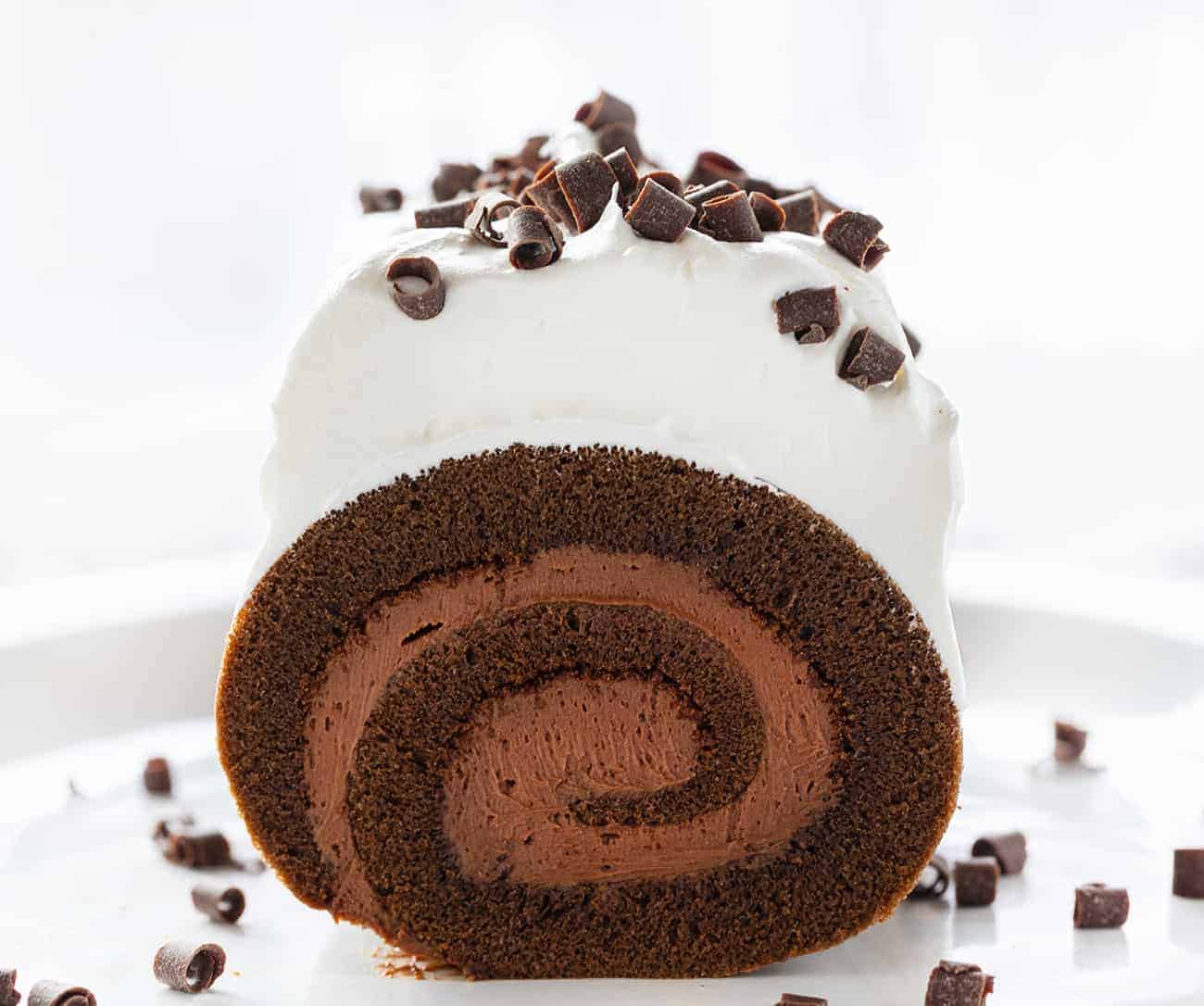 Note to readers: This French Silk Cake Roll contains raw eggs. And though getting sick from eating raw egg products—particularly if you're very careful to use very fresh eggs that have been adequately refrigerated and that weren't cracked in the carton—is relatively unlikely, folks who are pregnant or have compromised immune systems might want to avoid it. You can also opt for pasteurized eggs.
French Silk Cake Roll
This cake is a fantastic combination of chocolate cake and french silk filling. Then, it is topped with whipped cream and chocolate sprinkles of course! It reminds me of an adult version of a ho-ho that I used to love eating as a kid! This French Silk Cake Roll is a bit fancier than serving up a store-bought treat wrapped in plastic. There are a few parts to this recipe to make it all come together–the cake, the French silk filling, and the whipped cream topping.
How to Make Chocolate Cake
The base layer of the French Silk Cake Roll is the chocolate cake, of course. To make the chocolate cake, you will notice I use coffee in the recipe. Believe me, it's a game-changer! It will not give the dessert a coffee flavor, but if you are not a coffee drinker, just use hot water in place of the coffee. Bake the cake in a parchment paper-lined jelly roll pan. Leave some parchment paper over the edges of the pan so it is easy to take out of the pan before rolling it. If you are really concerned about the cake sticking at all, feel free to spray the parchment paper with a non-stick spray before baking the cake.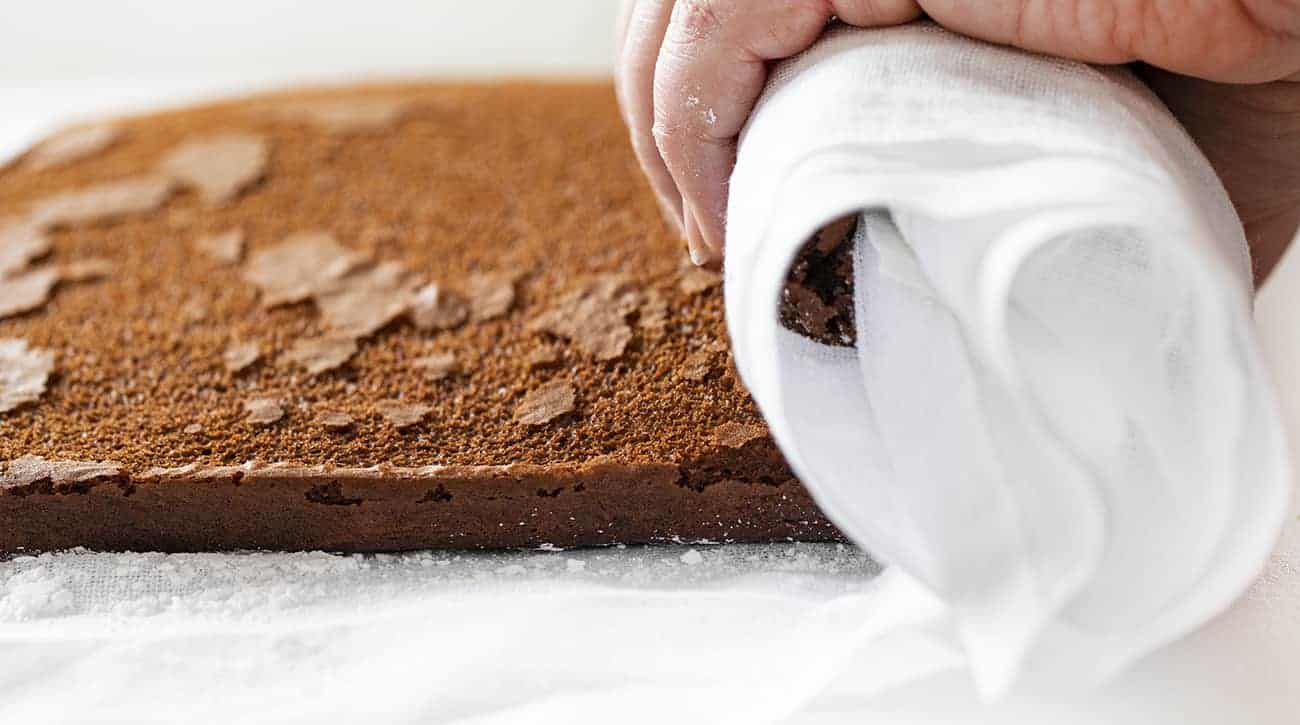 How to Roll a Cake Roll
Once you have baked your chocolate cake for the French Silk Cake Roll, it's time to roll it! I prefer the dishtowel method when rolling the cake. This means that sometimes the less-than-perfect top side of the cake will be on the inside of the roll, not the out. Just follow these few steps.
Take a clean kitchen towel and lay it out on your cooking space. Sprinkle the towel with the confectioner's sugar.
Flip the baked cake, while hot, onto the towel. Be careful when removing the parchment.
Fold the edge of the towel over the short edge of the cake, rolling it into a tight roll.
Let the rolled cake cool for about 2-3 hours. (Yes, the towel will be rolled with it, but don't remove that until cooled.)
How to Assemble the French Silk Cake Roll
After your rolled cake has had time to cool for a few hours, carefully unroll it, removing the towel. Place the cake on a baking sheet. Spread the French silk topping on the cake, leaving a little room around the edges so it doesn't squeeze out when you roll it up again. Gently roll up the cake and cover with plastic wrap. Place that in the refrigerator for a couple of hours. When ready to serve, remove plastic wrap and top it off with your homemade whipped cream (or cool whip) and chocolate shavings.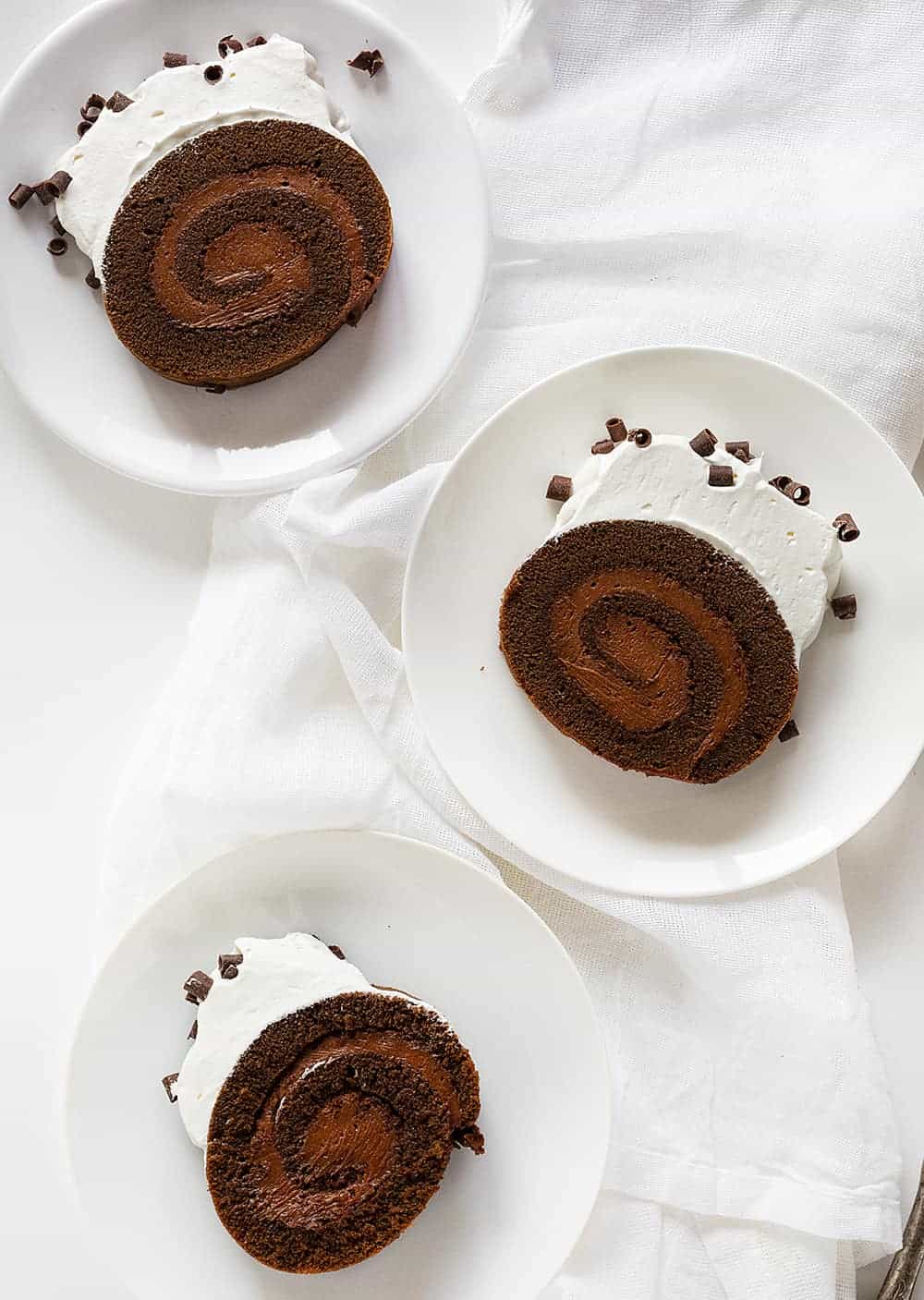 How to Make French Silk Filling
I opted to use the recipe my grandma shared with me a few years ago. Come to find out it's from an old Martha Stewart magazine!
Here are the ingredients:
dark chocolate– I opted for a high percentage of cacao in my chocolate, 65%. You can use any dark chocolate you prefer. I don't recommend milk chocolate as the final result was not as rich and flavorful.
butter– I use unsalted butter as I wanted it to be fresh and I also wanted to control the salt in my recipe
granulated sugar – I have also used ultra-fine granulated sugar with success, but it is not necessary
vanilla extract – good quality is a must!
dark cocoa powder – I used Hershey's extra dark cocoa, but Dutch-process will also work great
eggs – I like my eggs at room temperature and use large eggs
Start by melting the chocolate. You can use a double-broiler or the microwave. You want the chocolate to be melted and slightly cooled for this recipe, so I always start with this step.
Add the butter and sugar to your stand mixer and blend on high for about 1 minute, using the paddle attachment. The butter and sugar should be light and fluffy.
With your mixer on low, drizzle in the melted chocolate. Allow the ingredients to fully incorporate.
Add in the vanilla and cocoa powder. Mix until incorporated. Finally, add in the eggs. Let mix on low for a moment, then turn the mixer to high and mix for 10 minutes. The mixture should turn lighter, increase in volume, and be very smooth.
It takes a little time, but this method is totally worth it! Creamy chocolatey perfection!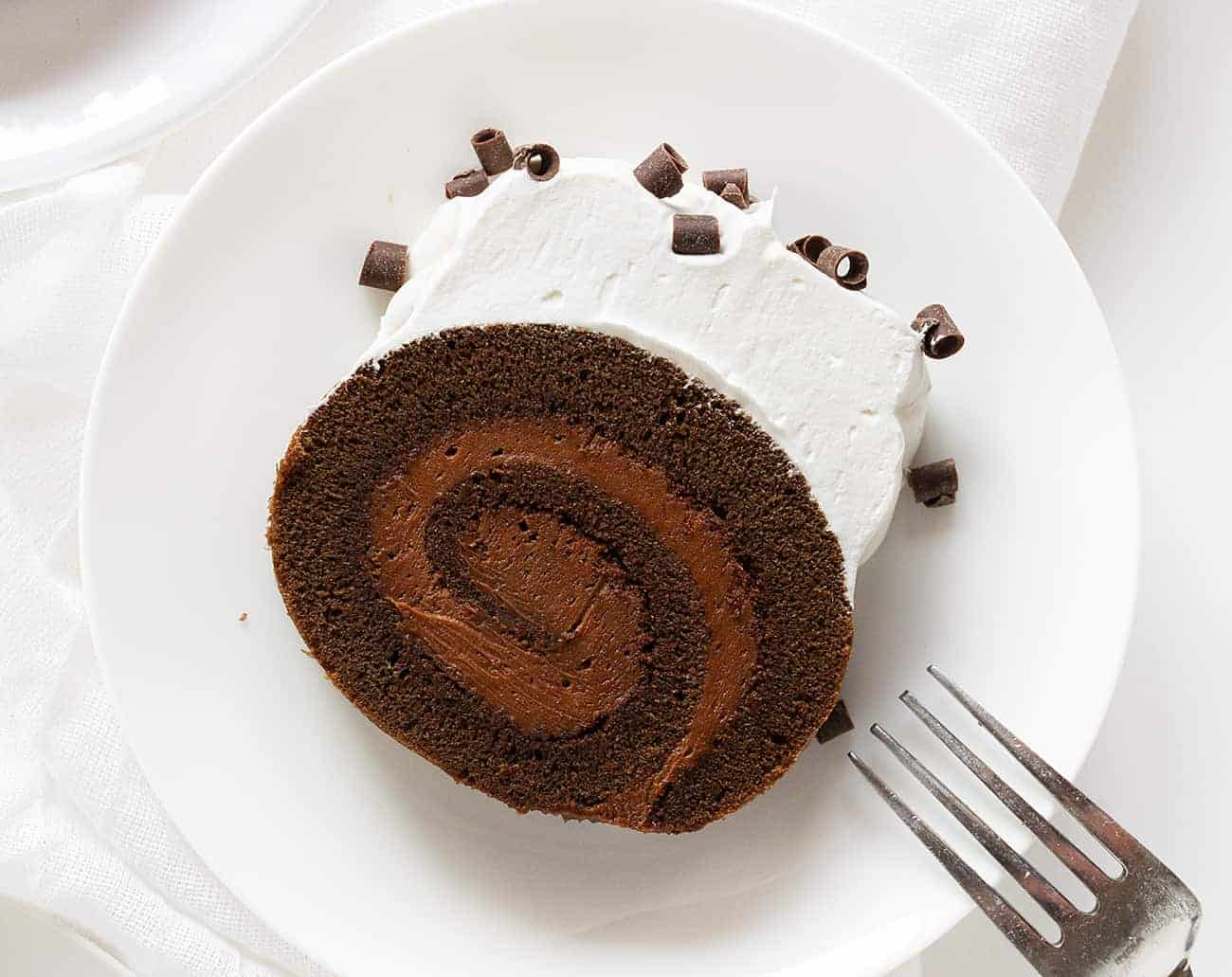 Whipped Cream: Homemade vs. Store-Bought
I absolutely adore a bite of Cool Whip every now and then. But I have to tell you, homemade whipped cream is really the best way to go for this recipe! Making whipped topping from scratch is easy peasy! I love how wonderfully pure and smooth it is. To make the whipped topping, add 1 cup heavy whipping cream to your stand mixer or use a hand-held mixer and a large bowl. (Heavy whipping cream can splatter quite a bit!) Mix on high for a few minutes or until soft peaks occur. Add in 1/4 cup confectioner's sugar and mix for another minute or until there are firm peaks.
How to Make the Chocolate Shavings
To get chocolate shavings, heat a chocolate bar (I like dark chocolate, you can use whatever you would like) in the microwave for up to 30 seconds and then use a potato peeler to get little chocolate curls. I find that no matter what I do I don't get perfect curls (trust me, I WILL get there someday!) so the curls on this cake are store-bought.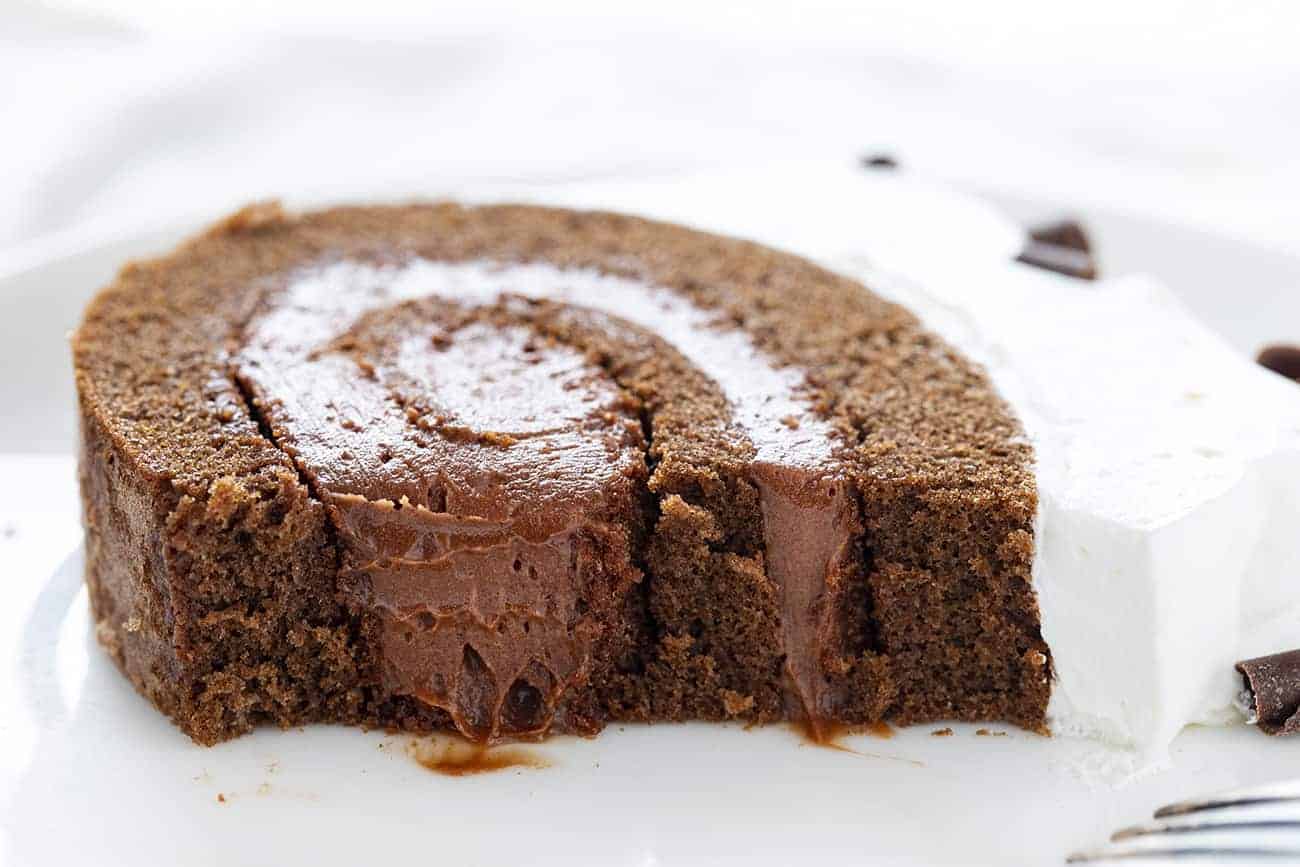 Looking for More Chocolate Desserts?
Zucchini Double Chocolate Cake
Dark Chocolate Cake with Buttermilk Pecan Frosting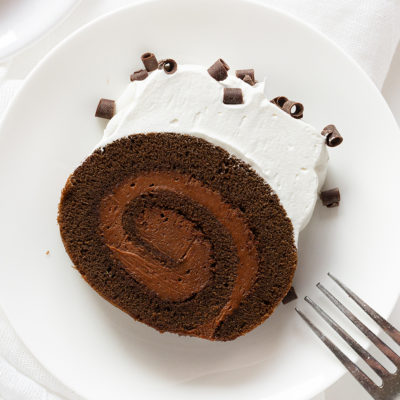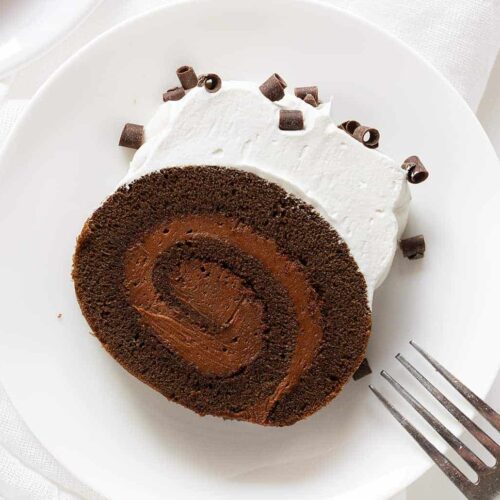 French Silk Cake Roll
Filled with a creamy French silk filling, this French Silk Cake Roll has all the flavor of a French Silk Pie rolled up in a chocolate cake!
Ingredients
CHOCOLATE CAKE
½

cup

(63g) all-purpose flour

¼

cup

(29.5g) unsweetened cocoa powder

1

teaspoon

baking powder

½

teaspoon

kosher salt

4

large

eggs,

room temperature

½

cup

(100g) granulated sugar

2

tablespoons

vegetable oil

1

teaspoon

vanilla extract

1

tablespoon

coffee,

cooled
FRENCH SILK FILLING
2.2

ounces

dark chocolate,

melted and cooled

½

cup

(1 stick or 113g) butter,

room temperature

¾

cup

(150g) granulated sugar

1

teaspoon

vanilla extract

2

tablespoons

cocoa powder

2

large

eggs,

room temperature
WHIPPED TOPPING
1

cup

(238g) heavy whipping cream

¼

cup

(31g) confectioners sugar
Instructions
CHOCOLATE CAKE
Preheat the oven to 350°F.

Line a 15×10-inch jelly roll pan with parchment paper. Leave extra parchment paper hanging over the 15-inch sides for easy removal of the cake. You can also spray the parchment paper with a non-stick spray, but it is not necessary.

In a medium bowl, whisk together flour, cocoa powder, baking powder, and salt until combined. Set aside.

In a separate bowl, whisk together eggs and granulated sugar for about 1 minute, or until thick. Add in the oil, vanilla extract, and coffee (use hot water if you don't have coffee) until combined.

Fold in the flour mixture and stir until combined.

Pour the batter into your prepared jelly roll pan. Smooth out the batter and gently tap on the counter. 

Bake in a 350°F oven for 10-12 minutes, or until the center no longer appears wet and an inserted toothpick is removed with a few crumbs.

One a clean hard surface such as a countertop, lay out a clean dish towel and generously sprinkle with confectioners sugar or cocoa powder.

Once the cake is done baking, carefully (using oven mitts) flip it over onto the clean dish towel in one quick motion. Fold about 2 inches of the towel over the edge and start rolling the cake up from the short end into a tight roll. Allow to cool for 2-3 hours, or until completely room temperature.
FRENCH SILK FILLING
(Start this step about 30 minutes before you are ready to assemble the cake.)

Chop dark chocolate and microwave in 30-second increments until melted. (about 1 ½ minutes total) Set aside.

In the bowl of a stand mixer fitted with the paddle attachment, add the butter and sugar. Turn mixer on high for 1 minute. Butter and sugar should be light and fluffy.

With the mixer on low or with the mixer off, pour in the melted (and slightly cooled) chocolate. Allow ingredients to combine for 30 seconds then turn the mixer off and scrape down the sides.

Add vanilla and cocoa powder. Mix for about 30 seconds.

Add in eggs and turn the mixer on high for 10 minutes. The filling should lighten, increase in volume, and appear very smooth and shiny. (The filling will darken after assembly.)
WHIPPED TOPPING
In a large bowl or in the bowl of a stand mixer fitted with the whisk attachment, pour the heavy whipping cream. (Can also use hand-held mixer) Whip for about 2 minutes, or until soft peaks occur.

Add in confectioners sugar and whip until there are firm peaks. (Lift the whisk attachment out and make sure the whipped topping holds its shape.)
ASSEMBLY
After the rolled cake has cooled (2-3 hours), gently unroll the cake, taking care not to tear or crack the cake. It will relax more as it sits unrolled. (If you do not want to get the towel dirty, remove the towel and place the cake on a clean sheet pan.)

Spread French silk filling on top, leaving about a ¼ inch space on all four sides. It should be a thin, even layer.

Gently roll the cake back into its rolled shape. Wrap with plastic wrap and refrigerate for at least 2 hours.

After refrigerating, top with your homemade whipped topping (or cool whip), carefully spreading it on all exposed areas.

Top with chocolate shavings.

Can be served immediately or chilled until ready to serve. (I always cut off the ends before serving, just to make it prettier.)
Did you make this recipe?
Thank you for making my recipe! You took pictures, right? Well go ahead and post them on Instagram! Be sure to mention me @iambaker and use the hashtag #YouAreBaker.