This is the best Chocolate Zucchini Cake, ever. Totally moist, full of amazing flavor, and destined to be your go-to recipe!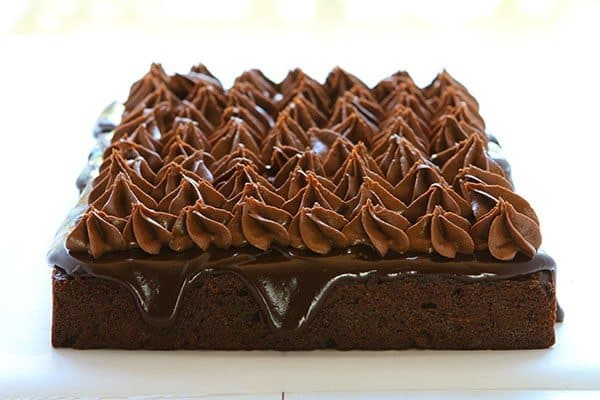 And while I did add poured chocolate ganache AND piped chocolate ganache… the truth is that this cake really doesn't need any frosting at all.
All on its own it's full of rich chocolate flavor and a delicate and glorious crumb.
In spite of its stand-alone amazingness, I went a step further. Well, a couple steps further.

I added not only a beautiful poured ganache but a whipped ganache!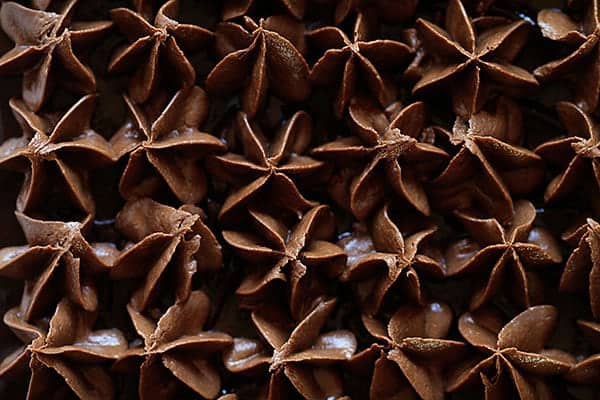 While this recipe is definitely all about the beauty of a perfect chocolate cake, I couldn't help myself. I was mesmerized by these sweet little whipped ganache stars.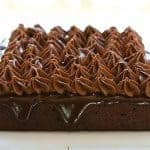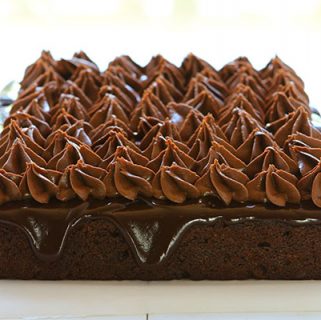 Zucchini Double Chocolate Cake
This is the best Chocolate Zucchini Cake, ever. Totally moist, full of amazing flavor, and destined to be your go-to recipe!
Keyword:
Zucchini Double Chocolate Cake
Ingredients
1/2

c

113g or 8 tablespoons butter

1/2

c

99g vegetable oil

1 3/4

347g cups sugar

1

tsp.

vanilla extract

1

tsp.

baking soda

1/2

tsp.

baking powder

1/2

tsp.

salt

2

100g large eggs

1/2

c

113g buttermilk

2 1/2

298g cups all-purpose flour

3/4

64g cup cocoa powder

1/4

c

30g hot coffee (or espresso)

3

c

about 450g shredded zucchini

3/4

c

130g chocolate chips
Ganache
1

c

225g whipped cream

2

c

350g semi-sweet chocolate chips
Instructions
Preheat the oven to 325°F. Lightly grease a 9" x 13" pan.

In a large mixing bowl, beat together the butter, oil, sugar, vanilla, baking soda, baking powder, and salt until smooth.

Beat in the eggs.

In a small bowl, combine buttermilk and coffee.

Add the buttermilk mixture to the butter mixture alternating with the flour.

Add the cocoa mixing until smooth.

Fold in the zucchini and chocolate chips and then pour batter into pan.

Bake the cake for 30 to 35 minutes, until the top springs back lightly when touched, or center no longer appears wet.
Ganache
Place the chocolate into a medium bowl. Heat the cream in a small sauce pan over medium heat. Bring just to a boil, watching very carefully so that it does not boil over.

When the cream has come to a boil, pour over the chopped chocolate, and whisk until smooth.

Allow the ganache to cool slightly before pouring over a cake.

Start at the center of the cake and work outward.
Recipe adapted from King Arthur Flour.
Tips for Success:
Let's talk zucchini: I typically leave the peeling on because I happen to love seeing little flecks of green through my dessert. You can certainly peel yours if you do not want to see any trace of the vegetable. If you do end up peeling it, people will never know there is zucchini in your cake… unless you tell them of course!
When peeling zucchini I try to choose the smallest size on the grater. I also did not drain my zucchini for this recipe. It benefits from all the moisture the zucchini offers. The level of moisture varies depending on the size of the zucchini… the bigger the zucchini the less moisture.
I chose a rich, dark, bold coffee. Here is where I am going to be a bit bold myself: No. No, you cannot replace the coffee with hot water. I mean, yes of course you can, but NO you do not want to. The cake will not taste like coffee in the slightest, I promise. It simply enhances the chocolate flavor. If you replace the coffee or simply omit it, your cake will not taste as rich.
I followed the recipe above for my pourable ganache… but then I made another batch. And when that batch had cooled I whipped it and added 3 cups of powder sugar. Working quickly, I piped the mini stars on top of the cake. (The frosting stiffens the longer it sits.)
PRO TIP: Put the frosting right into a disposable pastry bag for storage as well as easy use!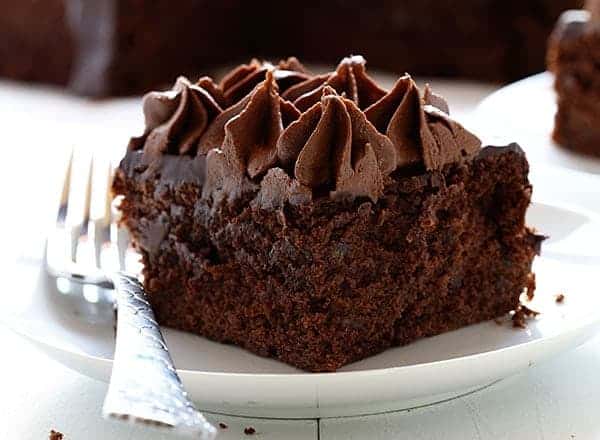 I mean, yeah.
It is just as moist and rich as you would image it to be. More even.
This is definitely my new go-to Zucchini Chocolate Cake!