Fresh Strawberry Cobbler is a perfect summertime dessert that can be put together in minutes and features fresh strawberries. To make the most of peak strawberry season, be sure to try my Strawberry Crisp!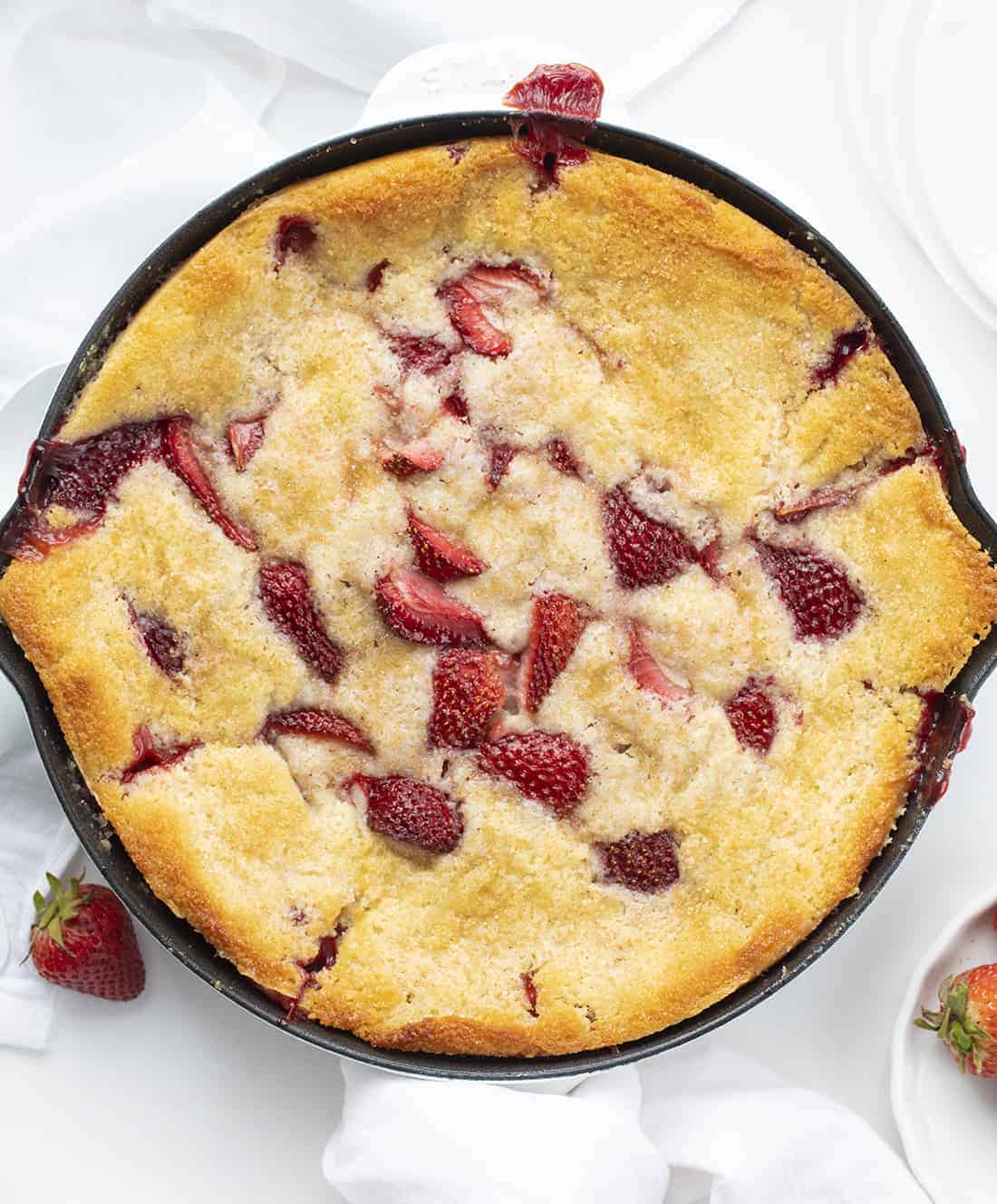 Fresh Strawberry Cobbler
Cobblers are an easy, delicious, and fruit-centered dessert. After putting together my Blueberry Cobbler, I was wondering why I haven't made more of these desserts. You can whip up a freshly baked, homemade dessert with fresh strawberries as the star of the show! And, after you and your guests taste the dessert, they will think it was a lot harder than it was to make!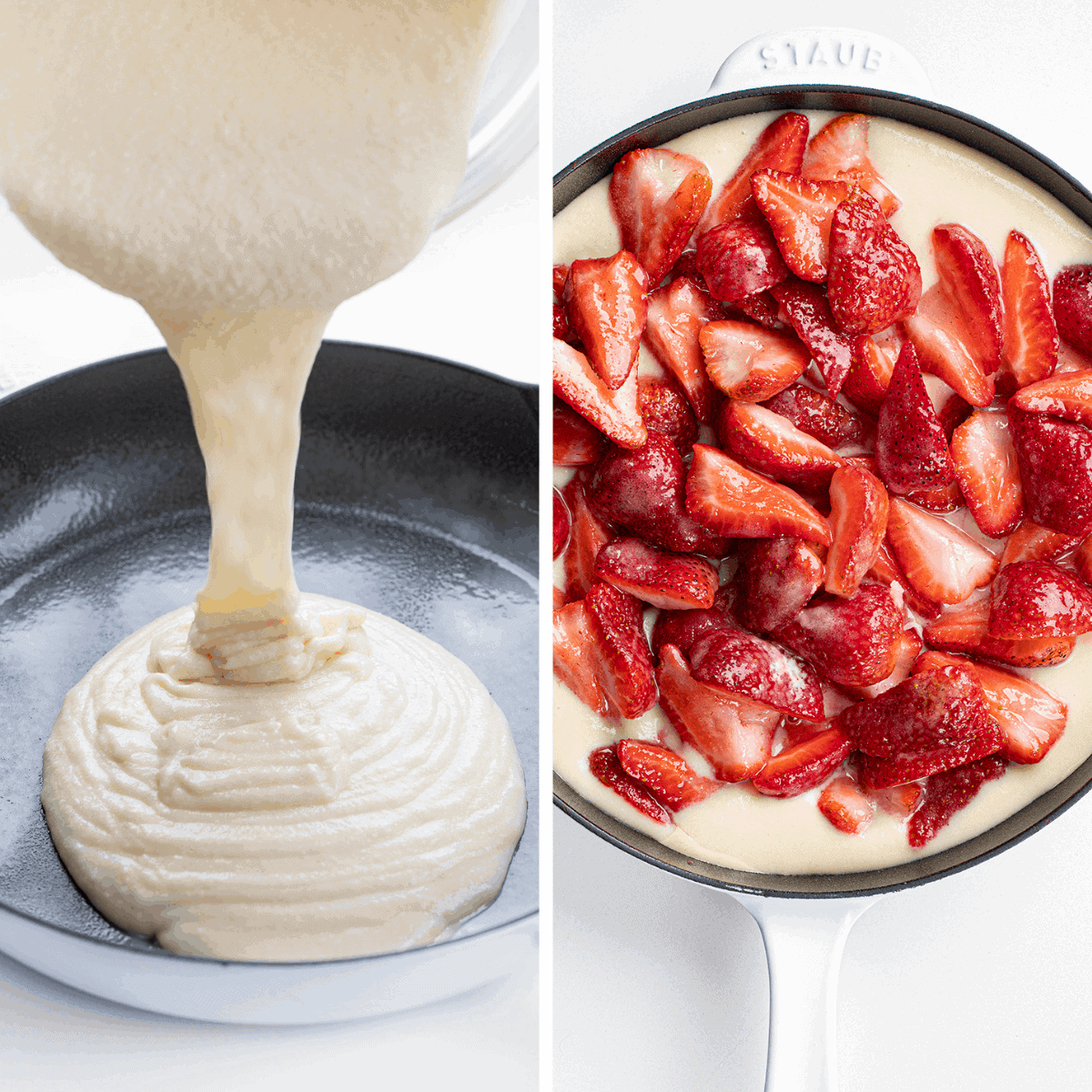 Fresh Strawberry Cobbler Ingredients
I prefer to make this strawberry cobbler in a cast-iron skillet. But, you could get away with making it in a greased 9×13-inch baking dish as well. I will get into the pan choice a little later.
Strawberries: Fresh strawberries are best for this dessert. I will let you know how to prepare the strawberries, and why fresh is best, below.
Sugar: This dessert is sweet. In fact, after making it the first time, it was clear that I needed to lessen the amount of sugar used. You could even reduce the amount a little more, and it would still be a deliciously sweet dessert. You can also substitute brown sugar for granulated sugar.
Turbinado Sugar: Turbinado Sugar is a sugar that would fall between granulated sugar and light brown sugar in both color and flavor. It has a yellowish-brown color and with some molasses content left in the turbinado sugar (which gives it the color), it will provide a slight butterscotch flavor and has larger and coarser grains. If you can't find turbinado sugar, you can use granulated sugar for the topping.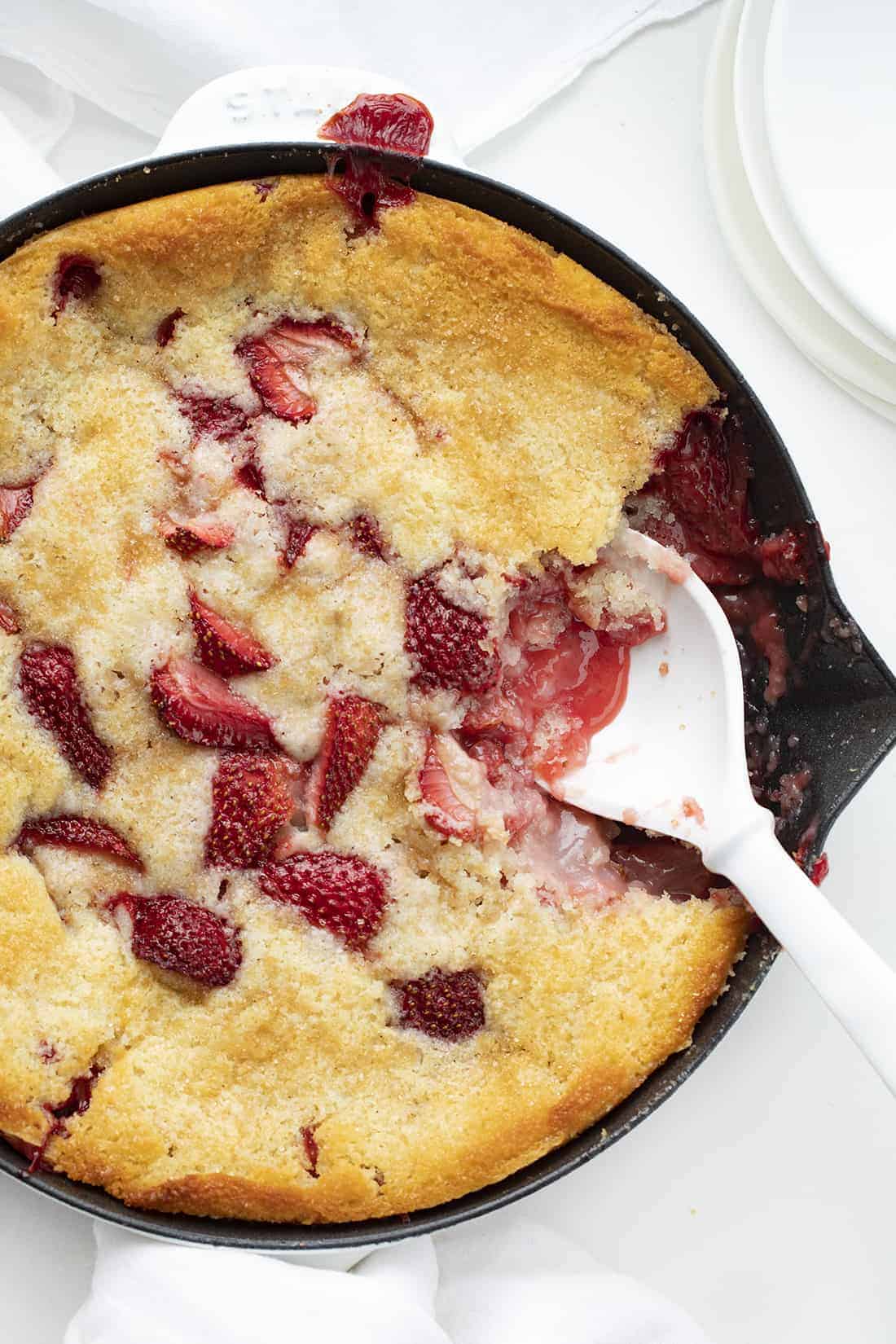 How to Prepare Strawberries
To prepare the strawberries, be sure to wash them thoroughly and gently pat them dry. After you have washed the strawberries, remove the leafy green parts of the berries. This is called 'hulling' the strawberries. Instead of simply cutting off the tops straight across, insert a sharp knife at an angle and rotate the strawberry in a circle until the stem pulls out.
Once washed and hulled, I prefer to halve the strawberries or leave them whole. Dicing strawberries or using frozen strawberries will cause the dessert to be too liquidy and jammy. If you're using fresh strawberries, you want to show them off and enjoy the juicy flavor!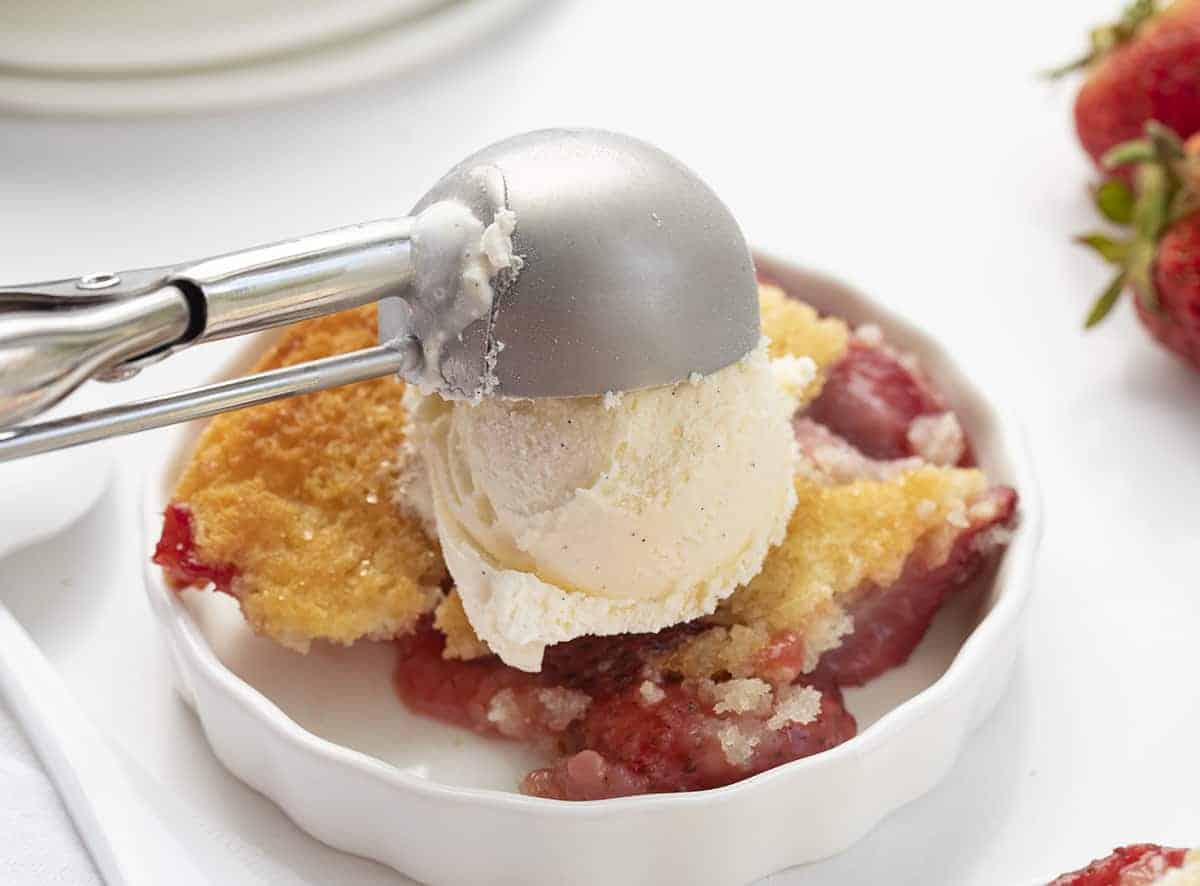 Why Bake Strawberry Cobbler in a Cast-Iron Skillet?
There really is a difference between making this strawberry cobbler in a cast-iron skillet versus a 9×13-inch baking dish. A cast-iron skillet heats more evenly than a baking dish and also gives this dessert a nice, crispy crust. But, you can definitely make this in a baking dish if that is what you have on hand.
Can I Use Frozen Strawberries?
I can't stress enough to use fresh, whole strawberries or strawberries cut in half for this recipe. If you use frozen strawberries or diced strawberries, too much liquid will release, causing a gummy dessert.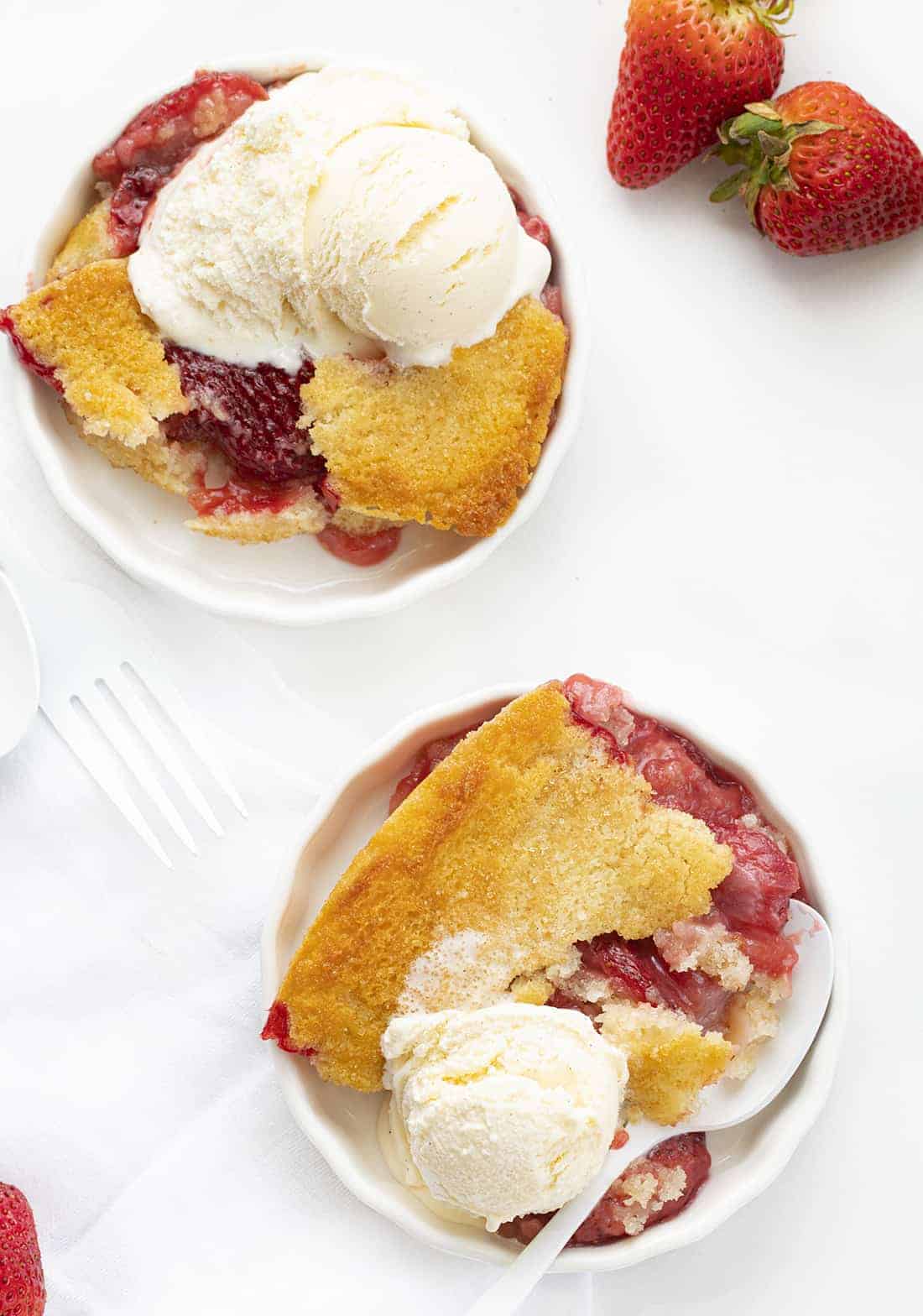 How to Store Strawberry Cobbler?
This can be left out at room temperature the same day you bake it. After that is should be stored in an air tighter container in the refrigerator for up to 3 days.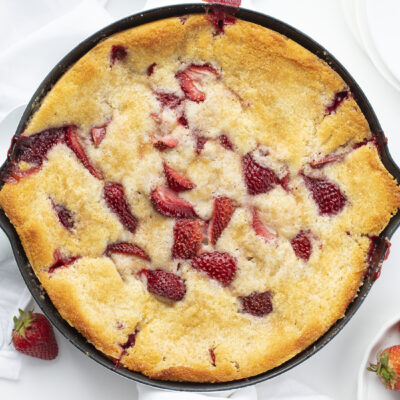 Fresh Strawberry Cobbler
Fresh Strawberry Cobbler is a perfect summertime dessert that can be put together in minutes and features fresh strawberries.
Ingredients
Batter
½

cup

(1 stick / 113 g) unsalted butter,

melted

1

cup

(200 g) granulated sugar

1

cup

(125 g) all-purpose flour

1 ½

teaspoons

baking powder

½

teaspoon

kosher salt

1

cup

whole milk
Strawberry Mixture
2

pounds

fresh strawberries,

washed, dried, hulled, and halved

½

cup

(100 g) granulated sugar

2

tablespoons

cornstarch

2

teaspoons

lemon juice
Sugar Topping
1 ½

tablespoons

turbinado sugar
Instructions
Preheat the oven to 350°F and spray a 10-inch cast-iron skillet with nonstick cooking spray. (You could also use a 9×13-inch baking dish.)
Batter
In a medium bowl, combine sugar, flour, baking powder, salt, and milk. Slowly whisk in the melted butter. Pour the batter into the skillet.
Strawberry Mixture
In a medium bowl, toss the strawberries with sugar, cornstarch, and lemon juice. Add the strawberry mixture evenly over the top of the batter.

Bake for 45 minutes. (Line a baking sheet with aluminum foil and place it on the bottom of the oven to catch any drips.)
Sugar topping
After 45 minutes, sprinkle the turbinado sugar over the top and return to oven; bake an additional 10-15 minutes, or until golden brown.

Serve topped with ice cream or whipped topping.
Did you make this recipe?
Thank you for making my recipe! You took pictures, right? Well go ahead and post them on Instagram! Be sure to mention me @iambaker and use the hashtag #YouAreBaker.