Summer days are meant for Strawberry Pie! Bursting with real strawberry flavor and paired with a graham cracker crust, this completely no-bake dessert is delicious! If you love no-bake options, you may also enjoy my Piggy Pie Dessert and Blueberry Heaven Dessert!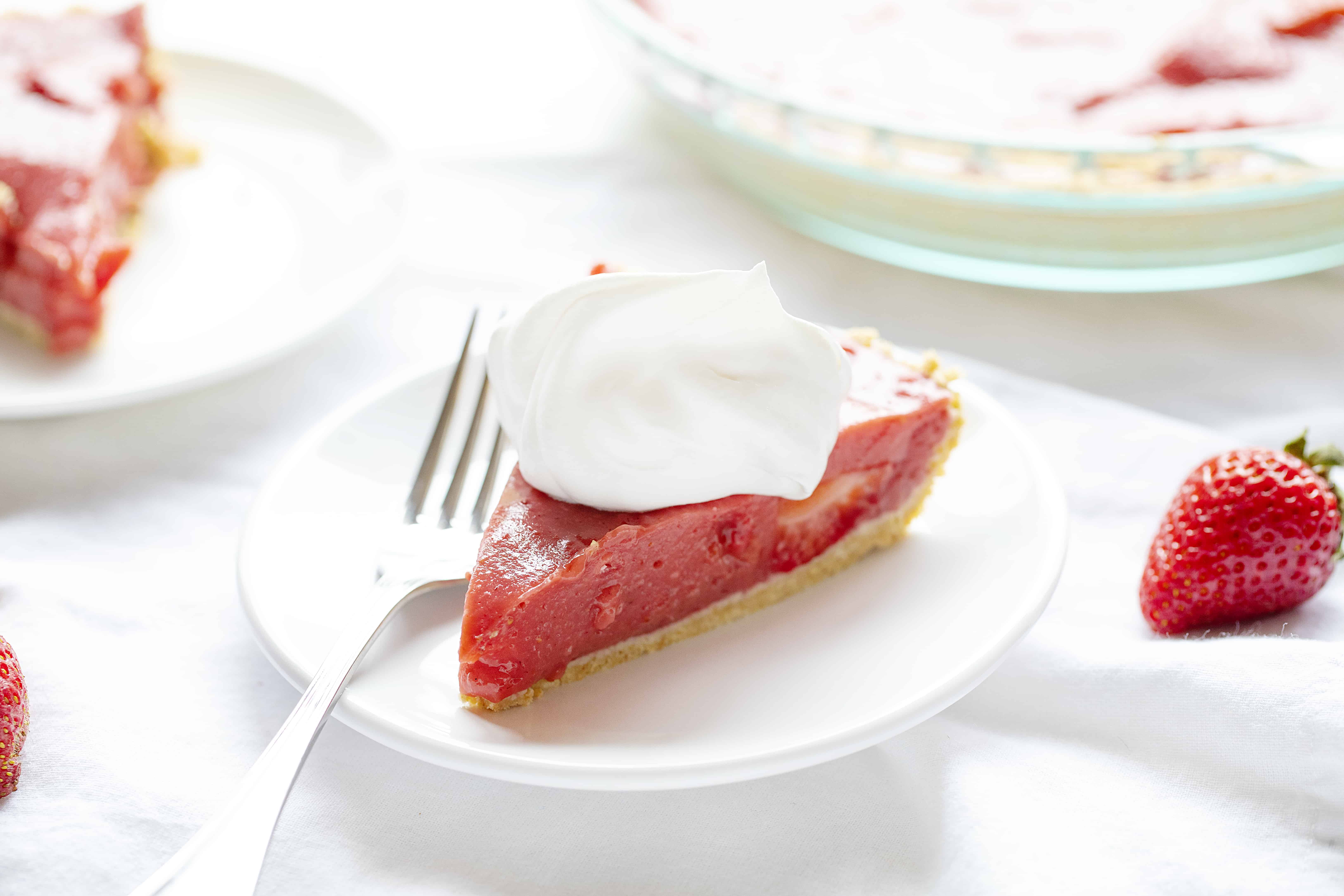 Strawberry Pie
When I found this recipe in my grandma's recipe box, I knew I had to try it. And while her original recipe called for a baked pie crust and tasted amazing, I wanted to make something that didn't involve the oven. I think the few simple changes I made to this sweet pie made with all real ingredients are up to her high standards!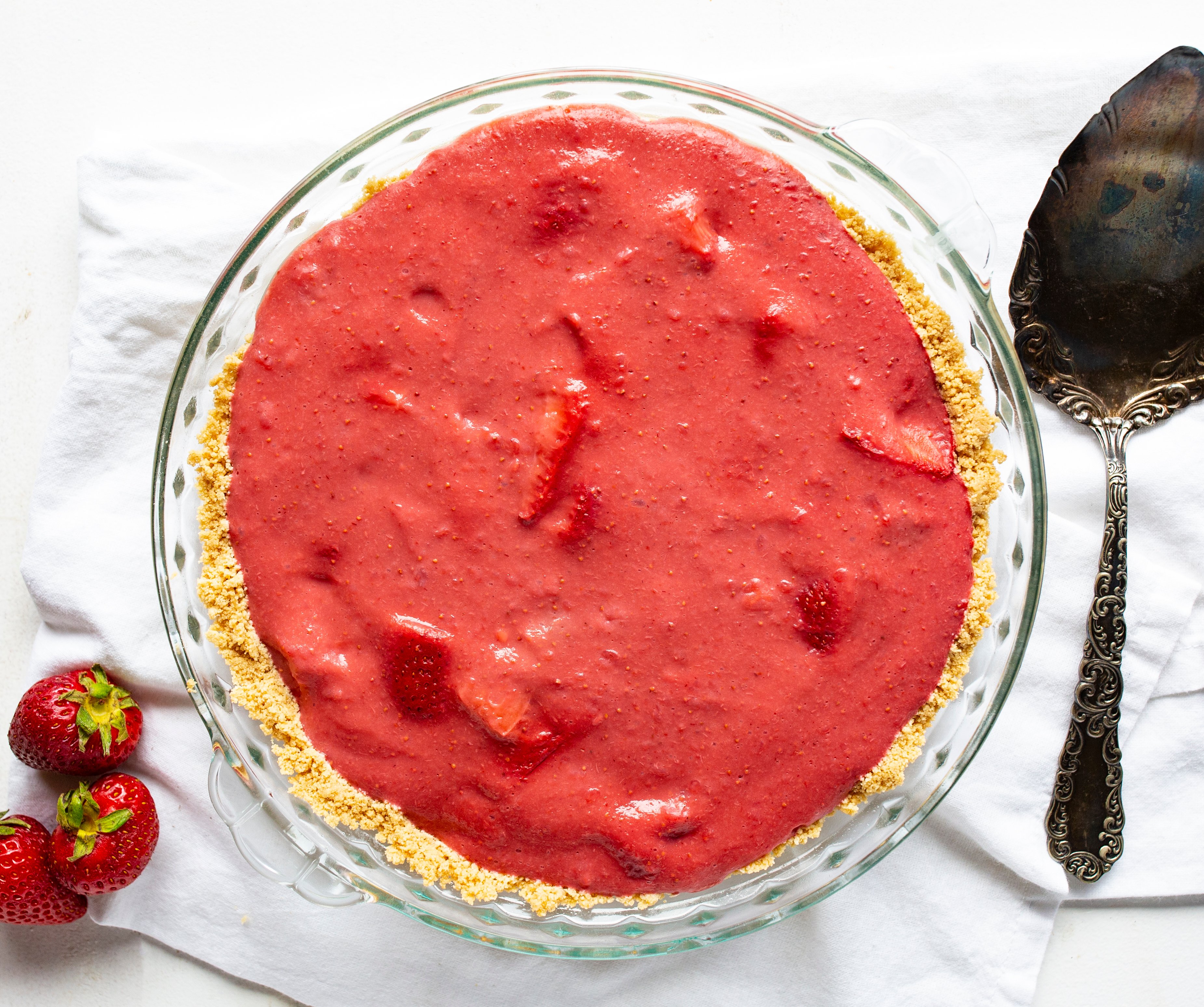 Real Ingredients, Great Pie
A quick scan of the ingredients will show you that there is no gelatin, no jello mix! And yes, you can still get a delicious strawberry pie without them.
strawberries
sugar
cornstarch
water
graham crackers
butter
This recipe does use quite a lot of strawberries. Three quarts to be exact! Three quarts equals 6 pints. One pint equals just shy of a pound, depending on the size of the strawberries. I puree most of the strawberries in the blender and reserve about 1 quart (2 pints) to remain fresh in the pie. A good tip is to pick the freshest looking strawberries to be cut up for the filling and use the rest for the puree.
I don't recommend frozen strawberries for this recipe. Well, at least not for the fresh whole strawberries that are added to the filling. If you use frozen for the puree, you will need 3 cups of puree, so about 5 cups of thawed strawberries.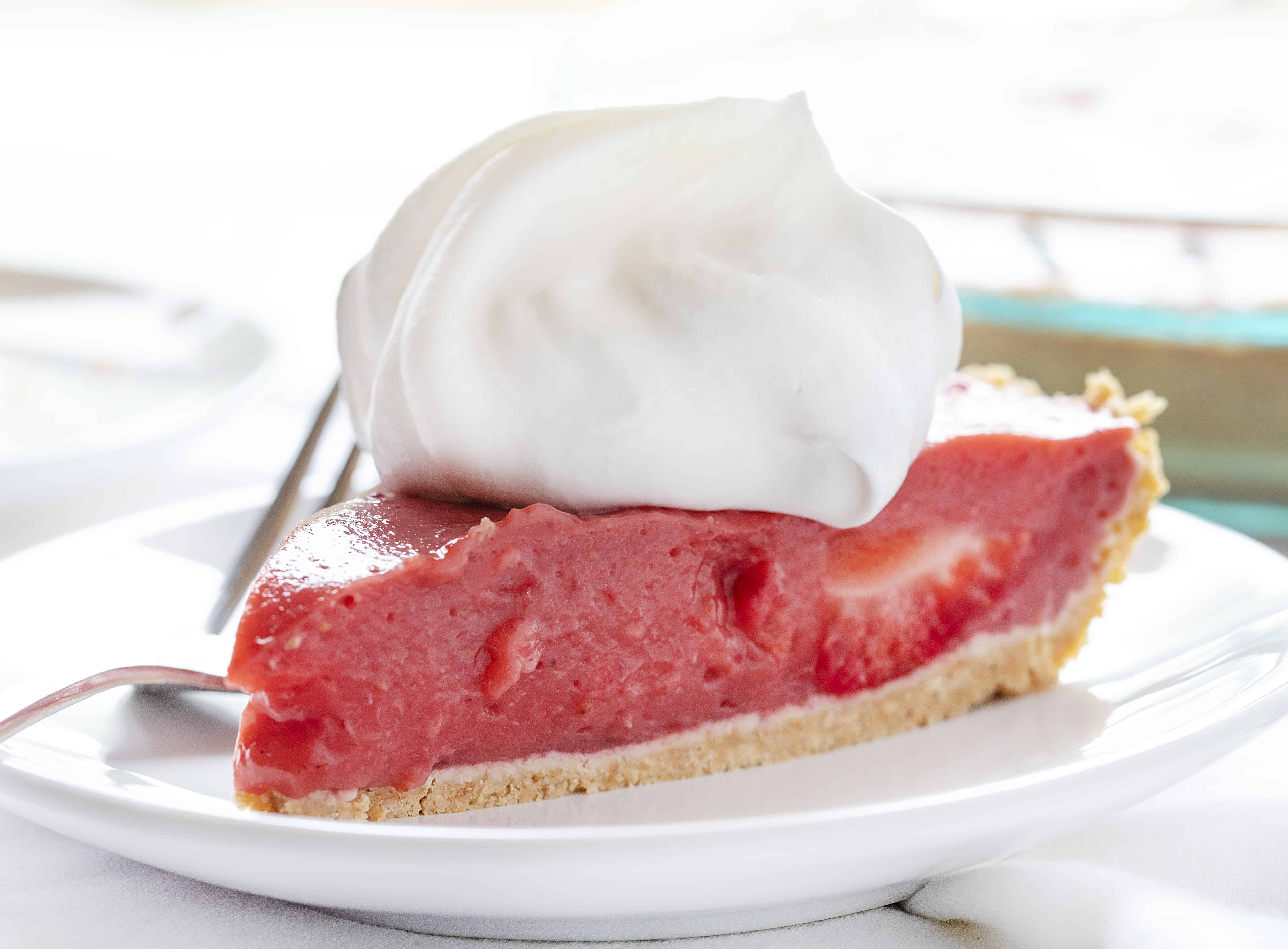 Perfect Graham Cracker Crust
Just two ingredients for the best crust:
You may notice that I did not add sugar to the ingredients. We found that for this pie specifically, it wasn't needed. There is enough sweetness is those strawberries! However, if you would like to add sugar you can add 2 tablespoons of granulated sugar.
Super Red Strawberry Pie?
Grandma actually added red food color to hers to make it super red. I tried that and didn't notice a huge difference in the color, but it did pop a bit more, visually speaking. For this recipe, I opted to leave it out. If you are presenting this to guests and want to make sure your presentation is perfection, feel free to add a couple of drops of red food coloring.
The Perfect Size Pan
The first time I made grandma's recipe it called for a 7-inch pie pan. This meant it was a MILE-HIGH Strawberry Pie! However, as a family, we decided that we loved the filling to crust ratio much better in a 9-inch pie pan. This is the reason this pie looks a bit thinner than you would normally see.
If you are hell-bent on a tall pie, try these tricks!
Add more whole strawberries to the filling after it is pureed.
Use the smaller size pan, such as 7-inch.
Increase the filling ingredients by half. So instead of 1 1/2 cups of sugar use 2 1/4. Use 2/3 cups cornstarch and 1 1/3 cups water.
If you try any of those things you will have a mile-high pie!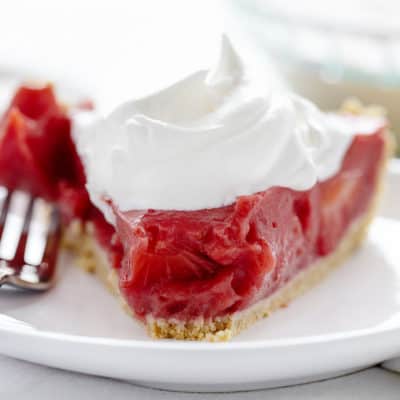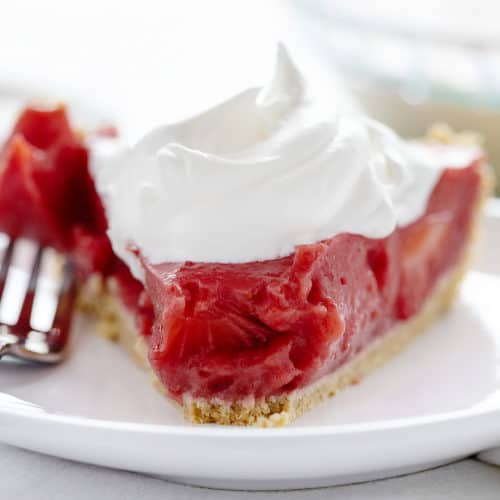 Real Strawberry Pie
Tastes just like grandma's only it's NO BAKE!
Ingredients
Strawberry Filling
3

quarts

fresh strawberries,

quartered and divided

1 ½

cups

granulated sugar

⅓

cup

cornstarch

⅔

cup

water
Crust
1 ½

cups

(10-12 sheets) honey graham crackers,

finely crushed

4-6

tablespoons

butter,

melted

whipped topping,

(optional garnish)
Instructions
Strawberry Filling
Hull and quarter 2 quarts of strawberries and add to a blender. Puree until fine.

In a large saucepan, combine the strawberry puree, sugar, cornstarch, and water.

Bring to a low boil over medium heat (until it just starts to bubble) until sauce thickens, about 5 minutes. (You will notice when it changes consistency.)

Remove from heat and add remaining chopped strawberries and stir well. Prepare graham cracker crust while this is cooling a bit.
Crust
Add 4 tablespoons of melted butter to graham crackers crumbs and using a fork, mix well. You want every crumb coated in the butter as this will be the glue that holds it together. If it seems to be dry at all, add remaining 2 tablespoons of melted butter and mix again.

Pour the graham cracker crumbs into a prepared 9-inch pie dish. Pat them flat with your hand and then use a kitchen glass to press flatter. Start at the center and work out to the sides.

Now pour the strawberry mixture into the pie dish with the graham cracker crust and refrigerate for at least 3 hours.

Top with whipped topping before serving. (optional)
Notes
PLEASE NOTE! I forgot to show me adding the sugar in the video.
The written recipe is correct, so please make this Strawberry Pie based on the written recipe!
Did you make this recipe?
Thank you for making my recipe! You took pictures, right? Well go ahead and post them on Instagram! Be sure to mention me @iambaker and use the hashtag #YouAreBaker.