Strawberry Shortcake Recipe is a dessert that starts with buttermilk biscuits that are topped with strawberry sauce and whipped topping. If you love the flavors of strawberry shortcake, you may want to give my Strawberry Trifle and Strawberry Shortcake Fudge a try!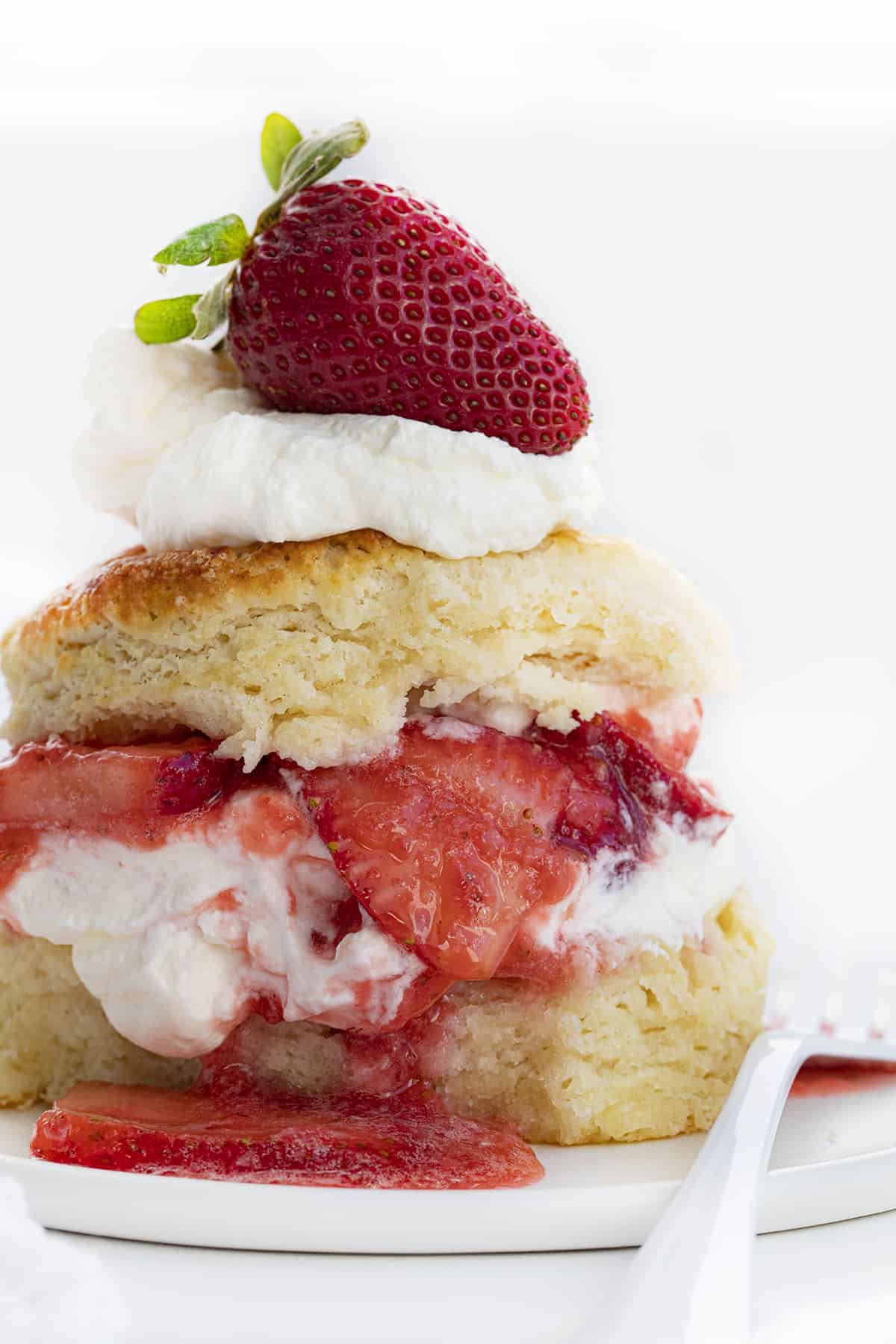 Strawberry Shortcake
Strawberry Shortcake is a biscuit and fruit dessert that has been around at least since it appeared in a cookbook in 1588. This recipe is made with homemade biscuits, homemade strawberry sauce, and homemade whipped topping. Some may wonder, is Strawberry Shortcake made with biscuits or cake? The answer is… both. 🙂 Traditionally, a shortcake is a crisp, crumbly cake made with butter or sometimes shortening. It is crispy outside and soft inside, just like traditional biscuits and scones. It's a dessert that you can pile high with deliciousness! I also have a Sheet Pan Strawberry Shortcake that you will drool over!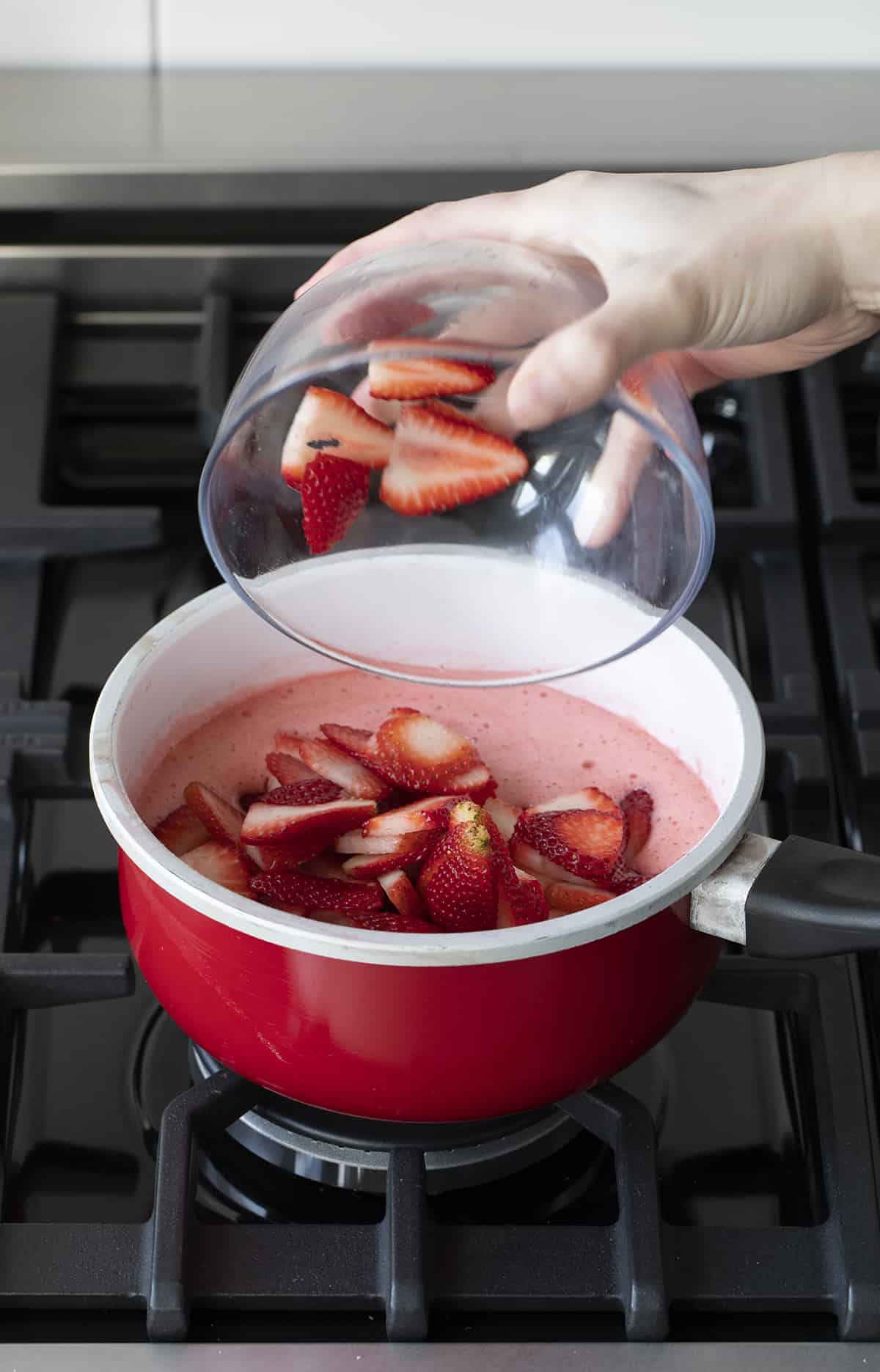 Strawberry Shortcake Ingredients
There are three important parts to this Strawberry Shortcake recipe–the strawberry sauce, buttermilk biscuits, and whipped topping.
Strawberries: I used fresh strawberries in this recipe, but you could get by with frozen strawberries that have thawed. If using fresh strawberries, be sure to wash and hull them. Instead of simply cutting off the tops straight across, insert a sharp knife at an angle and rotate the strawberry in a circle until the stem pulls out.
Butter: The secret to the biscuits is the cold, grated salted butter. Use the fine side of the grater and grate the butter over a plate. Then pop in the freezer. Grated butter only needs a few minutes in the freezer to firm up, so it really makes prep time much easier. (If you are using unsalted butter, add a teaspoon of kosher salt to the biscuit recipe.)
Buttermilk: Since the biscuits are sweetened buttermilk biscuits, we can't leave out the buttermilk!
Whipped Topping: This recipe uses homemade whipped topping. Of course, you could also use cool whip.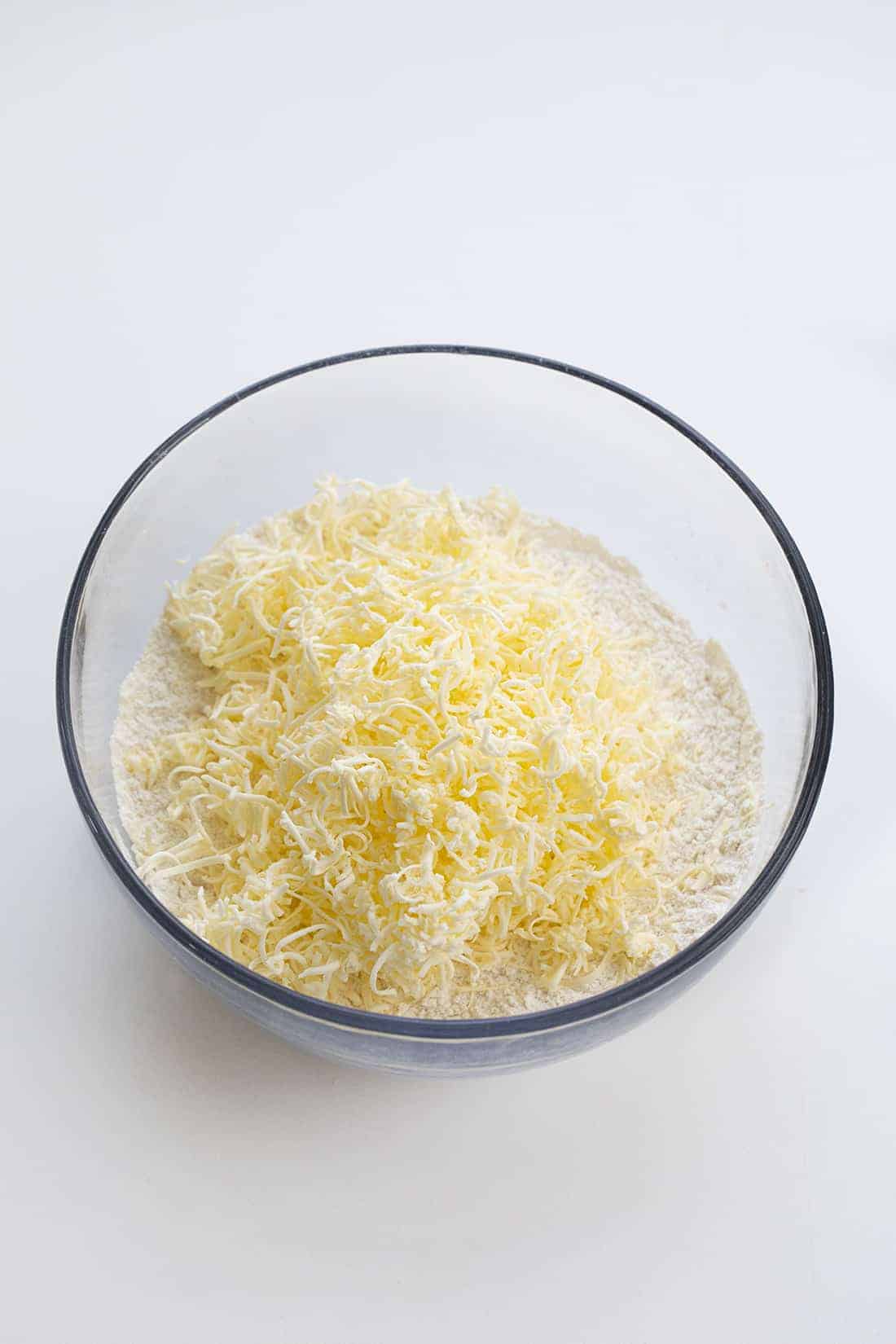 Can I Make Strawberry Shortcake Ahead of Time?
Yes! All three parts of this recipe can be made ahead of time. The strawberry sauce can be stored in the refrigerator for up to five days. If you want to make the biscuits ahead of time, allow them to cool to room temperature. Then wrap tightly with aluminum foil, and place in the refrigerator until ready to serve. When ready, warm them in the oven at the lowest temperature for up to 10 minutes.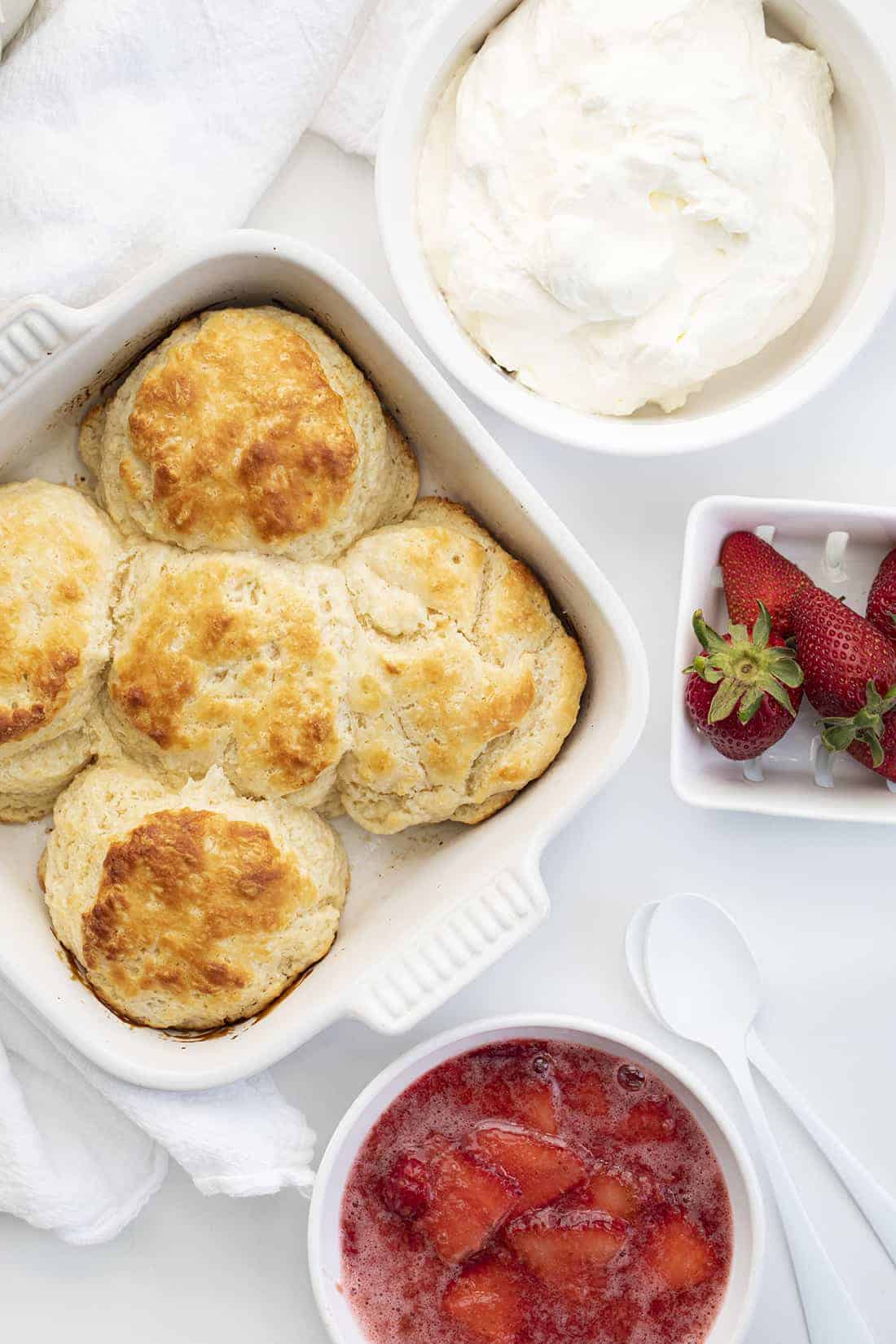 How to Freeze Biscuits
To freeze the biscuits, wrap cooled biscuits tightly with aluminum foil or plastic wrap and then in a freezer-safe storage bag. If they are wrapped tight and air can't get to them, they should remain fresh for a couple of months. Be sure to label and date the packaging.
Finally, the whipped topping can also be made ahead of time. Store it in the refrigerator for up to ten hours, or freeze it (see above) for longer storage.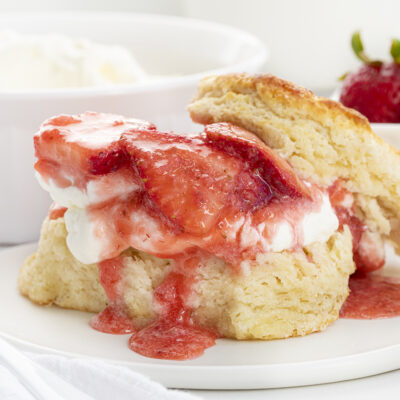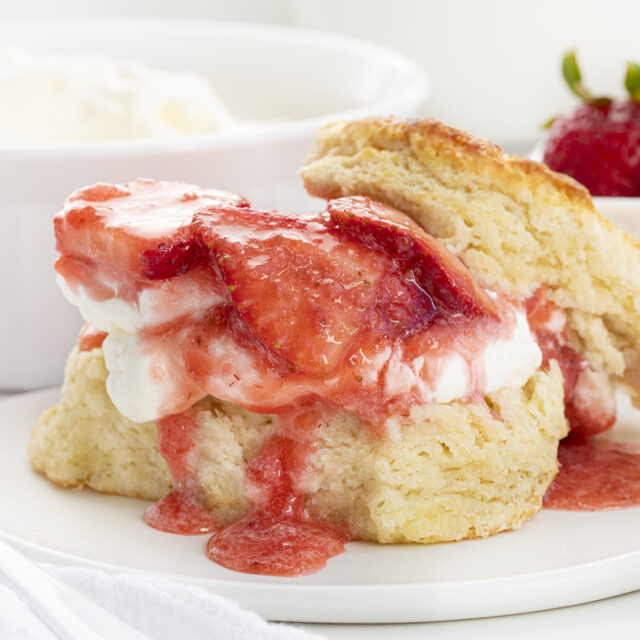 Strawberry Shortcake
Strawberry Shortcake is a dessert that starts with sweetened buttermilk biscuits that are topped with strawberry sauce and whipped topping.
Ingredients
Strawberry sauce
2

pounds

fresh strawberries,

hulled, sliced, and divided

1

cup

(200 g) granulated sugar
Biscuits
½

cup

(1 stick / 113 g) salted butter,

grated and cold

2

cups

(250 g) all-purpose flour

3

tablespoons

granulated sugar

¼

teaspoon

baking soda

1

tablespoon

baking powder

1

cup

(245 g) buttermilk
Whipped Cream
1

pint

(454 g) heavy whipping cream

¼

cup

(31 g) confectioners' sugar
Instructions
Strawberry sauce
Add 4 cups of the sliced strawberries and granulated sugar in a medium saucepan over medium/high heat.

Let it come up to a boil and boil for 2 to 3 minutes. The sugar should be dissolved and a strawberry syrup should form. Remove from the heat and add to a blender or food processor. Puree the sauce until smooth.

Pour the strawberry puree into a bowl and stir in the remaining sliced strawberries.

Cover with plastic wrap; chill the strawberry sauce in the refrigerator while you make the shortcake and cream.
Biscuits
Preheat oven to 450°F. Prepare a pie dish or 8×8-inch pan. (I use GOOP)

Grate butter using the fine edge of your grater. Grate onto parchment paper and then place in the freezer while you prepare the remaining ingredients.

To a large bowl, add flour, sugar, baking soda, and baking powder. Use a whisk to sift ingredients.

Get grated butter out of the freezer and, using a fork, incorporate into dry ingredients.

Add in the buttermilk and stir until mostly combined, being careful not to overwork the batter.

Pour contents out onto a solid surface and use your hands to push the dough together, gathering up and dry bits and pressing them into the dough. Move the dough around and add some flour underneath should your counter get sticky.

Press the dough into a flat square, about 1½ inches thick. Fold over once, press down. Fold over again, press down. Fold over for a third time and press the dough to 1 1/2 inches thick. (You could also make the thickness 1-inch if you want 8 biscuits.)

Using a biscuit cutter, round cookie cutter, or tall kitchen glass, press into the biscuit and place each biscuit into the prepared tin pie dish (touching). I used a 3-inch cutter and got 5 large biscuits with enough dough leftover for one more small biscuit.

Brush any leftover buttermilk over the biscuits and bake for 12-16 minutes, or until the tops are golden brown and there are no "wet" spots between the biscuits. Let the biscuits cool to room temperature before assembly.
Whipped Topping
Add heavy cream to a mixing bowl. Start mixing at the lowest speed, and then gradually increase speed to medium until the cream starts to get thicker. (The gradual progression prevents you from spraying yourself with cream.)

When the cream starts to thicken, stop the mixer. Slowly add in the confectioners' sugar and then resume mixing again, starting with low speed and increasing to medium speed and eventually moving to a high speed.

The cream will thicken and start to peak. Mix on high until the cream is thick and stiff. This happens quickly, the stage between soft and stiff peaks, so watch it closely.
Assembly
Slice each cooled biscuit in half. Top each half with strawberries and whipped topping. Serve immediately.
Did you make this recipe?
Thank you for making my recipe! You took pictures, right? Well go ahead and post them on Instagram! Be sure to mention me @iambaker and use the hashtag #YouAreBaker.