Finding the perfect cake for a special birthday has just gotten easier! This Homemade Strawberry Cake with silky Cream Cheese Frosting is perfection! (Video below on how to create this ruffle technique!)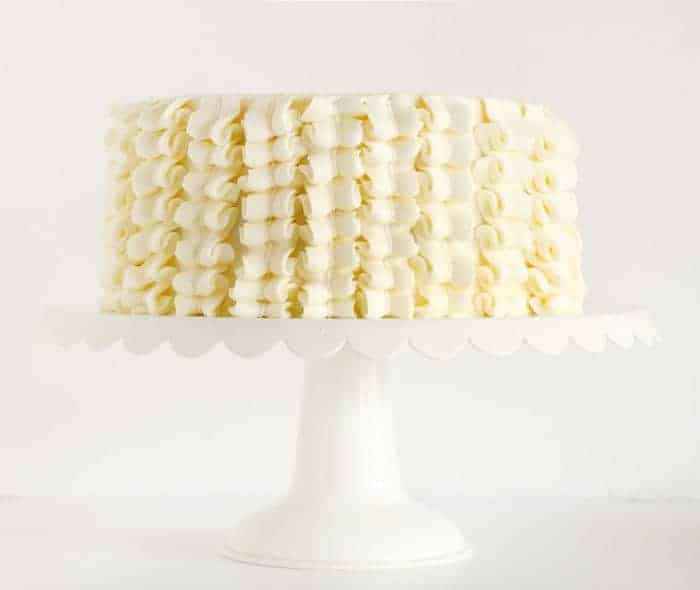 I love making my own birthday cake! It is one of the few times I year I throw all caution to the wind (Ignore SEO, Pinterest, social media awareness, what will the readers want, etc. – stuff that I take very seriously 99% of the time!) and just bake to please my soul.
To Make This Cake You Will Need:
Strawberry Cake Recipe (Below)
8-inch round cake pans
Offset Spatula
Pastry Bag with #113 Leaf Tip
Recipe adapted from Strawberry Ruffle Birthday Cake.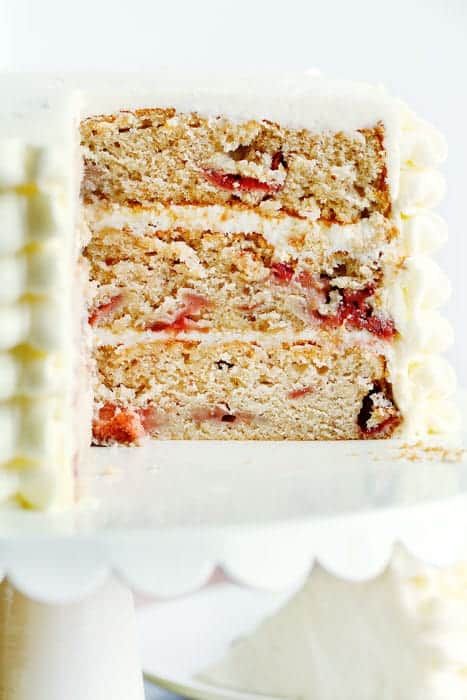 As you can see, this is not a Pink cake. If you want your cake to be more pink feel free to add some red food coloring.
Tips for Success:
Room temperature ingredients are ESSENTIAL for this recipe. You can see how I quickly bring eggs to room temperature here.
There are a number of steps to this recipe, so it's a good idea to read through first and prepare your ingredients beforehand.
If you want to use all of your strawberry puree IN the cake, feel free to brush cakes with a simple syrup after they have baked. This is a dense cake, so it does need the additional moisture added before serving.
This cake would also be amazing with Whipped Cream frosting.
For the Cream Cheese Frosting recipe, feel free to add 1-2 tablespoons liquid (milk, heavy cream, etc.) to create the soft, velvety texture needed for this frosting technique. I also turned my mixer on high and let it go for about 4 minutes to add some air into the frosting. A crumb coat is important in this cake as you will want something for the ruffles to "adhere" to. (frosting sticks to frosting)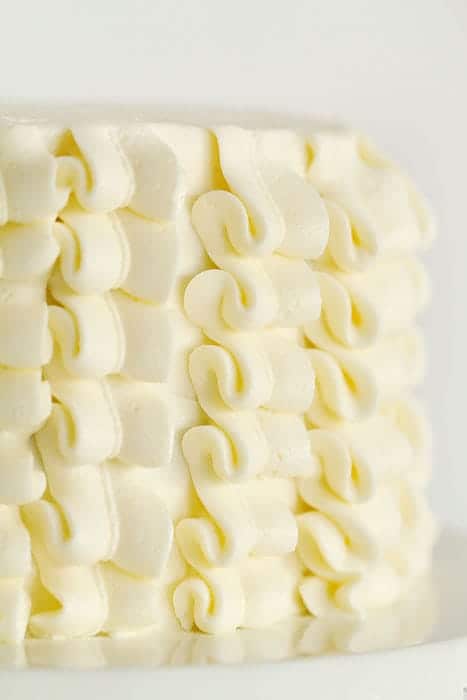 Here is a video on how I created the Ruffle technique on this cake:

I used an offset spatula to create lines in the crumb coat that helped me to stay straight. (Some of my ruffle lines are crooked… I apologize! This happened because I was trying to pipe and film at the same time. You can easily create vertical perfection at home with the guidelines in your cake!)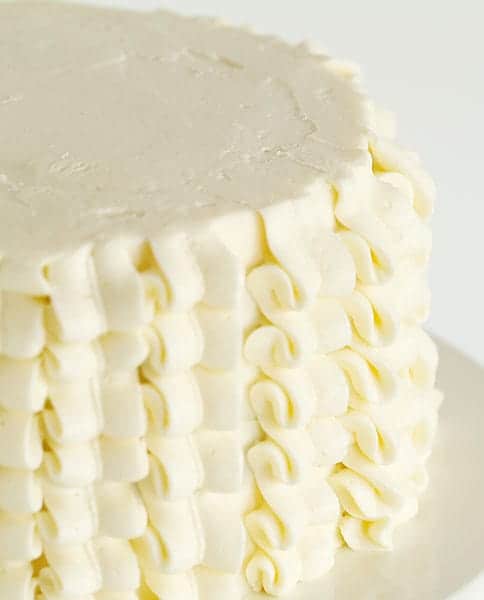 For the top I just used my offset spatula to smooth the edge. Gently pull the frosting from the edge towards the center of the cake. Very easy!
Enjoy!