These Giant Peanut Butter Cookies have a glorious layer of Peanut Butter Butterscotch Chocolate Ganache on top. Peanut butter delight!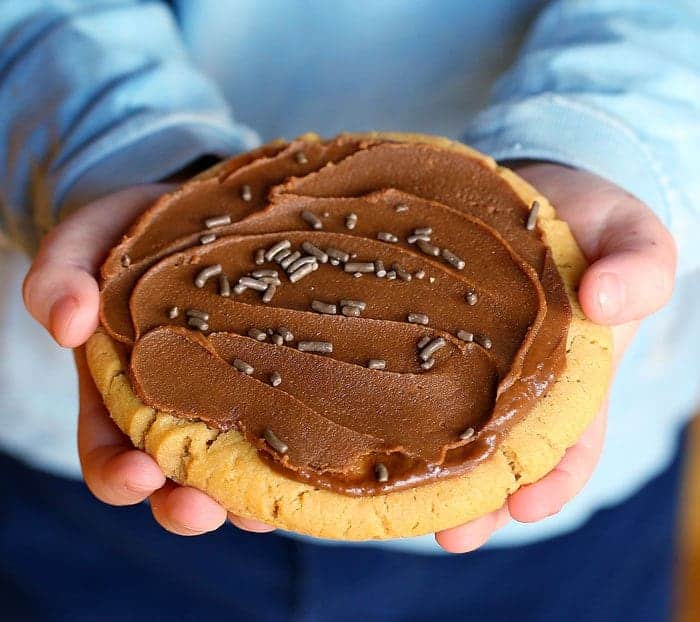 With growing kids you know we are peanut butter cookie experts around here. They are so easy to make that the kids can do it themselves!
To make these cookies you will need:
Peanut butter cookie recipe (below)
Peanut butter butterscotch chocolate ganache recipe (below)
Cookie sheets with parchment paper
1/4 measuring cup
Offset spatula
Chocolate jimmies (optional)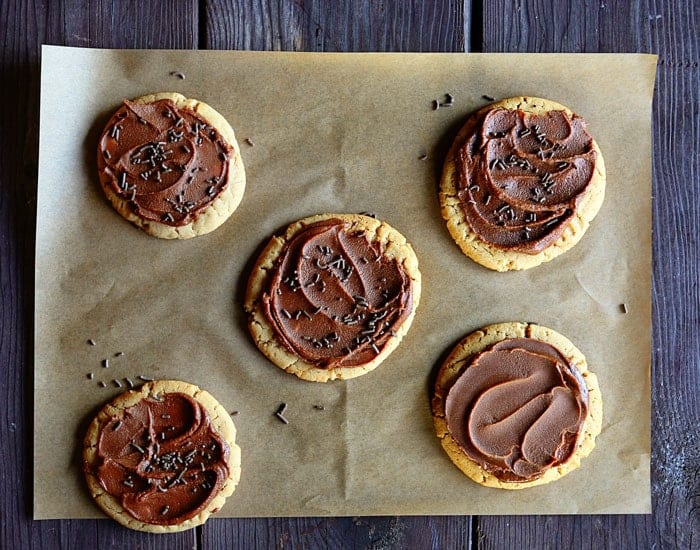 Recipe adapted from Peanut Butter Cookies and Peanut Butter Butterscotch Chocolate Ganache.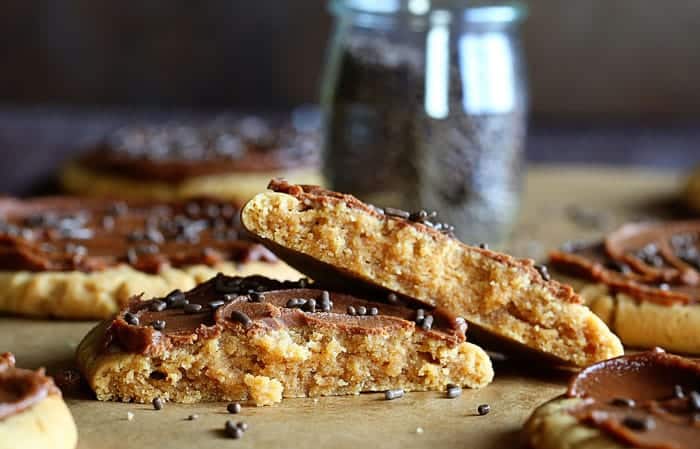 Tips for Success:
I love using a creamy peanut butter for this recipe, but you can certainly use a crunchy peanut butter if you prefer. Another option is to add chopped peanut to the top of this cookie! That would compliment the crunchy peanut butter well.
Using room temperature ingredients is recommended for this cookie recipe.
Be sure to flatten the cookie before baking. When I did not flatten the cookies, they did not spread out flat and there was a dome. For this recipe, where we are spreading something over the top, a flat cookie works best.
For the ganache, you want all of the chocolate to be melted completely. I have found that the butterscotch takes a bit longer to melt and may not melt completely from just the hot cream. Feel free to pop the chocolate into the microwave for 10-15 seconds and then stir vigorously after.
After letting the ganache sit for a few moments, I used an offset spatula to spread it over the cookie. It spreads so beautifully! If you are adding the chocolate jimmies (see other sprinkles options here) add them right after you spread the ganache. If you wait too long the ganache will set and the jimmies will roll right off when you pick up the cookie to eat it.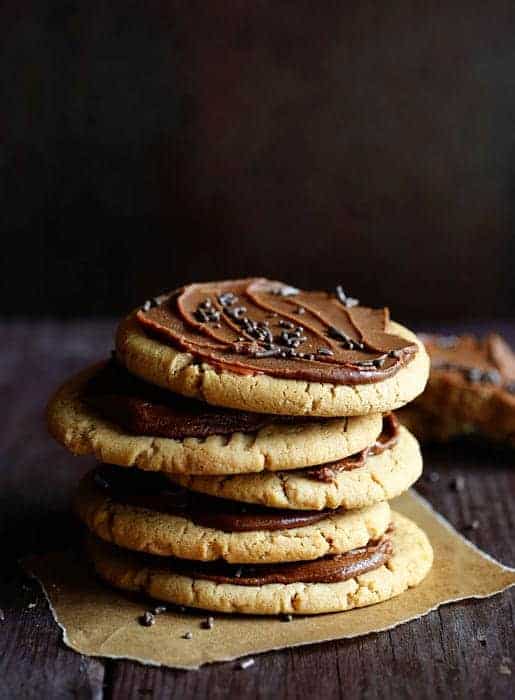 These classic peanut butter cookies are the perfect cookie! Making them bigger is just an added bonus. But adding a mouth-watering chocolate ganache on top of that is pure bliss!!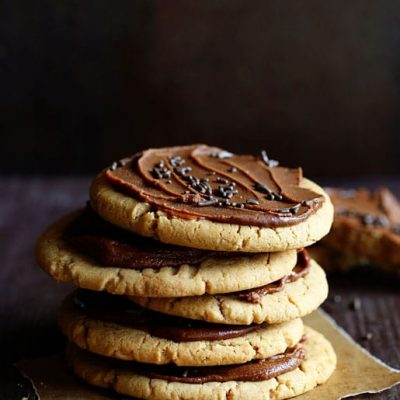 Giant Peanut Butter Cookies with Peanut Butter Butterscotch Chocolate
These Giant Peanut Butter Cookies have a glorious layer of Peanut Butter Butterscotch Chocolate Ganache on top. Peanut butter delight!
Ingredients
1

c

225g creamy peanut butter

1/2

c

113g butter, softened

1/2

c

115g white sugar

1/2

c

115g packed brown sugar

1

egg

room temperature

3

tbsp.

milk

1

tsp.

McCormick vanilla extract

1 1/4

156g cups all-purpose flour

1

tsp.

baking powder

1/2

tsp.

baking soda

1/4

tsp.

salt
Peanut Butter Butterscotch Chocolate Ganache
1/2

c

115g heavy cream

3/4

c

135g, 5 ounces semi-sweet chocolate, rough chopped

1/4

c

56g creamy peanut butter

1/2

c

90g butterscotch morsels
Instructions
Peanut Butter Cookies
Preheat oven to 350 degrees F. Prepare two cookie sheets by lining them with parchment paper.

In the bowl of a stand mixer with paddle attachment, (you can also use a hand help mixer) cream together the peanut butter, butter, white sugar, and brown sugar until well blended.

With mixer on low, add in the egg, milk, and vanilla one at a time.

Combine the flour, baking powder, baking soda, and salt; stir into creamed mixture.

Using a 1/4 cup measuring cup, section out 1/4 cup of dough, roll into a ball, then flatten on cookie sheet.

Each cookie sheet should fit 4 cookies. Press a fork into the flattened cookie to achieve the traditional peanut butter cookie appearance.

Bake for 8 to 10 minutes or until edges are lightly browned.

Recipe makes 12 giant peanut butter cookies.

Allow cookies to cool before adding ganache.
Peanut Butter Butterscotch Chocolate Ganache
Place the roughly chopped chocolate, peanut butter and butterscotch morsels in a bowl and set aside.

Heat the cream on the stove over medium-low heat and bring to a simmer for 1-2 minutes.

Remove pan from stove and pour the hot cream on top of the chocolate, peanut butter and butterscotch

chips.

Stir gently to combine and keep stirring until all morsels are melted.

Allow ganache to cool for about 5 minutes before spreading. It will stiffen up a bit and be less runny.
Did you make this recipe?
Thank you for making my recipe! You took pictures, right? Well go ahead and post them on Instagram! Be sure to mention me @iambaker and use the hashtag #YouAreBaker.
I added McCormick to my ingredient list because that is what brand I use and adore. You can see all the beautiful cakes and desserts I make using McCormick products click here.