I hesitated in sharing my family's coveted Green Bean Casserole recipe as it is SO easy, some may doubt how good it is! But trust me, a few simple ingredients is all you need to make this Thanksgiving staple. We have been eating it this way in Minnesota for as long as I can remember!
The Best Green Bean Casserole Recipe
Every year, we all look forward to seeing family around the holidays. The love and laughter and joy of being with family on Thanksgiving and Christmas are the highlights of the year. But if someone forgets to put the green bean casserole on the dinner menu, look out, the show literally stops. This is the epicenter of the Thanksgiving table! The one dish that never needs to be associated with a leftover container. So how can you perfect this most important side dish? I am about to tell you how.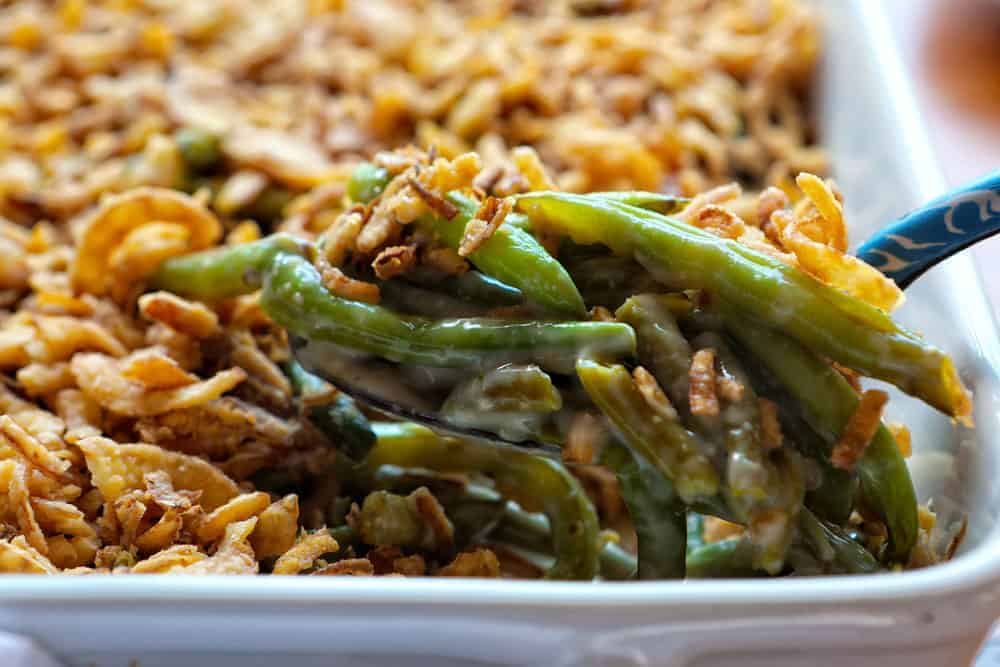 How to Make Green Bean Casserole
For the pedestal that this dish sits on, you would think it would be extremely difficult to make. Just the opposite, this dish is extremely difficult to mess up. Yes, there are variations that could throw this green bean casserole in a different league, but messing it up is really hard to do. So, the main characters in a classic green bean casserole are green beans, cream of mushroom soup, and fried onions. Some people dress them up with bacon, sauteed mushrooms, or even cheese. But the classic dish, the one we make, just carries the basics paired with one special technique to bring out the beautiful green colors.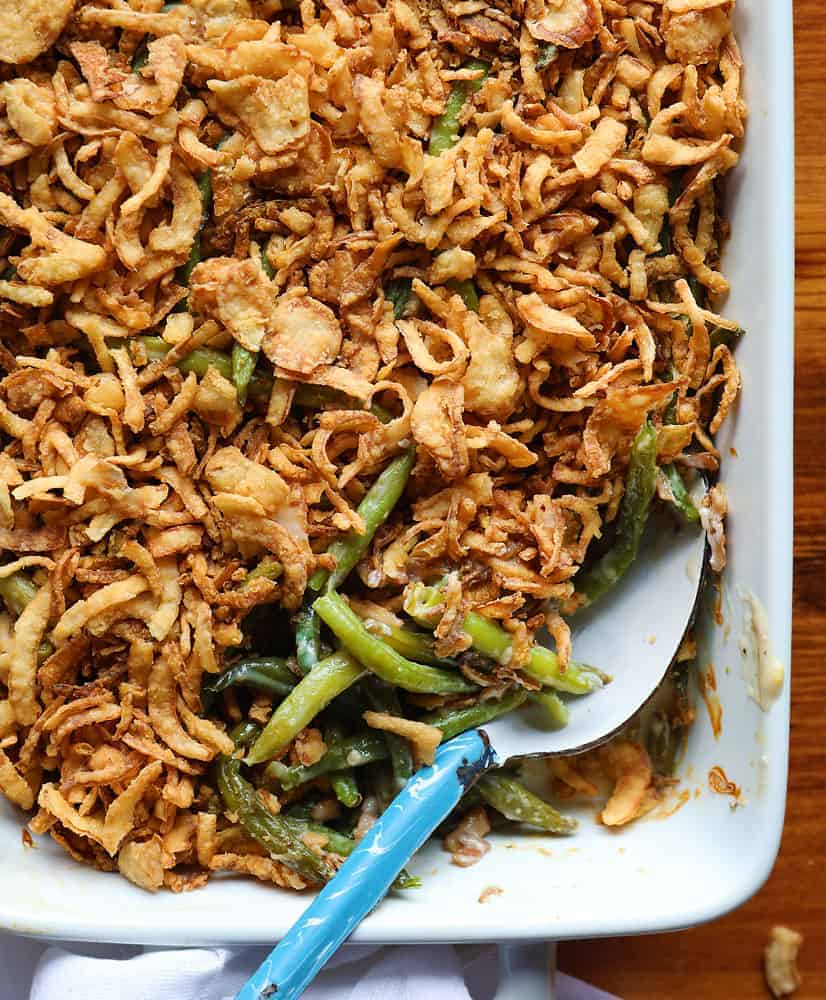 Blanching Vegetables
The first step in the green bean casserole process is to blanch the green beans. Blanching means to plunge a fruit or vegetable into boiling water for a short amount of time before transferring it to an ice bath, which quickly stops the cooking. This technique brightens the color of the green beans and helps to slow the loss of nutrients. Vibrant blanched green beans make this green bean casserole look stunning!
A hot debate in our house is whether or not to cut the green beans into smaller, bite-size pieces. I am firmly in the NO category, but my husband and kids prefer the smaller sized beans. You have a couple of options here; you can either cut up the beans before or after blanching or you can use canned green beans which naturally come in smaller sizes.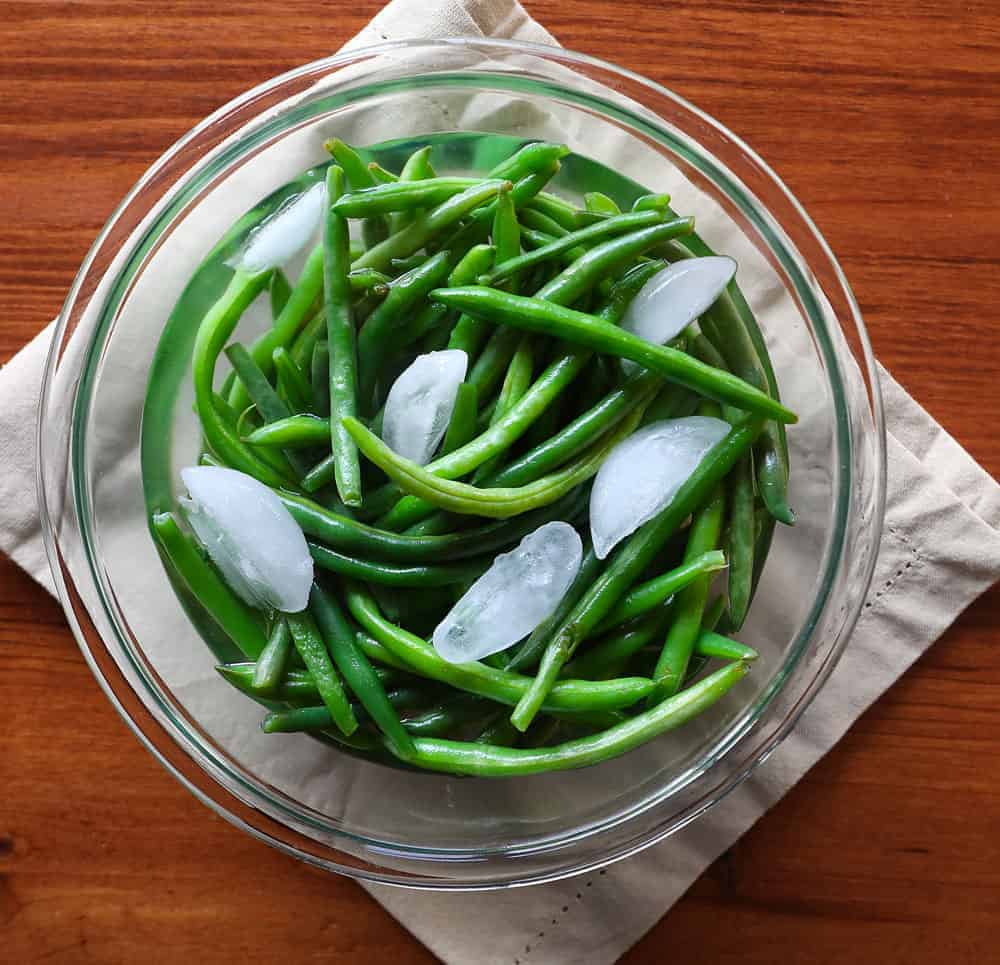 Ingredients in Green Bean Casserole
Once the green beans are blanched, you throw them into a greased casserole dish. This recipe calls for 7 cups of green beans. You could easily do more if you like your casserole to be a bit heavier or if you are looking to feed a bigger crowd. The beans do cook down as it bakes in the oven.
Another ingredient in the green bean casserole recipe is cream of mushroom soup. I tend to think that this particular ingredient is relatively important. We typically use our own homemade cream of mushroom soup, and the benefits include knowing what is in our food, knowing how long it has been stored, and choosing the type and size of mushrooms we want. Making your own homemade cream of mushroom soup is actually really easy. We like our green bean casserole to have a great creamy flavor so we use two cans. This is something you can modify if you prefer more or less.
The final ingredient worth mentioning is the fried onions. This is what makes the casserole over the top! We use two containers because we like the extra crunchy top layer combined with the creamy texture of the bottom green bean layer.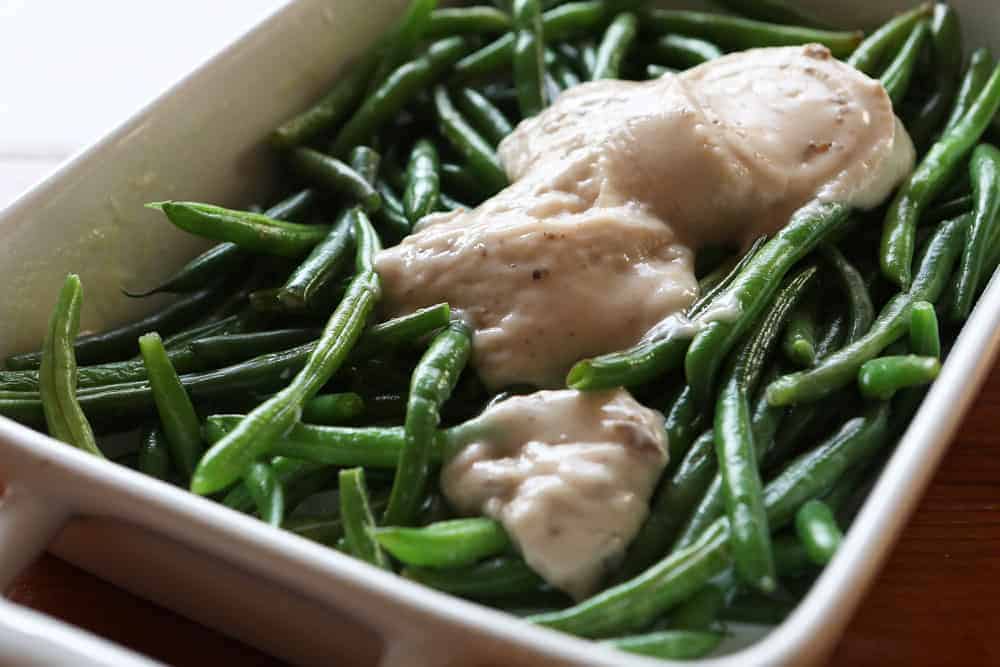 Can I use Canned Green Beans in Green Bean Casserole?
Absolutely, some people prefer it. If you are going to go this route, I really like the french cut green beans. But like I said above, my husband and kids prefer the shorter, regular beans.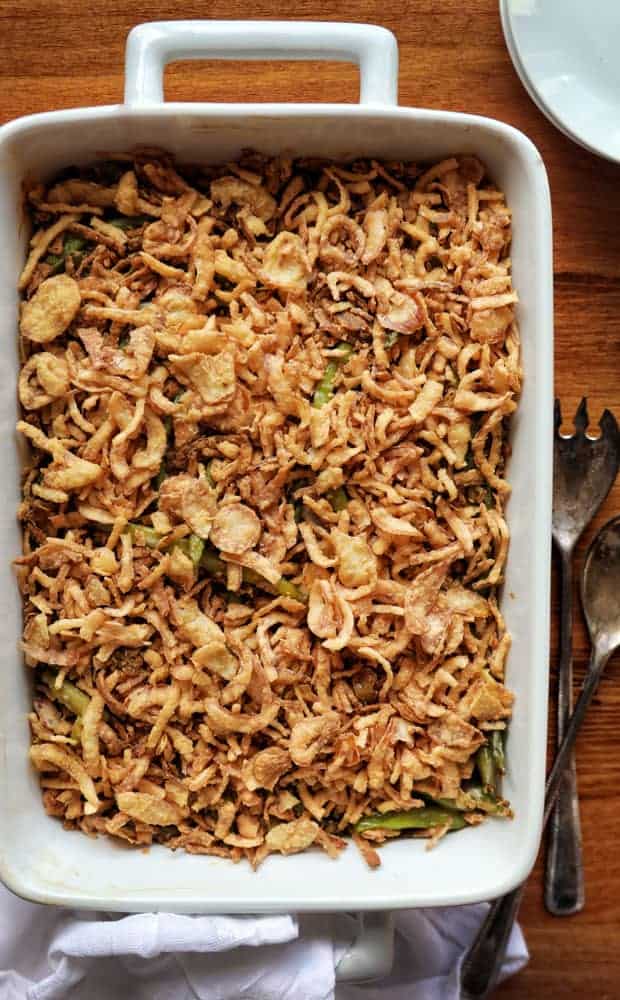 Crock Pot Green Bean Casserole
I get a lot of questions about making green bean casserole in a crockpot. Personally, this is one of those recipes where I usually chime in with "if it ain't broke, don't fix it". However, if you want to try it. I would suggest cooking all of the ingredients except the french fried onions on low for 5-6 hours. I would throw the onions at the end and let them cook for another 30 minutes or so.
Looking for more Holiday Menu Recipes?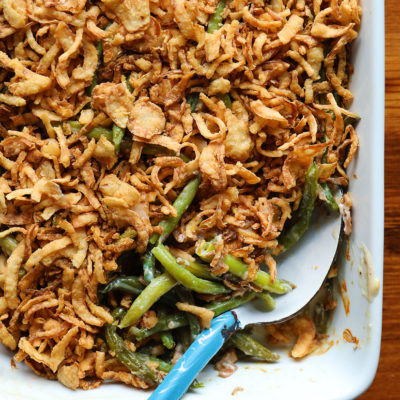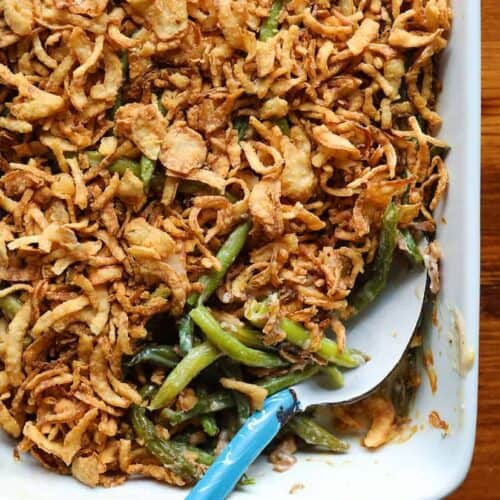 Green Bean Casserole
A few simple ingredients is all you need to make this Thanksgiving staple.
Ingredients
7

cups

fresh green beans

2

cans

(10.5 ounces each) condensed cream of mushroom soup

¼

cup

whole milk

1

teaspoon

garlic powder

2

containers

(2.8 ounces each) French-fried onions
Instructions
Heat oven to 375°F.

Blanch green beans in a large stock pot of well salted boiling water until bright green in color and tender crisp, roughly 2 minutes. Drain and shock in a bowl of ice water to stop from cooking.

In 1 1/2-quart casserole or glass baking dish, mix green beans, soup, garlic powder, and milk.

Bake 30-40 minutes, topping with onions during last 5 minutes of baking, until bubbly.
Did you make this recipe?
Thank you for making my recipe! You took pictures, right? Well go ahead and post them on Instagram! Be sure to mention me @iambaker and use the hashtag #YouAreBaker.