Green Smoothie is a healthy smoothie made with both fruits and vegetables that is full of vitamins, minerals, and nutrients. Here are a few more Easy Smoothie Recipes you may want to add to your list of smoothies.
Green Smoothie
This green smoothie is full of health benefits that make it perfect for any time of the year, but especially around cold and flu season. It is filled with purposeful and specific ingredients that help boost your immunity and keep you feeling good, just like my Orange Smoothie. And, it doesn't taste too bad! The pears add a little sweetness to the smoothie, so it's definitely worth trying!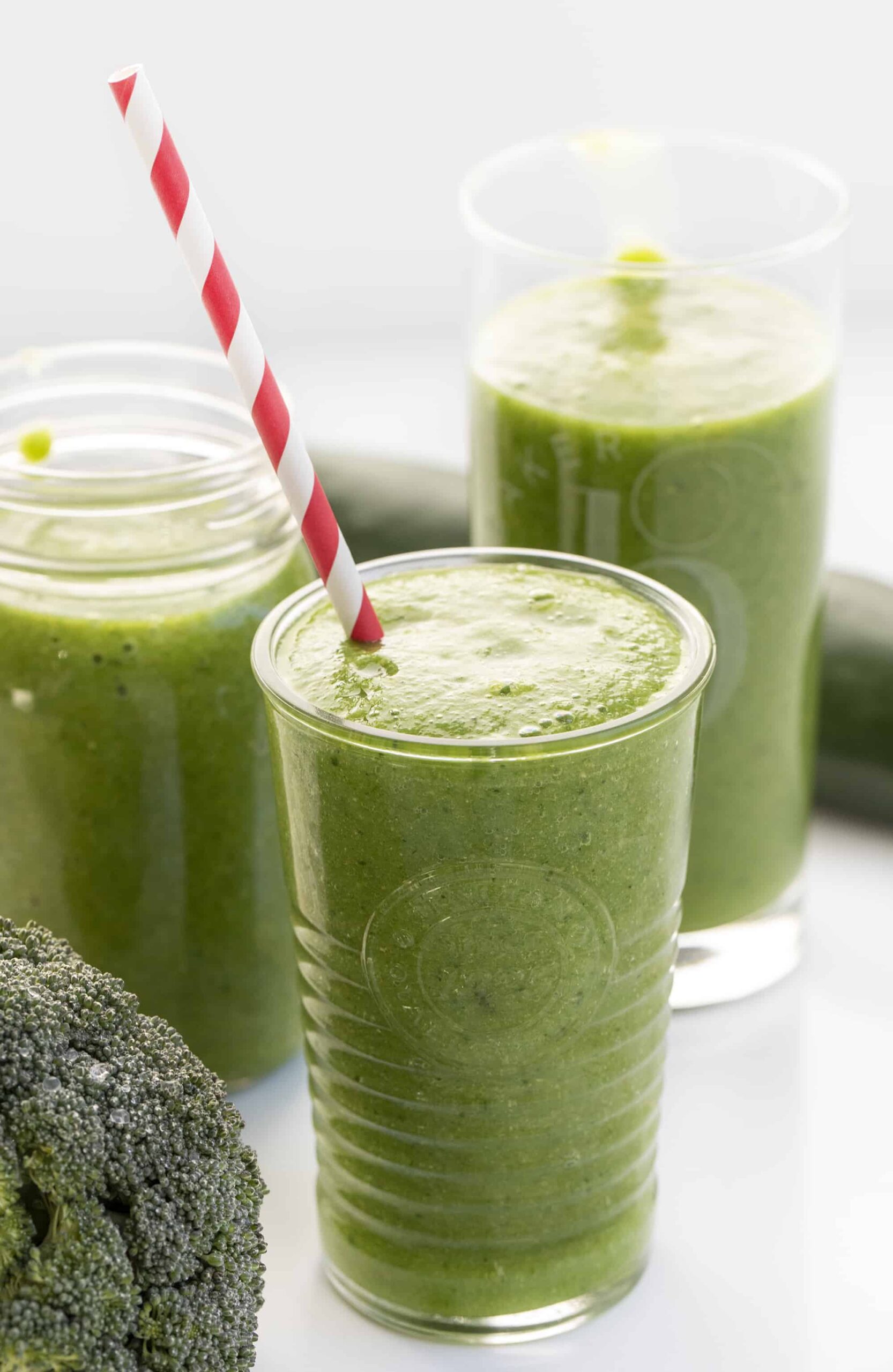 Smoothie Ingredients
Orange: We all know oranges are packed with vitamin C. They are also a good source of fiber and folate (helps with metabolism).
Broccoli: Broccoli is full of vitamins, minerals, and fiber. It is also loaded with antioxidants.
Cucumber: Many people classify cucumbers as vegetables, but they are actually fruits. However you label them, they are high in nutrients, antioxidants, helping in hydration, and may even promote weight loss. And, I left the peel on the cucumber, which adds the maximum amount of nutrients.
Spinach: Spinach is definitely a superfood! It is so full of nutrients, with Vitamin C being one of them. Vitamin C is key to keeping our symptoms of the cold or flu more bearable or to help fight the germs our bodies come in contact with every day! Check out my list of Eleven Essential Flu Fighting Foods for more superfoods to keep you healthy.
Lemon: Lemons, like oranges, are a good source of Vitamin C, which is great for heart health. They are also beneficial when it comes to lowering cholesterol, preventing kidney stones, and improving digestive health. You could peel the lemon and add it to the blender (if you have enough room). Or, you could simply use the juice of one lemon to add to the smoothie.
Pears: Pears are full of minerals like copper and potassium. Copper helps with immunity and nerve function; potassium helps with muscle contractions and heart function. Pears also have anti-inflammatory properties and are good for digestive health.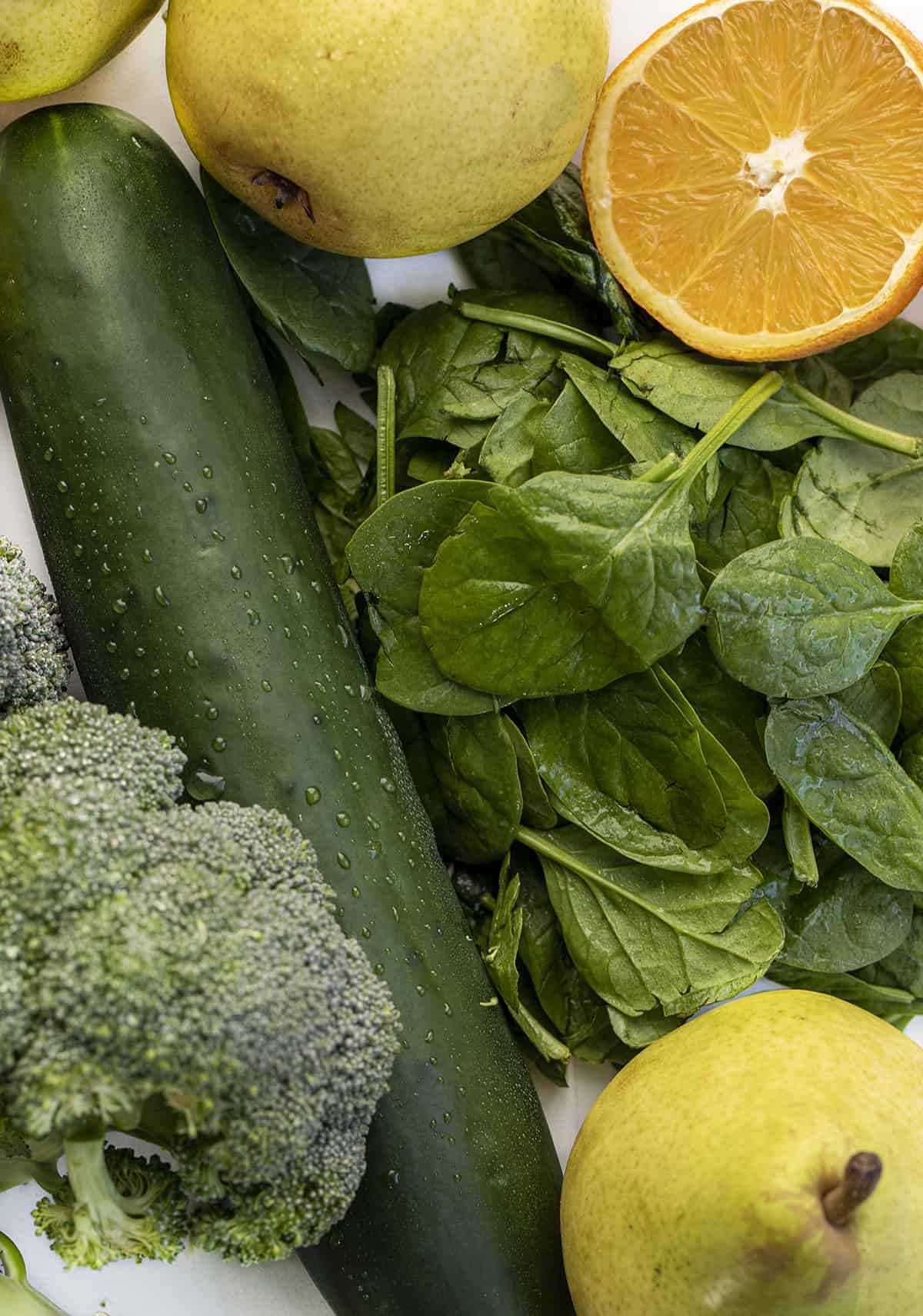 How Long will a Fruit and Vegetable Smoothie Last?
This smoothie will last up to 2 days in the refrigerator. Or, you can freeze the smoothie in a freezer-safe container. It will last up to 3 months in the freezer.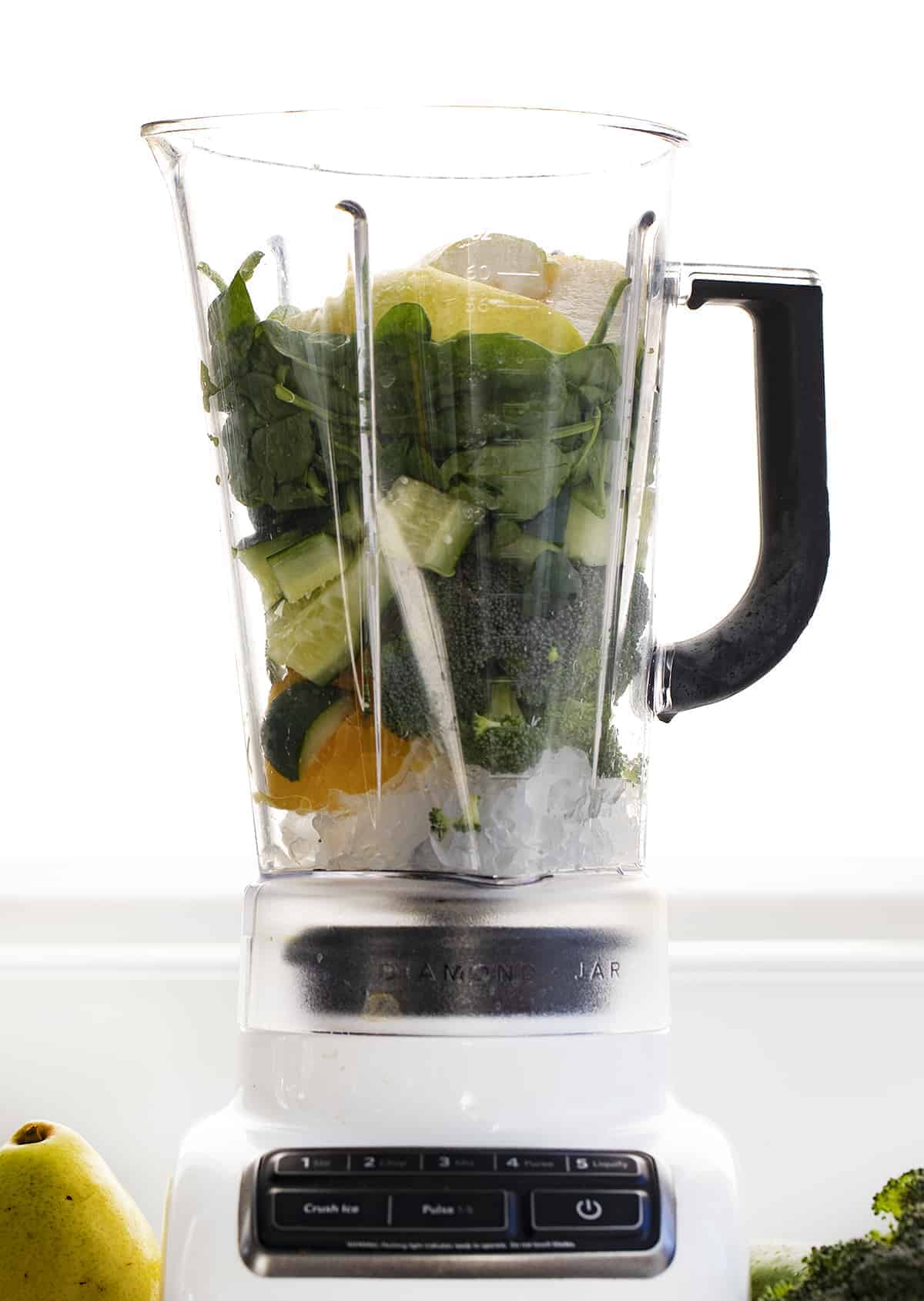 Can I Make this Smoothie Ahead of Time?
Yes! As previously stated, smoothies can be stored in the freezer for up to 3 months. Store it in jars with lids (like mason jars). When you are ready to enjoy the smoothie, let it thaw in the refrigerator or at room temperature until thawed. Shake it up and enjoy!
Another way to make smoothies ahead of time is to freeze the mixture in an ice cube tray. Fill each cup of the ice cream tray with an equal amount of the smoothie. Then, store it in the freezer for up to 3 months.
When you are craving a smoothie, add a few of the smoothie cubes to a jar or glass with a lid. Place in the refrigerator to thaw and shake it up when ready to drink it! You can also add the frozen cubes to your blender for a quick way to make a smoothie on those mornings you may feel rushed.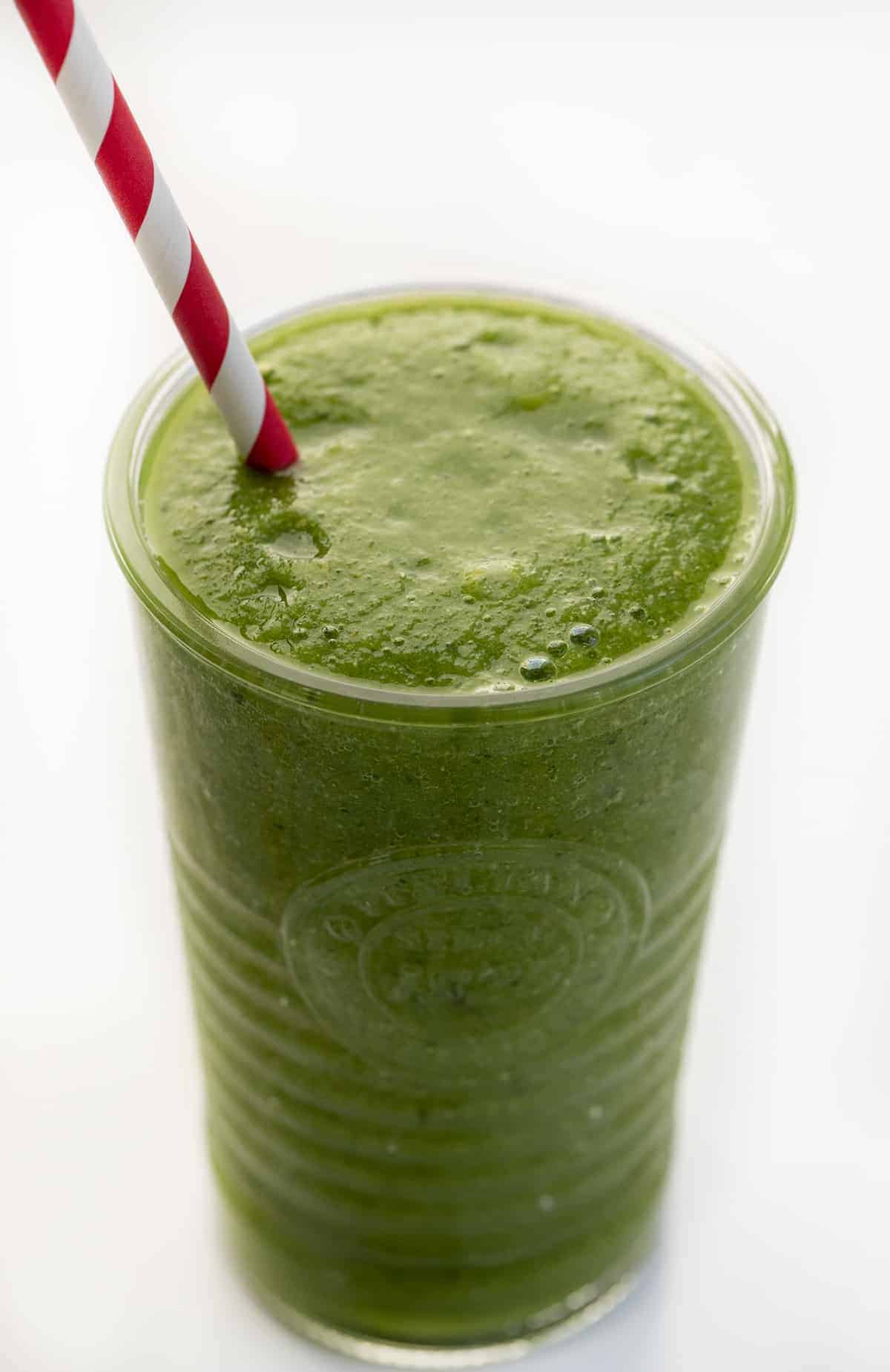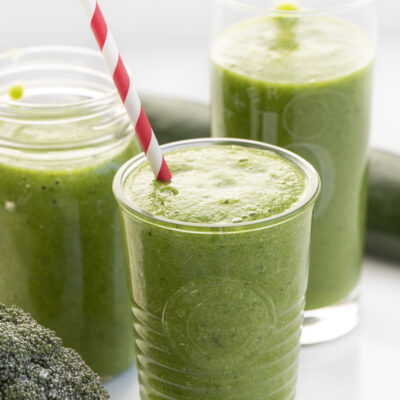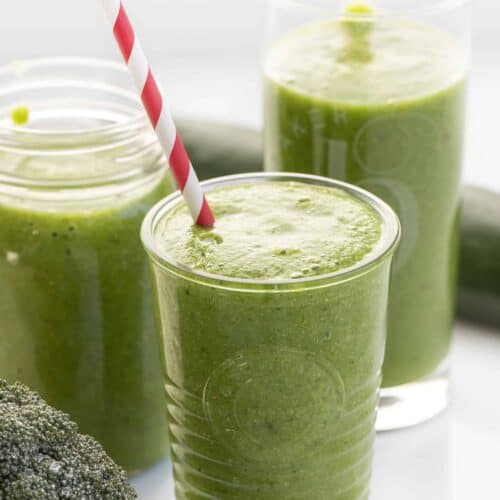 Green Smoothie
Green Smoothie is a healthy smoothie made with both fruits and vegetables that is full of vitamins, minerals, and nutrients.
Ingredients
1

medium

orange,

peeled

1

cup

(91g) broccoli florets

1

medium

cucumber,

roughly chopped

2

cups

(60g) fresh spinach

1

small

lemon,

juiced

½

cup

ice

3

medium

pears,

quartered
Instructions
Place the orange, broccoli, cucumber, spinach, lemon juice, and ice in a blender. Puree until well blended. (I had to add the pears last because they would not fit in the blender with the other ingredients until blended. If your blender holds all the ingredients you can all them all at once!)

Add the pears and blend until smooth. Add more ice and/or water (if needed) to reach your desired consistency.
Did you make this recipe?
Thank you for making my recipe! You took pictures, right? Well go ahead and post them on Instagram! Be sure to mention me @iambaker and use the hashtag #YouAreBaker.