Strawberry Banana Smoothie is a refreshing and healthy smoothie made with a banana, strawberries, almond milk, and honey. If you love smoothies, be sure to check out my Easy Smoothie Recipes as well.
Strawberry Banana Smoothie
This smoothie is not only full of health benefits like my Orange Smoothie, but it is also delicious! It's a smoothie even kids will love. I used almond milk for this recipe to make it dairy-free; but, you could substitute your favorite kind of milk. Both the strawberries and the banana can be fresh or frozen when added to the blender. And, this is a great smoothie to make ahead of time to have when you are craving a healthy treat or need a quick breakfast.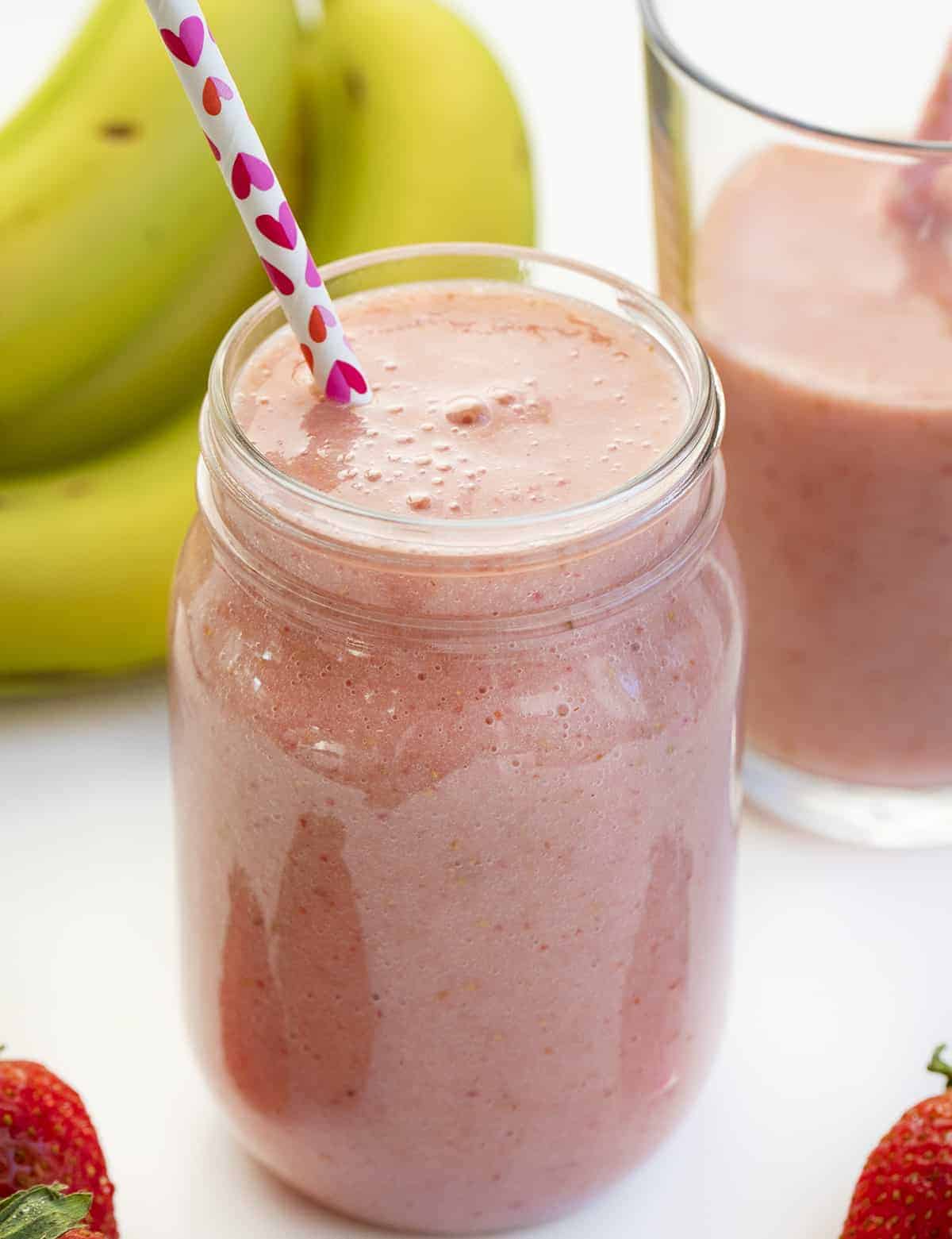 Smoothie Ingredients
Bananas: Bananas are full of health benefits, and they are one of the most inexpensive fresh fruits you can buy. They are rich in nutrients, aid in digestion, and are good for your heart (with lots of potassium), just to name a few benefits. Plus, they are a great food to eat after a tough workout to help in your body's recovery.
Strawberries: You can use fresh or frozen strawberries in this smoothie. No matter which you use, they pack a powerful, healthy punch. They are one of the top 20 fruits when it comes to antioxidants, and one serving gives you more Vitamin C than an orange! In addition, strawberries also have potassium, which helps with heart health.
Milk: Almond milk is plant-based milk with a nutty flavor and makes this drink non-dairy. However, you can always substitute your milk of choice.
Honey: I recommend using raw honey for the best results. Raw honey has not been heated or pasteurized and contains a range of benefits from anti-oxidants to anti-viral to anti-bacterial properties. It can even be soothing for burns and wounds. Plus, it's nice to support your local honey producers.
Ice: I used a half cup of ice; feel free to add more if the smoothie is too thick.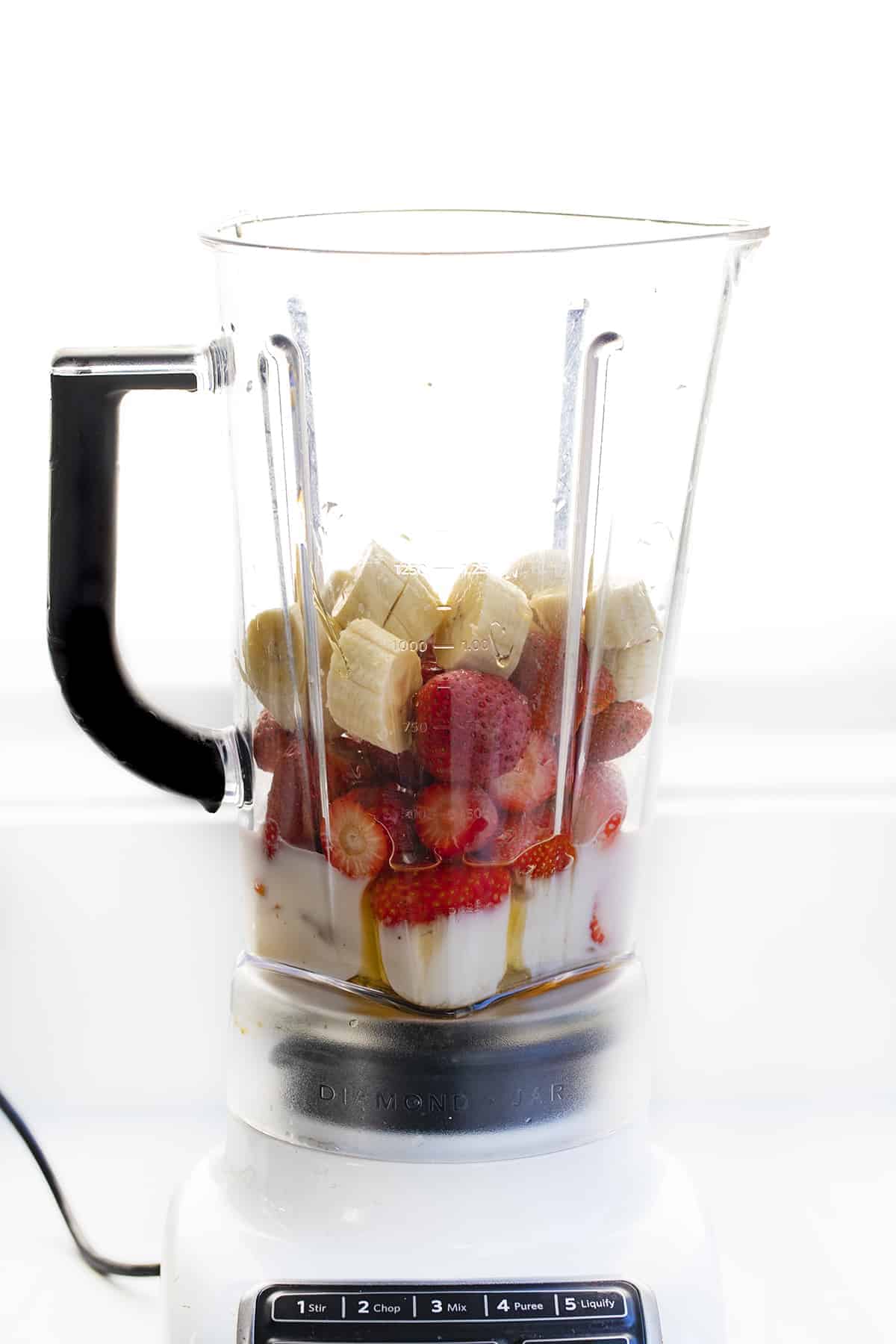 Can I Make Smoothies Ahead of Time?
Yes! This smoothie will last up to 2 days in the refrigerator. Be sure the container is filled all the way to the top before being sealed. If air gets in the smoothie, it will make the smoothie less nutritious. I will also let you know how to freeze smoothies.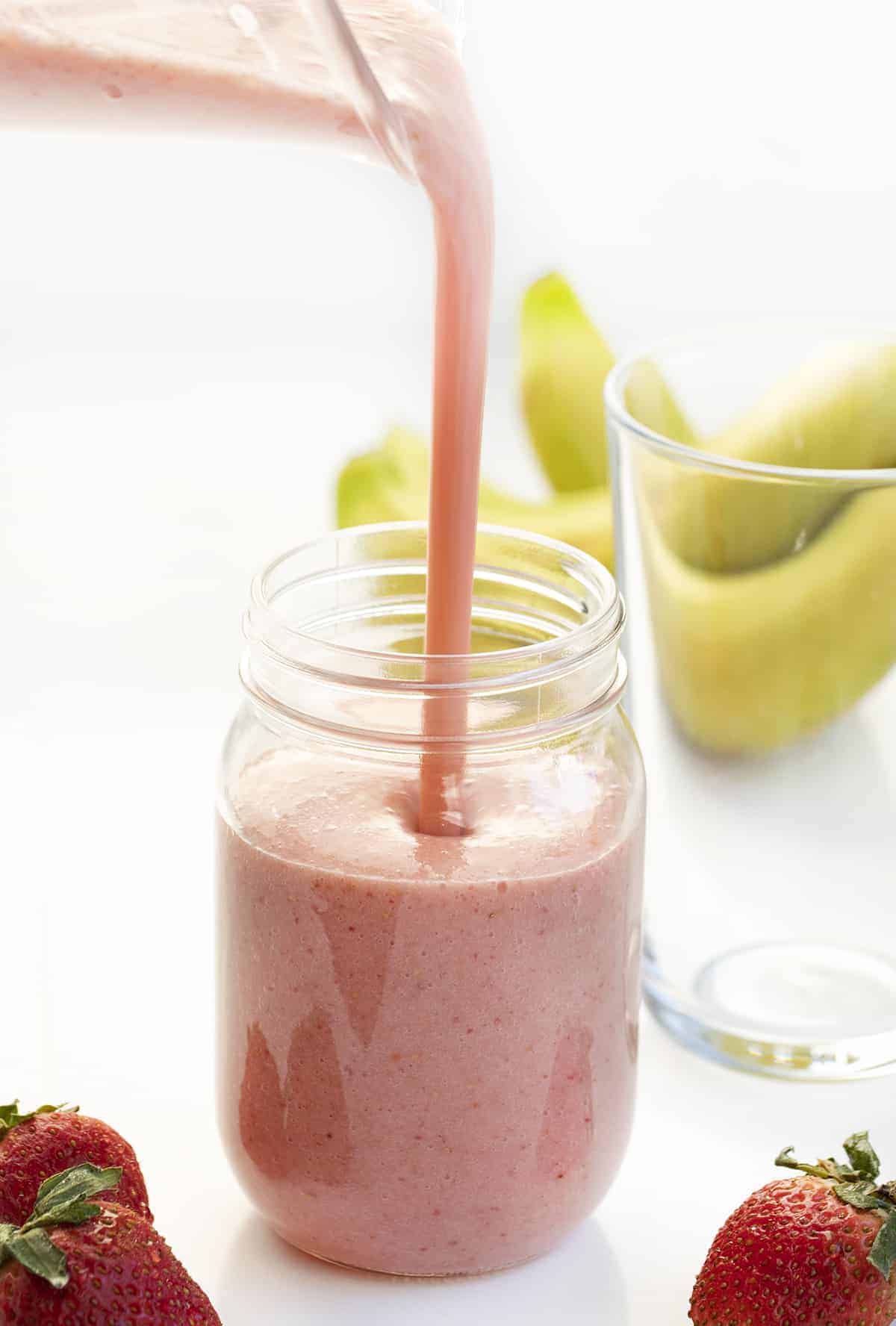 How to Freeze Smoothies
Smoothies can be stored in the freezer for up to 2 months. Store it in jars with lids (like mason jars). When you are ready to enjoy the smoothie, let it thaw in the refrigerator or at room temperature until thawed. Shake it up and enjoy!
Another way to freeze smoothies is to freeze the mixture in an ice cube tray. Fill each cup of the ice cube tray with an equal amount of the smoothie. Then, store it in the freezer. When you are craving a smoothie, add a few of the smoothie cubes to a jar or glass with a lid. Place them in the refrigerator to thaw and shake them up when ready to enjoy! You can also add the frozen cubes to your blender for a quick way to make a smoothie on those mornings you may feel rushed.
They love it, but I have to tell you, I've been grabbing a pre-made bag and enjoying a smoothie instead of sweets. It's been a game changer and I'm actually losing weight!
Green Smoothie is a healthy smoothie made with both fruits and vegetables that is full of vitamins, minerals, and nutrients. Here are a few more Easy Smoothie Recipes you may want to add to your list of smoothies. Green Smoothie This green smoothie is full of health benefits that make it perfect for any time…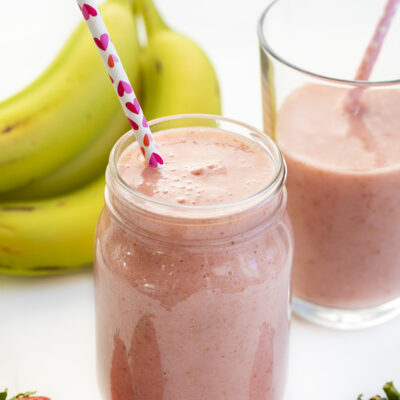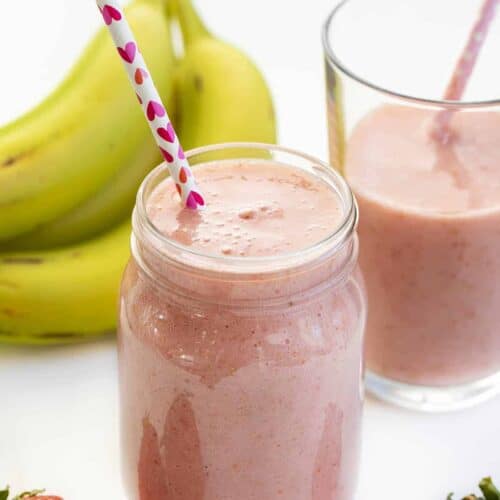 Strawberry Banana Smoothie
Strawberry Banana Smoothie is a refreshing and healthy smoothie made with a banana, strawberries, almond milk, and honey.
Ingredients
1

medium

banana,

fresh or frozen

2

cups

(288 g) strawberries,

stems removed (fresh or frozen)

½

cup

(120 g) almond milk,

or any kind of milk you prefer

2

tablespoons

honey

½

cup

ice
Instructions
Place all ingredients in a blender and puree until well blended. Add more ice and/or water to reach your desired consistency.
Did you make this recipe?
Thank you for making my recipe! You took pictures, right? Well go ahead and post them on Instagram! Be sure to mention me @iambaker and use the hashtag #YouAreBaker.