This Orange Smoothie is made with ingredients that are packed with health benefits from anti-inflammatory properties to antioxidants and vitamins. For more smoothie recipes, check out these Easy Smoothie Recipes.
Orange Smoothie
This orange smoothie is all about the health benefits; it is not meant to be a sweet treat or dessert. (I can't stress this enough!) However, it is packed with ingredients that are great for feeling good and keeping your immunity strong and your body healthy, just like my Green Smoothie. Keep reading to learn about all the benefits of this smoothie. And with flu season upon us, be sure to check out my Eleven Essential Flu Fighting Foods.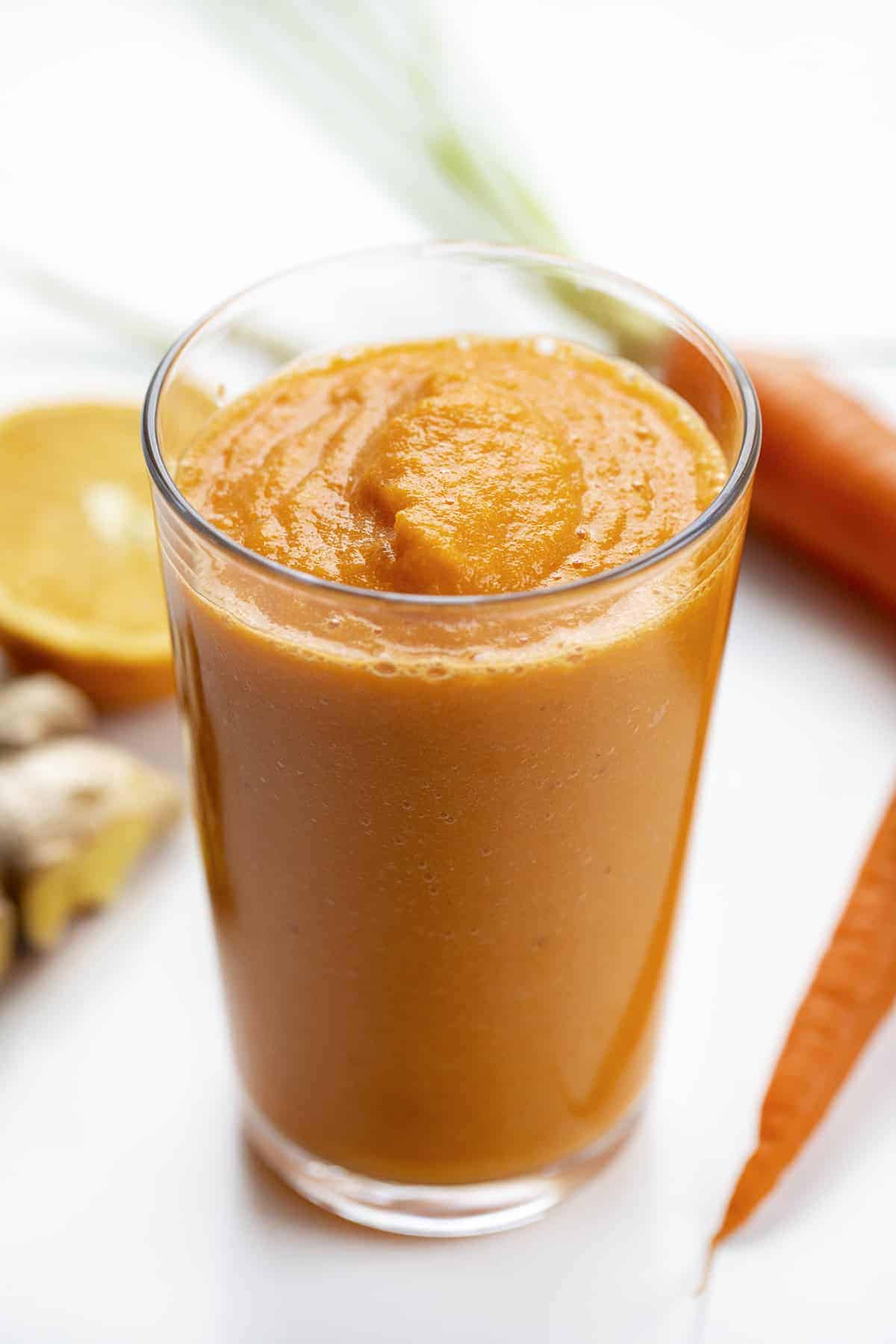 Smoothie Ingredients
Oranges: We all know oranges are packed with vitamin C. They are also a good source of fiber and folate (helps with metabolism).
Lemons: Lemons, like oranges, are a good source of Vitamin C, which is great for heart health. They are also beneficial when it comes to lowering cholesterol, preventing kidney stones, and improving digestive health.
Carrots: Some people claim that carrots are the perfect health food. They are a weight-loss-friendly food that is loaded with nutritional value. They can improve eye health, lower cholesterol, and even help in preventing cancer.
Ginger: Ginger is full of anti-inflammatory properties to help fight off a cold or flu. It also has antioxidants and anti-bacterial power that make it beneficial in many ways, not just fighting germs! Once you see all the benefits of ginger, you may want to try my homemade ginger ale.
Turmeric: Turmeric is a spice that is full of minerals and nutrients to keep us strong and healthy! I even added it to my heart-healthy steak tacos.
Honey: I recommend using raw honey for the best results. Raw honey has not been heated or pasteurized and contains a range of benefits from anti-oxidants to anti-viral to anti-bacterial properties. It can even be soothing for burns and wounds. Plus, it's nice to support your local honey producers.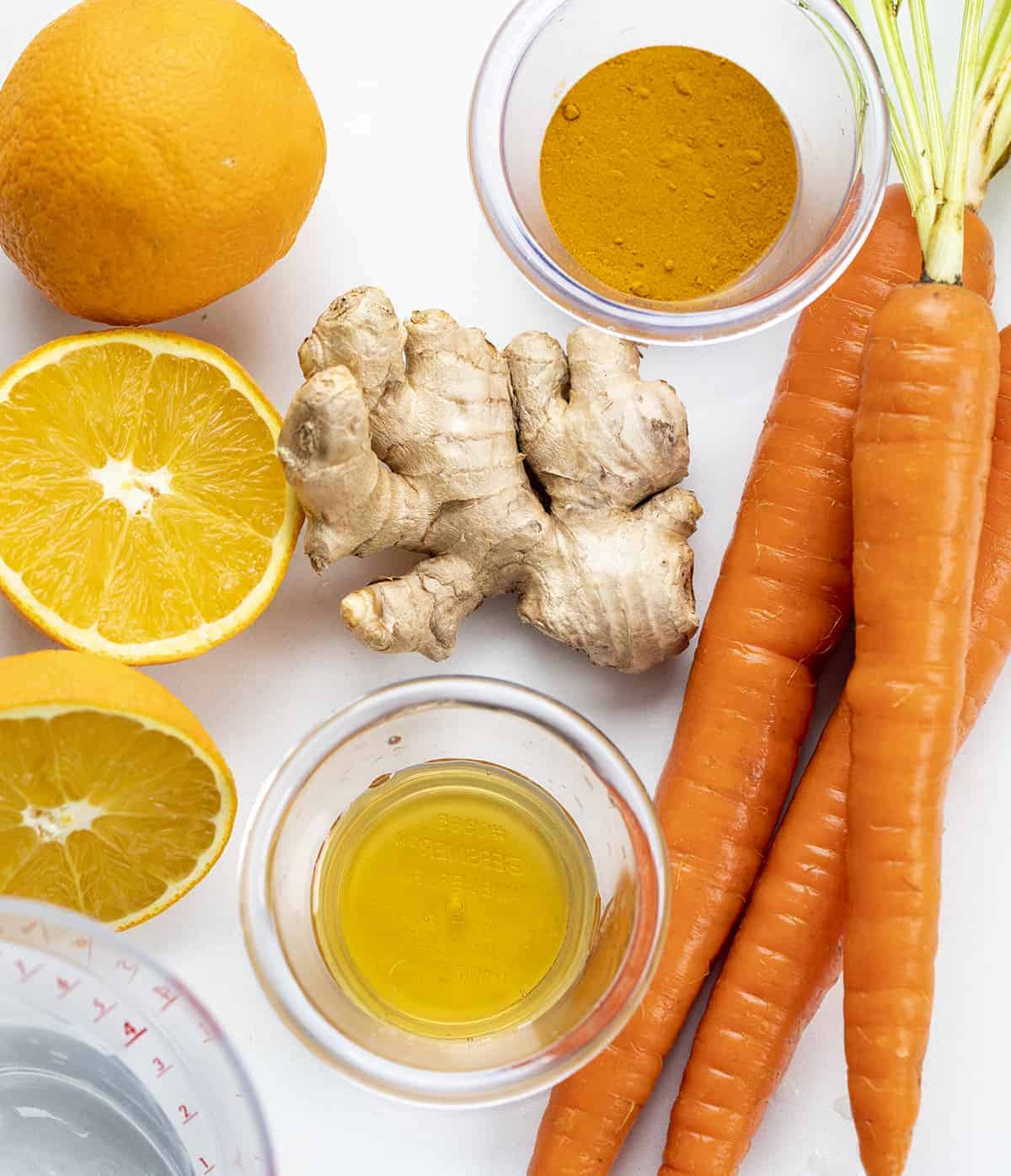 How Long will a Fruit and Vegetable Smoothie Last?
This smoothie will last up to 2 days in the refrigerator. Or, you can freeze the smoothie in a freezer-safe container. It will last up to 3 months in the freezer.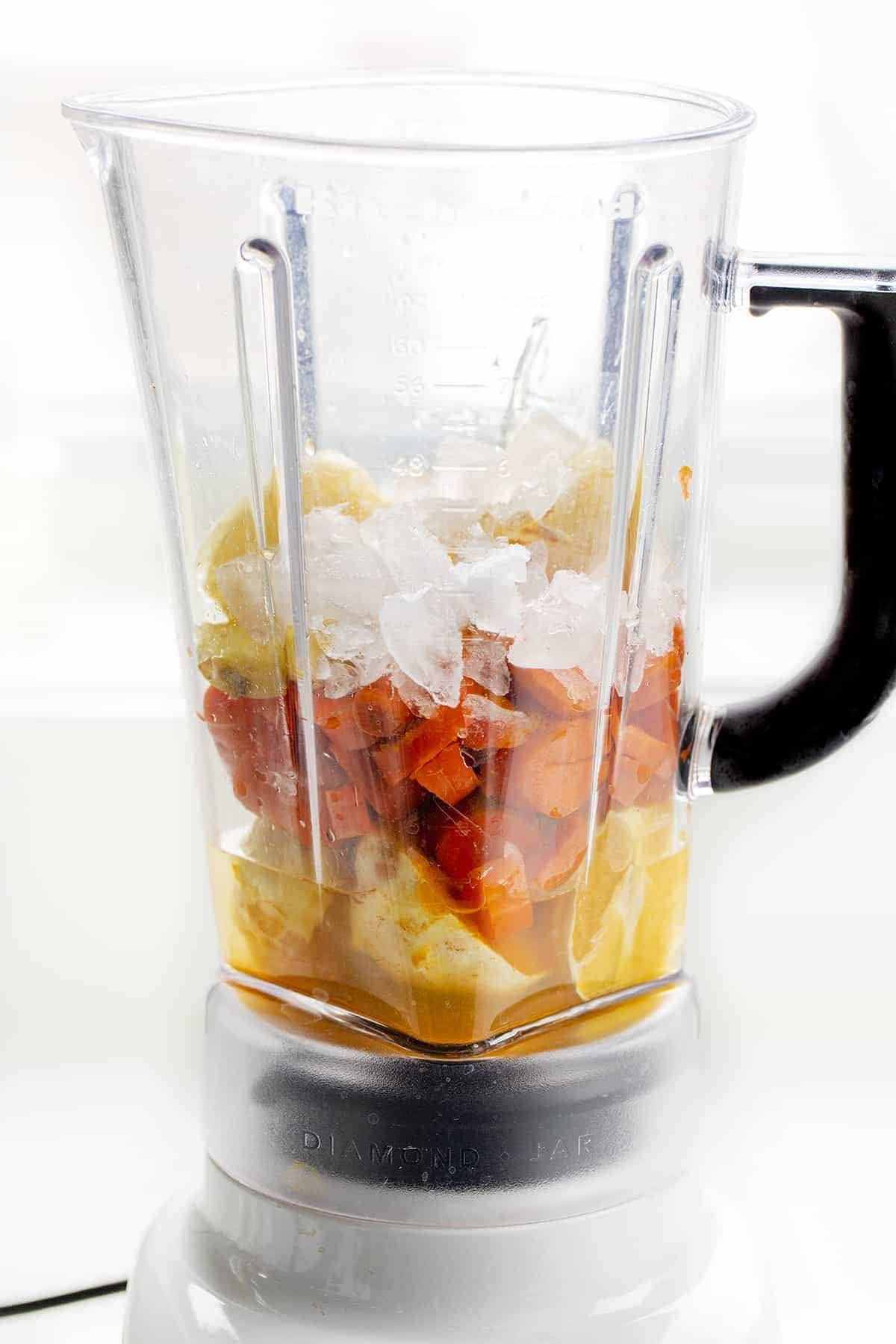 Can I Make this Smoothie Ahead of Time?
Yes! As previously stated, smoothies can be stored in the freezer for up to 3 months. Store it in jars with lids (like mason jars). When you are ready to enjoy the smoothie, let it thaw in the refrigerator or at room temperature until thawed. Shake it up and enjoy!
Another way to make smoothies ahead of time is to freeze the mixture in an ice cube tray. Fill each cup of the ice cream tray with an equal amount of the smoothie. Then, store it in the freezer for up to 3 months.
When you are craving a smoothie, add a few of the smoothie cubes to a jar or glass with a lid. Place in the refrigerator to thaw and shake it up when ready to drink it! You can also add the frozen cubes to your blender for a quick way to make a smoothie on those mornings you may feel rushed.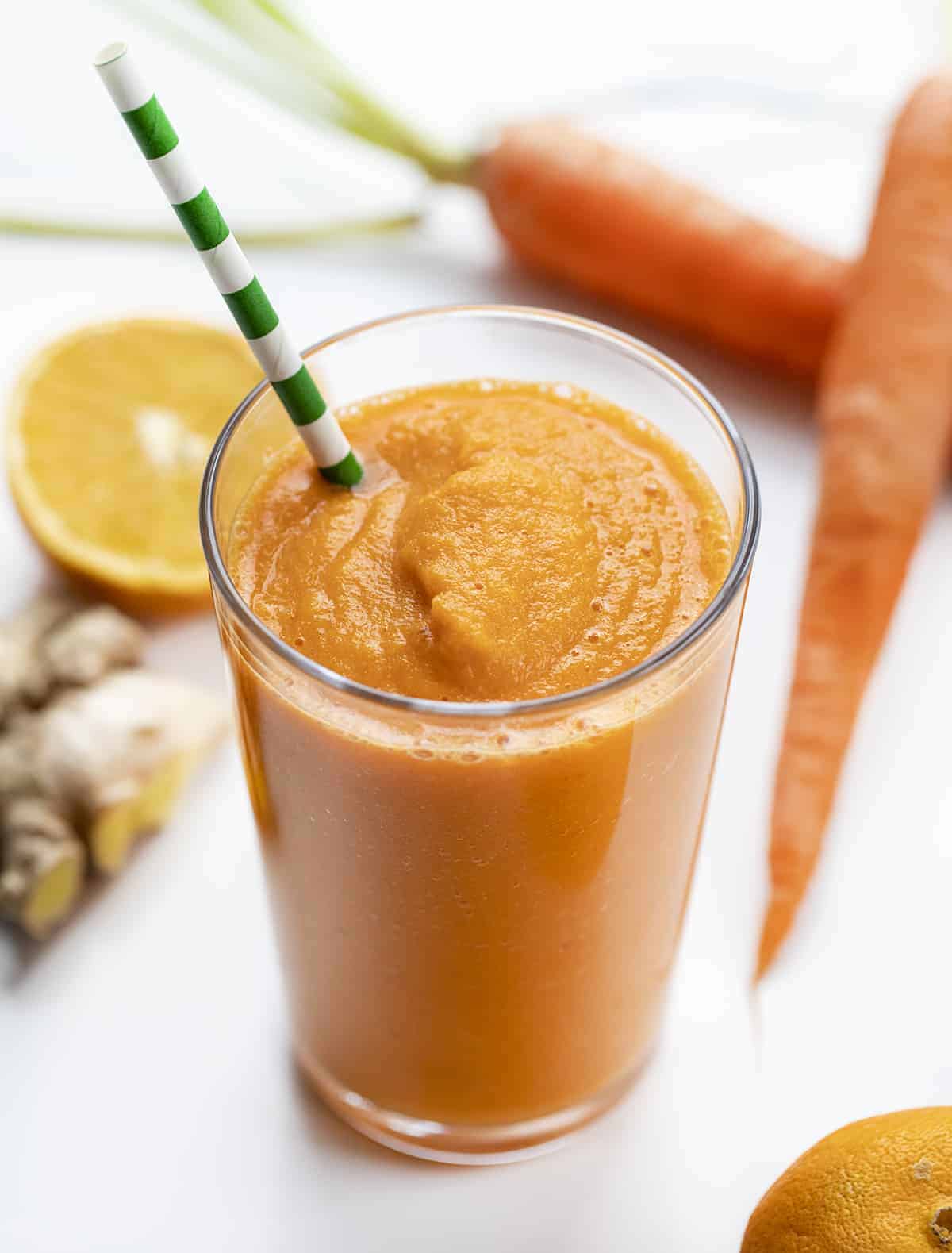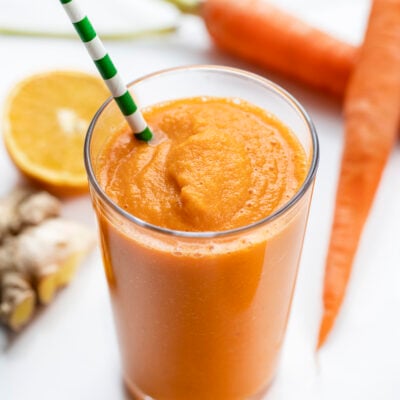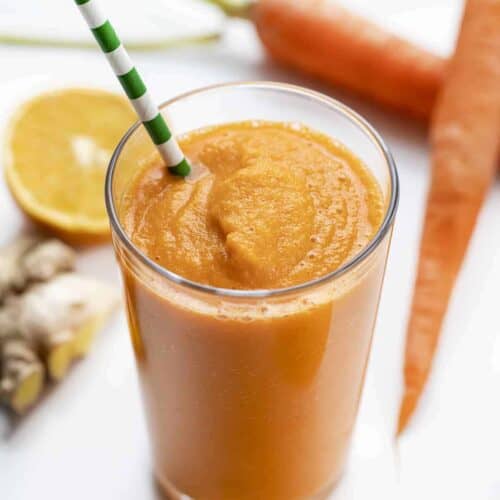 Orange Smoothie
This Orange Smoothie is made with ingredients that are packed with health benefits from anti-inflammatory properties to antioxidants and vitamins.
Ingredients
3

medium

oranges,

peeled

1

medium

lemon,

peeled

2

medium

carrots,

peeled and roughly chopped

2

tablespoons

fresh ginger

1

teaspoon

turmeric

1

tablespoon

honey

½

cup

water

½

cup

ice,

maybe more
Instructions
Place all ingredients in blender and puree until well blended. Add more ice and/or water to reach your desired consistency.
Did you make this recipe?
Thank you for making my recipe! You took pictures, right? Well go ahead and post them on Instagram! Be sure to mention me @iambaker and use the hashtag #YouAreBaker.