Haystacks are a no-bake sweet and salty treat made with almond bark, peanuts, chow mein noodles, and potato chips. Add some sprinkles to the treats for a festive look. These should definitely be added to your Christmas Cookie recipes!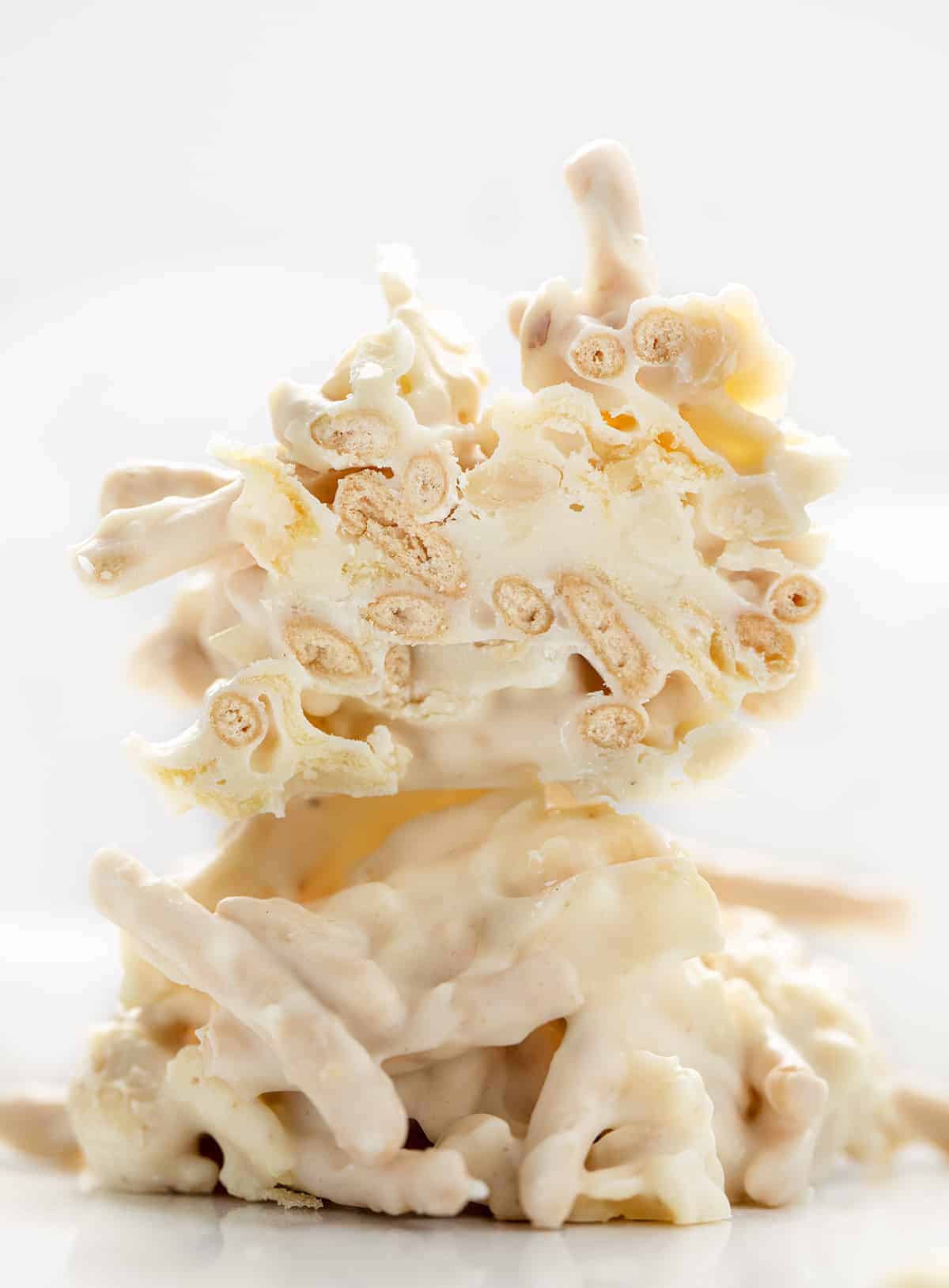 Haystacks
Haystack cookies are a no-bake treat that is made using chow mein noodles, some kind of chocolate (or almond bark, in this case), and other add-ins like peanuts, pretzels, and, as you will see, potato chips. Sometimes called chow mein noodle cookies, they are easy to put together and fun treats to share any time of the year. But, they are especially great to make during the holidays when your oven is being used for a multitude of other recipes.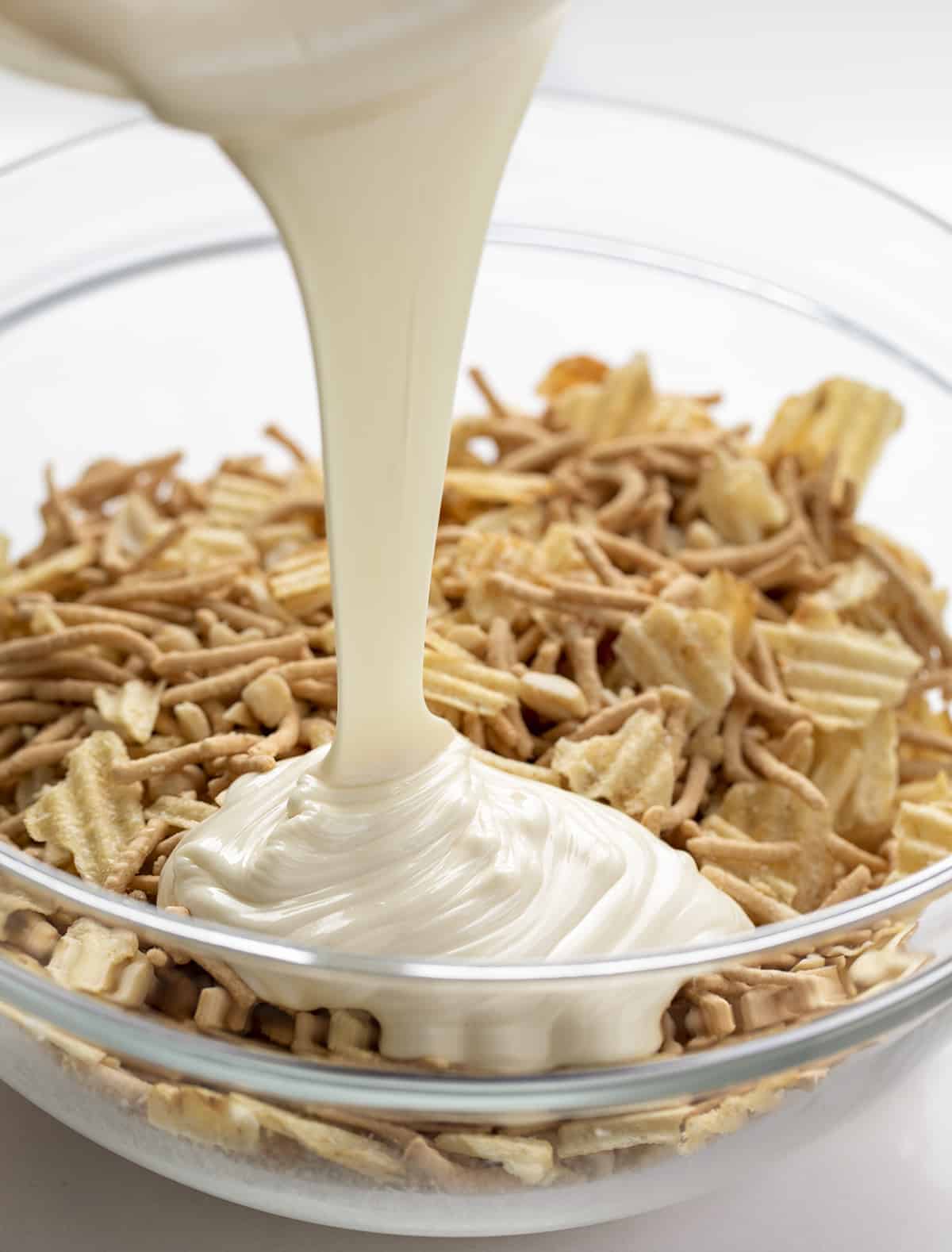 Ingredients
Almond Bark: Almond bark is also known as vanilla-flavored candy coating. It is made from vegetable fats instead of cocoa which is why it is not white chocolate. And, it doesn't even contain any almonds in it…the name came from its use for covering nuts. But, it is still a popular choice for coating everything from fruits to nuts to crackers. Check out my Crockpot Candy for another easy candy recipe. (⬅️That is the chocolate version!)
I chose to use vanilla almond bark in this recipe for its easy melting properties. But, as I mentioned above, this recipe is great to tweak and make your own. You could use chocolate chips, peanut butter chips, butterscotch chips, or a combination of all of them!
Noodles: Since this treat is also known as chow mein noodle cookies, chow mein must be a key part of the recipe! Chow mein translates to 'fried noodles'; they are thin and crispy noodles.
Add-ins: I added salted peanuts and potato chips to the mix for a salty taste to add to the sweetness of the almond bark. You could also add other nuts, pretzels, cereals, marshmallows, or whatever you think would work. Again, this recipe is the perfect one to make your own.
Sprinkles: To add a festive look for the holidays, I added some sprinkles to a few of the haystacks. You can certainly leave them off or add even more!
How to Store Haystacks
You can store these haystack cookies at room temperature, in the refrigerator, or even freeze them. Store the sweet and salty treats in an airtight container at room temperature for 3-4 days. If stored in the refrigerator, they will last closer to a week. And, if you freeze them, they will last for up to 2 months.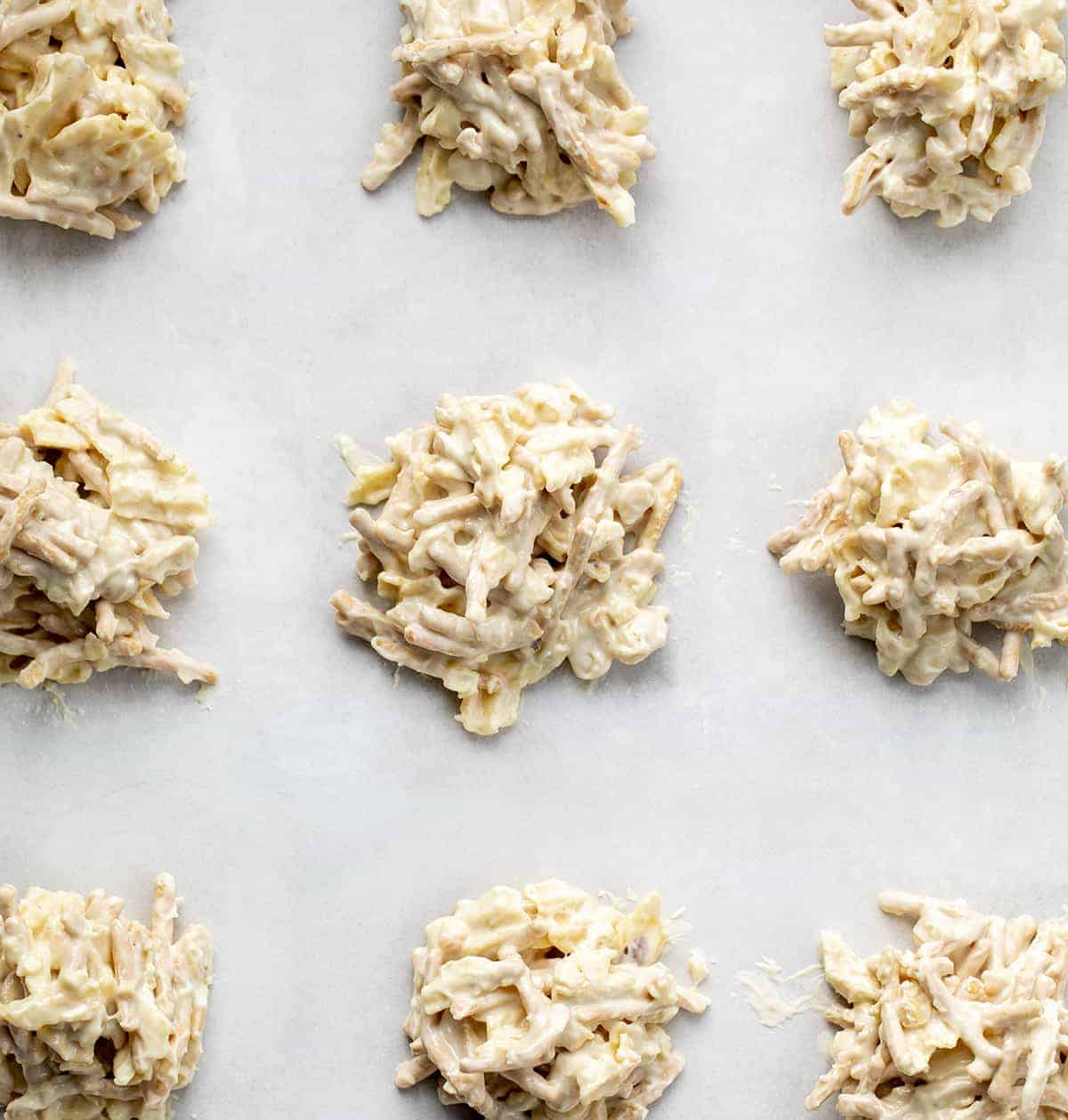 Why Are These Treats called Haystacks?
After putting together the haystacks, you can probably guess why these are called haystacks, or haystack cookies. After being put together, they look like little piles of hay you would see in a field.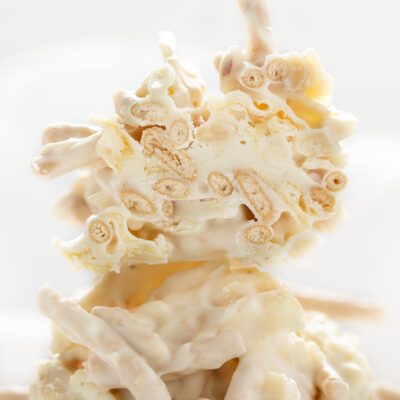 Haystacks
Haystacks are a no-bake sweet and salty treat made with almond bark, peanuts, chow mein noodles, and potato chips.
Ingredients
24

ounces

vanilla almond bark*

1

cup

(146 g) chopped salted peanuts

3

cups

(168 g) chow mein noodles

2

cups

(68 g) ripple potato chips

sprinkles,

optional
Instructions
Line two large baking sheets with parchment paper.

To a large bowl, add peanuts, chow mein noodles, and potato chips.

In a separate, microwave-safe bowl, melt the almond bark according to package directions.

Pour the melted almond bark into the bowl with the peanuts, chow mein noodles, and chips. Stir together. (The chips should crush naturally.) Mix until all ingredients are fully coated.

Use a spoon to drop dollops of the mixture onto the parchment-lined baking sheets. (If the mixture has hardened before you are able to spoon it all onto the baking sheets, simply pop the mixture into the microwave for 15-20 seconds, or until the bark has melted again.)

Top with sprinkles (optional).

Set aside until the almond bark has firmed (10-15 minutes).
Notes
*You can substitute butterscotch or dark or milk chocolate for almond bark.
Did you make this recipe?
Thank you for making my recipe! You took pictures, right? Well go ahead and post them on Instagram! Be sure to mention me @iambaker and use the hashtag #YouAreBaker.