Find the best Christmas cookies and be the most popular person at the cookie exchange. From Snickerdoodles to Sugar Cookies and everything in between! Scroll down to see over 40 popular recipes!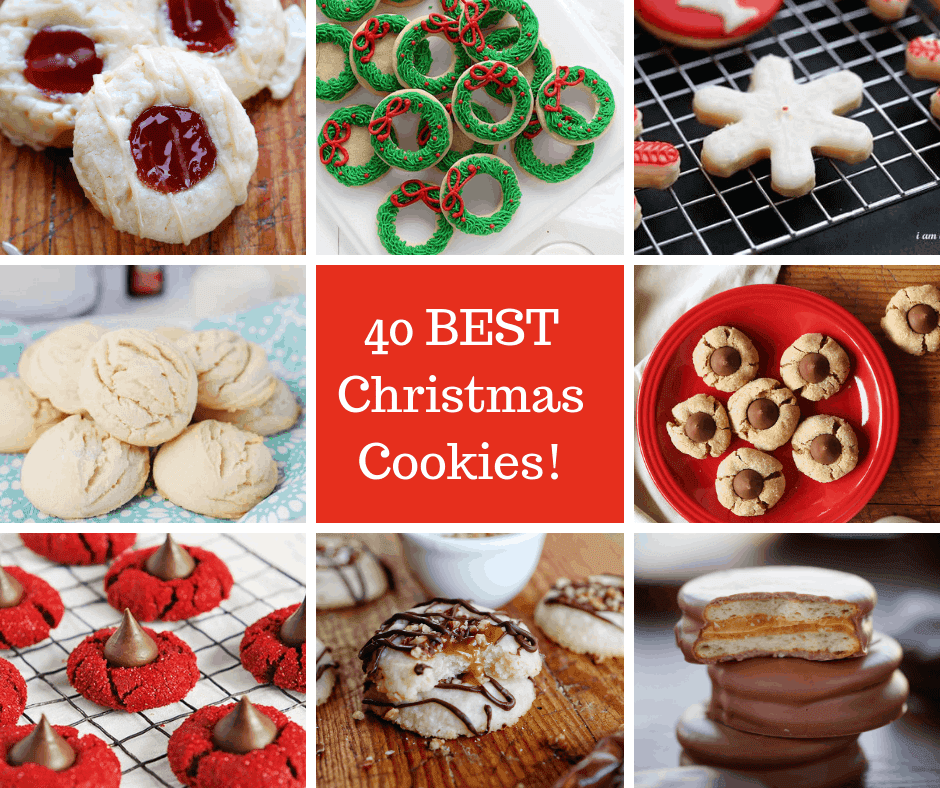 Popular Christmas Cookies
Christmas M&M Cookies are cookies that are loaded with red and green colored M&M's to satisfy your sweet tooth and get you in the holiday spirit! Try my Old Fashioned Monster Cookies recipe for another cookie full of candy-covered chocolate. Christmas M&M Cookies The holiday season is all about treats, especially cookies! When any recipe…
These festive cookies are one of the easiest you'll ever make and always make a beautiful presentation on your table! If you love meringue cookies, you will definitely want to try this festive version! Christmas Meringue Cookies I have been wanting to try a meringue cookie forever now… I never have before! If there is…
A fun, festive Christmas cookie! These Basket Weave Mitten Cookies are a soft and crispy sugar cookie perfect for the holidays and your next cookie exchange! I love to make these cookies for a Christmas Cookie Exchange. Folks love the flavor and the design! Sugar Cookie Mitten Cookies Christmas is right around the corner so…
Best Sugar Cookie Recipes
Gingerbread Man Cookie is a cut-out cookie full of ginger, cinnamon, and molasses flavor, decorated as creatively as you like! Try my Soft Ginger Cookie for another delicious spiced cookie. Gingerbread Man Cookie Gingerbread Men Cookies are holiday classic cookies that are as fun to decorate as they are tasty to eat. These cut-out cookies…
A Ginger Sandwich Cookie is light and fluffy marshmallow buttercream sandwiched between two soft and chewy homemade ginger cookies. The cookies are amazing all on their own, but when paired with marshmallow buttercream, it is an outstanding sandwich cookie! I also have a Chocolate Peanut Butter Sandwich Cookie that is outstanding! Ingredients & Substitutions There…
Gingerbread Crinkle Cookies are soft and delicious crinkle cookies with the classic gingerbread flavor rolled in confectioners' sugar for added sweetness.  For another cookie packed with ginger spice and cinnamon, try my Soft Ginger Cookie. Gingerbread Crinkle Cookies These cookies are soft and chewy cookies with cracks that crinkle cookies are known for. They are…
Butter Cookies are buttery, tender cookies that can be enjoyed as-is with a cup of coffee or tea or as a base for decorating holiday cookies. They are synonymous with Christmas cookies (remember the blue tin?), and I wanted to find a recipe as easy as possible. I know how busy the holiday season can be, so a cookie recipe that does not take all day with no chilling time works for me (and it will for you)! Perfect for a cookie exchange or a Christmas dessert charcuterie board!
Churro Cookies are a Crumbl cookie copycat that are soft and chewy cinnamon sugar cookies topped with cinnamon buttercream. Try my Snickerdoodle cookie recipe for more soft cookies flavored with cinnamon and sugar. Churro Cookies Just like a churro is coated in cinnamon and sugar, these churro cookies also are full of cinnamon and sugar…
The Best Peppermint Christmas Cookies
Remember the fluffernutter sandwich? It is peanut butter and marshmallow creme between two slices of white bread. Well, these fluffernutter cookies have all the deliciousness of the sandwich, but in an easy baked cookie!
Santa's Favorite Oatmeal Cookies
Browned Butter Toffee Cookies are chewy cookies with crispy edges that are made with browned butter and loaded with Heath Milk Chocolate and English Toffee bits. Try my Coffee Toffee Bars for another dessert made with toffee bits. Browned Butter Toffee Cookies It all starts with the browned butter in this cookie that is based…
If you want to make sure your Christmas Cookies turn out PERFECT, try following these simple guidelines.
Sifting Dry Ingredients – Sift dry ingredients like flour, baking powder, baking soda, and cocoa powder. Getting air into them helps make for fluffier cookies. To sift, simply combine your dry ingredients and pour into in a fine-mesh strainer. Tap or shake the strainer until everything's in your bowl. Even if sifting is not called for, you can whisk the dry ingredients for 30 seconds to fully combine.
Creaming Butter and Sugar – Unlike stirring or mixing, creaming isn't about combining ingredients, it's about aerating them. Creaming creates air pockets that expand in the oven, making the dough tender. When you add sugar, that process is more effective. Sugar crystals are formed and the air is efficiently added to the butter and sugar mixture. Butter beats up fluffiest at room temperature, or when slightly softened.
Eggs – Eggs should be added at room temperature. They add moisture to the air pockets and flavor to the dough. To quickly warm eggs, place them in a bowl of warm water for a few minutes. After the eggs have been added you should also add the vanilla extract or sometimes milk (also room temperature) if the recipe calls for it.
Our favorite thing to bake is cookies and we spend lots of time mastering each recipe. For instance, my daughter's favorite cookie is a decorated sugar cookie (recipe below) and the recipe we use is now absolute perfection. You don't need to chill the dough (how amazing is that?!?!) and the cookies turn out perfect every time.
We used to cover the cookies with my famous Glaze Icing, but have switched to buttercream in the last few years. The buttercream frosting is a bit easier for their little hands and they love creating all the red, green, and yellow colors to decorate with! We love to do traditional colors like red and green as well as fun colors like pinks and pale blues!
Here is the Sugar Cookie recipe I talked about above. It's a winner!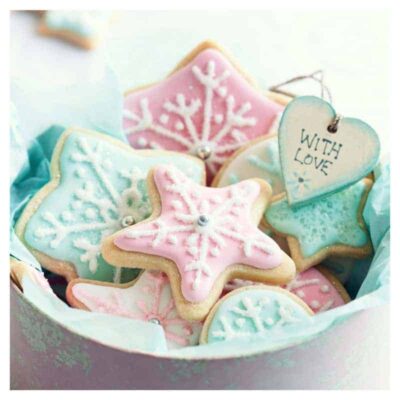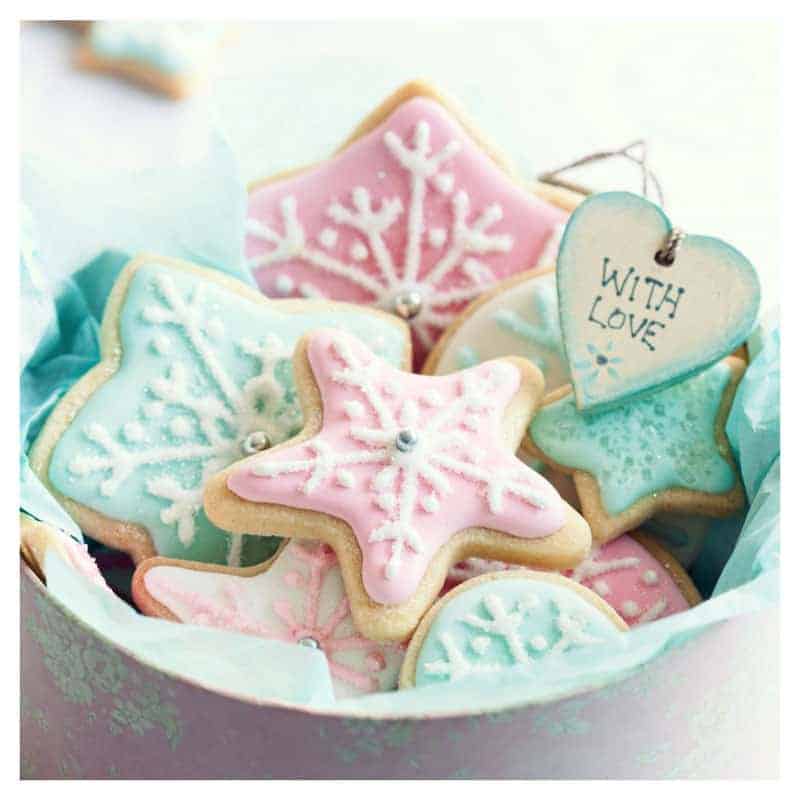 Christmas Cookies (Sugar Cookies)
These are the perfect sugar cookies to make at Christmas! No chilling and easy rolling as well as the perfect flavor! Everyone loves this classic cookie!
Ingredients
1

cup

(226g) unsalted butter

1

cup

(200g) granulated sugar

1

egg,

room temperature

1

teaspoon

McCormick Pure Vanilla Extract

½

teaspoon

McCormick Almond Extract

2

teaspoon

baking powder

3

cups

(360g) all-purpose flour
Instructions
Preheat oven to 350° F.

Add butter to the bowl of your stand mixer and cream on medium-high for 1-2 minutes, or until butter is smooth and lighter in color.

With the mixer on low, slowly add the sugar and then the egg.

Scrape the bowl with the mixer off.

Turn mixer back on low and add in extracts.

Allow all ingredients to combine fully.

Add the baking powder and then the flour, 1/2 cup at a time, until fully incorporated.

Remove bowl from mixer and drop dough onto a floured countertop. Roll out into a flat disc, about 1/2 inch thick.

Cutout cookies into Christmas inspired shapes and bake at 350°F for 6-9 minutes.

Let cool on the cookie sheet until firm enough to transfer to a cooling rack.

Frost with buttercream or glaze icing.
Did you make this recipe?
Thank you for making my recipe! You took pictures, right? Well go ahead and post them on Instagram! Be sure to mention me @iambaker and use the hashtag #YouAreBaker.