Homemade Marshmallow Fluff is a sweet and gooey spreadable concoction that tastes like marshmallows. Use this in my Booty Dip and Mallow Sauce recipes!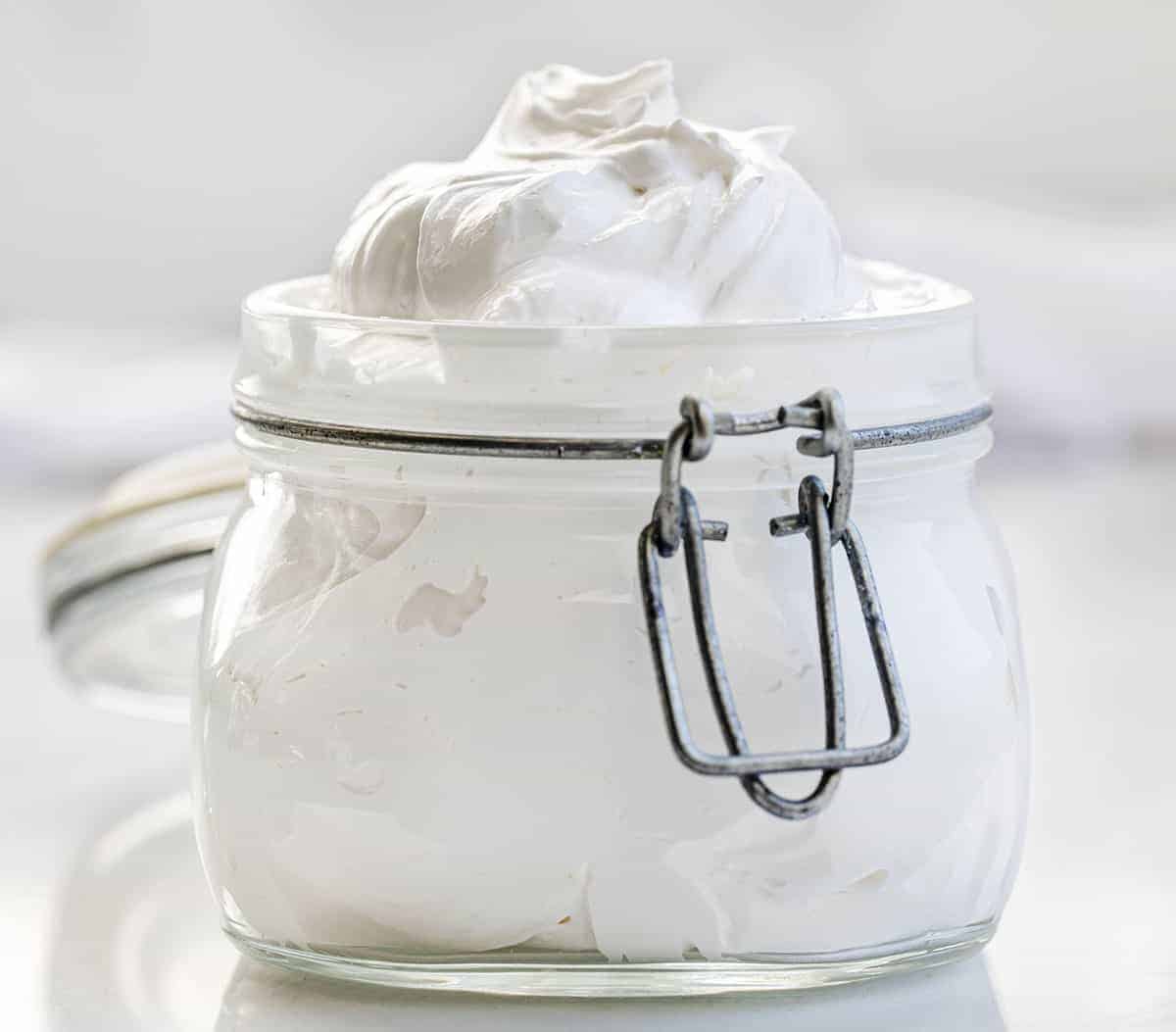 Homemade Marshmallow Fluff
Marshmallow Fluff, or Marshmallow Creme, is not even made with marshmallows, but it has a similar flavor. It's a paste that is perfect for sweet treats and desserts like Frozen S'mores, Oatmeal Cream Pies, and Fruit Dip, just to name a few.
Marshmallow Fluff Ingredients
There are two parts to this recipe–the syrup mixture and the egg mixture.
Corn Syrup: Corn syrup is processed from cornstarch. Use light corn syrup in this recipe as a natural sweetener.
Eggs: Only egg whites from 3 large eggs are needed. Make sure they are at room temperature.
Cream of Tartar: Cream of tartar is not a cream at all, but a powdery acid. It can be found in the baking aisle, near the spices, in your local grocery store. In this recipe, the cream of tartar helps make the egg whites more stable and gives the egg whites more volume when whipped.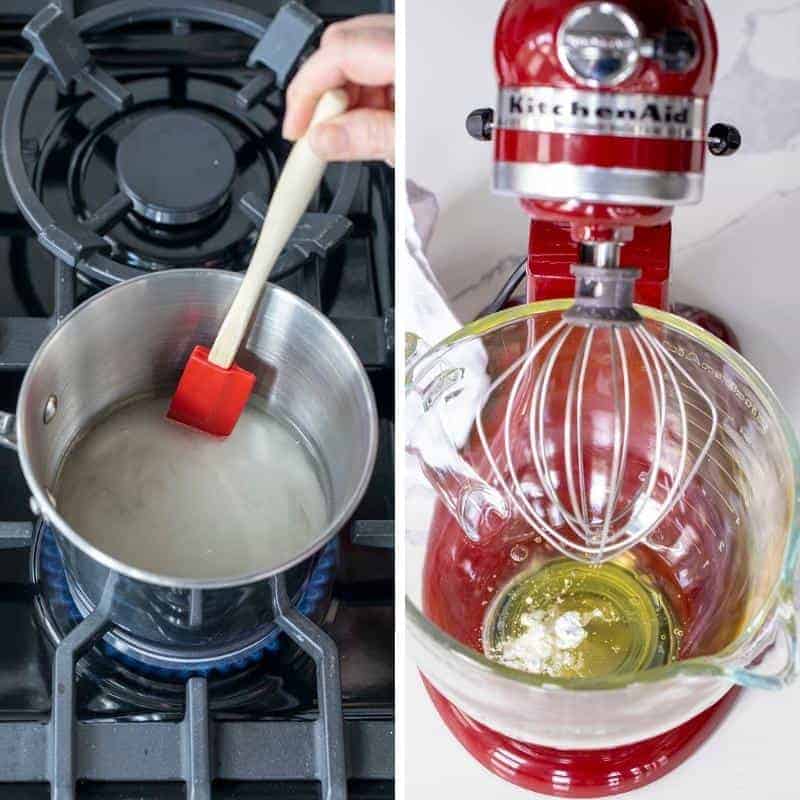 What is Marshmallow Fluff?
Marshmallow Fluff is actually a specific brand of marshmallow creme. So, if you can't find marshmallow fluff where you are, look for marshmallow creme. You may also find it labeled as marshmallow paste or marshmallow spread.
Why Are My Egg Whites Not Setting Up?
Yes, you are aiming for soft peaks, but the egg whites still need to be set up a bit. Here are some tips to make sure your peaks are perfect!
Use room temperature eggs.
Make sure the bowl you are using is clean and dry with no residue like soap or grease left behind.
Is there any egg yolk in with the egg whites? With yolk in the mix, it makes it harder for peaks to form.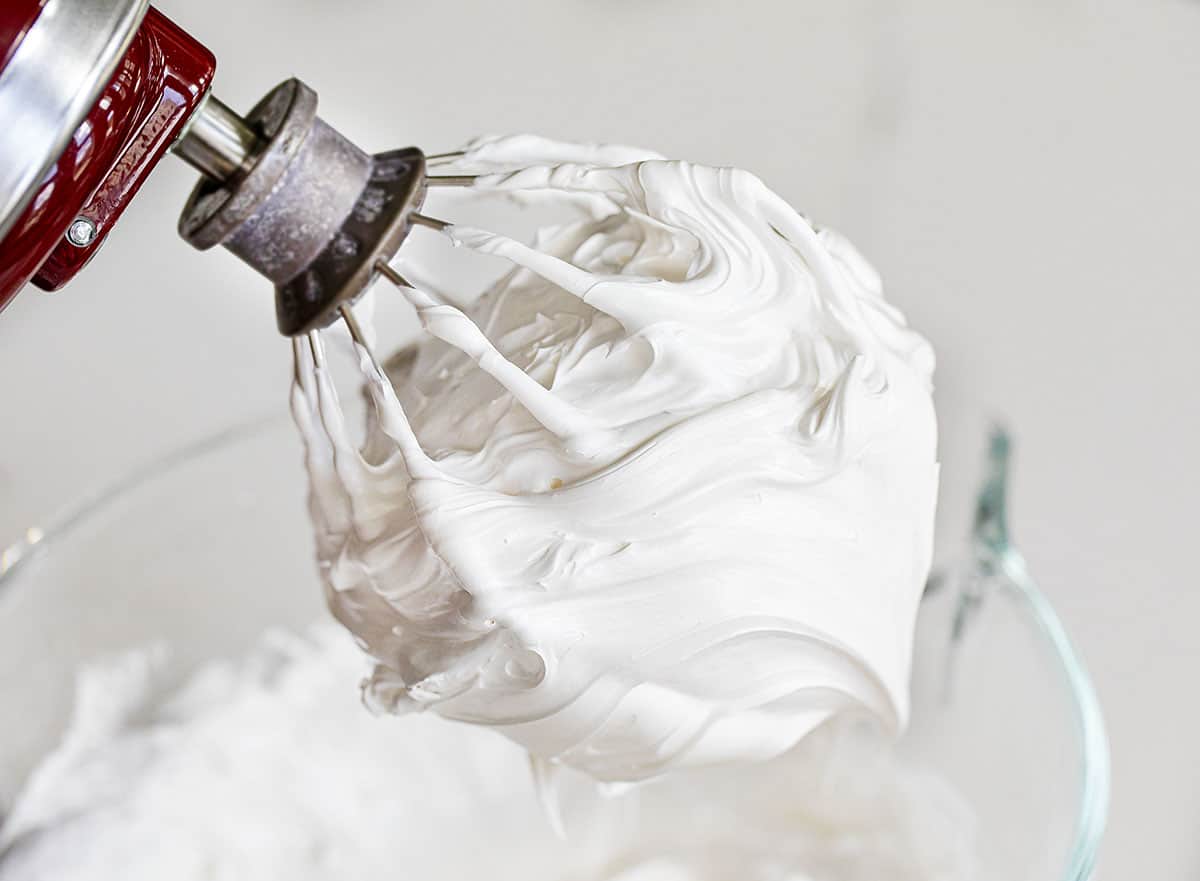 Marshmallow Fluff vs. 7-Minute Frosting vs. White Mountain Frosting
You may think this recipe is the same as the well-known 7-Minute Frosting or White Mountain Frosting. It isn't. While they are similar, they are also very different.
Homemade Marshmallow Fluff is significantly thicker and more stable than frosting. The corn syrup mixture is heated to 240°F in marshmallow fluff. The addition of this heat is what creates more stability in the homemade marshmallow fluff. It also uses three egg whites, which is more than the other recipes. Creme of tartar is used in fluff, not in White Mountain Frosting.
In 7-minute frosting, there are only two teaspoons of corn syrup used, and it is heated to 160°F.
The temperature in White Mountain Frosting is relatively the same, however, homemade marshmallow fluff uses three times the amount of corn syrup, which again, significantly increases the stability of the fluff.
How to Store Marshmallow Fluff
Homemade Marshmallow Fluff can be stored in a sealed jar for up to 2 weeks at room temperature. When ready to use, you can fluff it up again by giving it a slight whip.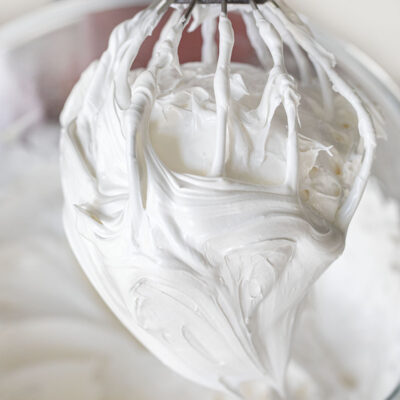 Homemade Marshmallow Fluff
Homemade Marshmallow Fluff is a sweet and gooey spreadable concoction that tastes like marshmallows.
Ingredients
Syrup Mixture
⅓

cup

(83 g) water

¾

cup

(150 g) granulated sugar

¾

cup

(256 g) light corn syrup
Egg Mixture
3

large

egg whites,

room temperature

½

teaspoon

cream of tartar

1

teaspoon

vanilla extract
Instructions
Syrup Mixture
In a medium saucepan over medium-high heat, add water, sugar, and corn syrup. Stir the syrup mixture gently to combine. Then, allow it to sit on the heat undisturbed until the mixture reaches 240°F. (Additional stirring will cause the syrup mixture to crystalize and you won't get a creamy marshmallow fluff.) This could take up to 10 minutes.

While the syrup is heating, make the egg white mixture.
Egg White Mixture
To the bowl of a stand mixture fitted with the whisk attachment (or using a handheld mixer), add the egg whites and cream of tartar. With the mixer on low speed, whisk until the eggs begin to foam. Slowly increase the speed to medium-high and mix until the eggs are doubled and have turned white with soft peaks. When you lift the whisk out of the mixture, the top of the peak should slightly droop (like soft-serve ice cream). This whole process takes about 3-4 minutes.

With the stand mixer on low speed, slowly pour a thin stream of syrup into the egg whites. The egg whites will deflate at first, but will start to thicken and fluff back up as the syrup is added.

Once the mixture is combined, gradually increase to medium speed and continue to whisk for 7-8 minutes, or until the mixture is fluffy and shiny.

Once the mixture is fluffy and shiny, add vanilla and mix for an additional minute.

Serve immediately as a topping for your favorite desserts. You can also use this mixture in any recipe that calls for marshmallow fluff or marshmallow creme.
Did you make this recipe?
Thank you for making my recipe! You took pictures, right? Well go ahead and post them on Instagram! Be sure to mention me @iambaker and use the hashtag #YouAreBaker.