Have you heard of Pinterest?
If you answered no then please just stop reading.  Open your browser, type in Pinterest.com and be prepared to lose the next hour of your life.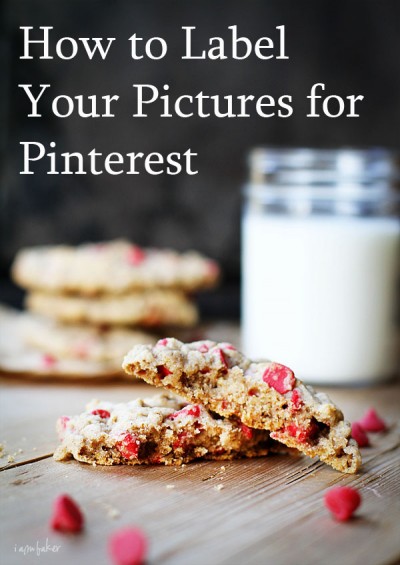 If you have then you most likely know how much Pinterest has affected blogging.  No matter what topic you blog about, Pinterest can drive more and more traffic to your site.
Especially if you use pictures in your posts.
I want to show you a little trick I learned.
After editing a picture you typically save it, and when you save it have to enter a description.
This is the label I am talking about.
When someone clicks on the "Pin It" button on your blog post, the label (or description) you wrote automatically populates in their Pinterest description box.
Why not take that opportunity to enter a complete and specific description?
For instance:
Instead of labeling my cookies, "vertical-cookie" (which describes that I have an upright picture of my cookies) I will choose a more descriptive caption.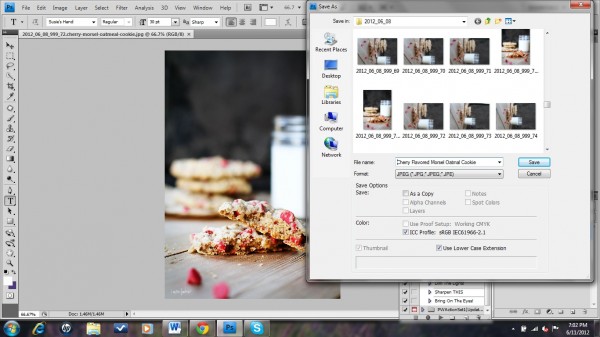 For these cookies I chose, "Cherry Flavored Morsel Oatmeal Cookies".
Other options are:
"Cherry Cookies from iambaker.net"
"Oatmeal Cookie Recipe"
"Cherry Oatmeal Cookies!  Find many more delicious recipes on https://iambaker.net!"
(I am obsessed with exclamation marks!)
If your program doesnt allow spaces in between words for the photo description, you can always make the changes in your dashboard when you upload the picture.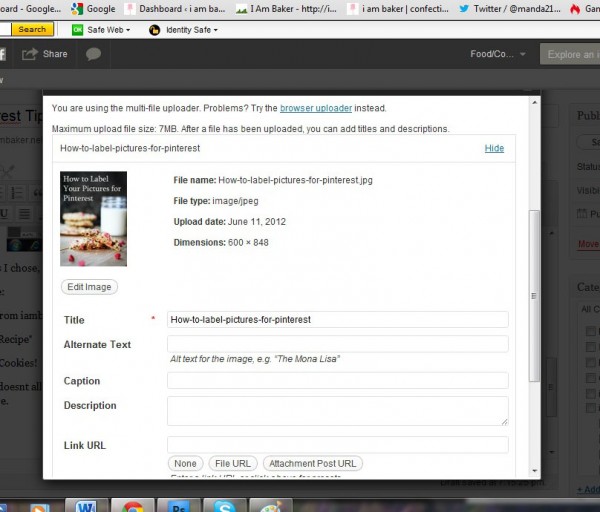 Here is the description with the dashes-in-it, pulled directly from my photo editing program. (photoshop)
I simply re-wrote my "title" and made it the description I wanted.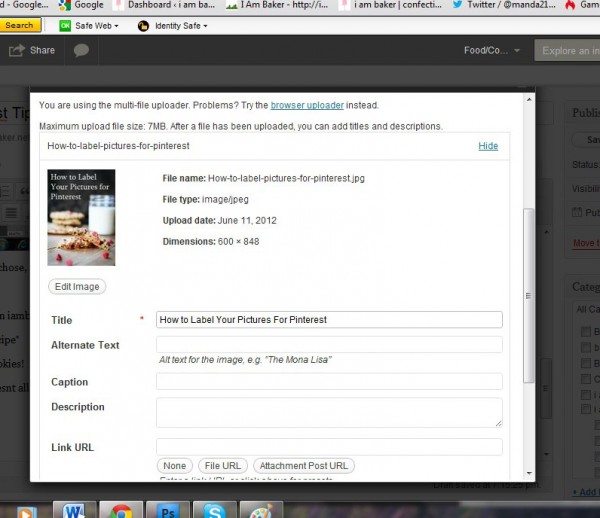 *I use the Catalyst theme in WordPress.
You can completely customize the description to fit your picture and 9 times out of 10 the pinner will leave what you have.
I have found this works when people hit the "pin it" button directly below a picture on your post or when they have a "pin it" button on their toolbar.
Sometimes when people 'pin' Pinterest automatically grabs the first few sentences of your post.  Your best option in those cases is to make sure that your first sentence talks specifically about what you have made. (this can also be a plugin issue if you have the social media buttons)
There you go!  A quick tip to help make sure your pictures are being best optimized for Pinterest use.
If you need an invite to Pinterest let me know!  Or if you want to become friends on there HERE is my Pinterest profile.  Hope to see you!
Thanks to Tidymom who has been showing us how to implement better SEO practices for a long time now~!