These Maple Oatmeal Raisin Cookies are inspired by something my mom shared at Thanksgiving.  I had one and was hooked.  I may have had three or four.  In the closet.  Cause I was stuffin my face ya'll. (Now I can't stop making them all year long!)
So I rushed home and tried to recreate it as best I knew how. As you know I am baking a storm during the Christmas season and have found some new favorites! Be sure to try my always popular Sugar Cookie Recipe as well as the World's BEST Snickerdoodle Recipe if you are baking like I am!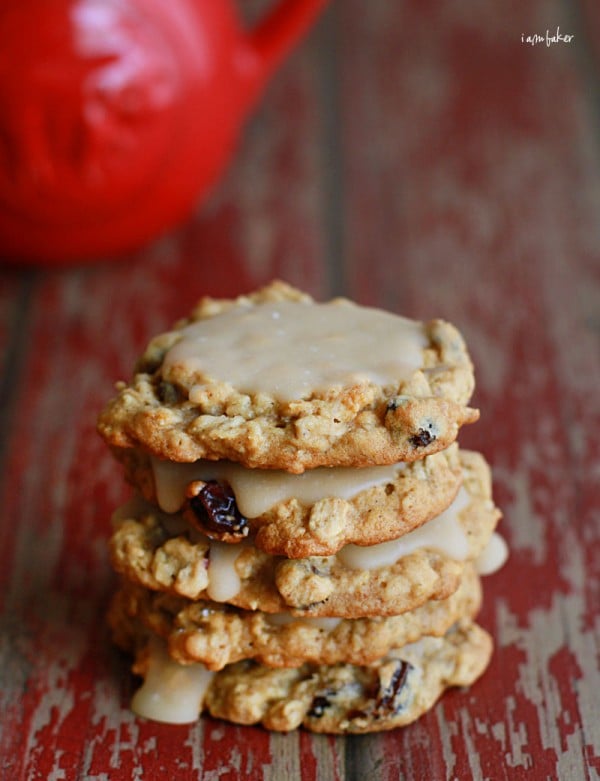 Maple Oatmeal Raisin Cookies
It is a jazzed up oatmeal cookie with a delectable maple glaze. Turns out it is from a famous bakery!! Genius, those bakers. The subtle maple creates magical things when paired with an oatmeal raisin cookie.
That maple glaze is so rich, so complimentary to that subtle sweet spicy cookie, it's like a match made in cookie heaven.
I will never be able to eat a plain oatmeal cookie again.
And when I say never I mean I totally will I am just being overly dramatic. It's just my way.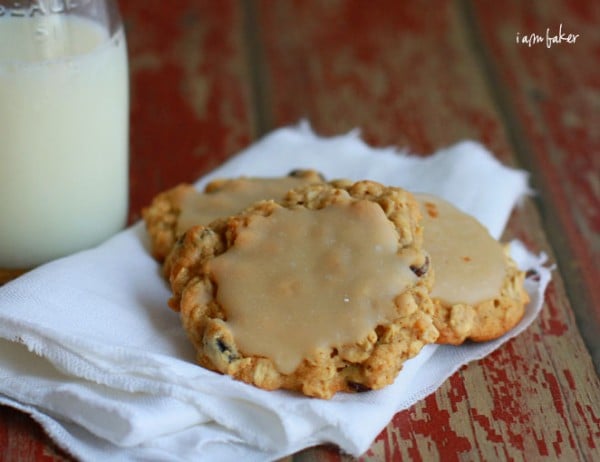 Seriously.  I bet you have everything to make these in your pantry.
And although I recommend using PURE (organic even) Maple Syrup, if you don't have any and want to make these, you can substitute the other stuff. If you are using a maple syrup that has corn syrup, you can omit the butter and heating and just add confectioner's sugar to it.
 These cookies are sure to be a family favorite!
Check out my Christmas Cookies and Cookies for more amazing recipes!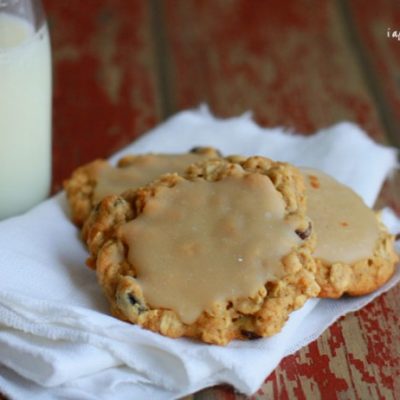 Oatmeal Raisin Cookies with Maple Glaze
Once you try an Oatmeal Raisin Cookie with Maple Glaze you'll be hooked!
Ingredients
Cookies
3/4

cup

brandy or rum

for soaking raisins (optional)

1

cup

salted butter softened

1

cup

brown sugar packed

1/2

cup

granulated sugar

2

eggs

room temperature

1

tsp

vanilla

1 1/2

cups

all-purpose flour

3

cups

old-fashioned oats

1

tsp

baking soda

2

tsp

cinnamon

1

cup

raisins
Glaze
1/4

cup

pure maple syrup

2

tablespoons

butter

1

cup

confectioner's sugar
Instructions
Cookies
(Optional) Pour brandy into a microwave safe measuring cup and heat for about a minute in the microwave. Place raisins in a bowl and pour the warm brandy over top. Set aside so the raisins can soak up the brandy.

In your stand mixer fitted with a paddle attachment, add the butter and sugars. Cream for 2-3 minutes or until they are fully incorporated and fluffy.

Add in the eggs and vanilla and mix until combined.

Turn the mixer off and add in the flour, oats, baking soda, and cinnamon.

With the mixer on low, mix until just combined.

Pour the excess brandy off of the raisins and add the raisins to the cookie dough.

Refrigerate for 30 minutes, or up to overnight.

When you are ready to bake the cookies, preheat oven to 350°F.

Use a cookie scoop (Mine holds about 1 1/2 tablespoons of batter) and drop dough onto the baking sheet about 2 inches between.

Bake for 8-10 minutes or until the edges are lightly golden. The top of the cookie may appear a little wet, but they will continue to bake out of the oven. You don't want the cookies raw, so make sure they bake for at least 8 minutes.

After 10 minutes, move to a cooling rack.
Glaze
Melt 2 tbsp butter and maple syrup over medium-low heat until fully incorporated.

Remove from heat and add 1 cup confectioner's sugar.

Pour 1-2 tbsp of glaze over each cooled cookie.
Did you make this recipe?
Thank you for making my recipe! You took pictures, right? Well go ahead and post them on Instagram! Be sure to mention me @iambaker and use the hashtag #YouAreBaker.