A classic Snickerdoodle recipe that's an easy kid favorite with the perfect crispy outside and soft and chewy inside covered in cinnamon and sugar.
I tested recipe after recipe to make sure this Snickerdoodle Cookie is the best! Perfectly crisp on the outside and chewy inside, you will never be disappointed with this Snickerdoodle recipe! It's my favorite basic cookie recipe since my famous Chocolate Chip Cookies and Sugar Cookies.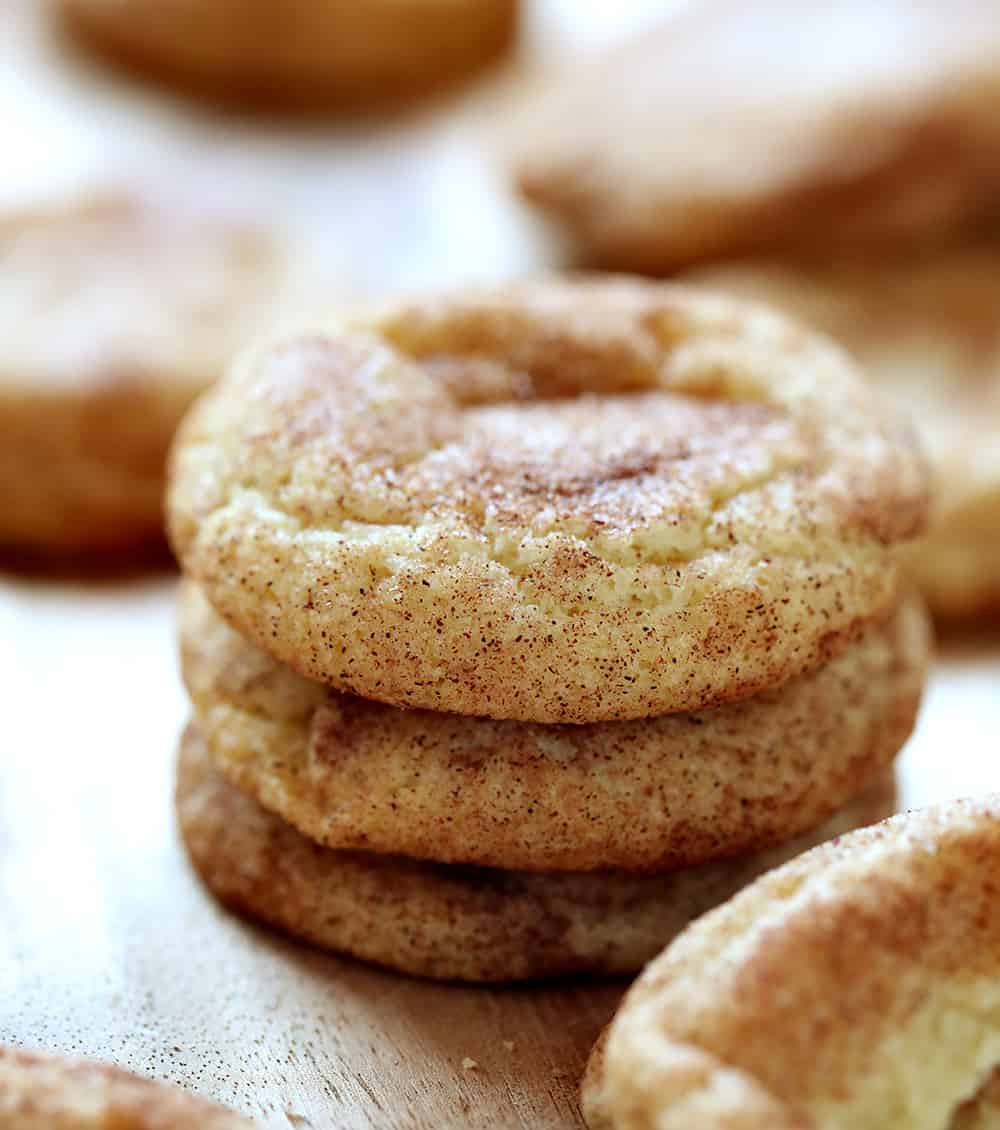 Snickerdoodles
This classic cookie doesn't need a whole lot of updating. According to my MIL's church cookbook Snickerdoodles have been around since the 1900s. And because I am unwilling to argue with grandmas, I'm just gonna go with that.
Snickerdoodles have a fun name which helps make up for their lack of chocolate amongst kids. I even had some fun while we were baking when I was explaining to the kids that Snickerdoodles got their name from the German pastry Schneckennudeln, which is German for (wait for it…) Snail noodles! Immediate kid favorite.
While researching all the classic snickerdoodle recipes I did notice is that a lot of them use shortening in addition to the butter. I thought that was brilliant (read at the end of this cookie recipe post to understand the difference between shortening in butter in cookies) and definitely wanted to give it a try!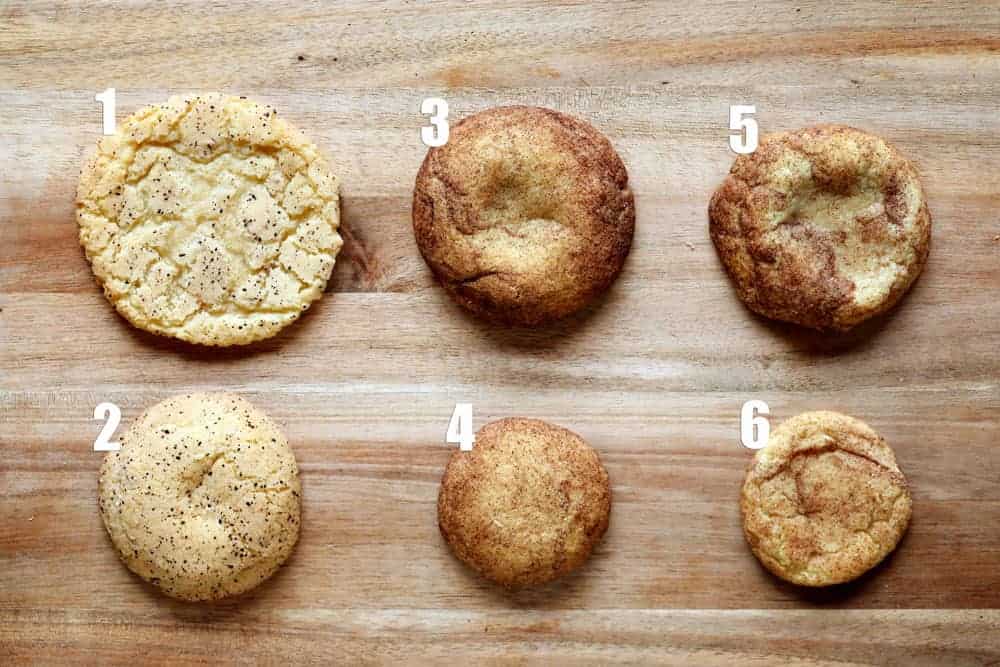 I tested out a few variations within a basic recipe and after enlisting 6 recipes testers, I think we have found our PERFECT Snickerdoodle. More on that in a second…
First I want to share with you the changes I made to the basic recipes I found.
Used 1/2 butter and 1/2 shortening. Used freshly ground cinnamon with the sugar. Baked for 8 minutes. Used a 3-tablespoon scoop.
Used 1/2 butter and 1/2 shortening. Used freshly ground cinnamon with the sugar. Baked for 6 minutes. Used a 1-tablespoon scoop.
Used all butter. Used 2 teaspoons Creme of Tarter in the recipe. Baked for 8 minutes. Used a 3-tablespoon scoop.
Used all butter.Used 2 teaspoons Creme of Tarter in the recipe. Chilled the dough for at least an hour. Baked for 6 minutes. Used a 1-tablespoon scoop.
Used all butter. No chilling. Baked for 8 minutes. Used a 3-tablespoon scoop.
Used all butter. No chilling. Baked for 6 minutes. Used a 1-tablespoon scoop.
1 This cookie was delicious! We loved this flat crispy cookie and loved the flavor that freshly ground cinnamon added. The cookie isn't as flavorful as cookies rolled in the regular cinnamon sugar blend, I think it's because they flattened out so much. The center of this flat cookie was surprisingly soft. We loved this cookie more on day two.
2 This snickerdoodle was also delicious, but almost a bit dry. They puffed up dramatically and then the center fell. The flavor was great. We loved the freshly ground cinnamon but didn't like the appearance.
3 We loved the all butter flavor of this cookie! The edges were crispy and the center was soft. I didn't like how the centers fell, but the flavor made up for it.
4 If I was using this version of the recipe, I definitely prefer the bigger (3-tablespoon scoop) option from #3. The smaller seemed to be a bit drier.
5 While the flavor was great, I found a chilled dough to be a bit more difficult to deal with and the cinnamon sugar didn't seem to cover every nook & cranny. These cookies also puffed up dramatically and then fell a bit in the center. The edges are crispy and the center was still a bit gooey, which was awesome.
6 This cookie had amazing flavor, just barely crispy edges, and a perfectly soft center.
Can you guess which was our favorite?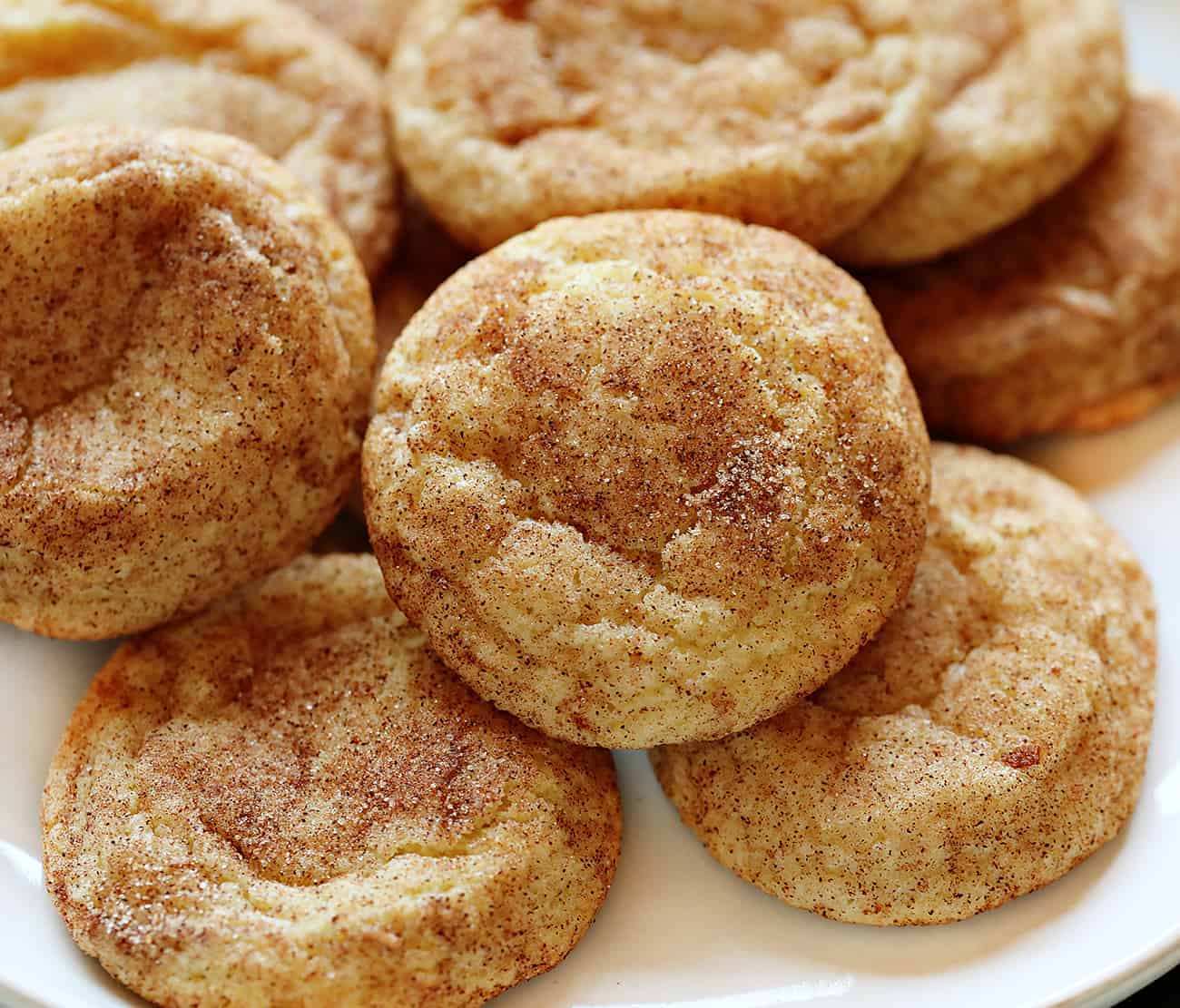 Number 6! This was the PERFECT Snickerdoodle cookie in every way. All around amazing texture and just the right amount of cinnamon sugar goodness. I also have to admit I was so happy to see this cookie win as I think snickerdoodles should have a nice little crack in the top. (That's just what I had growing up.) I even used this recipe as a base for my Pumpkin Snickerdoodles.
Number 1 was a close second. We were shocked that a flat snickerdoodle cookie could be so amazing, but it really stood out as a fantastic cookie. For a giant snickerdoodle, be sure to check out my Colossal Snickerdoodle Cookie Sandwich.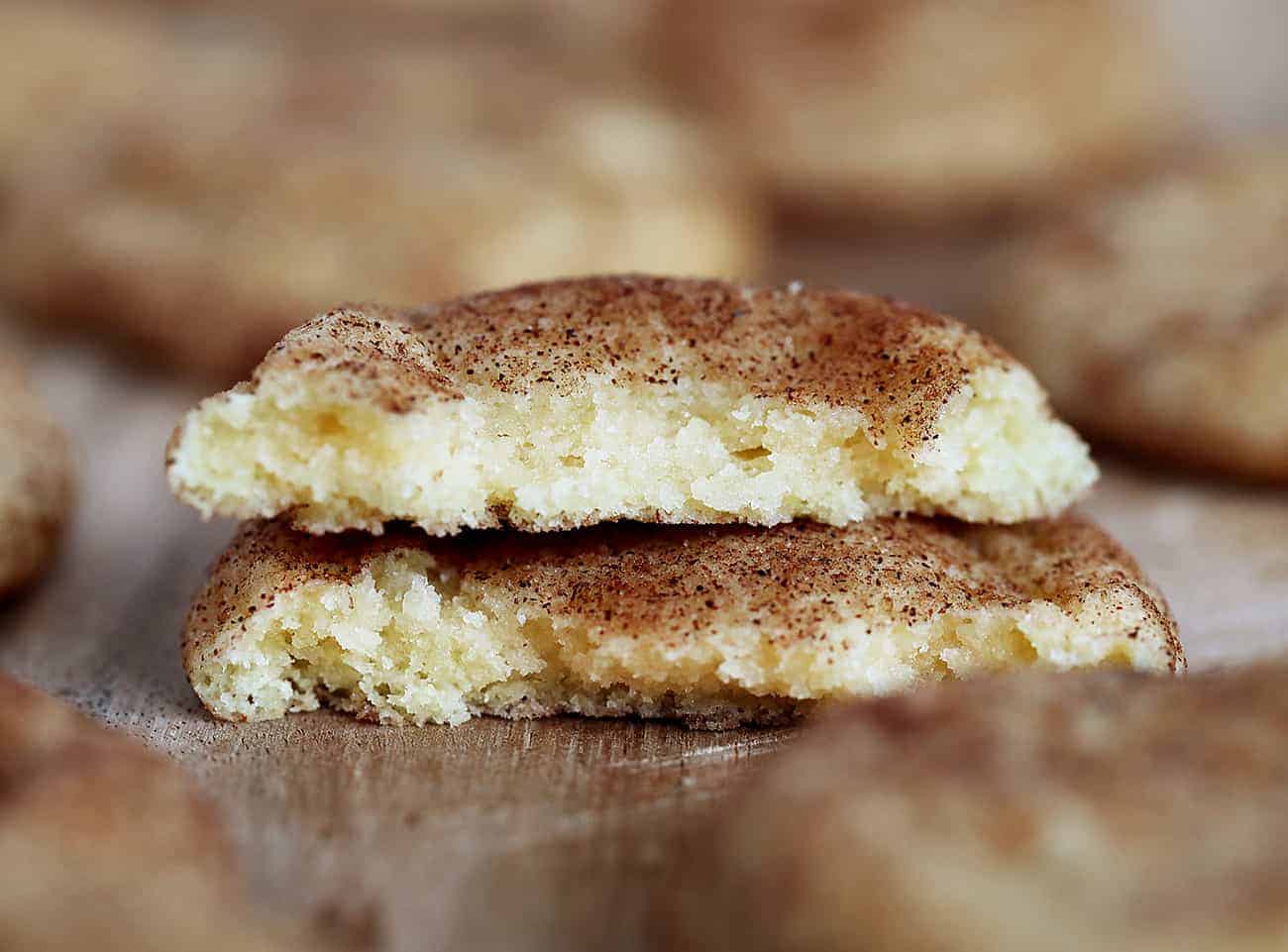 What is the difference between a sugar cookie and a snickerdoodle?
While cinnamon is a clear difference between the two cookies another flavor difference is from the cream of tartar added to the snickerdoodles.
Why do Snickerdoodles have cream of tartar?
The cream of tartar is an interesting ingredient. While it is used as a stabilizer in many ingredients the reason snickerdoodles have cream of tartar is that it adds a very distinct tanginess. It also aids in the chemical reaction with the baking soda to make the chewier texture. Fun fact: You can replace cream of tartar with fresh lemon juice! One teaspoon of cream of tartar equals 2 teaspoons of fresh lemon juice.
Best Tips for Snickerdoodles
I highly recommend scooping out all the dough balls first. I simply lined a baking sheet with parchment paper and then started scooping. Once all of the dough balls are made, it is much easier to start dropping them into the cinnamon-sugar mixture, rolling smooth, and dropping onto a parchment-lined baking sheet.
The recipe calls for 3 tablespoons of sugar and 3 teaspoons of cinnamon to roll the cookie dough balls in. This ended up being the perfect amount. I had my doubts that it wouldn't be enough to cover 54 cookies, but it absolutely did.
I tested the 3-tablespoon and 1-tablespoon scoop and we found the size of the 1-tablespoon scoop to be perfect. Using 3 tablespoons of batter ended up making a cookie that was just too big and too hard to cook evenly. (the edges would be crispy and the center doughy) I use this 1-tablespoon scoop.
Can you Freeze Snickerdoodle Cookies?
Absolutely! We like to freeze the dough when making double batches. I also prefer to freeze them already preportioned out. I have noticed that adding the cinnamon sugar right before baking makes a more flavorful cookie, but you could add the cinnamon sugar before freezing if you prefer.
How to Freeze Snickerdoodles: To freeze in pre-portioned cookies, prepare your dough, then scoop the cookies onto a parchment-lined cookie sheet. They can be placed close together. Set the cookie sheet in the freezer just until the dough is cold, about two hours. Then transfer the dough balls to an airtight freezer bag or airtight container that fits into your freezer.
A day before you are ready to bake the cookies, take them out of the freezer and place them in the refrigerator overnight. When ready to bake, roll into the cinnamon-sugar mixture and bake as directed in the recipe below.
You can also freeze the cookies after they have been baked. Let them cool completely, place them in the freezer until solid, and then store them in freezer-safe containers for up to 3 months. I hope this helps, and have a wonderful day!
If you're looking for the ultimate list of cookies to add to your collection of recipes consider checking out this amazing index of The 50 Best Cookie Recipes in the World. You won't regret it! 😉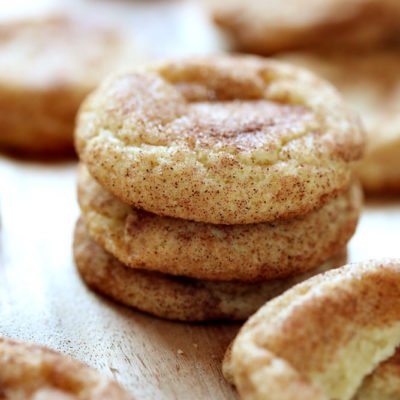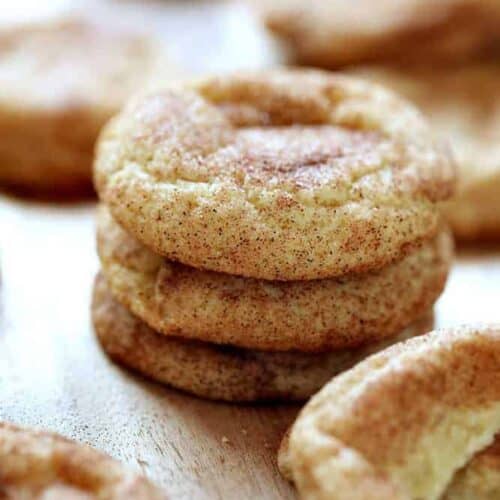 Snickerdoodles
These are the BEST Snickerdoodle you will ever have. Perfect in every way!
Ingredients
Snickerdoodle Cookie Dough
1

cup

(2 sticks, 226g) unsalted butter,

softened but not melted

1½

cups

(300g) granulated sugar

2

large

eggs,

room temperature

1

tablespoon

vanilla extract

2¾

cups

(352g) all-purpose flour

1

teaspoon

cream of tartar

1

teaspoon

baking soda

¼

teaspoon

kosher salt
Cinnamon Sugar
3

tablespoons

granulated sugar

3

teaspoons

ground cinnamon
Instructions
Snickerdoodle Cookie Dough
Preheat oven to 375°F. Prepare three cookie sheets by lining with parchment paper or Silpat.

In the bowl of a stand mixer (or using a hand-held mixer on the highest setting) cream together butter and sugar (about 2-3 minutes).

Add in the eggs one at a time, then add vanilla. Mix until fully incorporated.

With the mixer on low (or off) add in the flour, cream of tartar, soda, and salt.

Using a 1-tablespoon scoop, scoop out rounded balls and place close together on one of the cookie sheets.
Cinnamon Sugar
Mix the 3 tablespoons sugar and the cinnamon in a wide bowl. I like to use a fork but a small whisk also works.
Assembly
Roll balls of dough in mixture. Place 2 inches apart on parchment lined baking sheets.

Bake 6 to 8 minutes. Carefully remove immediately from baking sheets and place on a cooling rack.
Video
Did you make this recipe?
Thank you for making my recipe! You took pictures, right? Well go ahead and post them on Instagram! Be sure to mention me @iambaker and use the hashtag #YouAreBaker.