Marry Me Cookies are homemade cookies made with browned butter and loaded with oats, chocolate chips, and white chocolate chips. They are so good, you just might get a proposal! Even if you are already married, this is a seriously delicious cookie! Check out my Chocolate Chip Cookies for another favorite go-to cookie recipe.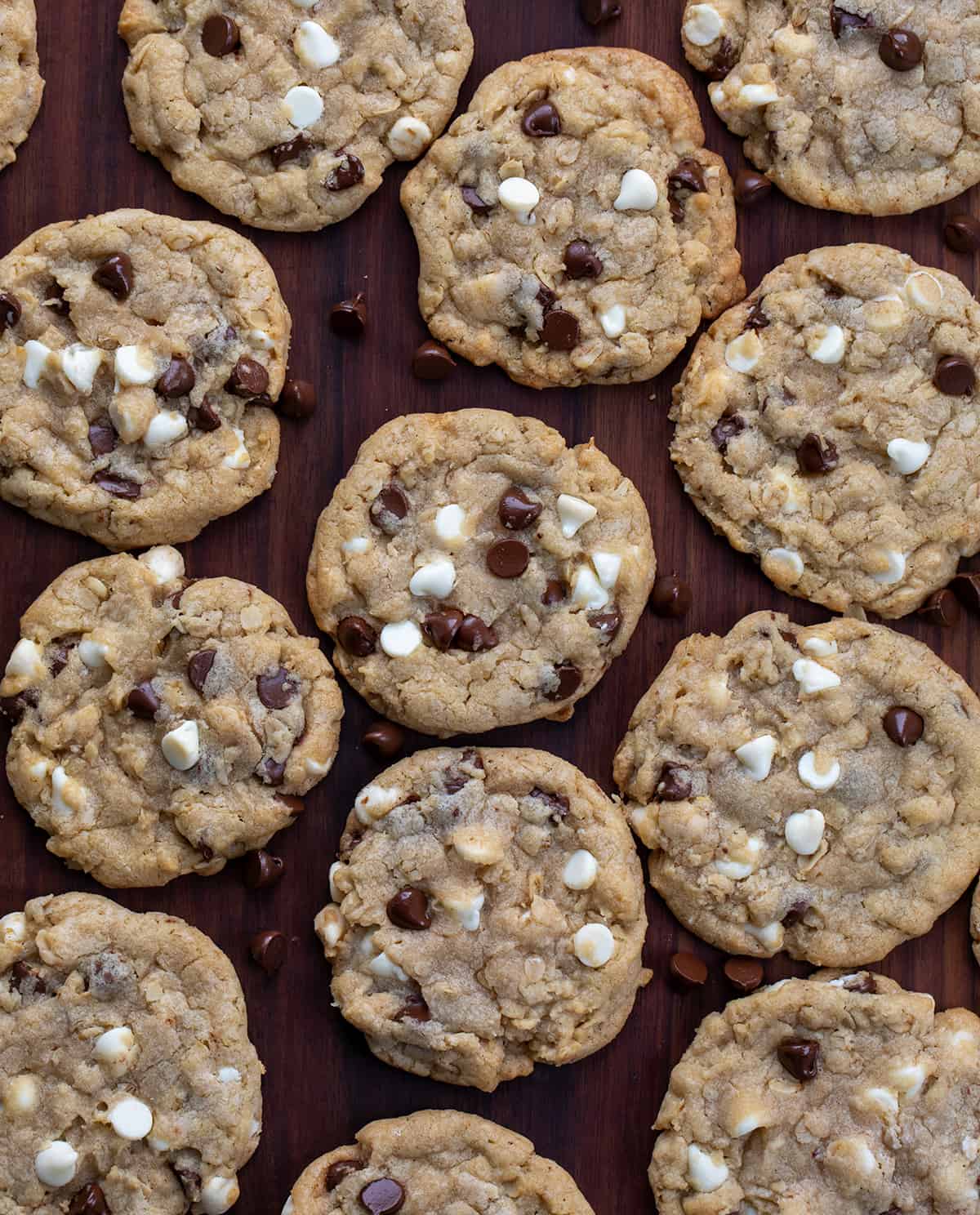 Marry Me Cookies
I saw these delightful creations on Modern Honey and knew I had to try them. The official name is, "I Want to Marry You Cookies" and they are from the genius mind of Melissa Stadler. This is my version which I am calling "Marry Me" cookies!
Ingredients & Substitutions
Butter: The first step in this cookie recipe is to brown the unsalted butter. Browned Butter, also known as beurre noisette, is the process of cooking unsalted butter until the water has been cooked out and it has a nutty and toasty taste.
Sugar: Both light brown sugar and granulated sugar are used in this recipe, with a little more brown sugar used compared to granulated. The brown sugar gives the cookies more flavor and chewiness, while the granulated sugar adds a little crispiness.
Oats: Old-fashioned oats, also known as rolled oats, are a type of oat that has been steamed and flattened with large heavy rollers. The process of rolling them makes the oats flat and thin, which allows them to cook faster and absorb more liquid. You could substitute quick oats, but the texture of the cookies may be slightly different.
Chocolate Chips: I added semi-sweet chocolate chips and white chocolate chips to the cookies. You could use all chocolate chips or all white chocolate chips if preferred. Or, try substituting peanut butter or butterscotch chips for a different flavor profile.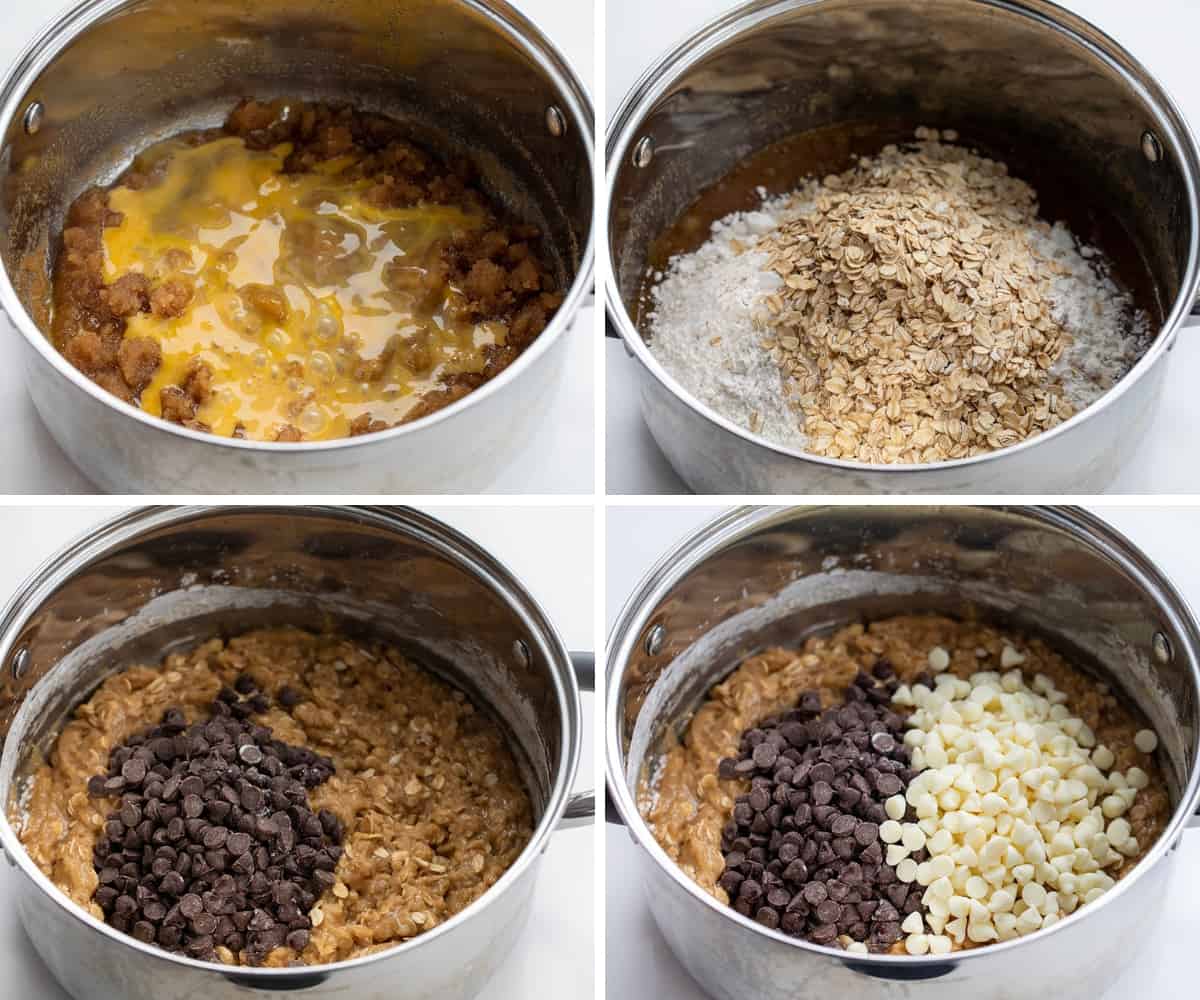 Why Chill Browned Butter and Sugar Mixture?
Chilling the browned butter with the two sugars serves a couple of purposes.
Browning the butter causes it to partially melt and become liquid, and chilling it helps to solidify it again. By solidifying the butter before continuing with the recipe, you can help prevent the cookies from spreading too much.
It also gives the sugar more time to dissolve and absorb the butter, which can enhance the flavor and texture of the cookies. When sugar dissolves in liquid, it creates a syrup-like mixture that can help to create a tender and moist cookie.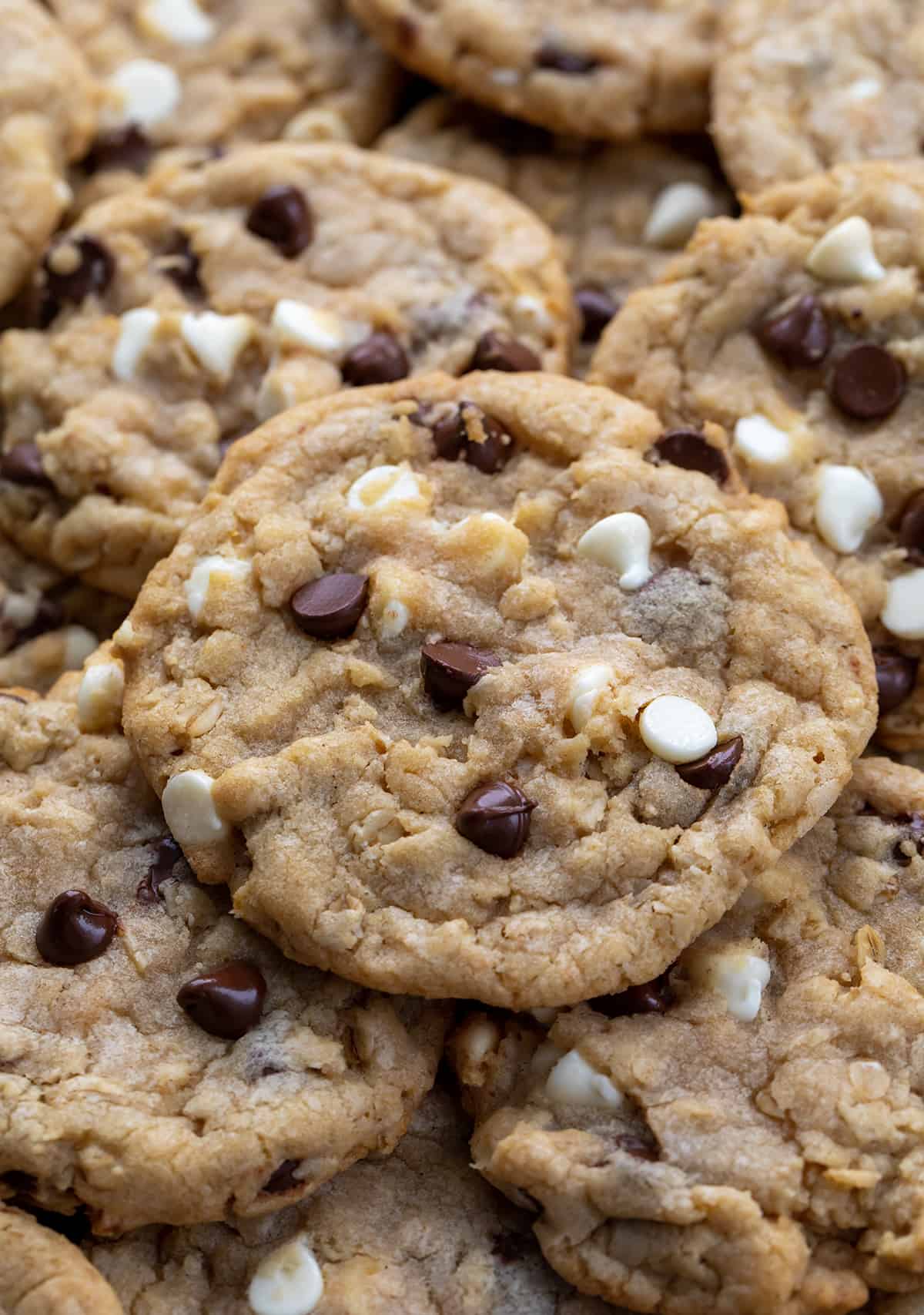 Can I Make These Cookies Ahead of Time?
Yes! You can certainly get a head start on making these cookies by making the cookie dough and freezing it. To freeze the dough, place the balls of dough onto a baking sheet lined with parchment paper. Place the baking sheet in the freezer for 1-2 hours, or until the dough balls are completely frozen. Once frozen, transfer the dough to freezer-safe zipper bags. When ready to bake, simply bake as many of the cookies as you need from frozen. You may need to increase the baking time by 1-2 minutes.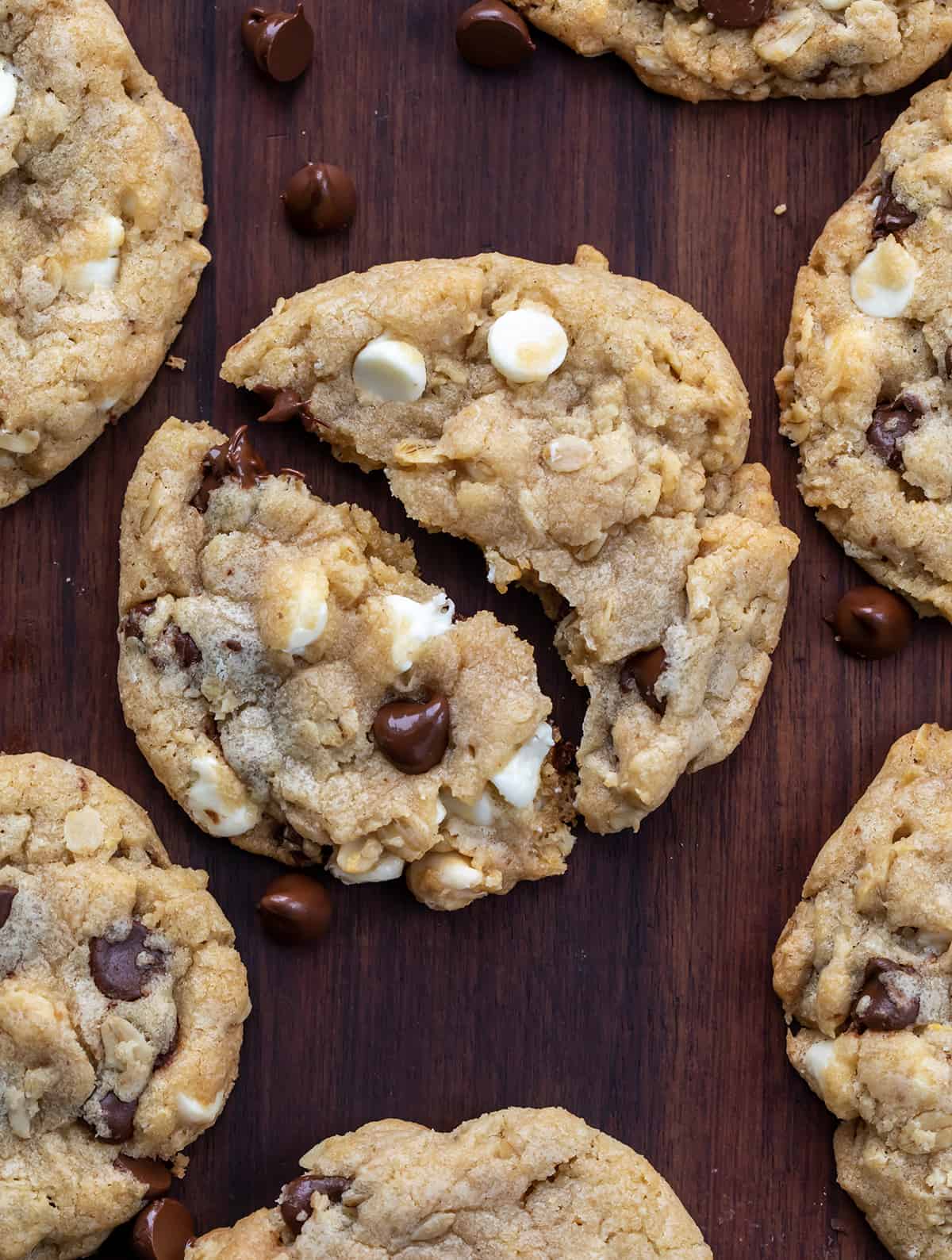 How to Store Marry Me Cookies
Once cookies have been baked, store them in an airtight container with a slice of white bread stored with the cookies. This will help the soft cookies stay on the softer side for up to a week. If you are not going to eat the cookies within a week, store them in the freezer.
How to Freeze Cookies
To freeze the cookies after they have been baked, let them cool completely. Place the cooled cookies on a parchment paper-lined baking sheet and place them in the freezer for 1-2 hours. Remove from the freezer and store in a freezer-safe container for 3-4 weeks. Check out my Guide to Freezing, Baking, and Storing Cookies for more tips!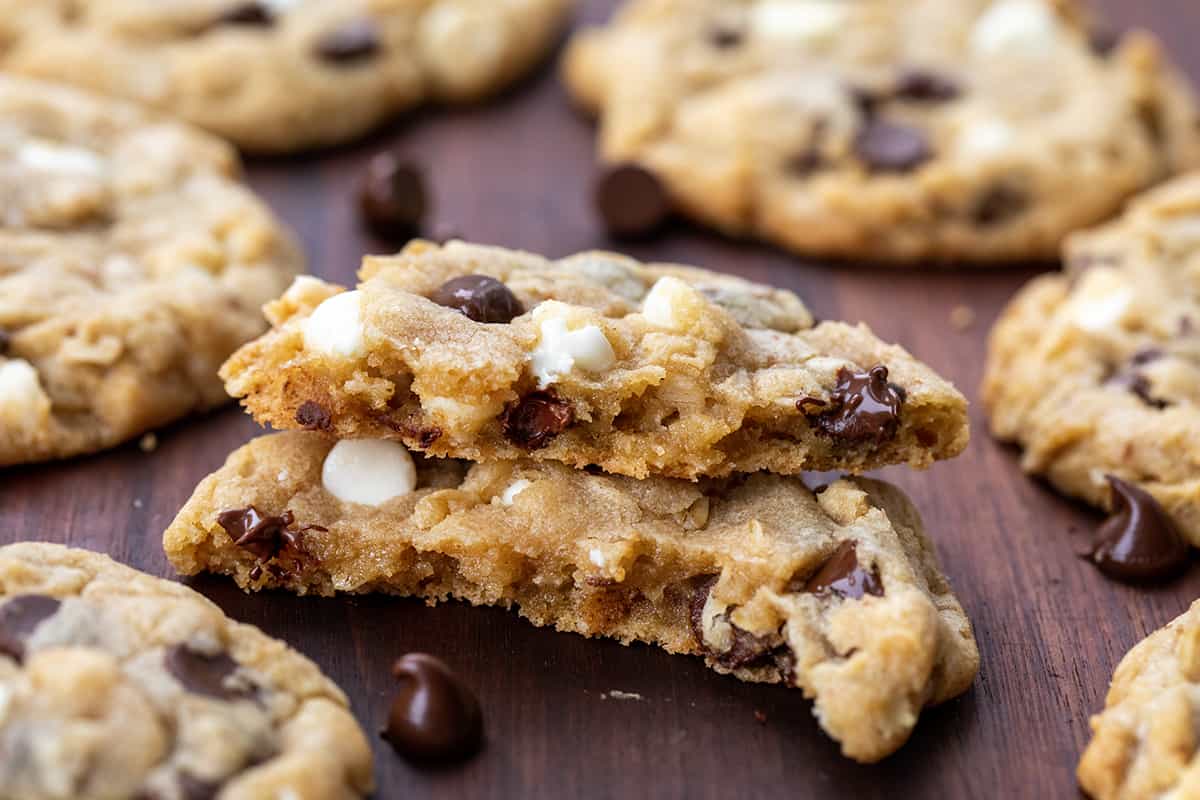 This recipe has been updated as of 2/22/2023.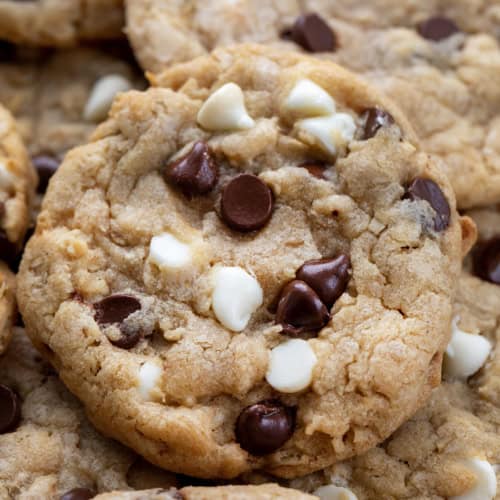 Marry Me Cookies
These delicious cookies are made with browned butter and loaded with oats, chocolate chips, and white chocolate chips.
Ingredients
1 ¼

cups

(250 g) light brown sugar

½

cup

(100 g) granulated sugar

2

large

eggs,

room temperature

1

teaspoon

pure vanilla extract

2

cups

(256 g) all-purpose flour

1

cup

(90 g) old-fashioned oats

½

teaspoon

baking soda

1

teaspoon

kosher salt

¼

teaspoon

ground cinnamon

1

cup

(168 g) white chocolate chips*

1

cup

(168 g) semi-sweet chocolate chips*
Instructions
In a medium saucepan over medium-low heat, melt the butter to create browned butter. It will begin to foam, which signals the water in the butter is boiling off. Watch closely at this stage. Tiny brown specs of milk solids will begin to appear at the bottom of the pan. Constantly stir and scrape these off using a spatula so they don't stick. As soon as the butter turns chestnut brown and smells nutty, remove the pan from the heat. (This takes about 6-7 minutes.)

Add the brown sugar and granulated sugar to the warm pan and stir until the sugars are incorporated and smooth. Place the mixture into the refrigerator to chill for 10 minutes.

While the mixture is chilling, preheat the oven to 325°F and line two baking sheets with parchment paper.

After the brown butter mixture has cooled slightly, remove it from the refrigerator. Stir in the eggs and vanilla.

Add the flour, oats, baking soda, salt, and cinnamon. Mix until combined.

Gently fold in the white chocolate chips and semi-sweet chocolate chips.

Using a 2-tablespoon scoop, drop the cookie dough onto the lined cookie sheets, leaving about 2 inches between each cookie. Using your hand or the bottom of a glass, press each cookie down slightly.

Bake for 11-13 minutes, or until the edges just start to turn golden. (Do not overbake.) Remove from oven and let cool for a few minutes before transferring the cookies to a wire rack to continue to cool.
Notes
*You can reserve a few for adding to the top of the cookie right before they are baked. I like 3-5 per cookie.
Did you make this recipe?
Thank you for making my recipe! You took pictures, right? Well go ahead and post them on Instagram! Be sure to mention me @iambaker and use the hashtag #YouAreBaker.