My hubby recently started teaching Children's Church on Sundays at 9:00 am, and I've been helping him. This means we are often out the door by 8:30 am, and then we actually attend our own church service at 11 am. So we often don't get home until after 12:30 p.m.
Normally this is not a big deal—we like how our Sunday mornings are spent! But the timing can add some extra stress if we decide to host a party, shower, or other get-togethers on Sunday afternoon.
I decided I needed to develop a menu for days like these that I can make entirely the day before. That way I eliminate virtually all of my "same day" preparation and can enjoy my party.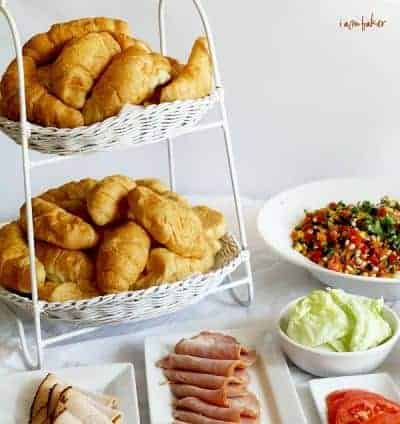 I chose a basic sandwich for the entree. Soft and sweet croissants are my favorite, and I don't often buy or make them, so having them seems like a special treat. I offer two types of meat: A sun-dried tomato-coated turkey, and
honey-baked ham
. It's easy to shred up lettuce and slice a tomato just before I serving.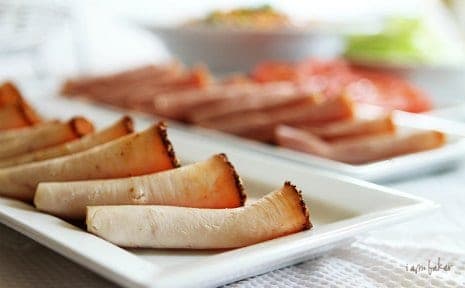 I make these simple sandwiches a little more sophisticated by adding a few compound butters for the guests.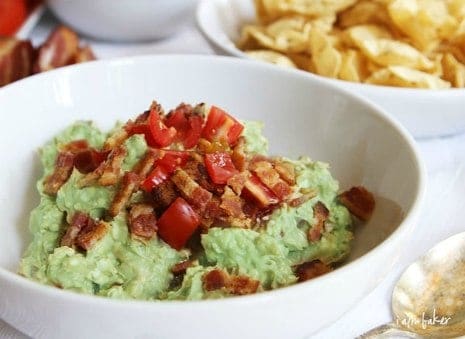 I also made an amazing
Guacamole
for the sandwich—it's a tasty and fun addition, and people use it on everything!
Next, I made a Texas Caviar, or Black Bean Salsa, as my hubby calls it. I have a pretty particular taste, so I really customized this recipe to what our family likes.
I served it with tortilla chips, but this works great as a topping on almost any bread, and even works as a garnish on burgers or hot dogs!
For dessert, I knew I wanted something light, something tasty, and something cake-like.
I can't help it—I love cake.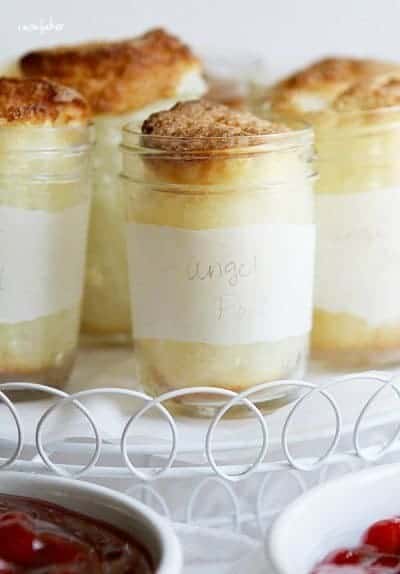 I used a box mix because it is so easy to make—simply add water! I then added 1/4 cup of the angel food cake batter to each of the well-greased pint-sized jars.
I was able to fill 16 jars with one box of mix. Bake the jars for about 16 minutes at 350, and remove them when the top is nice and dark.
I allowed the cakes to cool right in the jar, as that is how I was serving them. I left my cakes on the counter uncovered overnight. They remain light, airy, and moist the next day.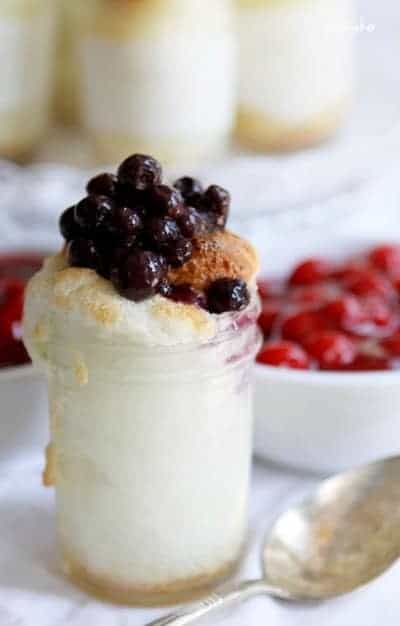 To garnish the delightful and fun little cakes, I bought pie fillings. The options are endless…from cherries and strawberries to apricot and key lime. I might be a little obsessed with blueberry. Simply open a can and place it in a bowl next to the Angel Food Cakes in jars. The guests can choose which flavor they like best and pour it right over their cake!
And don't forget the whipped cream!
The best part about this whole meal? The foods are good for you! The angel food cake is naturally fat-free!
How sweet is that?
Looking for other great Appetizers? Don't miss my master list!
Minnesota Caviar
A delicious adaptation of Texas Caviar!
Ingredients
1

container cherry tomatoes,

finely chopped

1

tablespoon

finely chopped cilantro

1

small red onion,

finely chopped

1

small zucchini,

peeled and finely chopped

1

can

(16 ounces) yellow corn,

drained

1

can

(11-15 ounce) white corn,

drained

1

can

(16 ounces) black beans,

drained

1

jalapeno,

de-seeded and finely chopped

1

red pepper,

finely chopped

1

orange pepper,

finely chopped

1

yellow pepper,

finely chopped

Up to 1 cup of prepared Italian vinaigrette
Instructions
Place all ingredients in a large bowl and pour dressing over it all. Mix well and serve. This stays good in an air-tight container for up to a week.
Did you make this recipe?
Thank you for making my recipe! You took pictures, right? Well go ahead and post them on Instagram! Be sure to mention me @iambaker and use the hashtag #YouAreBaker.