Puppy Chow.  Monkey Munch. Muddy Buddy Mix.
Crazy fun names. Crazy yum taste.
Mix that with a crazy baker and  you just know I just had to make it into a cake.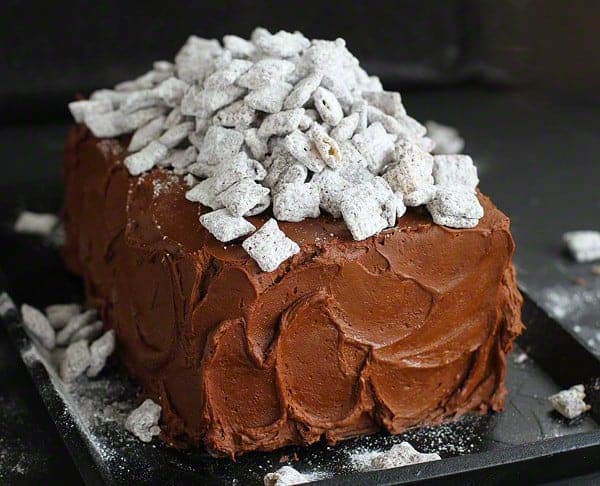 The hardest part about this cake was deciding how to make it.  Do I make a layer of peanut butter?  Should the outside be covered in powder sugar and the inside crispy chocolate?  Should I just eat the entire bag of Puppy Chow and forget about the cake?
Yes.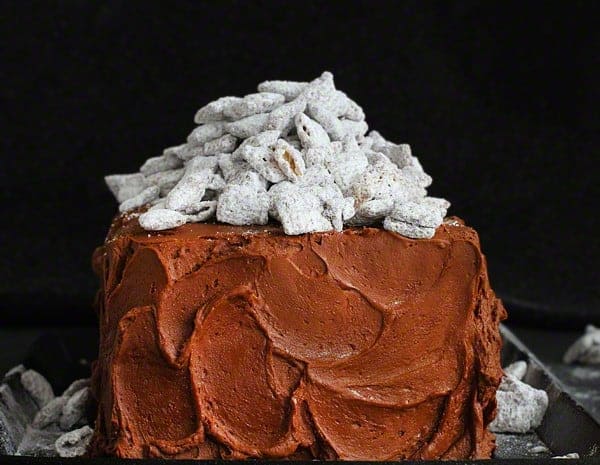 I mean no.  Must focus.
I used The Best Chocolate Cake recipe for the cake.  (Please just ignore all the pictures in that post.  Talk about terrible!)  Simply bake cakes in 9×9 inch square pans.  I cut a 3-inch section off each cake after it had cooled, then placed the two 3-inch sections side by side for the center layer of the cake.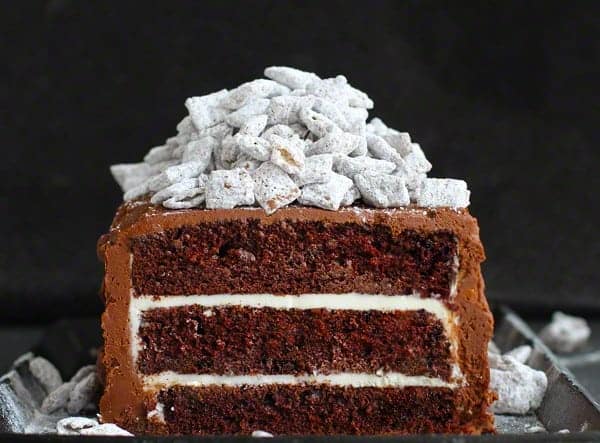 I made a 1/4 batch of this Classic Buttercream to spread in between the layers.  I opted to not use any peanut butter frosting in the cake itself.
I think the flavor of the peanut butter is so subtle in the Puppy Chow that I didnt want to call special attention to it in the cake.  If you decide to try it with some deliciously smooth PB, please do share your results!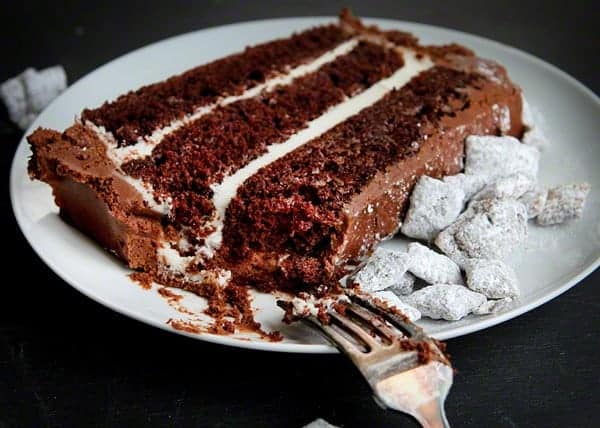 Then a batch of this Rich Chocolate Buttercream to slather all over the cake.  Cause like, slathering things over cake sounds fun right?  Ok, ok.  I will invest in a thesaurus and choose better descriptive words next time.
Here is a basic recipe for Puppy Chow, or Muddy Buddy Mix, or Monkey Munch.  I got it right from the box of Rice Chex Cereal! (Which, oddly enough, is what my pregnancy cravings have been lately.  Rice Chex Cereal.  We go through a box a day around here.  And by we I mean me.)