The idea for this Mushroom Stuffed Chicken came from our Stuffed Mushrooms recipe. The filling is the same, but when wrapped in a perfectly seasoned chicken breast, this recipe is a WINNER! If you love stuffed chicken as much as we do, you have to try my Bacon and Cream Cheese Stuffed Chicken and Asparagus Stuffed Chicken!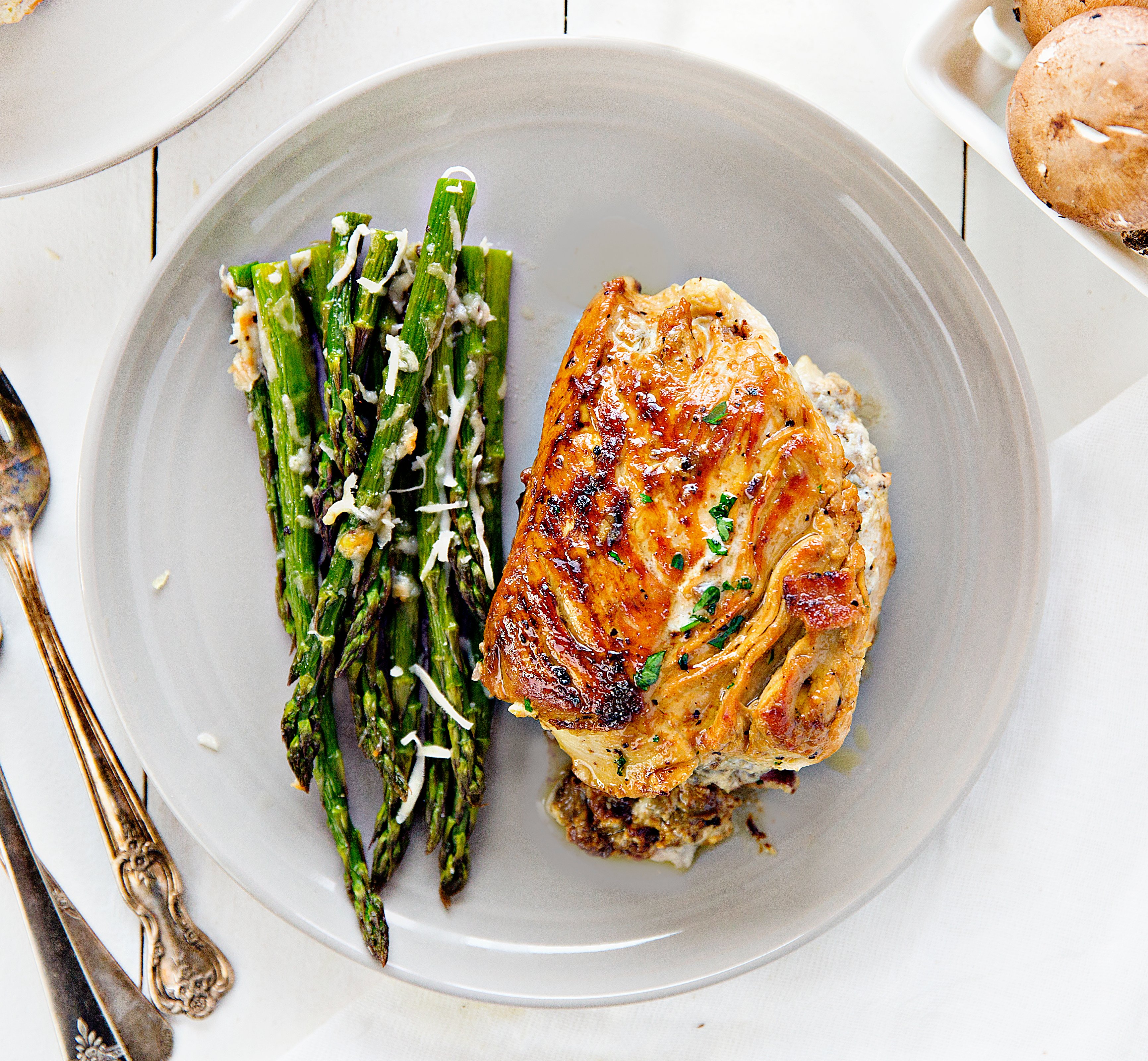 Mushroom Stuffed Chicken
Got any picky eaters in your house? Have no fear, this Mushroom Stuffed Chicken is a cheese stuffed chicken recipe that everyone will love! How do I know this? Because I liked it, and I usually go out of my way to avoid mushrooms! Serve it up with a side of garlic and parmesan roasted asparagus and you are set for an amazing meal that everyone in your family will love.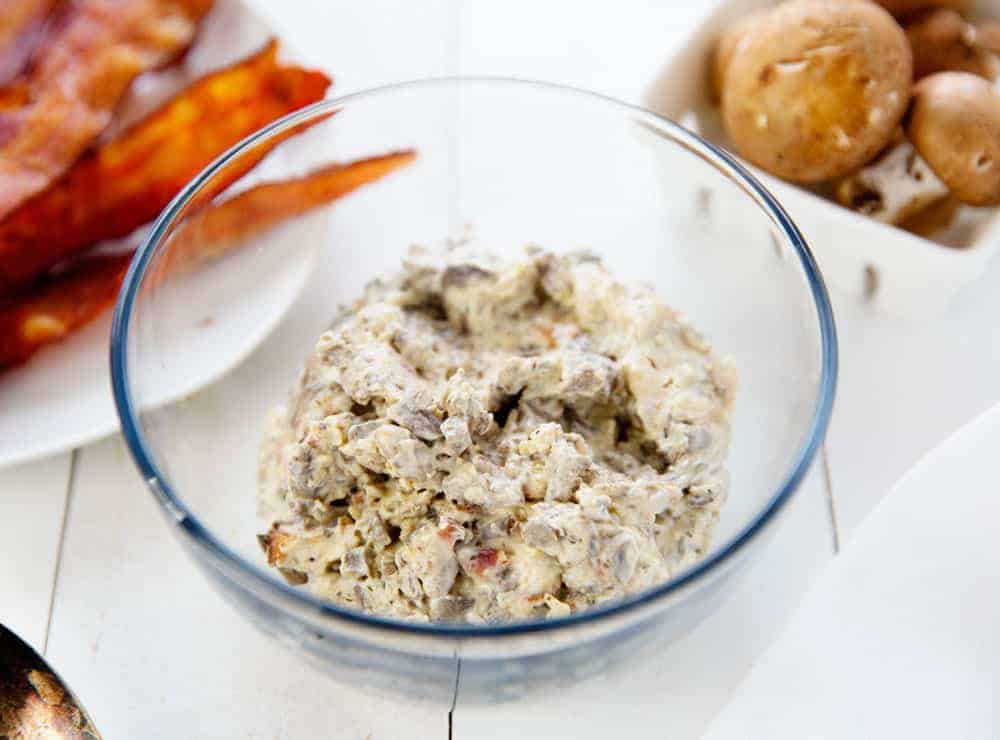 Mushroom Stuffed Chicken Recipe
So I came up with this cheese stuffed recipe after making my cream cheese and bacon stuffed mushrooms appetizer. Even though I am not a mushroom super fan, my friends and family are. These seriously run off of the plate when I serve them. Since they made such a great appetizer, I thought it would be good as the main course. So much so, that I contemplated putting the whole thing inside of a chicken breast. I decided against that in the end, but I did use all of the ingredients to transform this mouth-watering appetizer into a full-blown meal.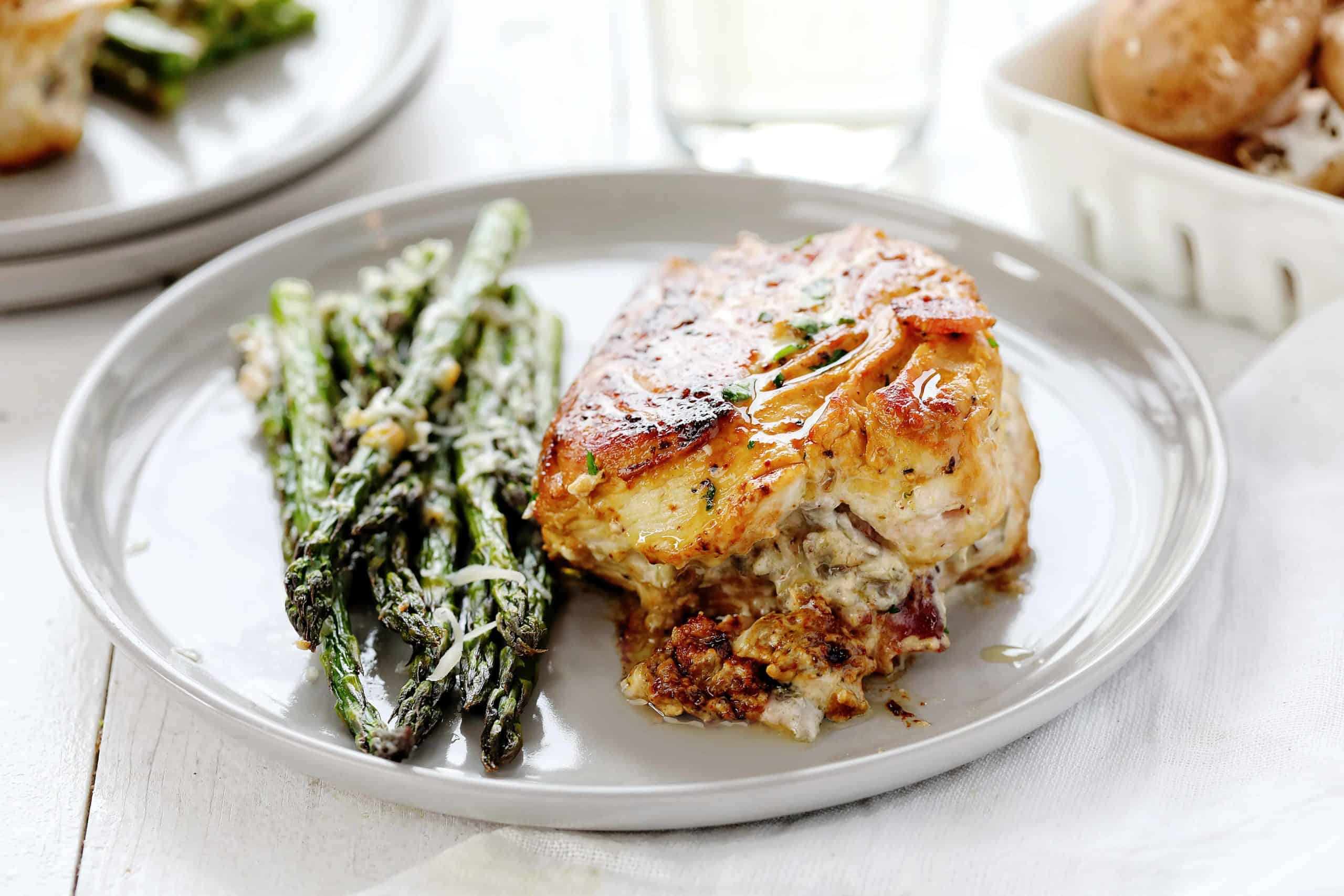 How to Make Mushroom Stuffed Chicken
There are a couple of primary steps to make mushroom stuffed chicken.
How to Butterfly Chicken
To butterfly the chicken put your chicken breast on a chopping board and, with your hand flat on top of it, use a sharp knife to slice into one side of the breast, starting at the thicker end and ending at the thin point. Be careful not to cut all the way through to the other side. You are essentially doubling the size of the chicken breast without cutting it in two. Another method is to use a meat mallet and flatten the chicken breast. Both work, you should be working towards about a 1/4 inch in thickness.
How to Clean and Cut Mushrooms
It may seem like a silly question, but it is one that I get quite often. Mushrooms grow low to the ground, so they get pretty dirty. So much so that even the mushrooms you purchase at the store need to be cleaned! The trick to cleaning mushrooms is to use a damp paper towel and rub lightly, one at a time. Do not soak them or rinse them. Mushrooms will absorb liquid and they will lose texture and flavor if you submerge them in water. Once they are cleaned, sit the mushroom on its side and with a very sharp knife, or with your hands, very carefully cut or pluck the stem off. You will want to get as high up as you can without piercing the top of the mushroom. For this recipe, cut off the woody ends and then chop them up. I go for a fine chop, but you could also use slices if you prefer the texture. They cook up the same.
How to Prepare Mushroom Stuffed Chicken
Heat up your oil in a large skillet over medium heat. Add in the garlic and the chopped mushroom and fry until most of the moisture has disappeared. Garlic can burn rather quickly, so keep a close eye on it. Once it is ready to go, remove it from the heat and set it aside to cool. Once cooled, stir in the cream cheese, bacon, parmesan cheese, black pepper, onion powder, and cayenne pepper. Mix it all up and you are ready to fill your chicken breasts. Open the butterflied chicken breasts and scoop 2 tablespoons of the cream cheese mixture into the fold, spread evenly keeping away from the edges of the chicken. (optional: secure the fold with a toothpick). Season the outside of the chicken with salt and pepper.
Using the same pan (you may want to wipe it out though), add oil, butter, and lime juice. Heat it over medium heat until it starts to sizzle and then add in your chicken. Use the juices in the pan to continually baste the chicken. Flip after about 8-10 minutes and repeat. Cooking times really vary based on how hot your pan gets and how big your chicken breast is. You will want to shoot for 165°F to safely eat it.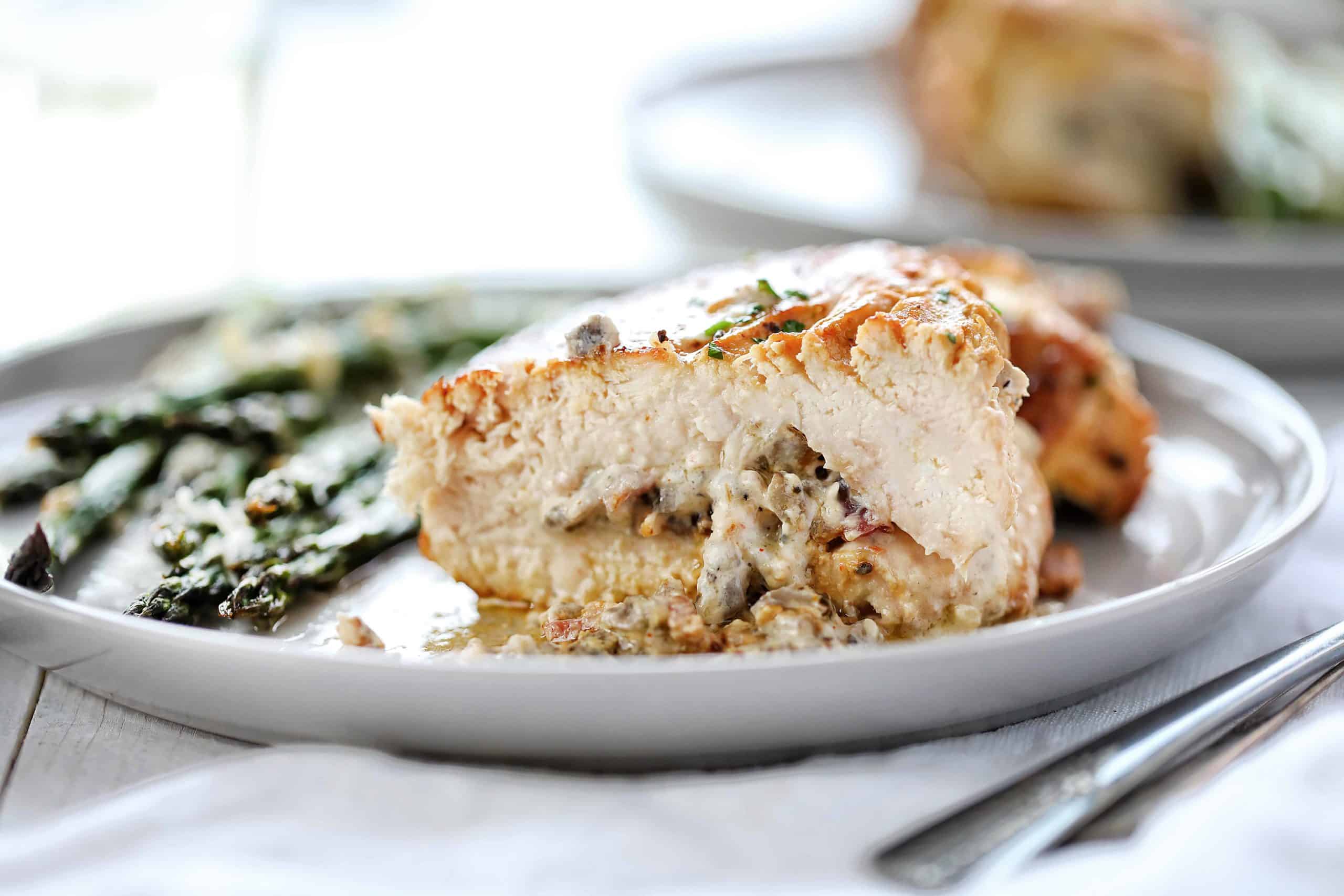 Looking for More Chicken Recipes?
Make sure to try these family-tested favorites!
Bacon and Cream Cheese Stuffed Chicken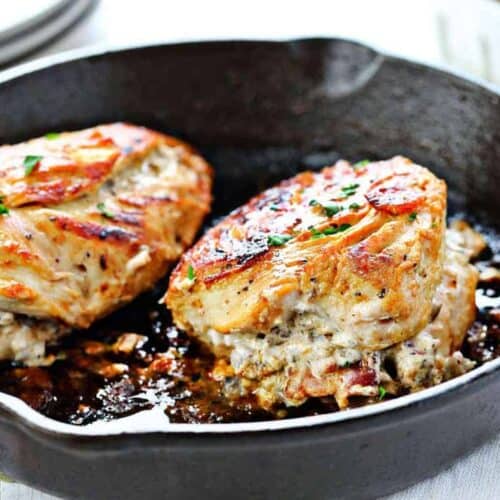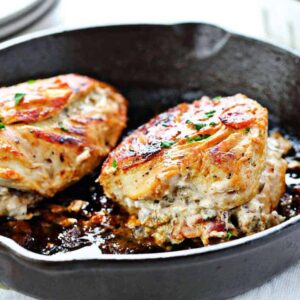 Mushroom Stuffed Chicken
The idea for this Mushroom Stuffed Chicken came from our Stuffed Mushrooms recipe. The filling is the same, but when wrapped in a perfectly seasoned chicken breast, this recipe is a WINNER!
Keyword:
Mushroom Stuffed Chicken, Stuffed Chicken
Ingredients
4

boneless skinless chicken breasts

1

tablespoon

butter

1

tablespoon

olive oil

1

lime,

juiced (about 2 tablespoons)

1/8

teaspoon

salt

1/8

teaspoon

pepper
FILLING
6

ounces

Baby Bella Whole Mushrooms

1

tsp

extra virgin olive oil

1

tsp

minced garlic

4

ounces

cream cheese,

softened

1/8

cup

freshly grated Parmesan cheese

1/8

teaspoon

ground black pepper

1/8

teaspoon

onion powder

1/8

teaspoon

ground cayenne pepper

3

Strips thick cut cooked bacon

crumbled
Instructions
Wash, dry, and butterfly chicken breasts. (To butterfly put your chicken breast on a chopping board and, with your hand flat on top of it, use a sharp knife to slice into one side of the breast, starting at the thicker end and ending at the thin point. Be careful not to cut all the way through to the other side.). Set aside.

Clean mushrooms with a damp paper towel. Chop extremely fine, discarding tough end of stems.

Heat oil in a large skillet over medium heat. Add garlic and chopped mushroom to the skillet. Fry until any moisture has disappeared, taking care not to burn the garlic. Set aside to cool.

Once cooled, stir cream cheese, bacon, parmesan cheese, black pepper, onion powder, and cayenne pepper together.

Open butterflied chicken breasts and scoop 2 tablespoons of the cream cheese mixture into the fold, spread evenly keeping away from the edges of the chicken. (optional: secure the fold with a toothpick)

Season chicken with salt and pepper.

Add 1 tablespoon olive oil, 1 tablespoon butter, and 2 tablespoon lime juice to a skillet, cook over medium heat. Once the oil mixture starts to sizzle, add the chicken to the pan.

Cook each side 8-10 minutes and then flip. Use the pan juices to baste the chicken during the cooking process. (Note: Cooking time will vary based on the size of the chicken breast. Using a meat thermometer is always recommended. The chicken should be 165 °F when fully cooked)
Recipe Video