These Buffalo Chicken inspired recipes are a must for people who love flavorful food! Loaded with the classic flavor of buffalo sauce and used in unique (and sometimes questionable!) ways, these recipes are sure to delight buffalo chicken fans!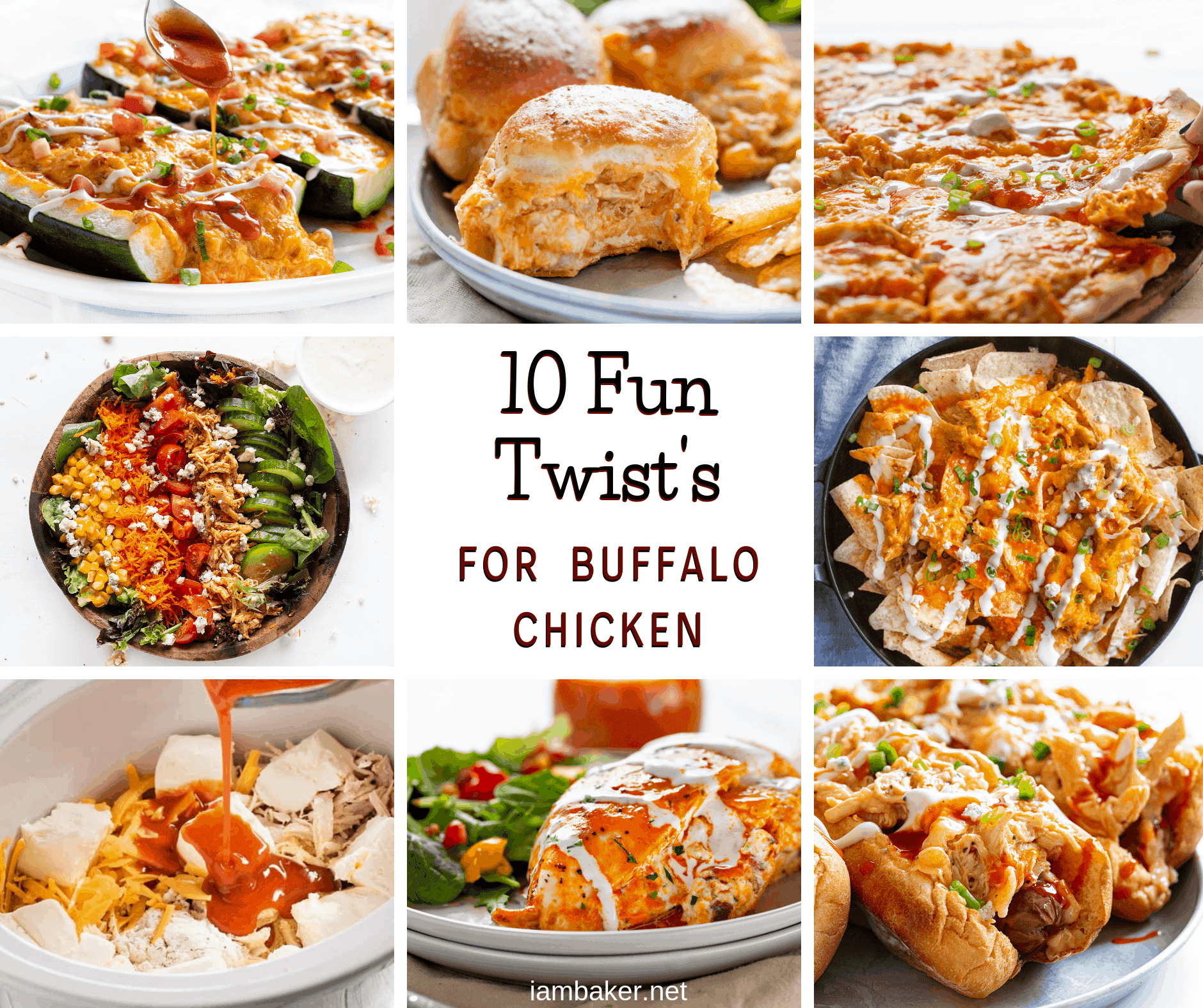 What is Buffalo Chicken?
It all started in Buffalo, New York when Teressa Bellissimo invented the buffalo wing. Buffalo wings are traditionally served hot, along with celery sticks and carrot sticks with blue cheese dressing or ranch dressing for dipping. It is a bold, spicy flavor that works well with the cooling and smooth texture of the ranch dressing or bleu cheese. All of the recipes below are a different twist on that classic wing!
Essentials for most Buffalo Chicken Recipes:
Chicken – We use chicken breast and shredded chicken
Buffalo Sauce – Can't recommend homemade high enough!
Ranch Dressing – Making it from scratch means you can control the consistency. Sometimes thicker is better, sometimes very thin when you want to drizzle it!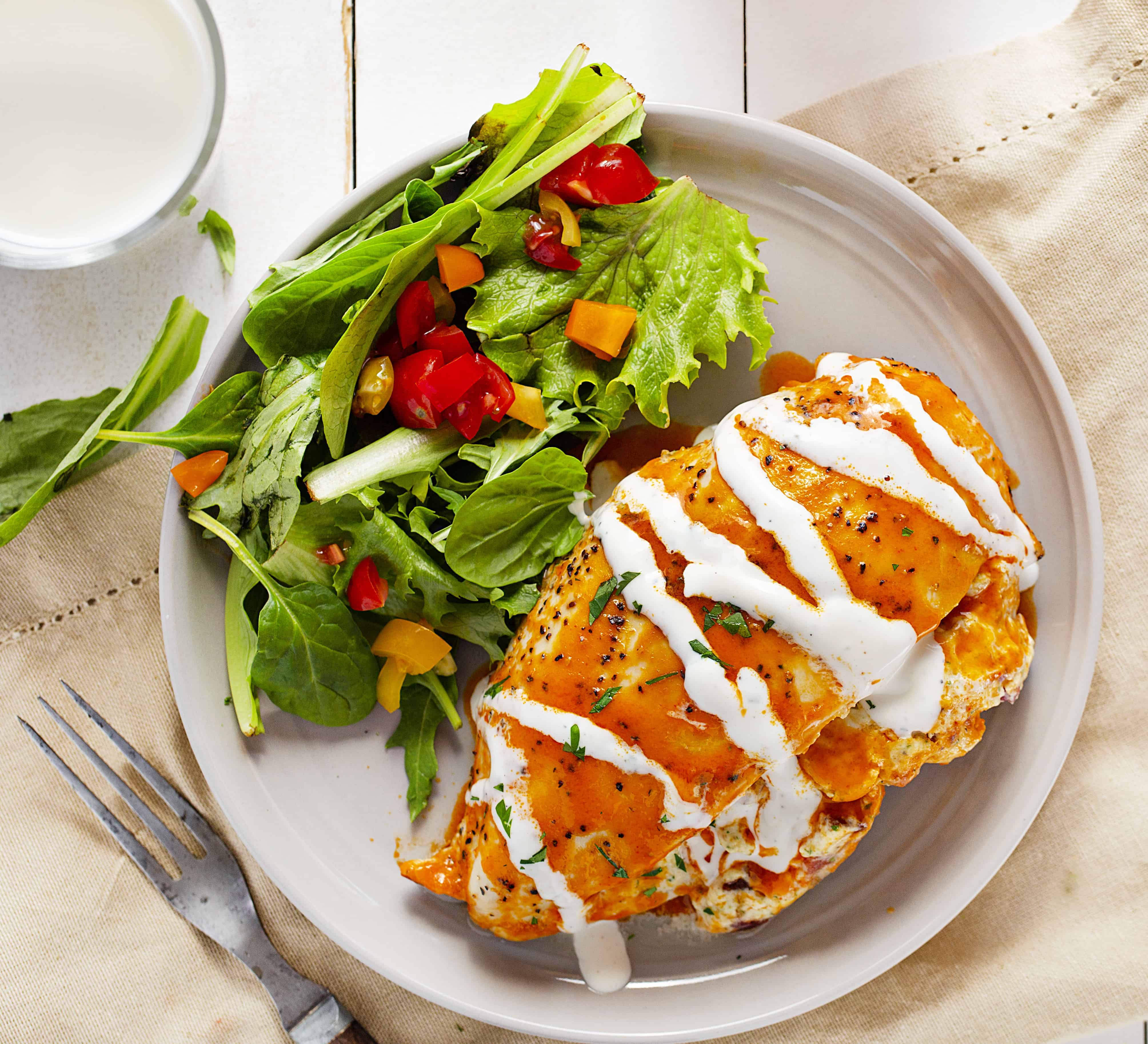 Stuffed Buffalo Chicken brings your favorite chicken to life, with a tangy and spicy buffalo sauce, creamy bacon, blue cheese filling, and smothered in zesty ranch dressing. We used our homemade buffalo sauce and our homemade ranch dressing for this recipe!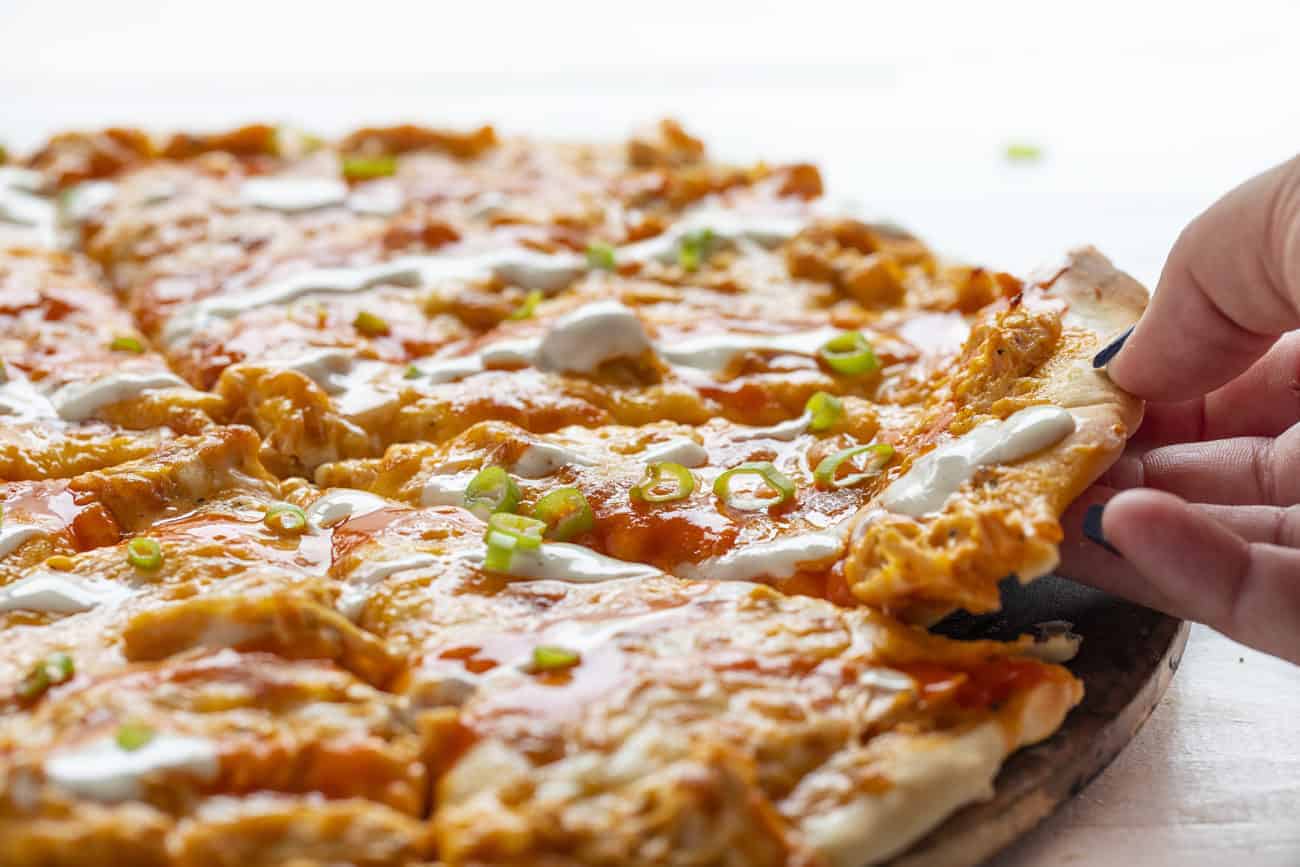 Get ready for the best pizza you have ever tasted. This Buffalo Chicken Pizza is the stuff dreams are made of! Spicy shredded Buffalo Chicken in a zesty buffalo ranch sauce, covered in piles of melty cheese hot and ready on your table in 20 minutes!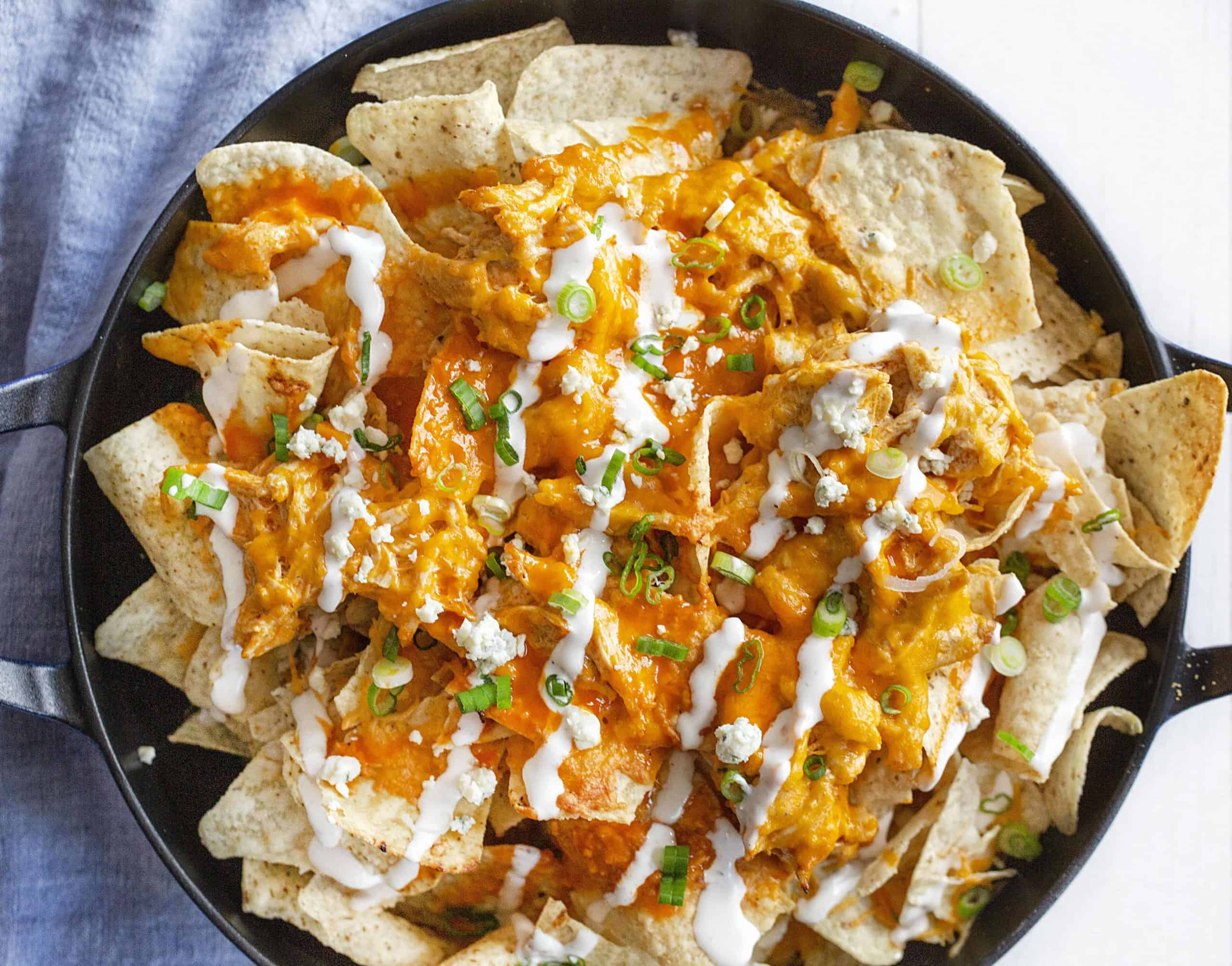 Buffalo Chicken Nachos are the perfect addition to your appetizer rotation on game day! This amazing twist on the traditional nacho platter will make your mouth water and your taste buds rejoice! Buffalo Chicken Nachos take you to a whole new place, different than what traditional nachos do. With layers upon layers of cheesy, chickeny 😂, tortilla chips, smothered in buffalo and ranch sauce and topped with blue cheese crumbles (you can skip that if blue cheese is not your thing). These nachos are no joke!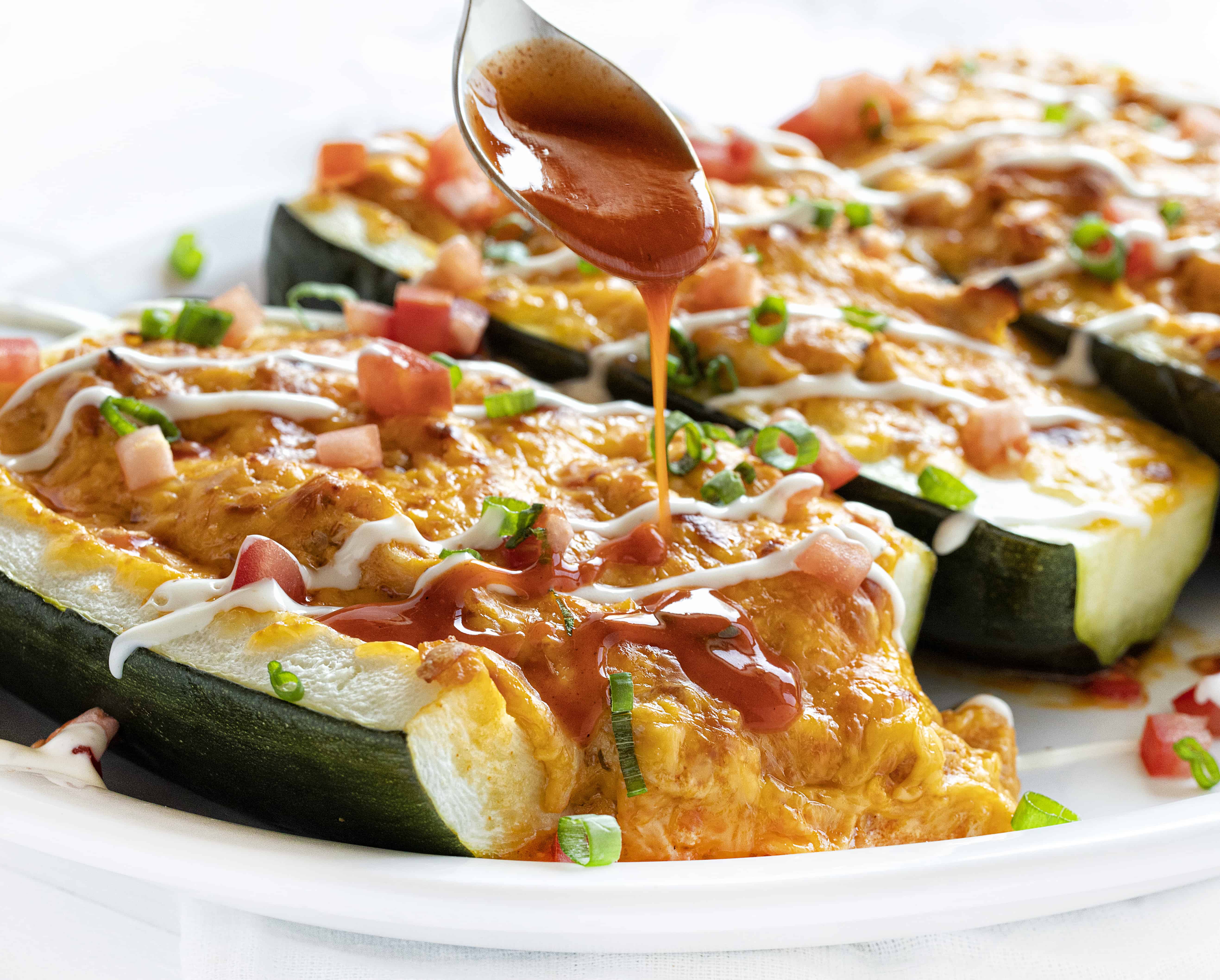 If you are a fan of buffalo sauce then you simply must try these Buffalo Chicken Zucchini Boats. Piles of cheesy shredded buffalo chicken on top of a perfectly cooked whole zucchini and topped with green onions, tomatoes, buffalo sauce, and creamy ranch dressing.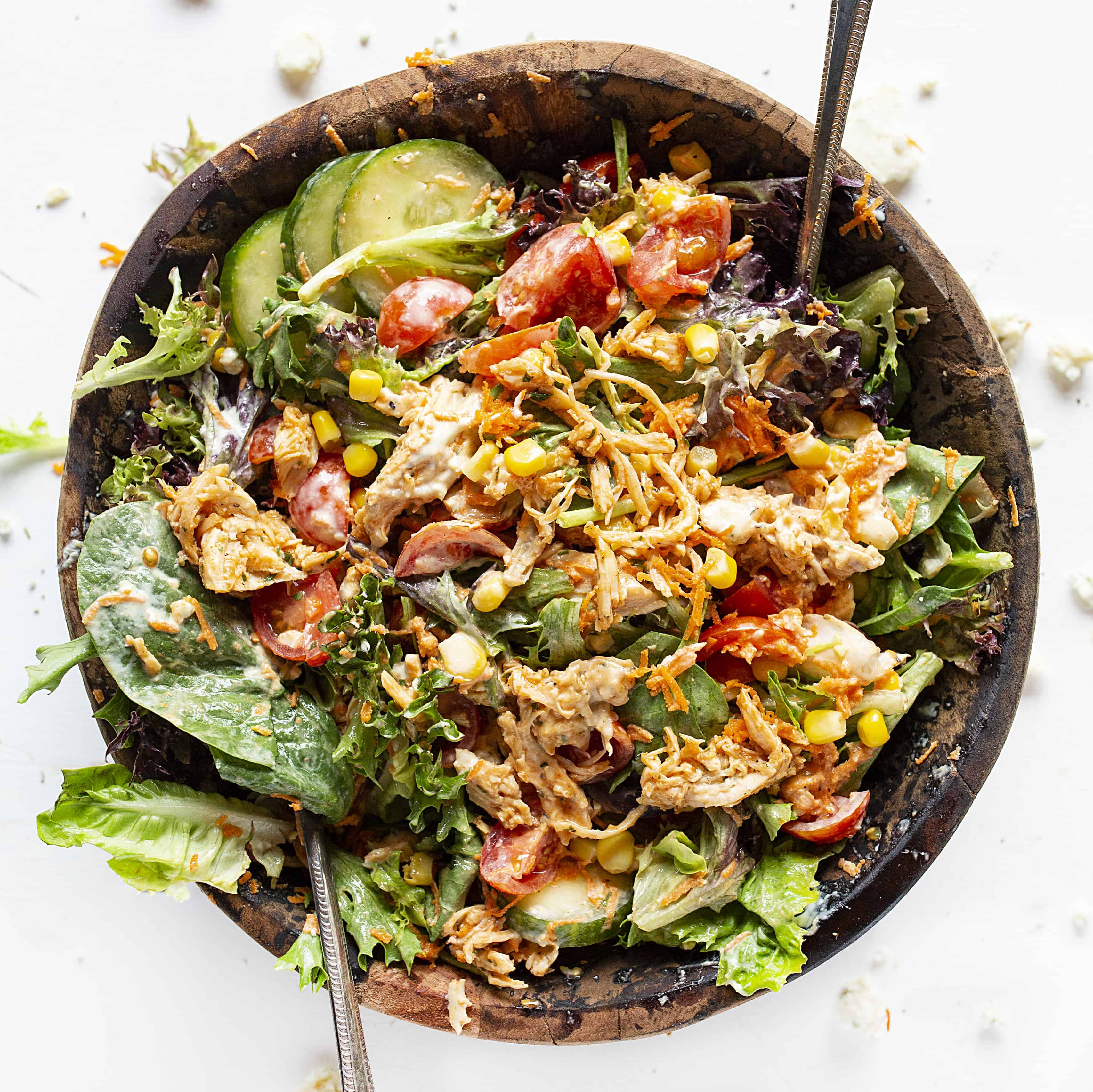 This recipe is great all year long. With piles of juicy shredded chicken, over a bed of crisp and fresh lettuce, carrots, corn kernels, cucumbers, and cherry tomatoes, all covered in a homemade ranch dressing, you may never want a regular salad again!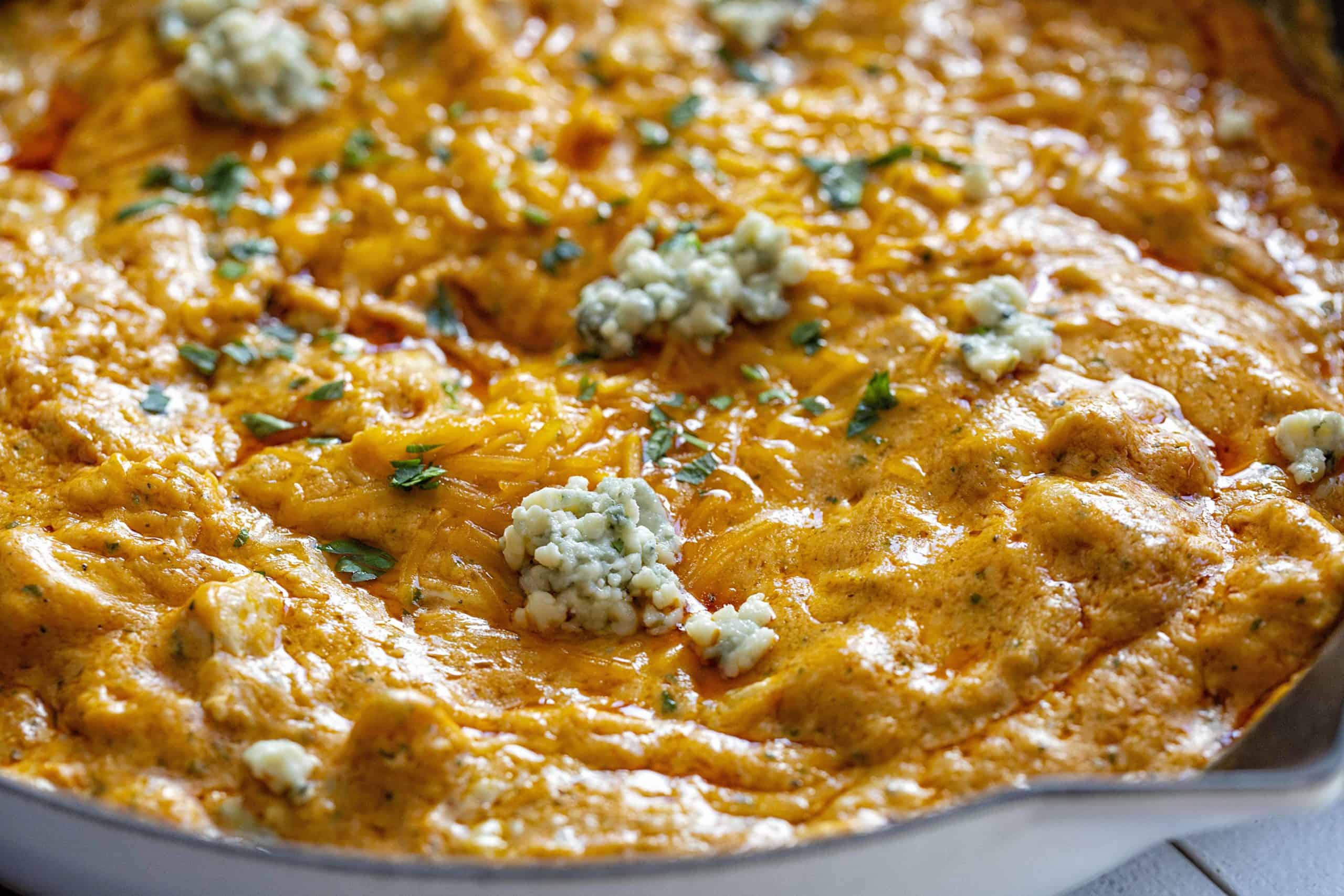 This skillet dip recipe is the ultimate crowd-pleasing party addition! This creamy, cheesy, appetizer is always an amazing game day winner!! It is simple to prepare, and much easier to make than a batch of wings. You get all of the amazing tang and heat of the buffalo wings (including the amazing flavor), without all of the prep work or the mess and coinciding clean up! This whole dish prepares in one pan alone, your trusty skillet.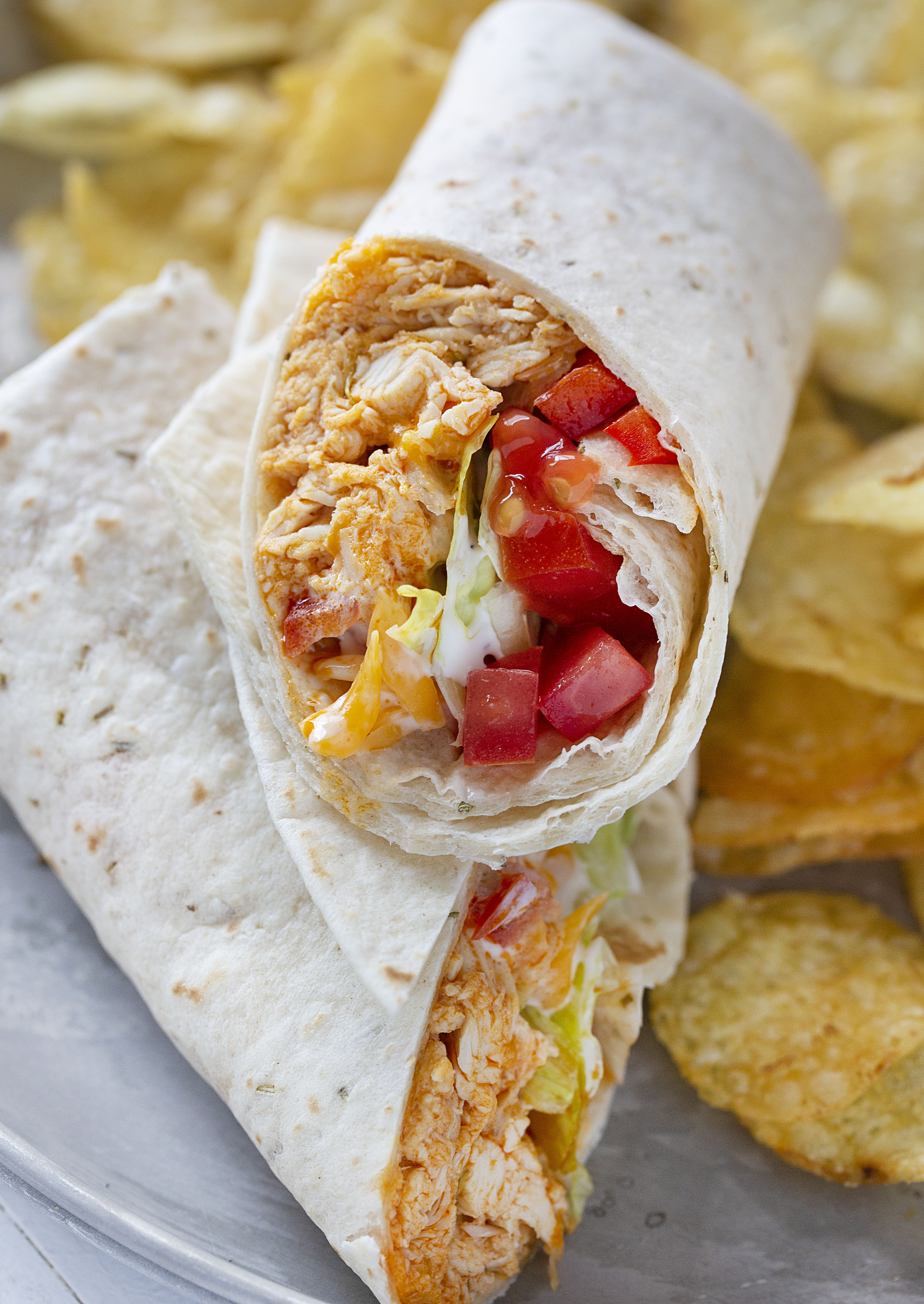 If you are in the market for a quick, easy, and super delicious weeknight meal, you have come to the right place. These wraps are completely delicious with spicy buffalo flavored rotisserie chicken, fresh crispy veggies, and tangy homemade ranch dressing all wrapped up in a soft flour tortilla.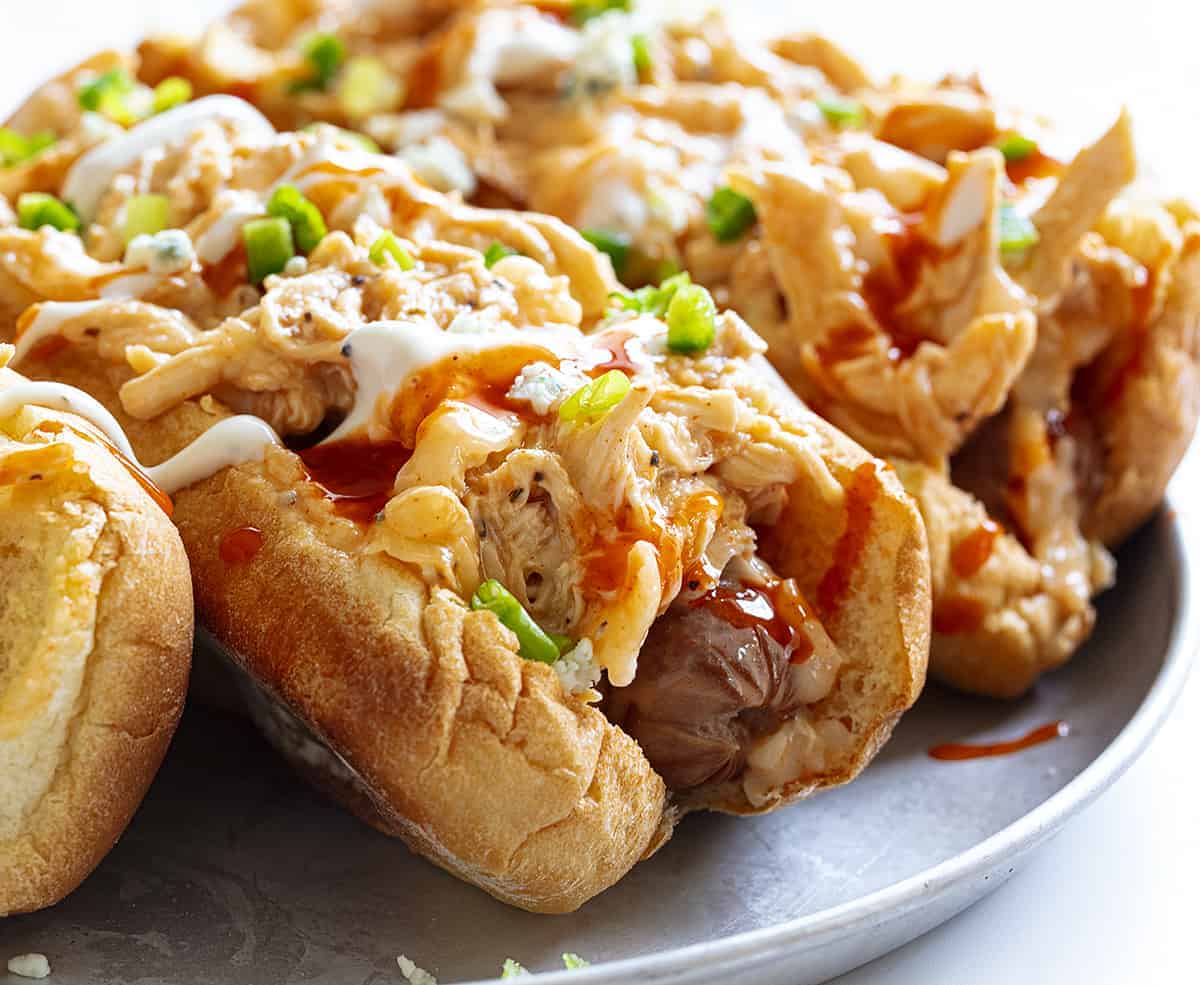 Let's go ahead and get the giant elephant out of the room. Yes, I did just put shredded buffalo chicken on top of a hot dog. Yes, I did smother it in hot sauce and ranch dressing. Yes, I was terrified to take the first bite. But then I did and I was super impressed with myself. SO GOOD!!
My advice? Make them. Don't overthink it… just make them (it's EASY!) and then take your first bite. I think you will see what I mean!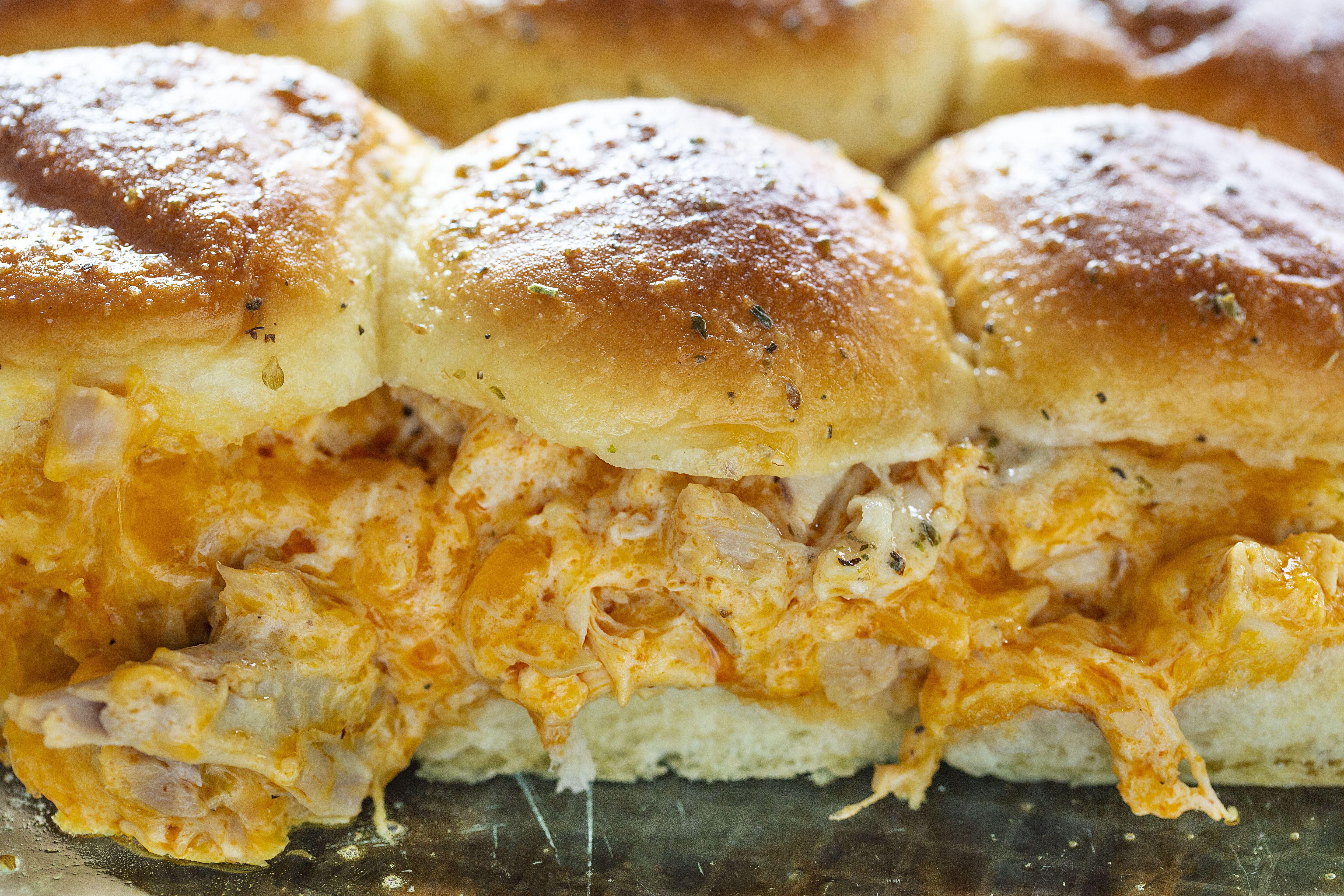 This scenario is not hard to imagine because most people have been in at least one of these situations. It is game day or potluck day, or your 14-year-old boy is having a bunch of his buddies over. You need to feed them something quick that will not only fill them up, but that everyone will love, and that doesn't take an eternity to prepare. Enter these sliders. This recipe pulls together in just a few short minutes but tastes like you spent the day preparing. You can make a double batch with ease and without breaking the bank!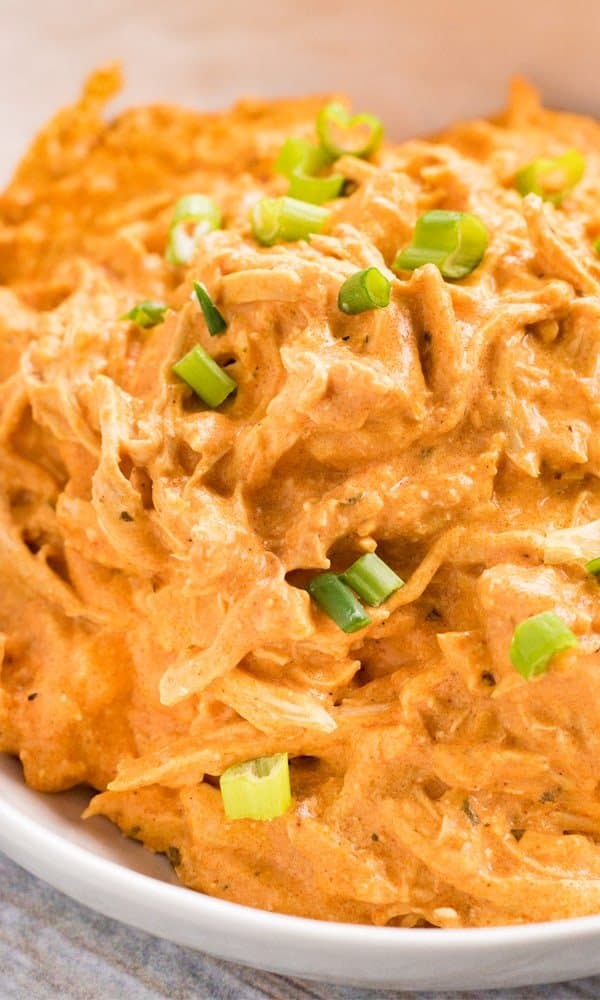 The ultimate crowd-pleasing party dip! This creamy, cheesy, appetizer is always an amazingly flavorful winner and can be made right in your crock-pot!
Buffalo wings are always a hit at any kind of party, potluck, or even just for dinner sometimes! While they are so crave-able, they aren't always practical or simple to make. That's why I love buffalo chicken wings in dip form. It doesn't get much easier than getting a few simple ingredients together, and letting your slow cooker do all the work to create a thick and cheesy dip that's packed full of buffalo flavor!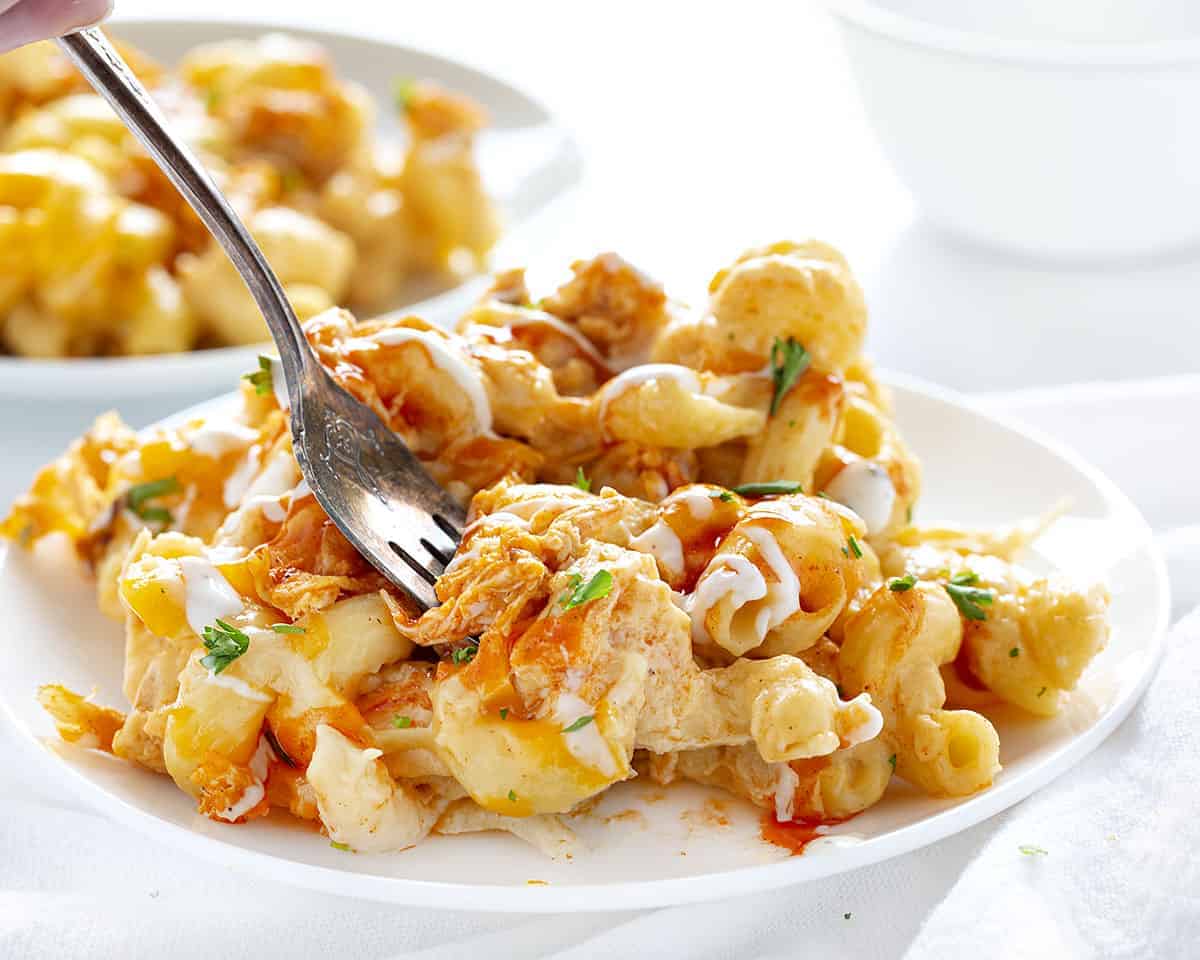 Macaroni and cheese is no longer just for kids, and there is no need to buy the boxed mac and cheese ever again! Buffalo Chicken Macaroni and Cheese will be a meal that your whole family will ask for time and time again. When I think of macaroni and cheese, I think of a side dish that doesn't fill me up at all. In fact, I never really considered it a meal until I started making my own macaroni and cheese. Buffalo Chicken Macaroni and Cheese brings my homemade macaroni and cheese to a new level!
Buffalo Chicken Pinwheels are an appetizer made with buffalo chicken, cream cheese, cheddar cheese, red bell pepper, green onions, and ranch dressing, rolled up in a flour tortilla and cut into pieces. It's all the flavors of buffalo chicken in finger food that goes perfectly dipped in a side of blue cheese or ranch dressing.
Buffalo Chicken Focaccia Bread is homemade focaccia bread that is layered with a buffalo chicken mixture and two kinds of cheese. I ended up layering the bread dough for a hearty and filling bread. And, the bonus part was making this recipe in a cast-iron skillet. You will love the thick crust!
Buffalo Chicken Tenders are strips of marinated chicken breasts coated and deep-fried to a crispy golden brown and smothered in buffalo sauce. Because they are boneless, they are easy to eat and dip into your favorite dressing.
Air Fryer Buffalo Chicken is an appetizer made with coated boneless chicken breasts that are cooked in an air fryer and tossed with homemade buffalo sauce. I sometimes don't want to mess with frying the chicken in oil. These boneless wings give you the same great buffalo flavor of fried buffalo chicken but cooked in an air fryer. This makes them a healthier alternative to the popular appetizer.
Buffalo Chicken Wings are the perfect game-day or any-day appetizer, marinated in a buffalo sauce, and baked to perfection with just the right amount of heat. And when it's game-day, tables will be full of wings and beer. But, if you can't get out, there is no excuse not to enjoy this appetizer. Buffalo Chicken Wings are easy to make to have any day or night you are craving a little heat in your appetizer.
Buffalo Chicken Meatballs have all the flavor of your favorite buffalo wings in a perfectly baked ground chicken meatball! It is a tasty appetizer with just the right amount of kick to wake up your taste buds! It's easy to make these meatballs. In fact, you will probably choose to make your own meatballs from now on and skip the frozen ones you can buy at the store.
Buffalo Chicken Stuffed Shells are an easy-to-make dinner idea that is loaded with cheese, chicken, and kicked up a notch with buffalo sauce. As soon as I made and tasted my Buffalo Chicken Macaroni and Cheese, I knew I had to make more pasta loaded with cheese and buffalo chicken! These stuffed shells did not disappoint!
Buffalo Chicken Bread is an individual serving roll that is filled with a cheesy center, buffalo chicken, and topped with more cheese before being baked to a golden brown. They are meant as individual servings but are big enough for 2 folks to share!
There is just something about a plate of fries piled high that makes my mouth water. Instead of going out somewhere, make your own plate of fries loaded with the kick of buffalo chicken. You won't find loaded fries like this in many places! It's easy to put together, and it's a delicious late-night snack. It's also a great appetizer to share.
Buffalo Chicken Twice Baked Potatoes give you the flavor of your favorite saucy chicken wings stuffed into a perfectly baked potato. When I tasted how well the carbs of the pasta went with the protein of the chicken in my Buffalo Mac and Cheese, I figured I had to try another carb with it, so why not a potato? Thus, we have the Buffalo Chicken Twice Baked Potatoes.
Before you think… "ummmm, no." I want you to just give these a chance. I know it is hard to get your head around, but I promise it doesn't taste funky or weird. The texture is still smooth and the egg white (arguably tasteless) is the perfect vessel for this funky filling! These will be your new favorite game day appetizer and your guests will flock (get it?) to this tray to fill up on the eggs!
Cheese curds are little pieces of curdled milk that didn't make it into the cheese wheel. They are separated from the whey and cut up to eat fresh. Cheese curds are also known as squeaky cheese because of their rubbery texture. Deep-fried cheese curds are a staple in the midwest, and you can find them at most bars and definitely at state fairs! These Buffalo Cheese Curds use fresh cheese curds and are coated with a batter that has added buffalo sauce for that spicy kick.
Be on the lookout for more great Buffalo Chicken recipes… it is one of our favorite ingredients to experiment with!