No boring chicken dinners here! These are seven of the tastiest Stuffed Chicken recipes on the internet, and ones that you will want to make again and again. Make sure you add these Stuffed Chicken Recipes to your dinner rotation!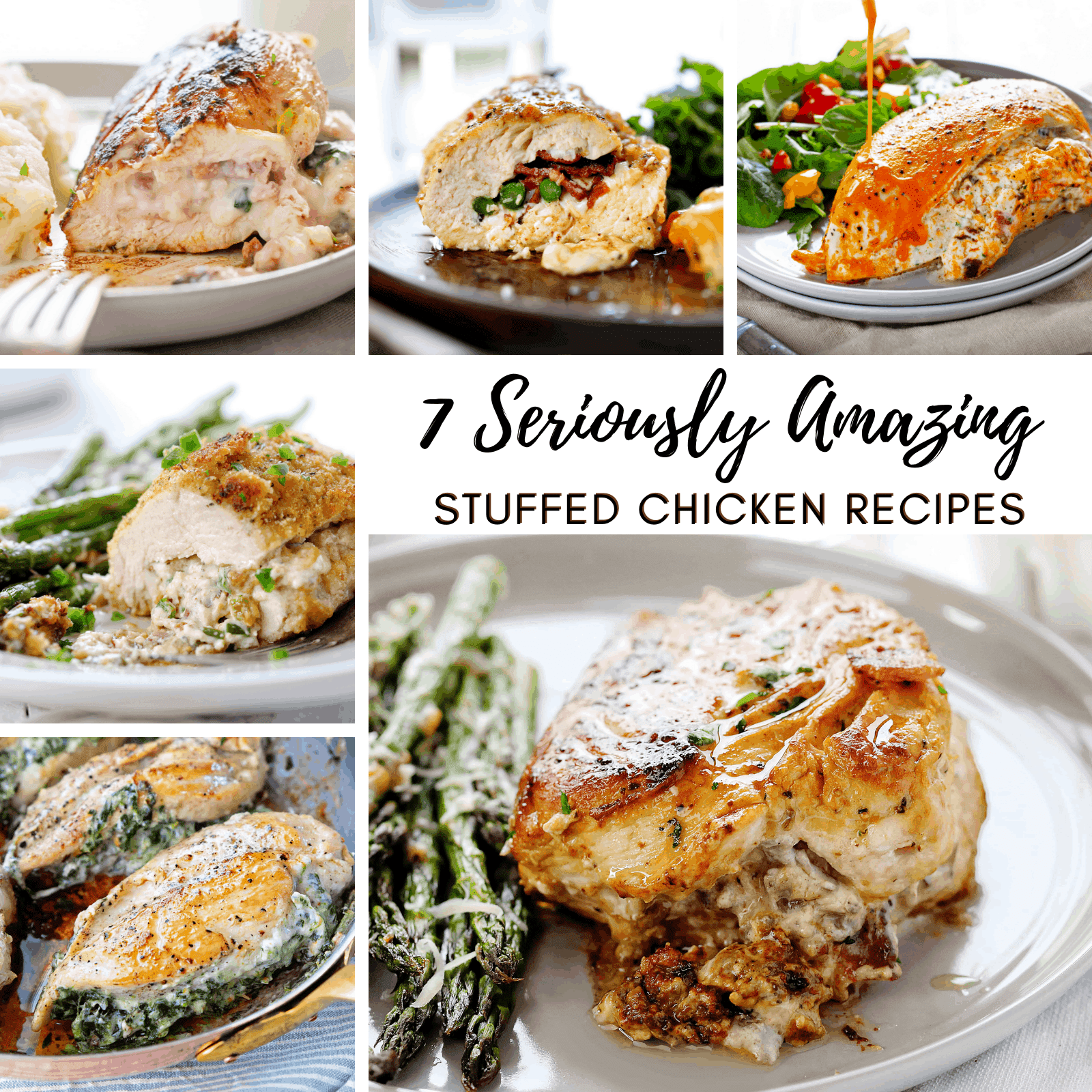 What is Stuffed Chicken?
Basically, it is taking your favorite fillings and ingredients and adding them inside a chicken breast. Making a stuffed chicken breast is easy enough and usually involves butterflying the chicken, which means cutting the breast in half, but not all the way through. Then, open it, add your filling, and close it. Sometimes it is secured with toothpicks, sometimes it isn't, but it is always a masterpiece of perfectly cooked chicken that has the best ingredients spilling out and adding intense flavor.  No matter what you decide to stuff your chicken with, it will be a fantastic way to avoid blah chicken recipes and make sure dinner-time is delicious!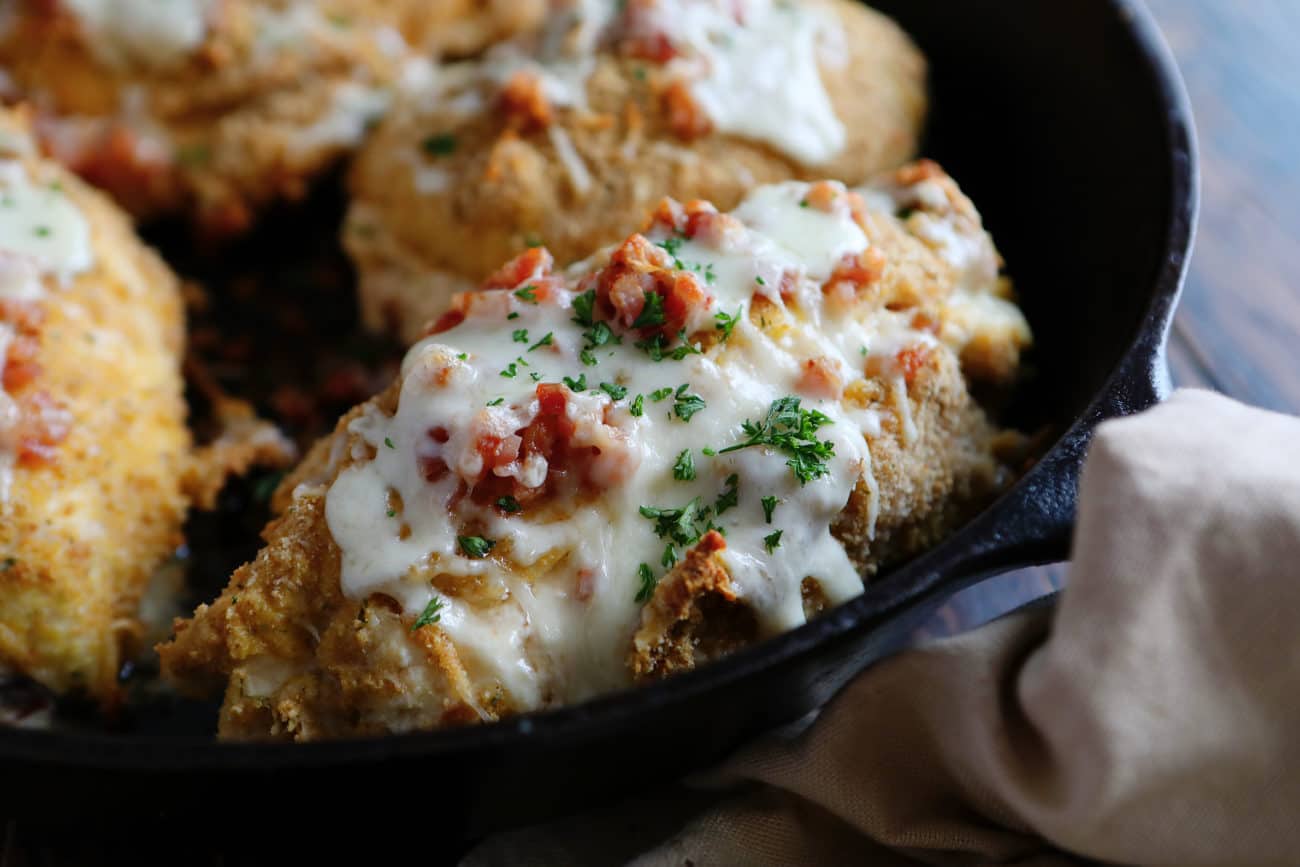 First of all, bacon and cream cheese stuffed into anything is a winner in my book.  If you love bacon and cream cheese, make sure to check out Bacon Jalapeno Poppers and Bacon Ranch Cheese Ball Bites.  I have been making appetizers like this for an eternity and I decided that I wanted to add a little more protein to my favorites.  So, chicken stuffed with the stuff must be good, right?  Right!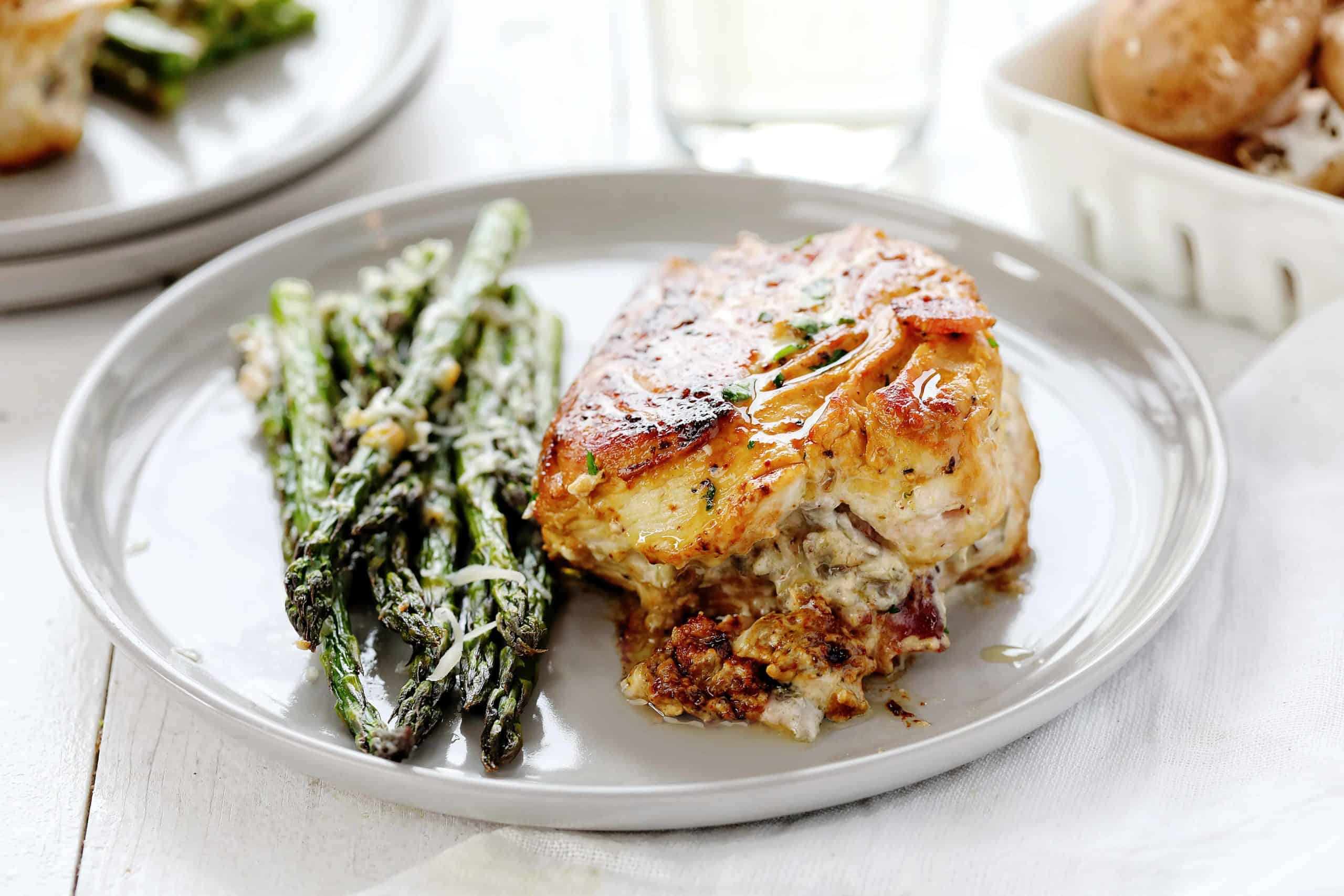 Got any picky eaters in your house? Have no fear, this Mushroom Stuffed Chicken is a cheese-stuffed chicken recipe that everyone will love! How do I know this? Because even I liked it, and I usually go out of my way to avoid mushrooms!  Serve it up with a side of garlic and parmesan roasted asparagus and you are set for an amazing meal that everyone in your family will love.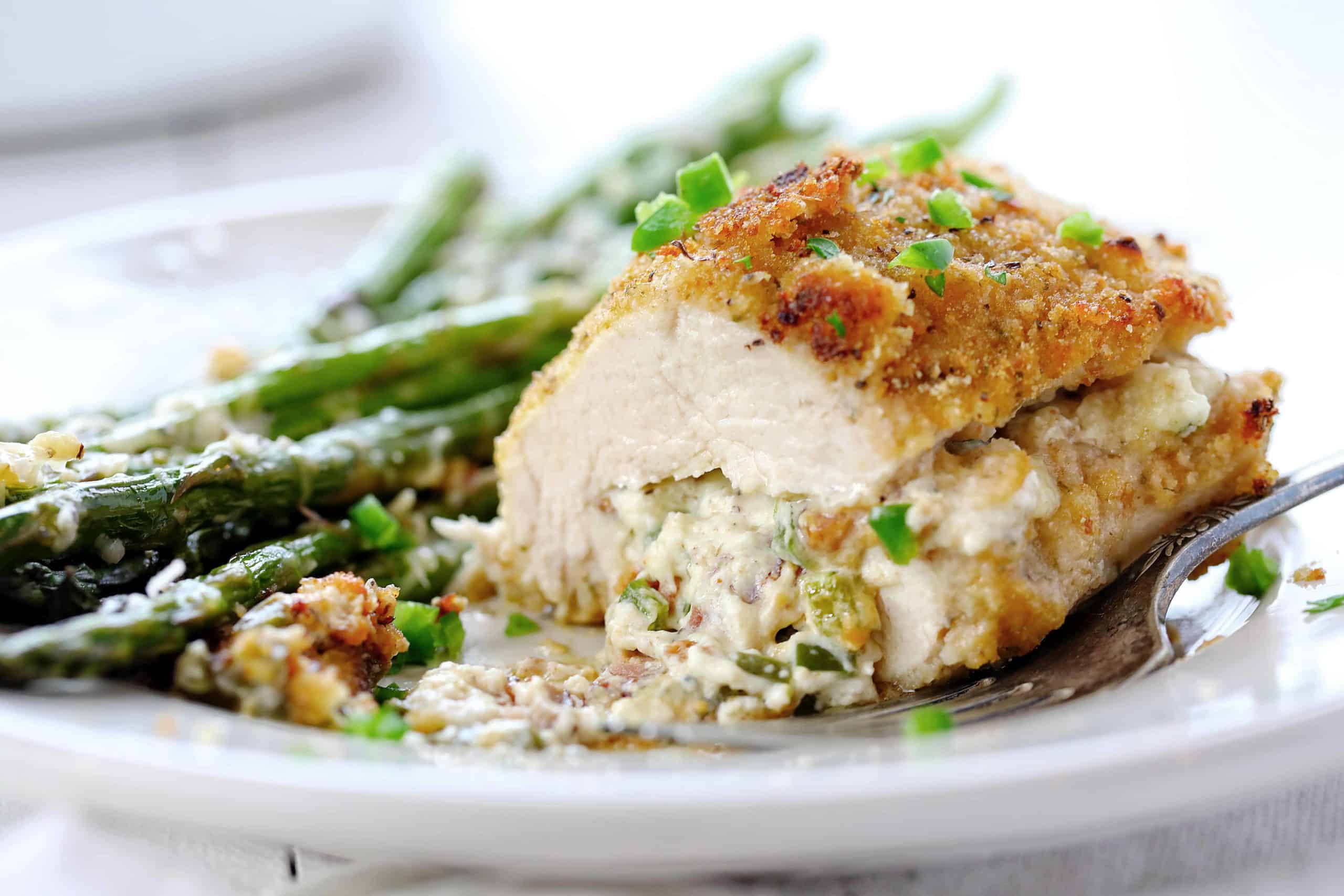 One of my all-time favorite appetizer recipes is my cream cheese stuffed jalapeno poppers.  We love them so much we wanted to make them into a meal.  We literally took the entire recipe and popped it inside of a chicken breast.  It was the best decision ever.  We like to serve it with a side of freshly roasted asparagus.  They come together in under 10 minutes, and are equally delicious!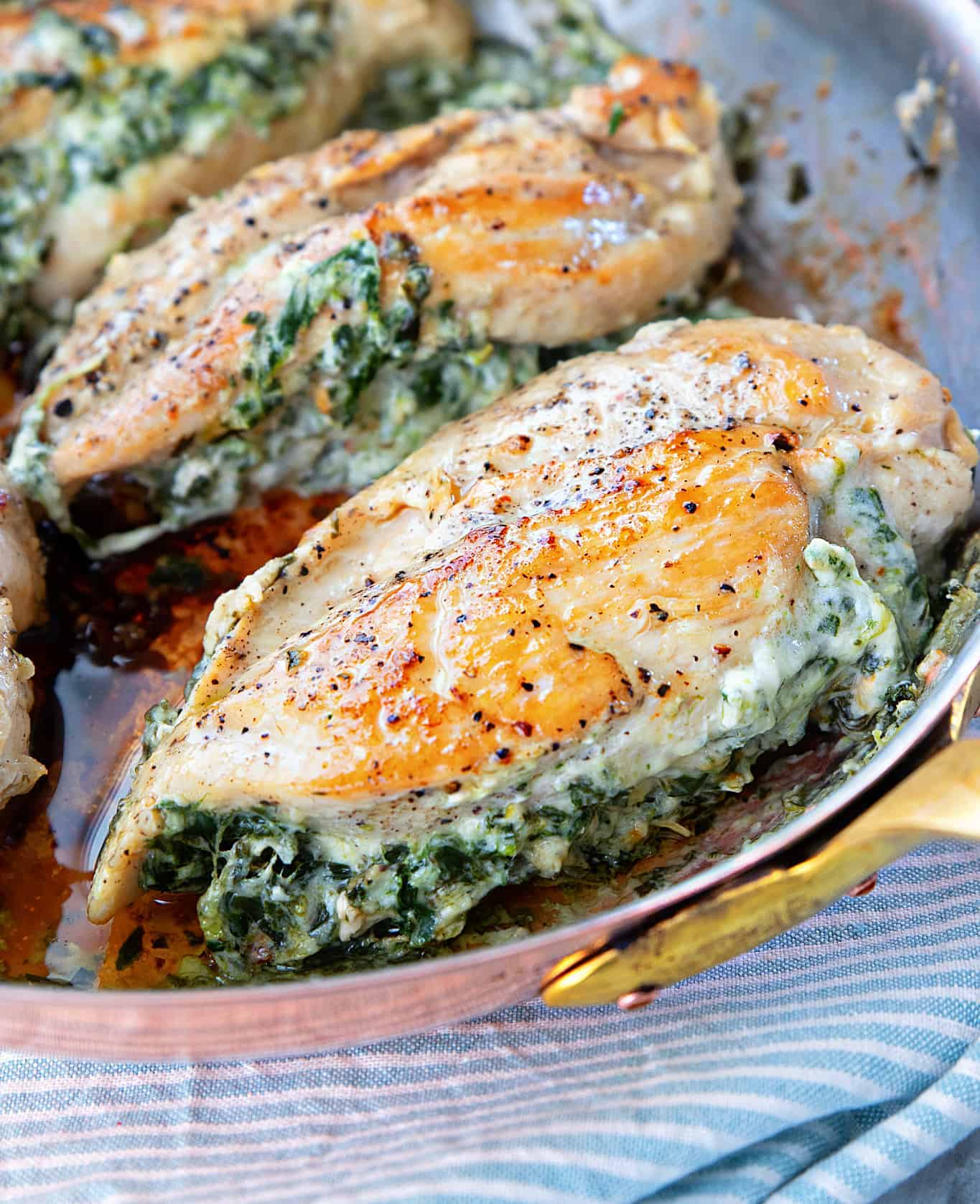 Stuffed Chicken is kind of my jam lately.  It is such an easy way to dress up regular old chicken.  This method is relatively easy, with low clean up and it tastes delicious!  This is a great weeknight meal when your feeling rushed too, it only takes a few minutes to prepare and then it is hot and ready on your dining room table.  This particular recipe is one of my favorites because it is a sneaky way to get my kids to eat spinach😂.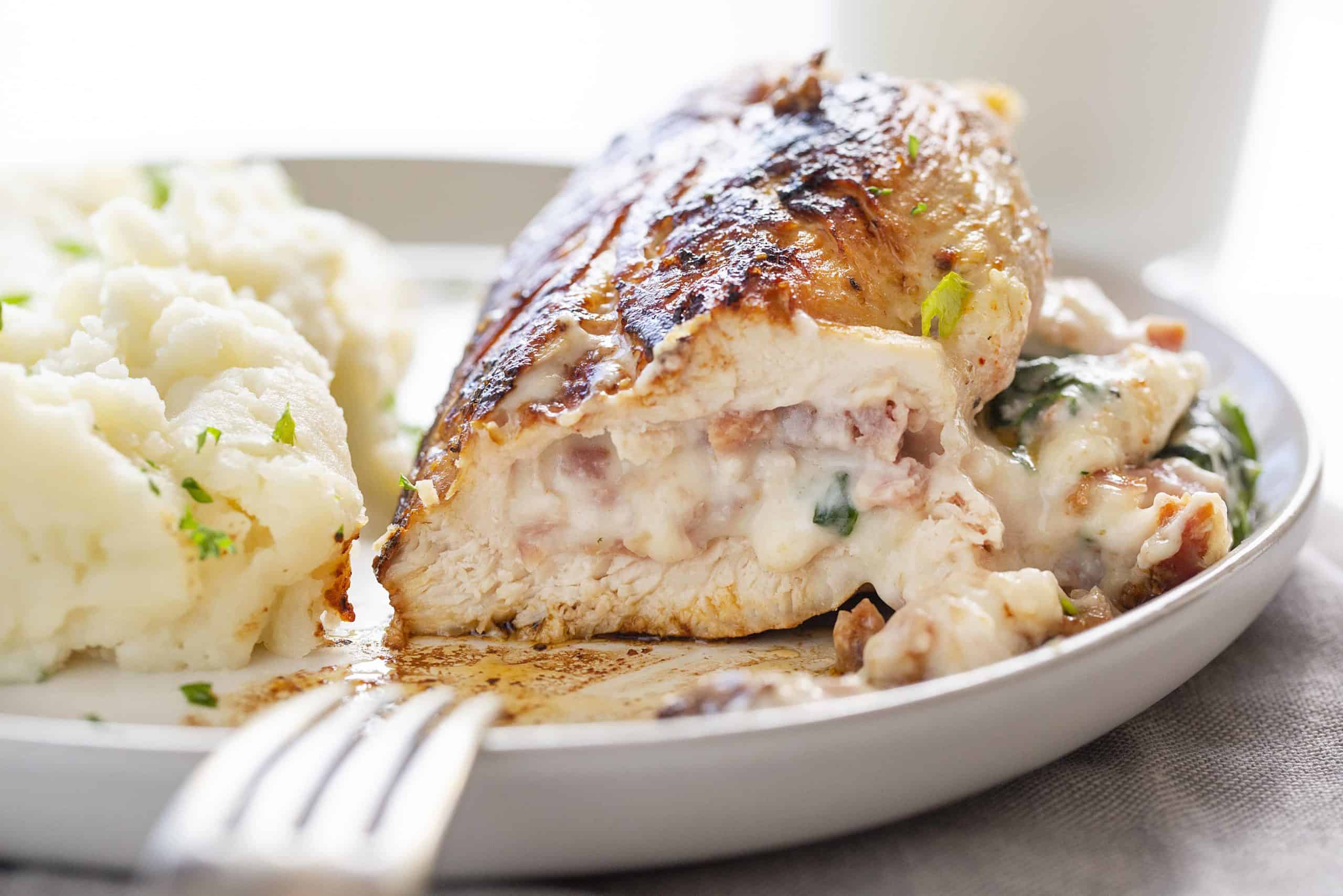 I can't tell you how many times I have stood in front of the fridge after a big get together and wondered, "What am I going to do with all of this leftover ham?!?" Enter Ham and Cheese Stuffed Chicken!  We love stuffed chicken recipes around here. This recipe came up after we made ham and cheese pastry puffs.  The filling was so delicious we just had to try it stuffed inside of chicken as well.  This recipe converts your left-over ham problem into a gourmet solution.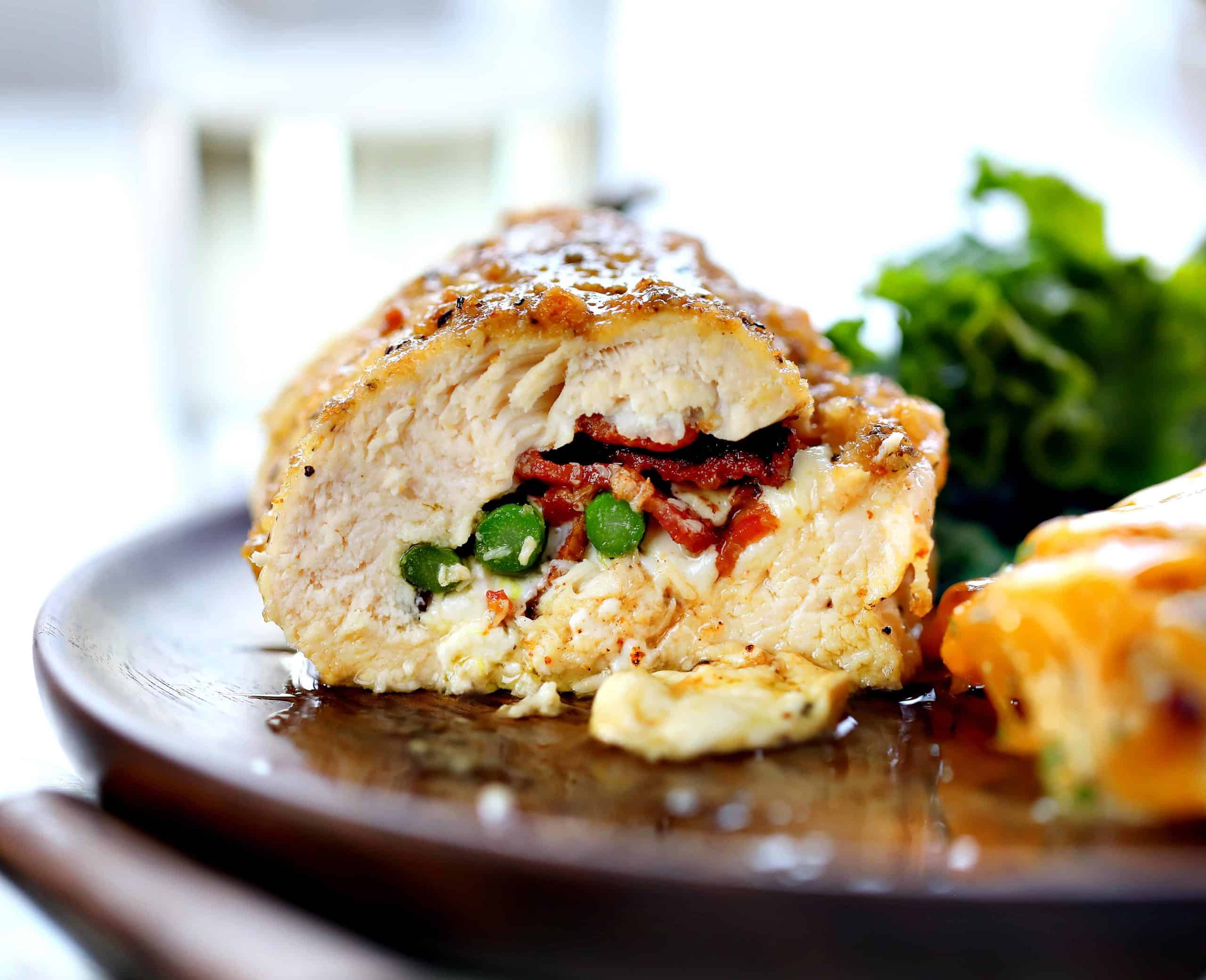 Asparagus Stuffed Chicken is one of the most impressive dishes you can make with very little effort.  It is an incredibly easy dish, that looks gorgeous and tastes delicious!
There are a million ways to cook this delicious vegetable (like this Roasted Asparagus), but this is one of my favorites.  It takes very little effort, looks stunning, and the taste is a perfect match.  The flavors blend together so perfectly it is like they were meant to be.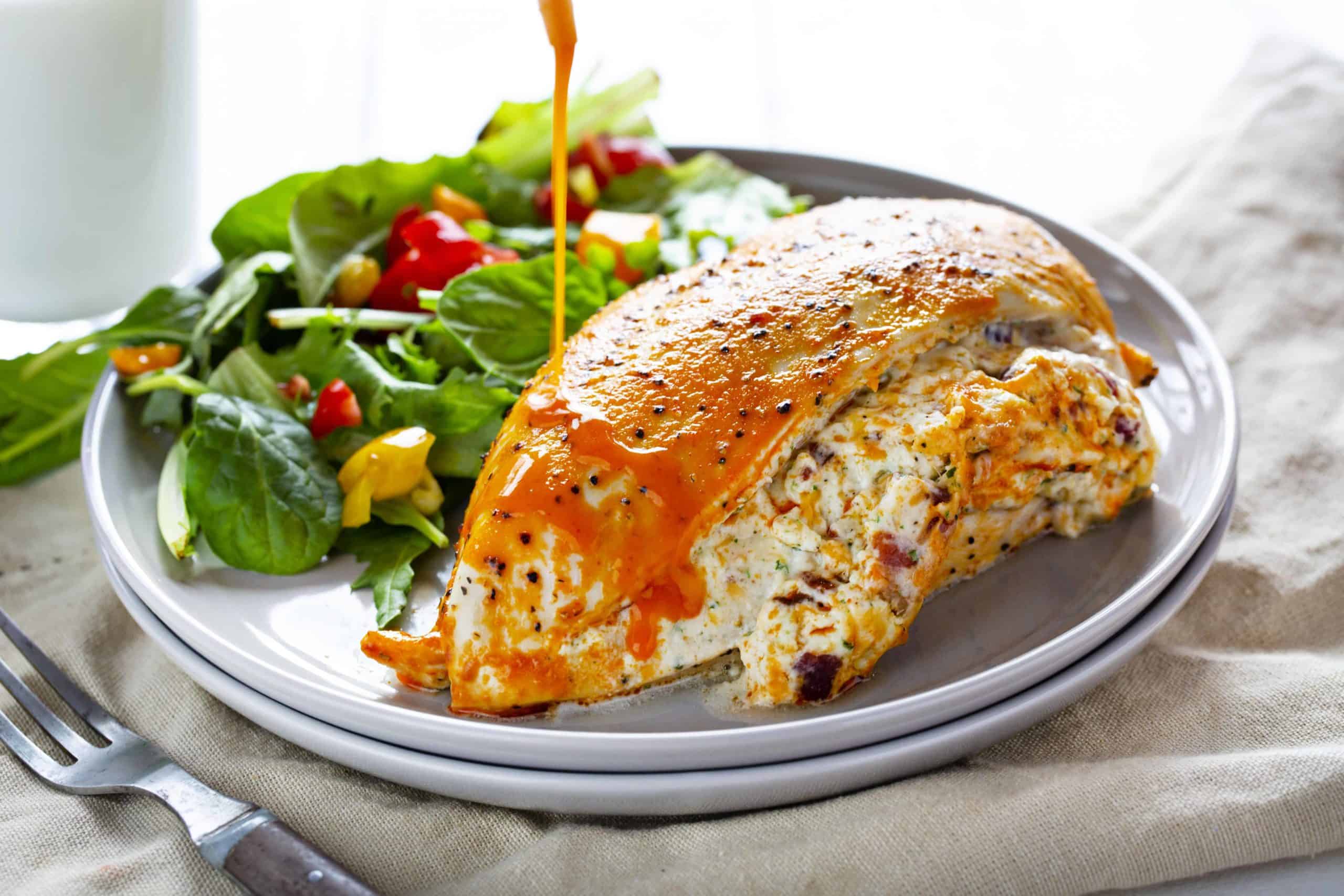 By far the most popular Stuffed Chicken recipe on my website, Stuffed Buffalo Chicken. We love a good buffalo wing around here, but sometimes the process for making those just isn't practical.  So we decided to switch things up a bit and see what we could come up with by combining some of our favorite dishes.  I added my favorite flavors of chicken and buffalo sauce to create a recipe that everyone loves! Once you try this, you will understand just how amazing these flavors work together!
These recipes are definitely something that should make it to your dinner table!