… it's been a tough week.
My husband and two oldest children left early in the week for a fishing trip in Canada.
Roughly a day later our chickens and guineas were attacked by neighborhood dogs and a couple of them were killed.  I tried to save some and in the process didn't realize my little boy had come outside behind me.  One of the large energy-filled dogs ran at him and jumped on him, throwing him to the ground and terrifying him.
#momfail
A day later the baby, Eddie (3) and Audrey (5) and I were playing in the yard.  We have a huge frog population here due to the numerous ponds on our property.  As we were catching  little tiny frogs (about dime sized) and then feeding them to the chickens (#momfail?) Audrey held one up to my face.  I was startled and asked, "Audrey, what is that?"
"I like to pull off their arms and legs!"
#momfail #amphibianfail
And gross.  Just, gross.  What the heck do I say to that?  I feel like, "We do not pull arms and legs off of frogs." is just so obvious.
On Thursday morning, (the morning after the Chicken Incident) my mom drove over.  I also had a sitter and planned on stealing my mom away from the grandkids to take her shopping and to lunch.  I needed a break and having a girls afternoon with my mom was going to be just what I needed.
At the last minute  we decided to bring Audrey with us ( it was better for the frogs) as she doesn't get mommy and grandma time very often, if ever actually.  Then, 10 miles away from home I realized I had left my money at home.  All of it.  I had nothing.  Not even my license.
Now there would be no shopping and my mom had to pay for lunch!
#momfail #goodcitizenfail
On Thursday afternoon, I had to run pick up the milk we buy from a local farm.  I buy 3 gallons and it is $8 a gallon.  I ran and got it, got home and let the sitter (Deanna, she is wonderful) head home.  The kids and I played and tried to pick up and watched movies until bedtime.
Saturday morning (yes, a full day and a half later) I went to get the milk out of the fridge in the garage.  It wasn't there.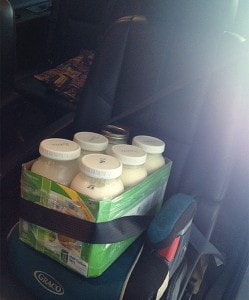 Of course, it wasn't!  Because I had left it in my car that whole time, tucked in so securely.
#momfail #greenfail
Last night was a long night and I yelled more than I should have and was terribly short with my sweet kids.  I finally gave up and sent them to bed an hour early, simply because I was completely incapable of dealing with them anymore.  I tear up just saying that, as it is not something I ever imagined I would say publicly.  It is NOT a reflection of them at all,  they are just wonderfully curious and energetic and sometimes forgetful kids.  I, however, am impatient and short tempered and ornery.  After I put them to bed I went outside to get the chickens in their coop.  I stopped in the garden and moved the sprinkler and pulled some weeds.  After a few minutes, I made my way to the house.
And realized I was locked out.
I knocked.  I rang the doorbell.  I hollered.
Nothing.
I screamed and pounded on the door and rang the doorbell repeatedly.  Finally groggy little Audrey made her way upstairs and let me in.  Kids now awake.
#momfail
That ended up being a blessing in disguise because it gave me an opportunity to talk to the kids.  I went to their room and asked them to forgive me.  They agreed, I got more hugs and kisses and we all went to bed with a lighter heart.
On top of being home with the kids and trying to keep everyone alive and healthy, I am trying to do a full time job;  running my blog.
I know most people do not understand how this could possibly be a full-time job, and I get that.  In the simplest of terms, an average recipe posted on my blog takes about 8 hours to complete.  I need to shop for supplies, bake recipe, style it for the pictures, take the pictures, edit the pictures, then write a post and publish.  Once it is published I try to promote on social media; facebook, twitter, Instgram, google+ and pinterest.  In addition to trying to promote my little blog daily I try to stop by other blogs and comment, pin, tweet, or share their content as well.  Blogging is a community after all.
My whole point in telling you that is that I didn't get my job done this week.  I baked and photographed two measly recipes. (should be doing five a week)
#momfail #bloggerfail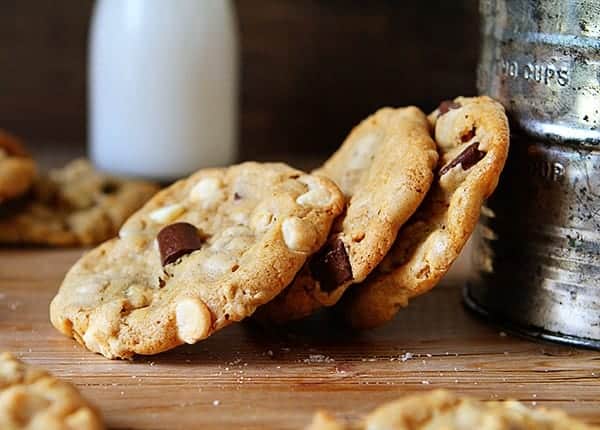 I will be posting these cookies soon as this was one of the two recipes I was able to tackle.  Feel free to stop by and see the recipe tomorrow.  The title is almost as fun as the cookie itself!  And thank you. 🙂
While my husband was out of town I had big plans of converting our laundry room into my office.  It's a fairly big room with high ceiling, storage and a big window.  I was going to paint and organize it and proudly have a big reveal moment when he walked in the door.
I bought the paint.  And that's it.
#momfail #DIYfail
On top of everything, I agreed to volunteer at Vacation Bible School (VBS) this week.  That means I need to get up early, get Eddie and Audrey ready and head to church.  That also means that I am behind on posting on my blog already, as the mornings are normally when I bake and photograph things.  I should have gotten five recipes done for this week, but I didn't.  So now I am behind.
#momfail #bloggerfail #satanfail
Other things not as important but still of consequence:
I found potato bugs in the garden.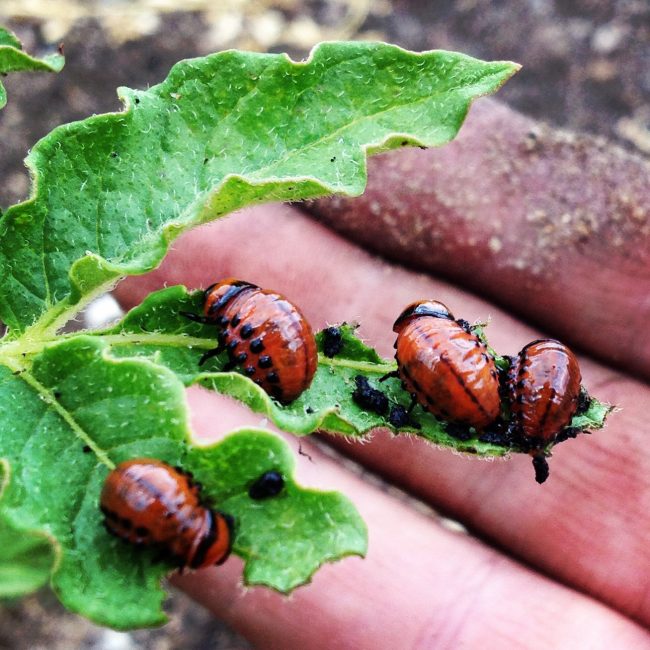 Having no clue how to deal with this, I uprooted the entire plant and threw it in the garbage.  I am sure my husband will not be pleased, but OH MY WORD THEY ARE MINIATURE SLIMEY DEADLY ALIENS.
Olivia was playing quietly in the pantry and I was soaking up the moment's peace.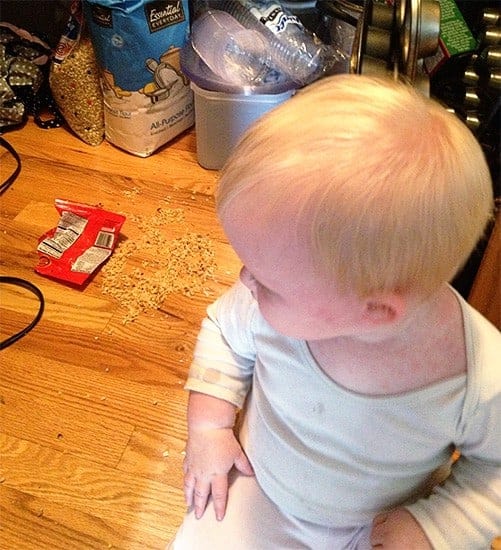 "Um, no mom.  I didn't do that.  Nope.  Not me."
#momfail #cleaningitupfail #itsstillthere
As I was working yesterday Eddie came running up to me and said, "Mom, look what I found!"
It was an almost-dead bird, still convulsing slightly.  It had flown into the front window and Eddie thought I would want to see it, so brought it  inside to show me.  It was delicately nestled into his hands.  We brought it outside (after I FREAKED OUT) and I asked him to set it down while I figured out what to do.  He then proceeded to stomp on it. (it was dead at that point)
I won't share a picture of that.
#momfail #momfail #momfail
And now, to top off the whole fabulous experience, I just went outside and found another dead chicken.  No idea what happened.  None at all.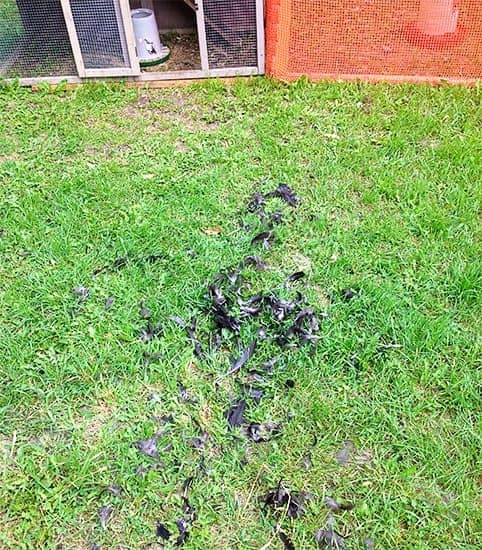 I don't know which one this was because it was so badly mutilated.  So yeah.  That was an interesting thing to clean up.
#chickenmomfail #stomachfail
How am I going to explain this to my kids???
It's been a tough week.  Nothing compared to what some people deal with on a daily basis, but for me it's been hard.  I kinda sorta want to give up, to throw in the towel and let the world know that it was all too much for me.  I failed.
But, I won't.  Not because I am strong, but because it's almost bedtime and I might get to actually watch Reckless on CBS tonight and drink Moosehead beer because that is all I have in the fridge.  Wish me luck.
*****
I hope it is obvious that I did in fact talk about how wrong it is to harm frogs, and that we all mourned the loss of the pets.  I hope it is obvious that I am horrified that Audrey and Eddie did something unkind to an animal.  We talked about it for hours, for days, and they had consequences.   It is my hope that they will learn to respect and care for all creatures, as they will be able to see how we treat them and know what is right.