Pink Velvet Cake is seriously so delish! Try it next time you have a sweet craving and want to bake up something special!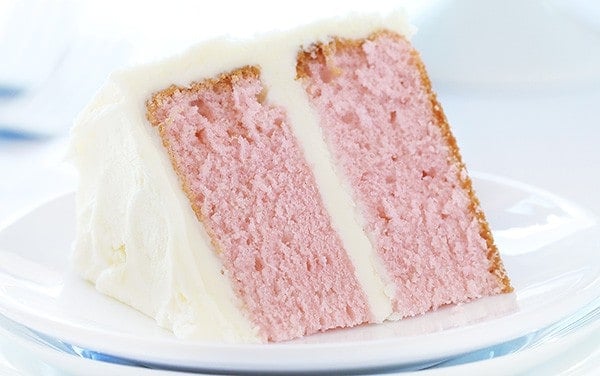 Pink Velvet Cake
I think most cakes that call themselves "velvet" contain baking soda, buttermilk, and vinegar. This Pink Velvet cake contains none of those.
But it is pink. So please indulge a bit of "descriptive" recipe labeling. I truly believe that the texture of the smooth crumb is enough to grab that "velvet" name and run with it!
After making some pink velvet cupcakes with Whipped Buttercream this week I was immediately inspired to turn the recipe into a cake.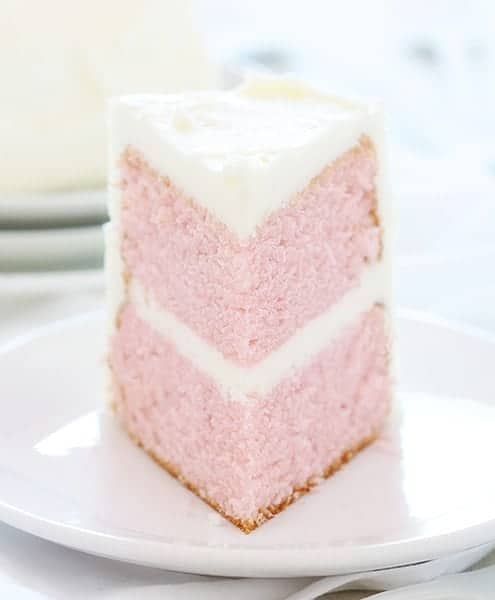 Doesn't that look like pink velvet to you? 🙂
The Whipped Buttercream recipe that I used with this cake is divine, and I highly recommend it! (It would be amazing to add raspberry extract to the cake batter and lemon extract to the buttercream for the PERFECT spring/Easter cake!)
PRO TIP: Here is how to have the PERFECT CAKE every single time… I have found that measuring out eggs makes a HUGE difference in baking. It never ceases to amazing me just how much a little egg can impact a recipe! The difference in egg and yolk sizes can mean the difference between a moist cake and a dry cake. Look for recipes that offer up a volume instead of size.
If you are making this cake in advance, try adding Simple Syrup to make sure the cake stays perfectly moist and delicious! When the cake is done baking and cooled, level the cake and then add simple syrup. About 1-2 tablespoons per layer. Chill until ready to frost or frost immediately.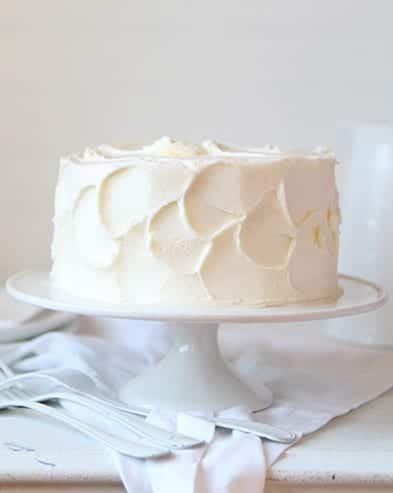 To get the "rustic" frosting pattern I simply made a "c" swoop in the frosting and then repeated over the whole cake.
This delicious and pretty cake is just perfect for so many occasions!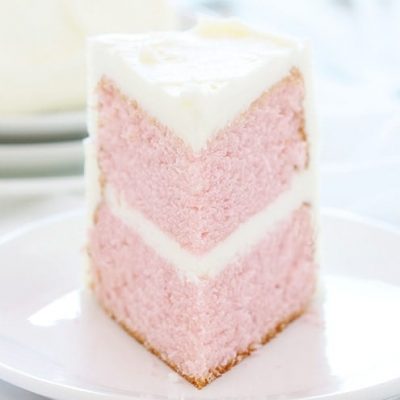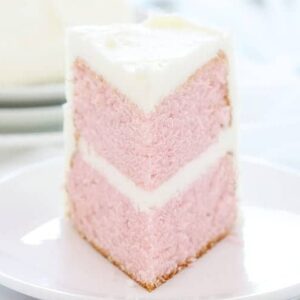 Pink Velvet Cake
Pink Velvet Cake is seriously so delish! Try it next time you have a sweet craving and want to bake up something special!
Keyword:
pink velvet cake
Ingredients
2

cups

(256 g) all-purpose flour

1

cup

(200g) granulated sugar

2

tsp.

baking powder

pinch

salt

⅔

cup

(161 g) whole milk

room temperature

6

tbsp.

(85 g) unsalted butter, room temp. and cubed

½

tsp.

(3ml) almond extract

2

tsp.

(10ml) vanilla extract

4

(120g) egg whites

4

drops McCormick® red food coloring (or as much as needed to achieve desired color)
Instructions
Preheat oven to 350°F degrees (325°F for convection and high altitude). Prepare two 6-inch round cake pans with spray or parchment. (You can also use 7 or 8-inch round pans, just make sure your pans are not more than 2/3 full)

Whip egg whites in a stand mixer fitted with the whisk attachment until thick with soft peaks. Place in a bowl, set aside.

In the same stand mixer bowl, combine together flour, sugar, baking powder, and salt.

Add in milk, butter, extracts, and food color and whisk on low until ingredients are mostly incorporated. Remove bowl from stand mixer and fold in egg whites by hand until incorporated.

Divide batter between prepared cake pans and bake for 25-35 minutes, or until a toothpick is inserted and comes out mostly clean, just not wet.

Cool before assembling the cake.