Creating delicious game-day food doesn't have to be hard! These amazing Oven Baked Ribs are quite simple to make. Not only are they simple, but they are amazingly delicious! Looking for more easy game day food? Don't miss all my Appetizers!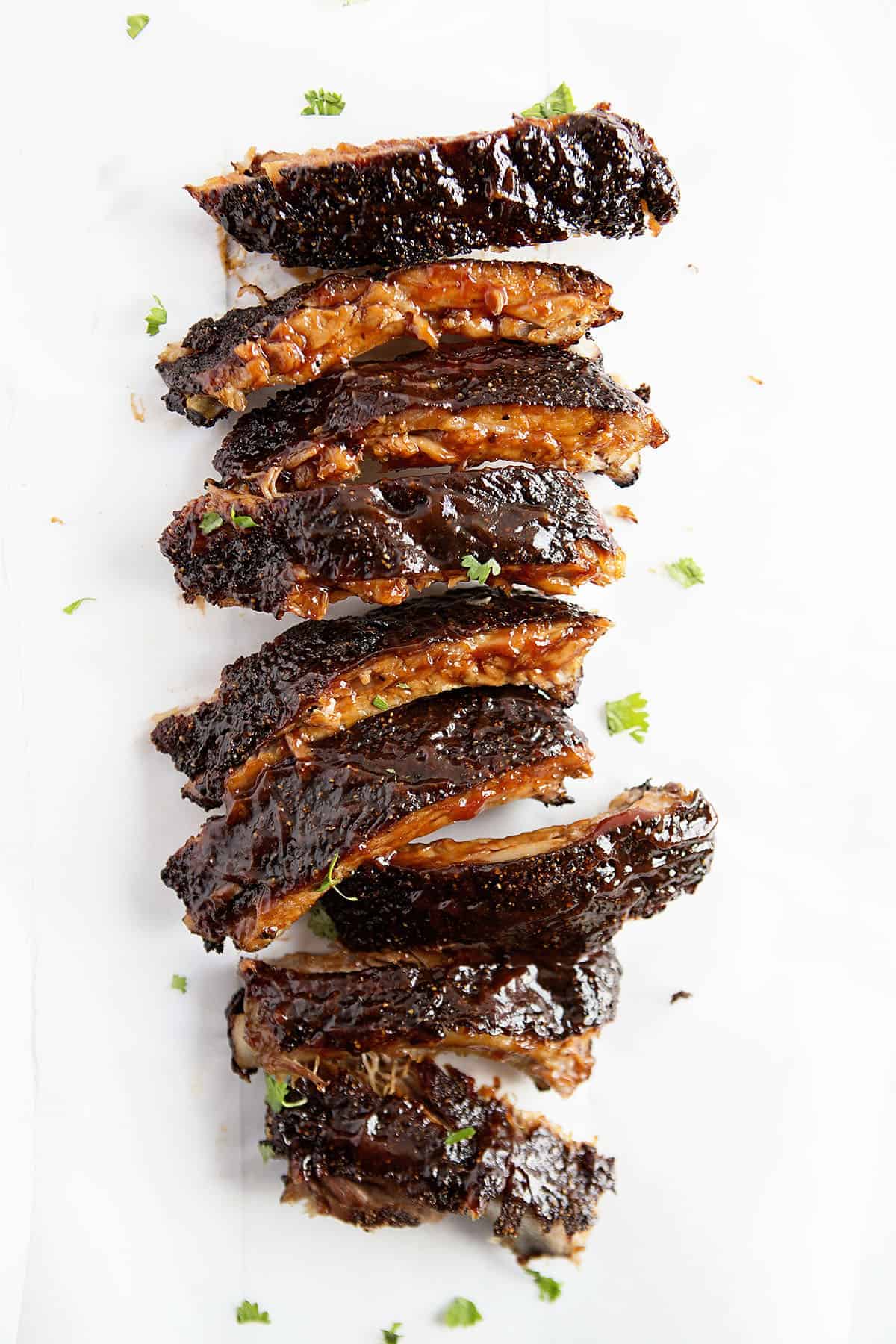 Oven-Baked Ribs
I call these "easy" oven-baked ribs because it literally takes just a few minutes to pull together and then you let the oven do all the work. But the truth is, if you take a few minutes to prepare your ribs properly and make your own dry rub, you will have some of the best ovens baked ribs ever! And this is a great option when the super bowl is happening and it's 4° outside. (Yay, Minnesota!)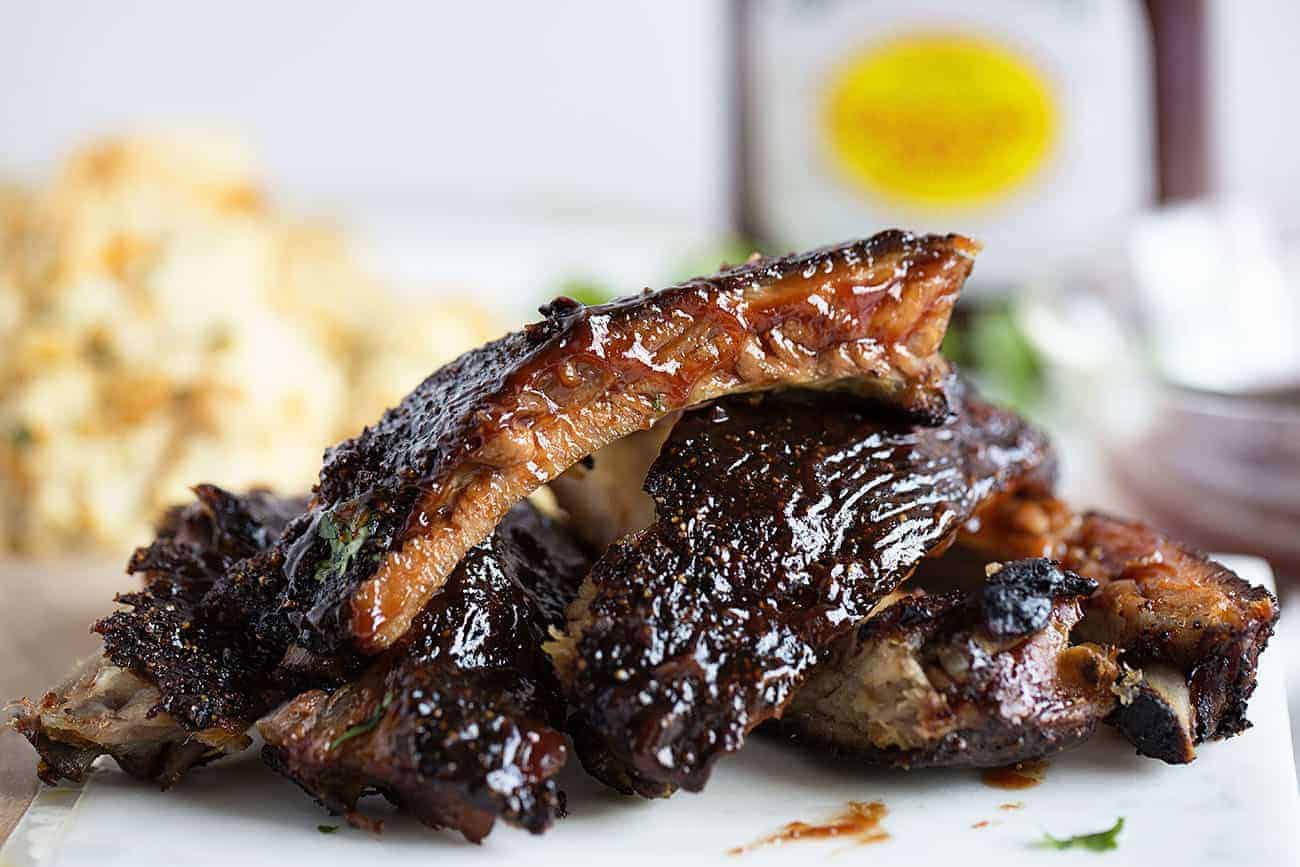 How to Make Oven-Baked Ribs
Preparing the Ribs
This may be controversial, but when I buy ribs from the grocery store in a vacuum-sealed bag there is usually a liquid covering the ribs that seem unappetizing. I like to rinse that off in cold water.
The next part is to remove the membrane. I have noticed that some ribs are being sold without the membrane so just make sure to check yours. You want to pat the ribs dry and then with dry hands, start at one end and try to pull off the membrane in one piece. If it sticks for any reason you can run a knife under the edge of the membrane to help loosen it.
Dry Rub
Adding a dry rub to the ribs is one of the best ways to add big flavor. (Yes, I know this is controversial!) The recipe below is basic but works beautifully. A fun trick is to double or triple the rub recipe and then store it in your spice cabinet. Make sure it is airtight as you don't want the brown sugar to dry out and clump.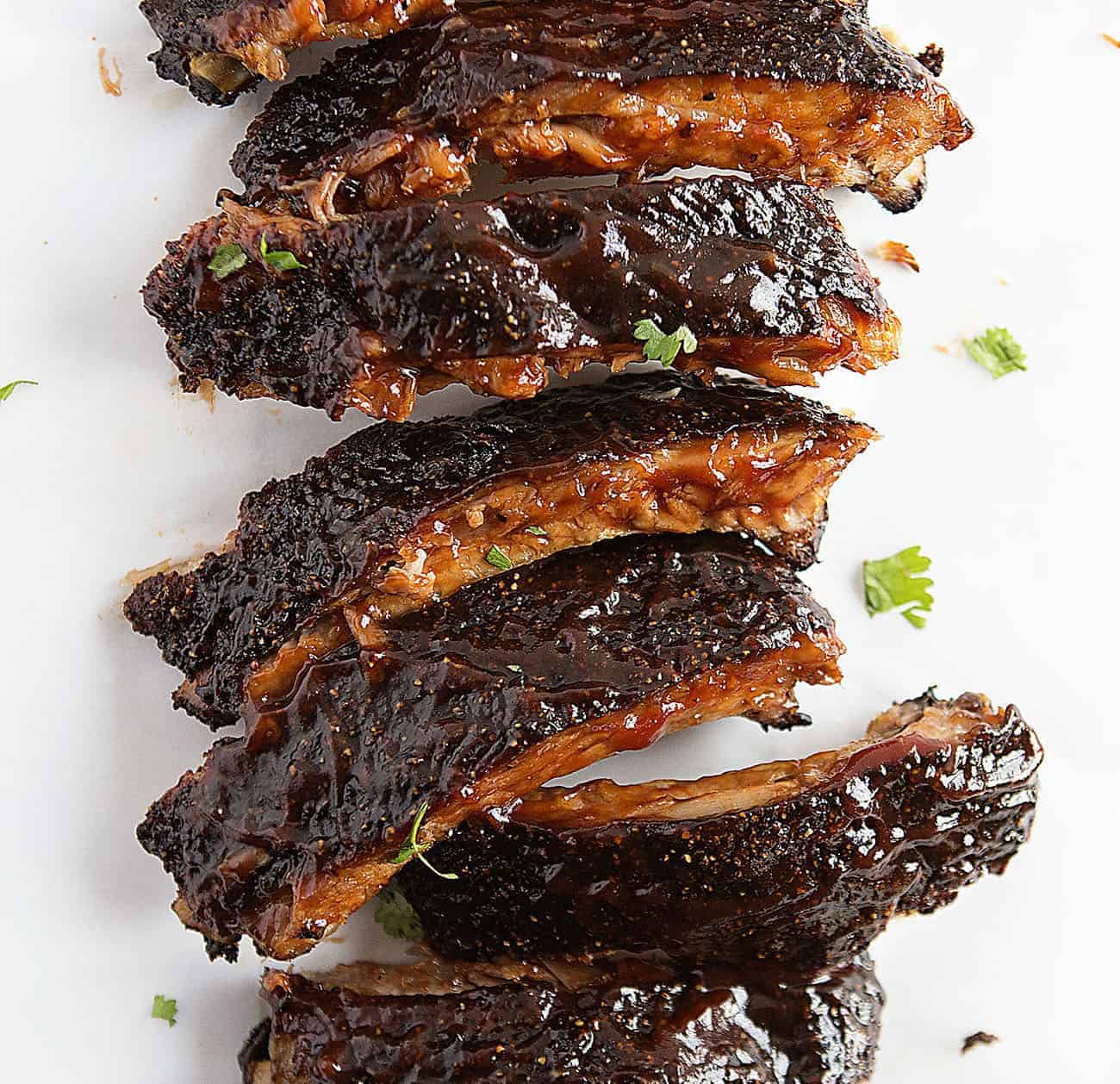 What Sauce Should You Use
The longer I live on this planet the more I have realized that everyone has a different flavor of BBQ sauce that they prefer. When I make these for the family I pick the sauce that most of us love. When I make these for a party or game day I will often set options out and let folks pick. (Or make 15 pounds of ribs and have each rack be a different BBQ sauce flavor.)
The Trick to Oven Baking Ribs
I want to say "low and slow", but I really don't consider 3 hours to be low and slow! I think I am so used to my husband making these on the smoker that 3 hours seems fast! 😂The trick is to cook them long enough for the collagen to start to break down… that is where they are considered "fall off the bone" tender. After just 3 hours in the oven at 250°F, the meat will be falling off the bone!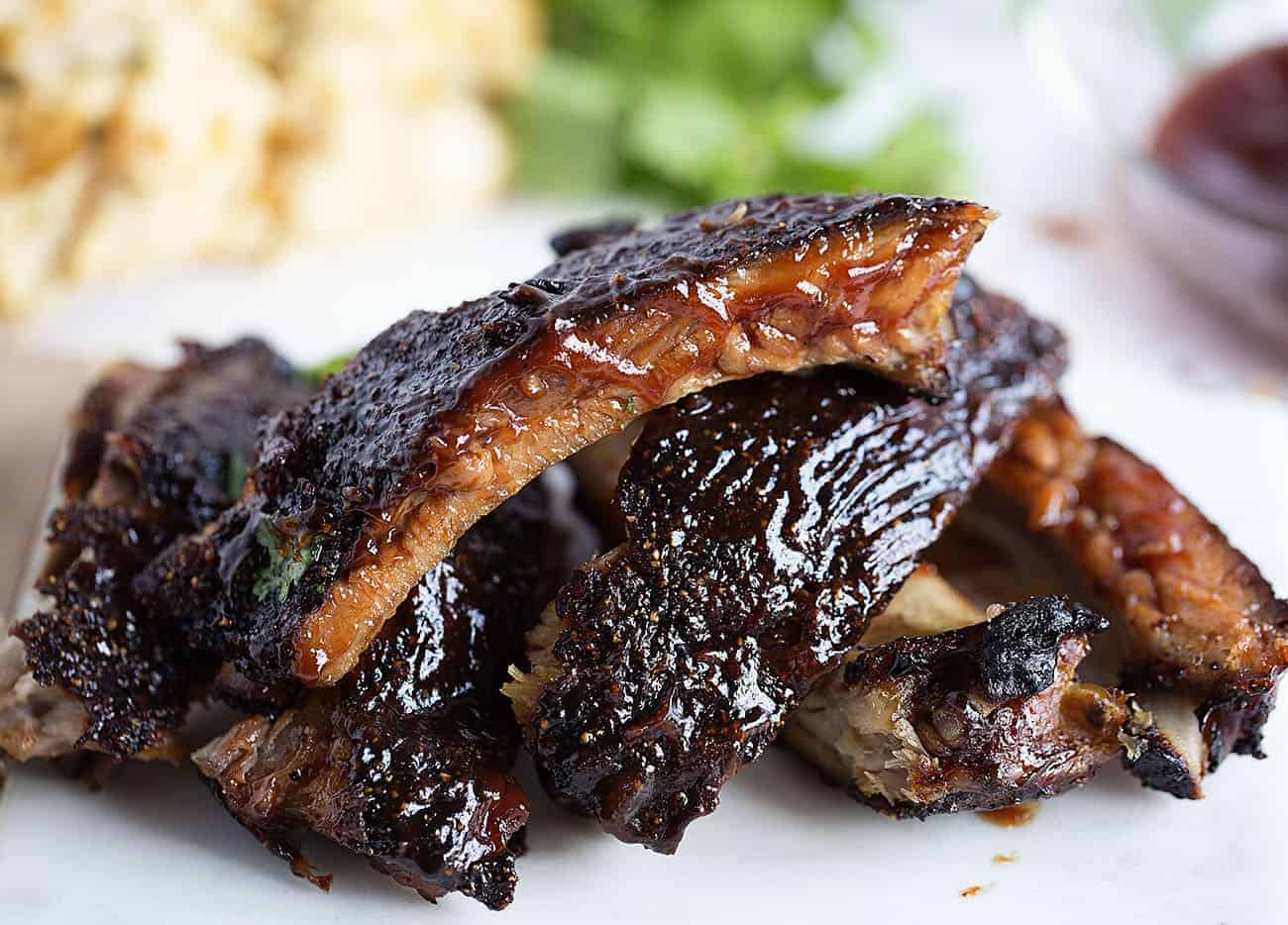 Want to Grill Your Ribs? I've Got You Covered!
Ribs should be cooked low and slow. For most of the cooking, the ribs stay over indirect heat. If you're cooking over a too-hot grill, the meat will dry out.
Use tongs to place the ribs right on the grill. Grill over indirect medium heat for 30 minutes on each side. After the first hour, move the ribs to direct medium heat and cook 20-40 minutes longer, or until the ribs are tender.
When basting, be sure to turn the ribs and cover with the sauce of choice often.
PRO TIP: Once you start to baste with the sauce, keep a watchful eye on it in case the sugars start to caramelize and (maybe even burn) quickly. This is why basting is done near the end of the cooking time.
To test for doneness, pierce the meat with a fork. The tines should glide through easily. You also can twist a rib bone a little bit; you should feel it give easily but not fall apart from the meat.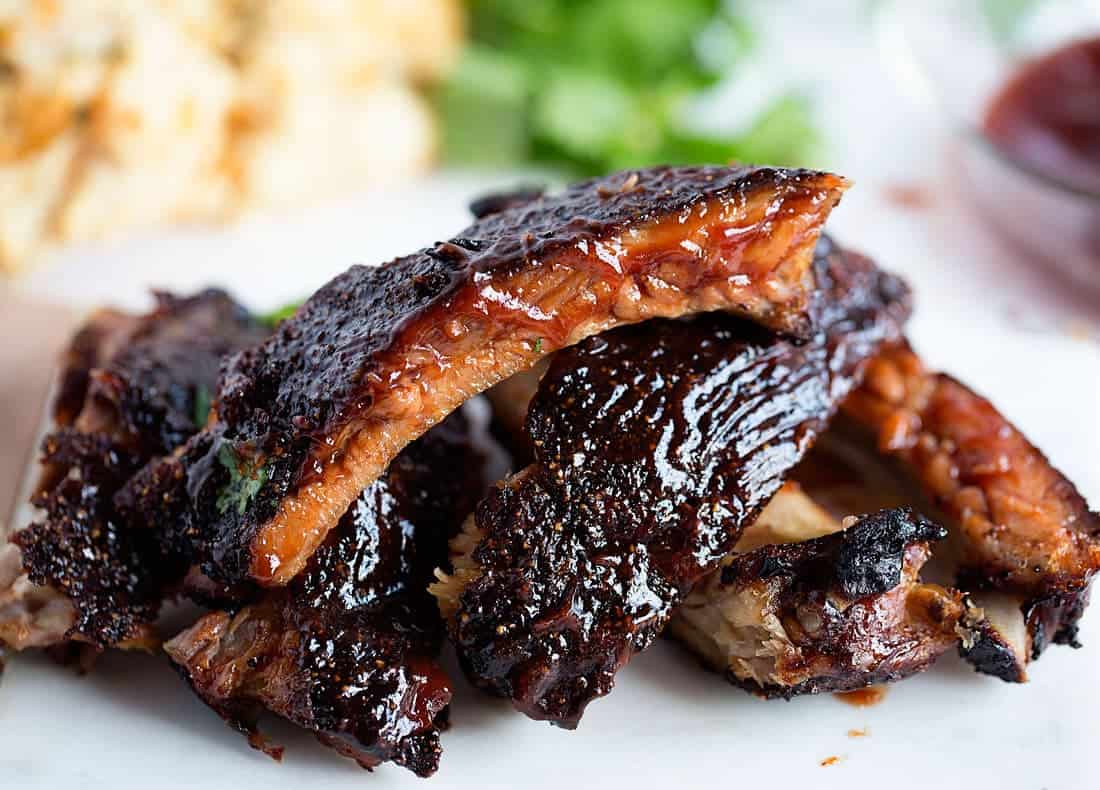 Easy Oven Baked Ribs
So easy! Just ribs the ribs with your dry rub, bake, then add sauce. Perfect for big gatherings!
Ingredients
DRY RUB
1/4

cup

brown sugar

2

teaspoons

paprika

2

teaspoons

kosher salt

2

teaspoons

ground black pepper

1

teaspoon

garlic powder

1

teaspoon

onion powder

1

teaspoon

onion flakes

1/2

teaspoon

cayene pepper

1

cup

barbecue sauce
Instructions
Remove ribs from refrigerator and allow to come to room temperature. Place ribs on large cookie sheet lined with parchment or foil. (If necessary, remove the membrane from the back of the ribs.)
DRY RUB
Mix together the brown sugar, paprika, salt, black pepper, garlic powder, onion podwer, onion flakes, and cayene pepper.

Rub into all sides of pork ribs. For best results, allow ribs to marinate for 2 hours or up to overnight.

Cover with foil tent and place on center rack of 250°F oven.

Bake for 2 1/2-3 hours. To make sure they are tender, test the temperature. We like to cook the ribs until they are about 180°F. If they are not tender, bake another 20 minutes and check again

When done, remove the ribs from oven and slather with your favorite BBQ sauce. You can return the dish to the oven (uncovered) for about 15 minutes or you can eat immediately.

Best served warm.
Did you make this recipe?
Thank you for making my recipe! You took pictures, right? Well go ahead and post them on Instagram! Be sure to mention me @iambaker and use the hashtag #YouAreBaker.