With a large family breakfast usually goes one of two ways:
1. Make just enough and everyone is happy and full.
2. Make way too much and have lots of leftovers.
(or does this happen with every size family??)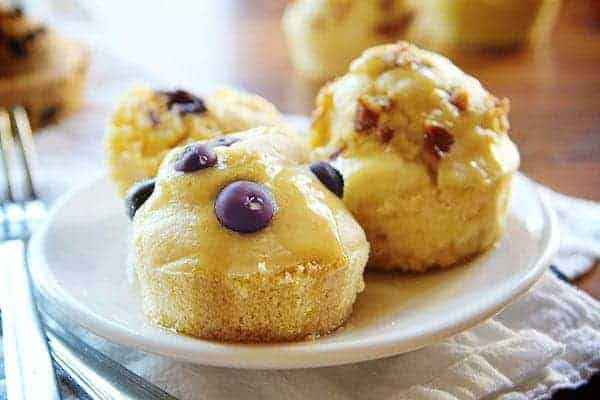 Well, this sweet "lifehack" is kinda the best find ever. I am still making the same ole delicious pancake recipe we love, but they are in muffin form. So, as everyone finishes up their breakfast and says, "My belly is SO full!" and "I am stuffed!" I simply put the pancake muffins on a plate and set them aside. One hour later when people start wandering back into the kitchen claiming they are starving I get to say, "Grab a pancake muffin!" They happily do, and I don't roll my eyes and wonder how one goes from being full to starving in 4 minutes. We have since made these with chocolate chips which the kids absolutely love. I mean, of course, they do! It's chocolate. I love the versatility of this awesome breakfast treat and love that it is so easy. I also love that our delicious breakfast turns into an all-day-long snack!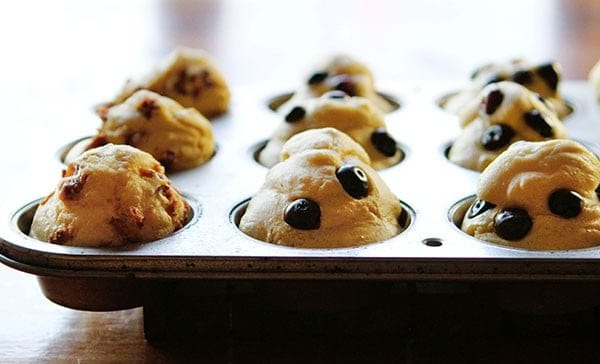 How to Store Muffins
There are a few ways to properly store muffins.
Room Temperature: I use a larger sealable plastic bag or an airtight container to store the muffins in a single layer. Some folks recommend adding a piece of paper towel to the bottom so that it will soak up any condensation. If your muffins are properly cooled before storing, this may not be necessary. However, if I am using an airtight container, I will often add a piece of bread to the container, torn in half, and fit in between the muffins. The bread will soak up moisture as well. Best enjoyed within 2-3 days.
Refrigerator: (Refrigeration, in general, dries out baked goods faster so a typical muffin recipe shouldn't be refrigerated.) Place in a sealable plastic bag or airtight container and then place into the refrigerator. They should keep for up to 5 days. To reheat, remove from refrigerator pop into the microwave for 10 seconds or just allow muffin to come to room temperature naturally, about 15 minutes.
Freezer: Place cooled muffins into a freezer-safe sealable plastic bag or a freezer-safe airtight container and pack as closely as possible without crushing. Remove as much air as possible. Label with date and recipe name.
How to Reheat Frozen Muffins
Remove muffin from the freezer and allow to come to room temperature overnight in the refrigerator or on the counter for a couple of hours.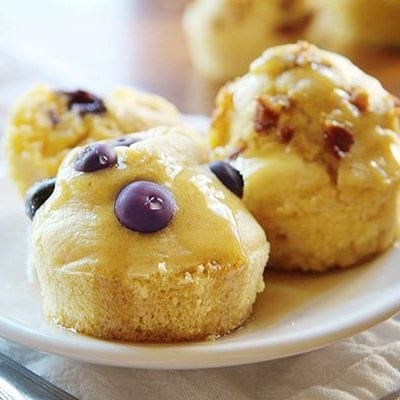 Pancake Muffins
Easy Pancake Muffins make breakfast fun and turn them into an all-day-long snack!
Ingredients
1 ½

cups

(187 g) all-purpose flour

3

teaspoons

baking powder

½

teaspoon

kosher salt

1

tablespoon

granulated sugar

1 ¼

cups

(280 g) whole milk

1

teaspoon

vanilla extract

1

large

egg,

room temperature

3

tablespoons

(43g) unsalted butter,

melted

Fresh fruit of your choice,

for topping
Instructions
Heat oven to 350°F and spray a 12-cup muffin tin with non-stick cooking spray.

In a large bowl, sift together the flour, baking powder, salt and sugar. Make a well in the center and pour in the milk, vanilla, egg, and melted butter; mix until smooth.

Using a ¼ cup as a scoop, put batter into the prepared muffin tin.

Choose your desired toppings (fruit, bacon, chocolate chip, etc) and use about a tablespoon for each muffin. Be sure to press the toppings down into the batter.

Bake for 10-12 minutes.

Best served warm and with syrup.
Did you make this recipe?
Thank you for making my recipe! You took pictures, right? Well go ahead and post them on Instagram! Be sure to mention me @iambaker and use the hashtag #YouAreBaker.