Peanut Brittle is a crispy, crunchy candy treat that is loaded with peanuts for a sweet and salty goodie to enjoy. Try my Peanut Butter Cookies for another nutty dessert.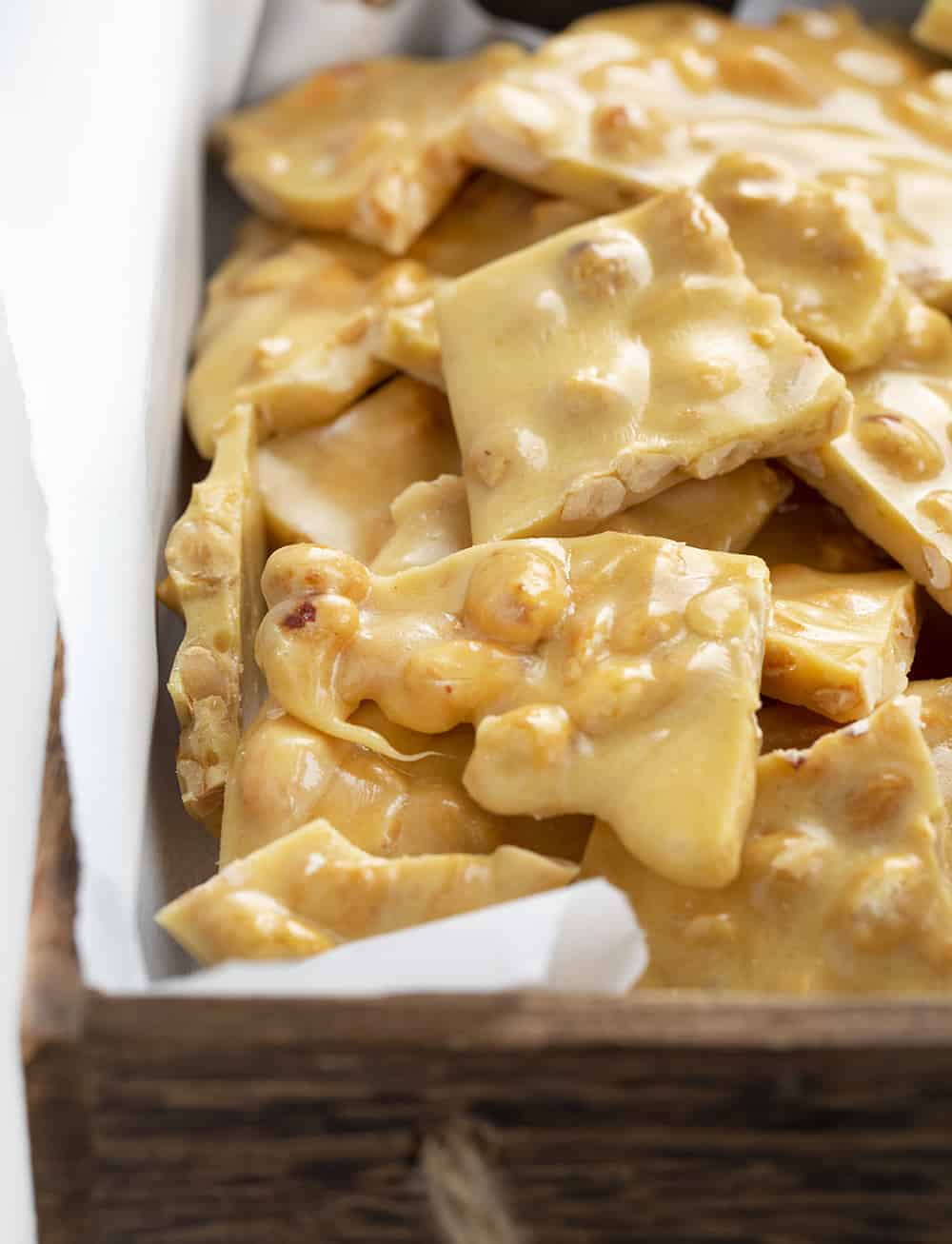 Peanut Brittle
You still have time to make this peanut brittle before National Peanut Brittle Day, which is January 26th! Making your own candy is worth it; it tastes so much better than the store-bought stuff. But, how did this become so popular? One story is that in the late 1800s, a woman was making taffy. But, she accidentally used baking soda instead of cream of tartar. She didn't want to be wasteful, so she continued cooking until she had this crunchy treat. Making homemade peanut brittle should not be intimidating. It's one of the easier candies to make. But, as with other candies, it's about science and temperature.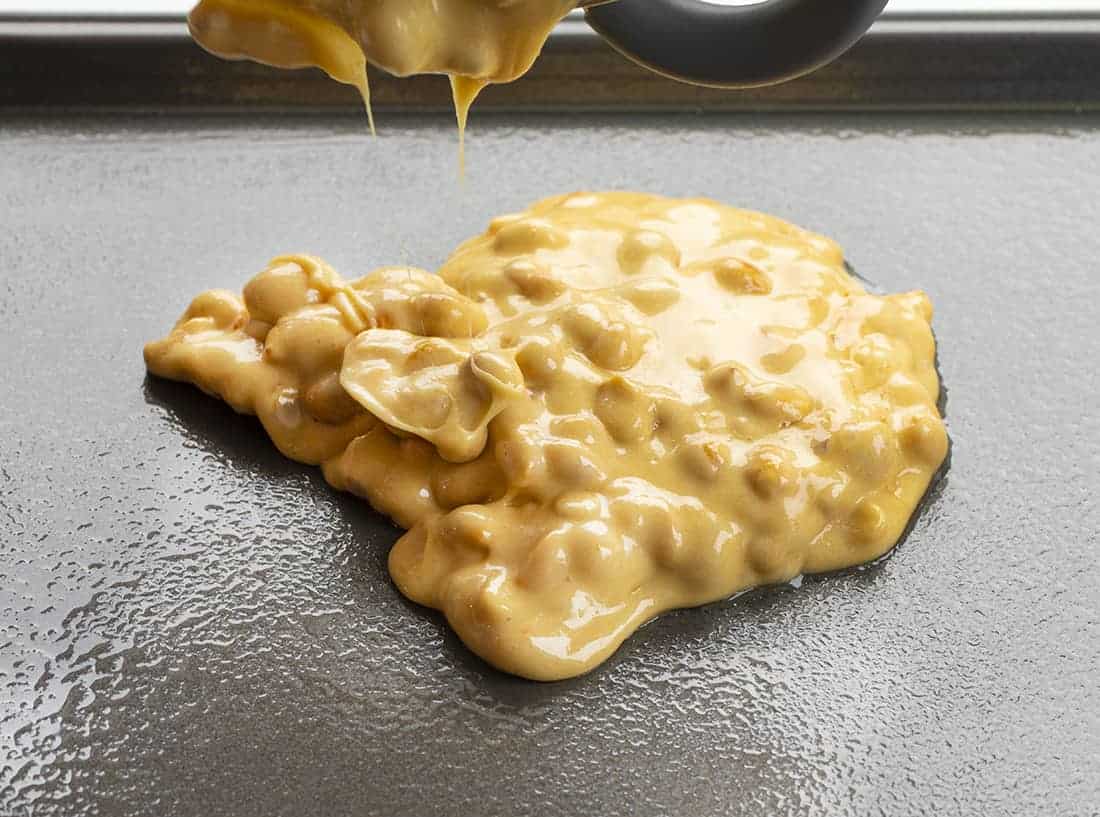 Peanut Brittle Ingredients
Granulated Sugar: When sugar is heated, a process known as sugar inversion happens. This causes the sugar to change into liquid sugar and has that lovely aroma and darker color. It's more involved chemistry than that, but hey, I trust the process!
Corn Syrup: Corn syrup is an important ingredient in candy recipes, including this one. It is processed from cornstarch and gives the candy a smooth, glossy texture.
Baking Soda: Again, it's all about the chemistry when it comes to adding baking soda. It is added at the end to make sure the heated sugar has accumulated enough acid to cause a reaction with the baking soda. This reaction, in turn, makes the sugar brittle and porous enough to make it easy to bite into and chew.
Candy Thermometer: Yes, I know this is not an ingredient, but it is just as important when it comes to this recipe. A candy thermometer, also known as a deep-fry thermometer or sugar thermometer, is used to measure the temperature of a sugar solution. It is definitely an important tool to have when making candy. And, since this recipe is all about science, accuracy is key.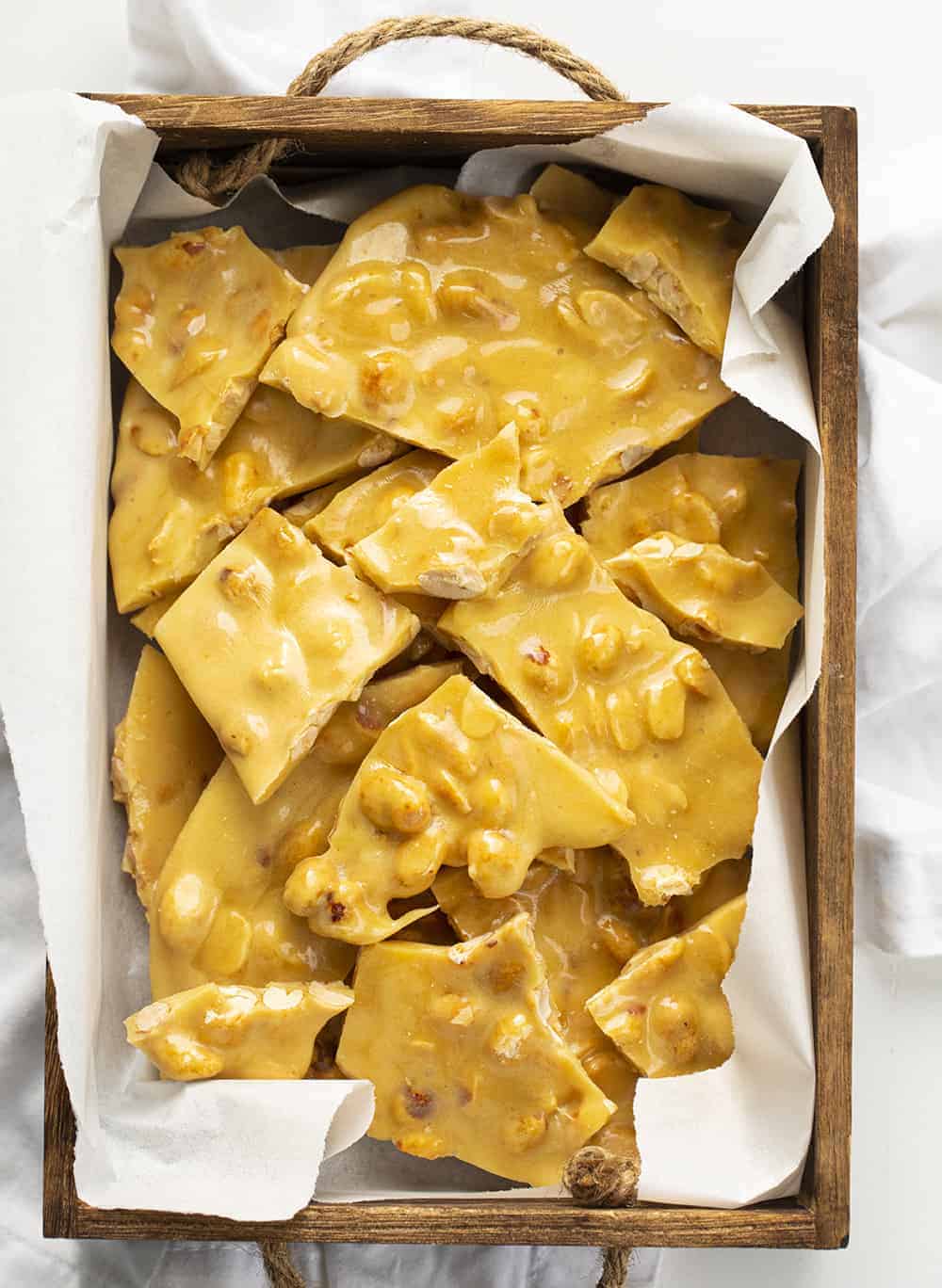 How to Store
Store peanut brittle in an airtight container at room temperature for up to 6 weeks.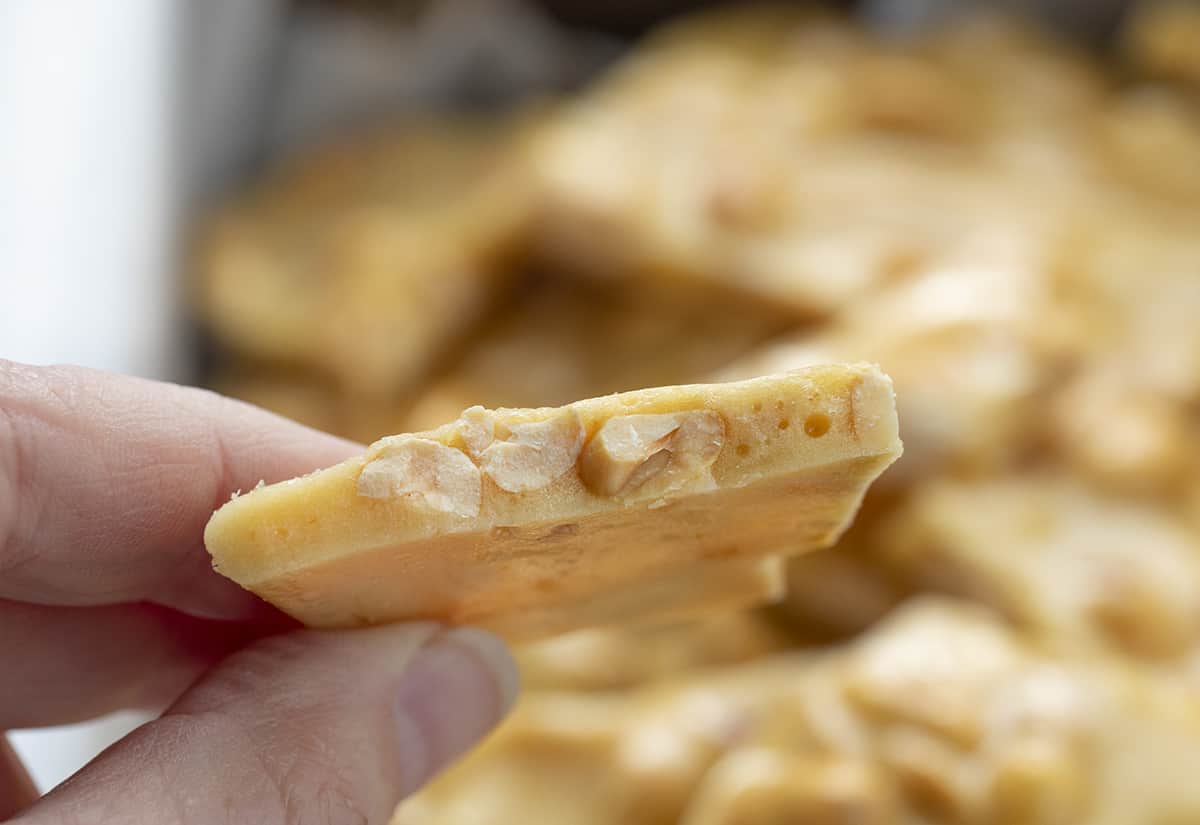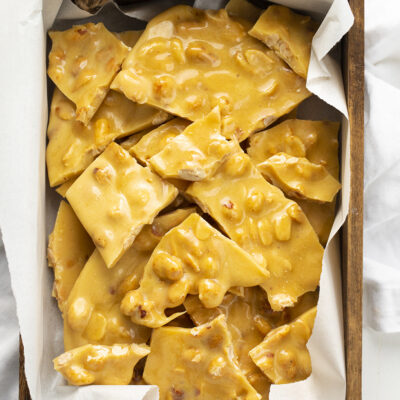 Peanut Brittle
Peanut Brittle is a crispy, crunchy candy treat that is loaded with peanuts for a sweet and salty goodie to enjoy.
Ingredients
1

cup

(200 g) granulated sugar

½

cup

(170 g) light corn syrup

¼

cup

(59 g) water

1

cup

(146 g) salted peanuts

2

tablespoons

unsalted butter,

room temperature

1

teaspoon

baking soda

1

teaspoon

vanilla extract
Instructions
Spray a baking sheet with nonstick cooking spray. Set aside. Measure out the butter, baking soda, and vanilla ahead of time so it is ready to go when needed.

In a medium, heavy-bottom pot, add the sugar, corn syrup, and water. Bring the mixture to a boil over medium-high heat, stirring until the sugar is dissolved.

Place a candy thermometer into the mixture, making sure the bulb does not touch the bottom of the pot. When the temperature reaches 280°F, add the salted peanuts.

Continue cooking, stirring frequently, until the temperature reads 300°F.

Remove the pot from the heat. Wasting no time, stir in the butter, baking soda, and vanilla. (The mixture may foam because of the baking soda's reaction to the sugar.) Immediately pour the mixture in a circular pattern onto the prepared baking sheet. This will help evenly distribute the nuts.

As the peanut brittle is cooling, stretch it out by using two buttered forks to gently make it thinner. The thinner it is, the more brittle it will be. Let cool.

Once cooled, use your hands or the handle of a wooden spoon to break it apart into pieces. Store peanut brittle at room temperature in an airtight container for up to 6 weeks.
Did you make this recipe?
Thank you for making my recipe! You took pictures, right? Well go ahead and post them on Instagram! Be sure to mention me @iambaker and use the hashtag #YouAreBaker.