Peanut Butter Cookie Dessert is layer upon layer of cookies, peanut butter, pudding, and whipped topping. And then, a few Reese's Peanut Butter Cups are sprinkled on top. It's an indulgent no-bake treat you will love! If you love all things peanut butter, don't miss my Peanut Butter Oreo Dessert (also no-bake) and Brownie Peanut Butter Dessert.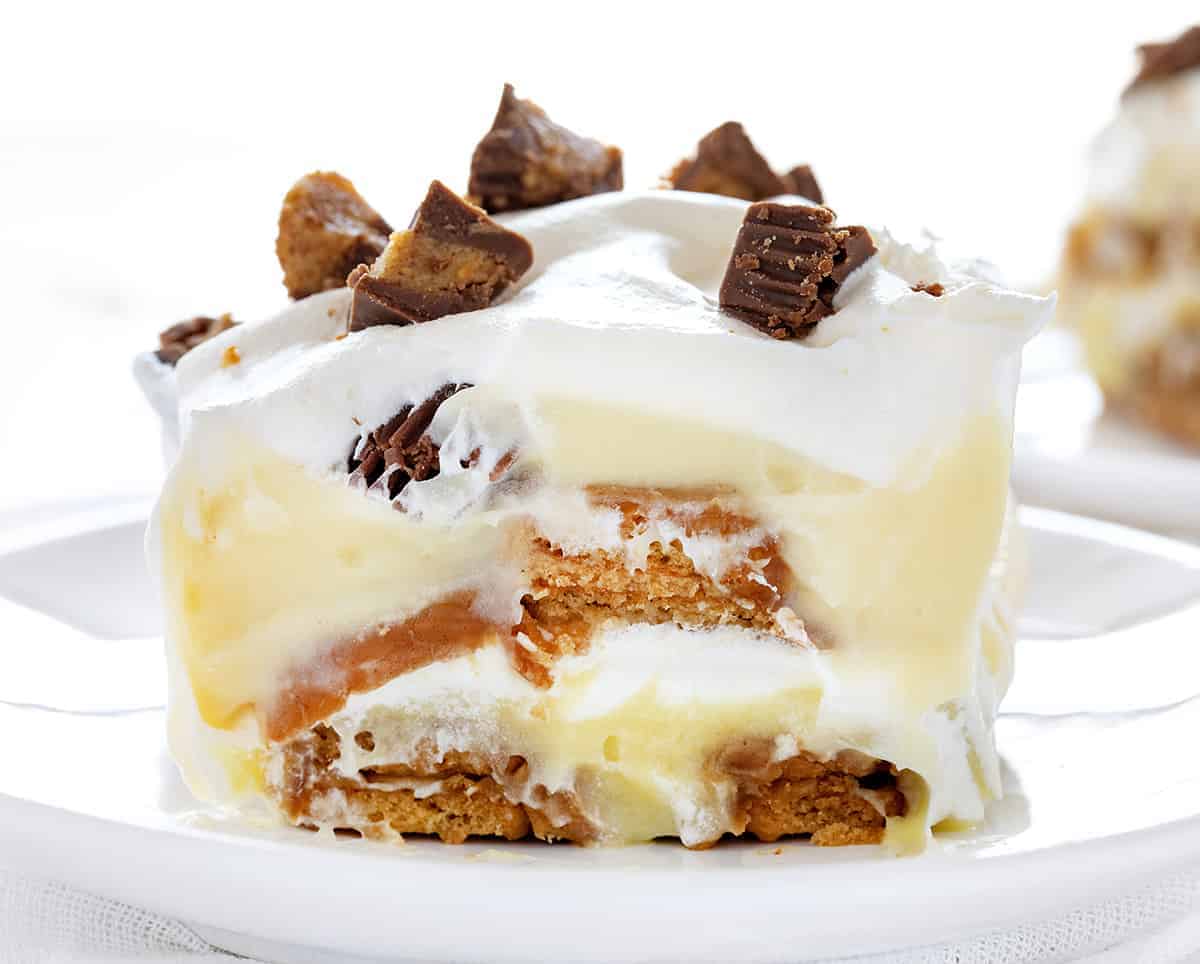 What is Peanut Butter Cookie Dessert?
The technical name would be "Nutter Butter Cookies with Melted Peanut Butter, Vanilla Pudding, Whipped Topping, and Reese's Peanut Butter Cups". But that is a bit of a mouthful (literally) so I went with Peanut Butter Cookie Dessert. It is also known as Peanut Butter Cookie Lasagna because of the layers, but some of those recipes also included chocolate inside. So, I opted to save that option for a separate recipe. No matter what this dessert is technically called, if you happen to love peanut butter, you will call it delicious.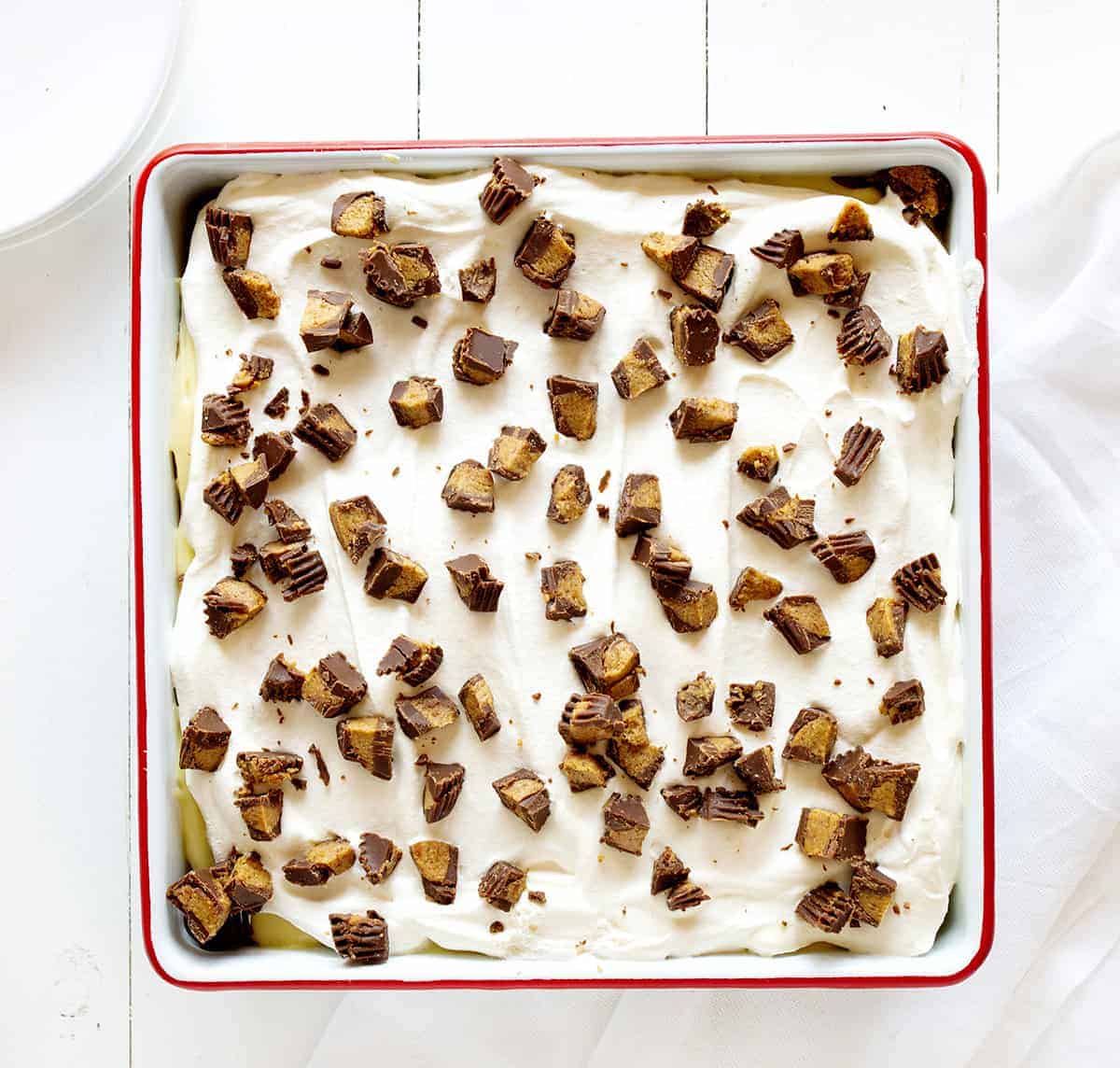 Ingredients & Substitutions
Nutter Butter Cookies: You will need 30 nutter butter peanut butter sandwich cookies for this dessert.
Peanut Butter: I prefer creamy peanut butter, but for some added crunch, you could use the crunchy variety.
Vanilla Pudding: For this recipe, you will need two boxes of vanilla instant pudding mix. Get the pudding made according to the box instructions before assembling the dessert.
Whipped Topping: Make homemade whipped cream to use or use store-bought (like cool whip).
Peanut Butter Cups: I couldn't resist topping the dessert with chopped peanut butter cups. I used mini peanut butter cups, but you could certainly chop up the regular-sized cups. Or, make your own!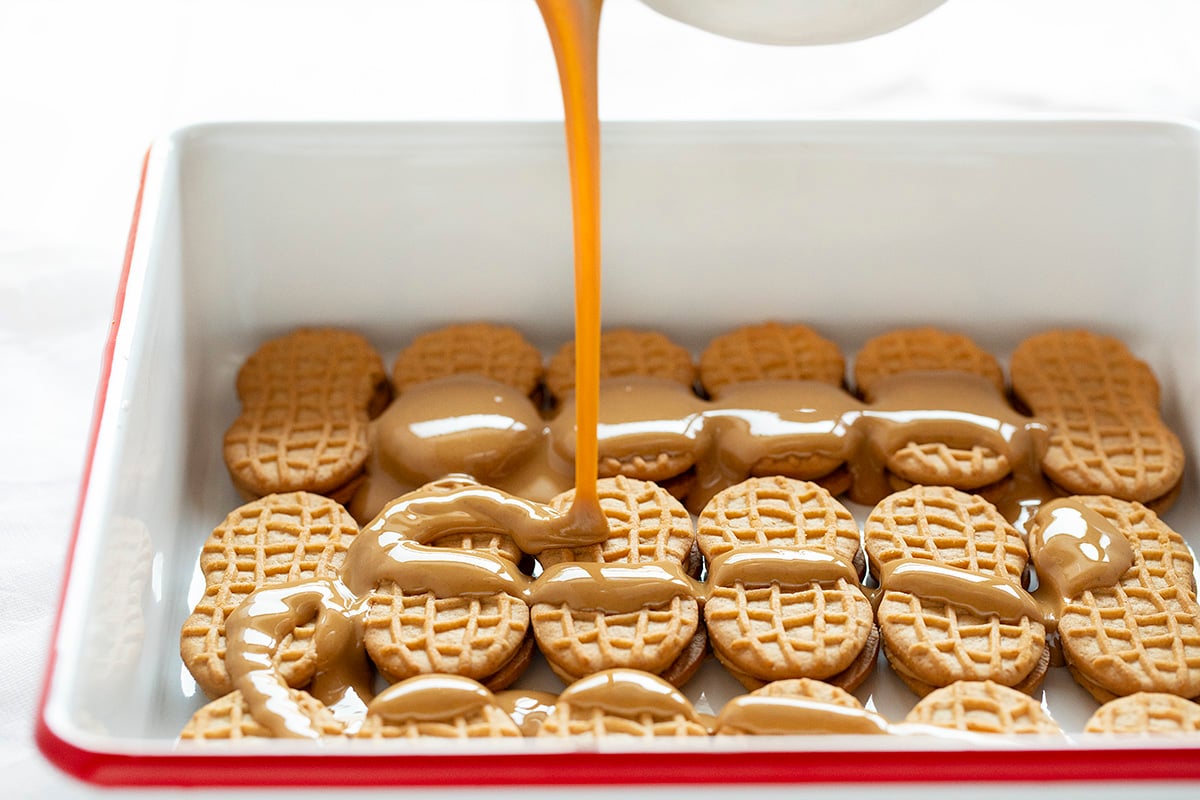 Can I Use a Different Pan?
I opted for a 9×9-inch pan, so be warned that if you use any other size pan, the ingredient amounts will change significantly. For instance, if you use an 8×8-inch pan, you can get away with buying one package of Nutter Butters. In my recipe, you will need 30 cookies, so that requires buying two. A smaller pan would also mean you can get away with one box of pudding.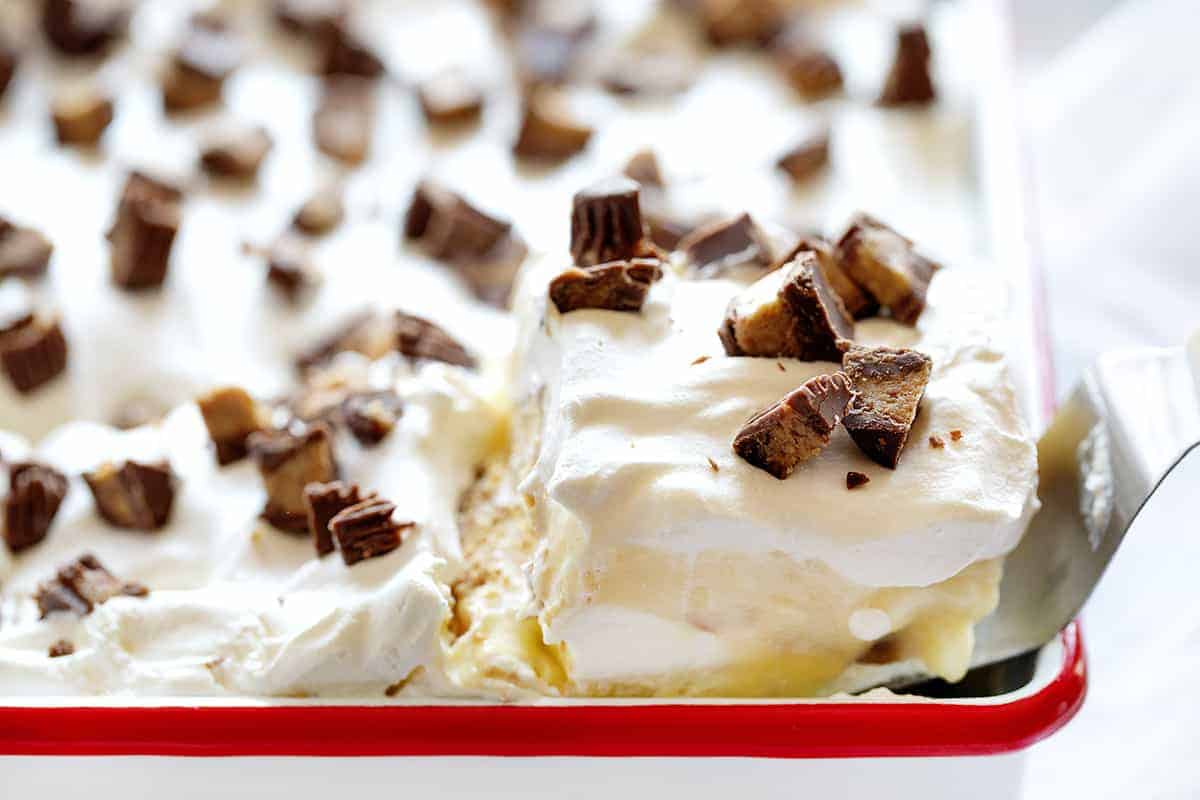 How to Serve Peanut Butter Cookie Dessert
To be honest, I am a bit torn here. The first time I tried this recipe we dove right in and had a piece right after making it. The cookies were crisp, the peanut butter still a little warm, and the layers a bit of a mess. But the flavor was great… it tasted just like you imagine it would!
However… the second time I tested the recipe I let it sit overnight. After refrigerating the cookies were a tad softer (although they never got too soft because of the layer of peanut butter protecting them) and the layers stayed a bit more defined. This tasted great as well, making me wonder if refrigeration really matters when it comes to flavor and consistency. The answer is… yes and no. When it comes to flavor, that doesn't change with refrigeration. When it comes to consistency, yes.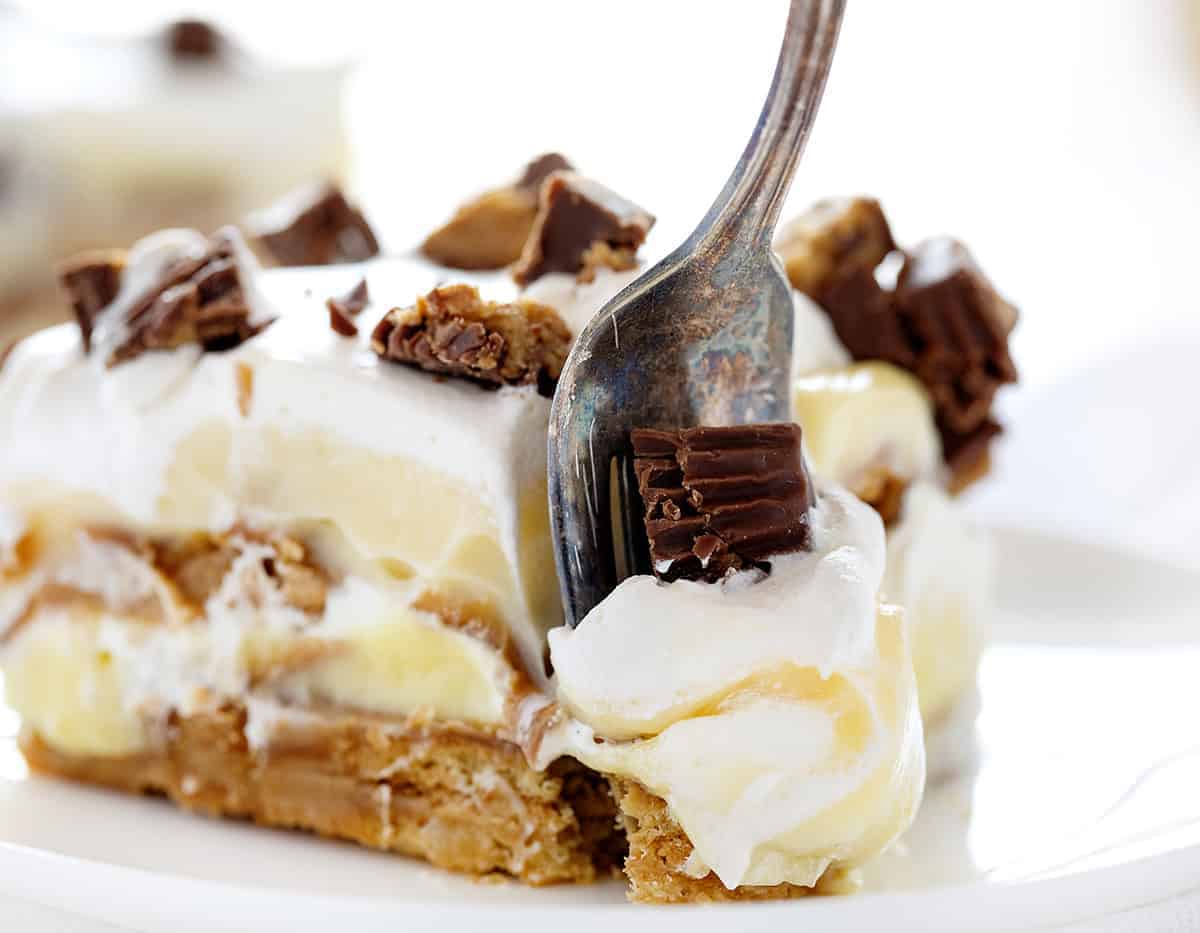 Variations for This Dessert
As you can imagine there are a million ways to customize this to fit your tastes! Here are a few you could try:
I tested out a variation with cheesecake pudding and while we liked it, the vanilla pudding is better.
How to Store Peanut Butter Cookie Dessert
Store peanut butter cookie dessert in the refrigerator, covered, for up to 3 days.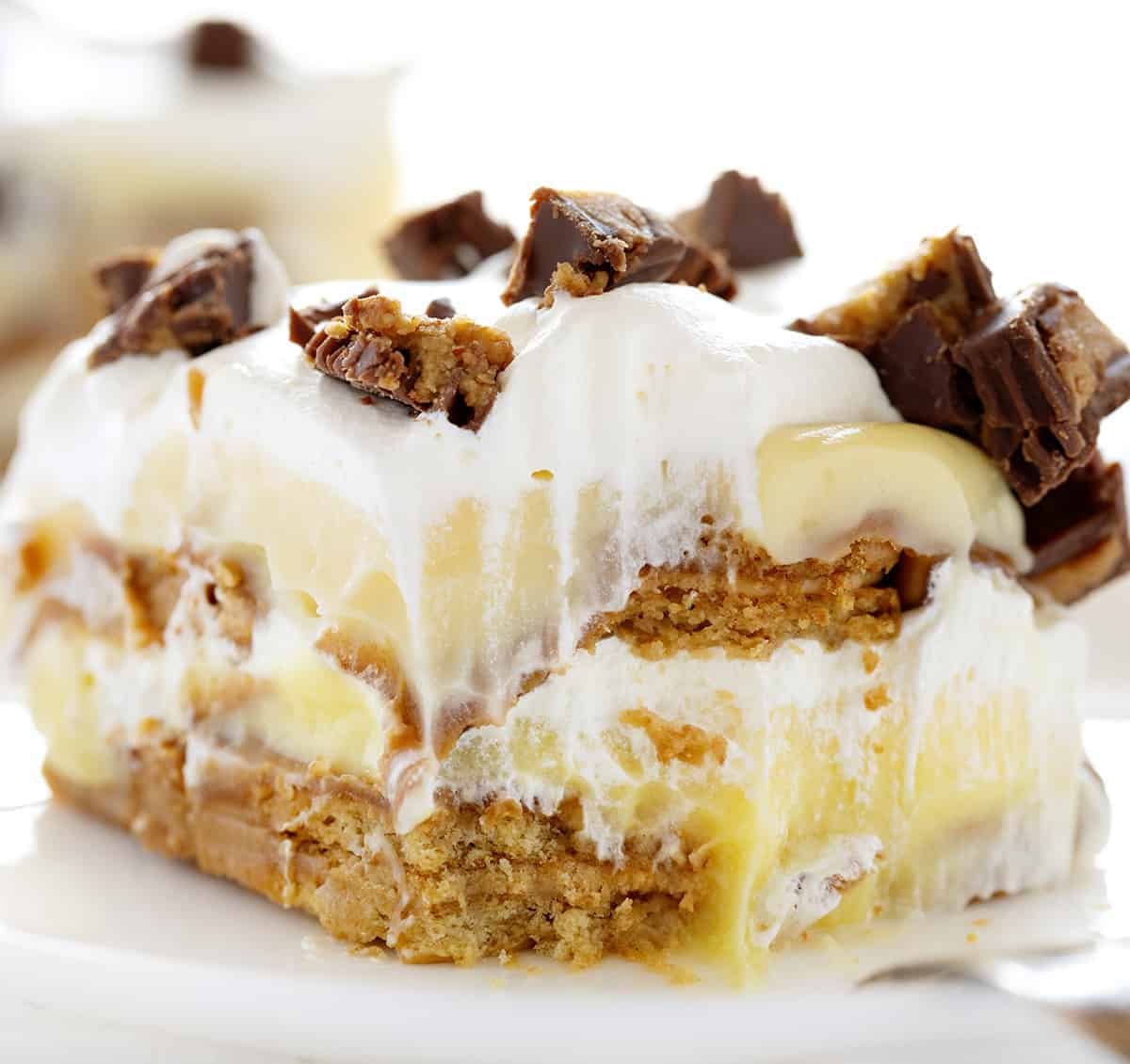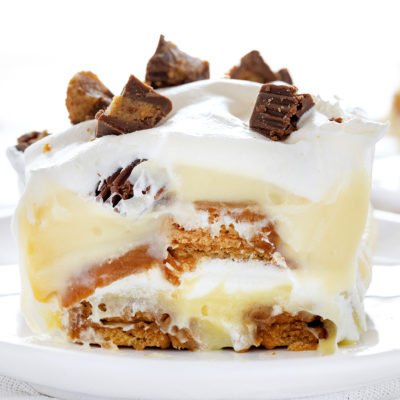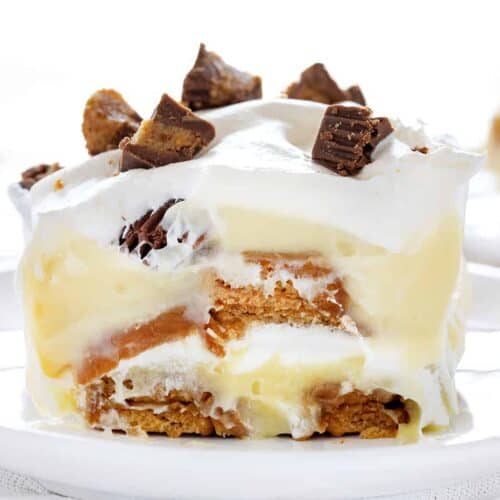 Peanut Butter Cookie Dessert
This easy dessert has five simple ingredients and layers of deliciousness!
Instructions
In a 9×9-inch pan, lay out half of the Nutter Butters in a flat layer.

Drizzle half of the warm peanut butter over top, getting it as even as possible.

Spread half of the vanilla pudding on top of the peanut butter.

Carefully spread half of the whipped topping over the pudding.

Repeat the layers, starting with another layer of Nutter Butters.

Finish by sprinkling chopped peanut butter cups over top.

Chill for 30 minutes before serving, up to overnight.
Did you make this recipe?
Thank you for making my recipe! You took pictures, right? Well go ahead and post them on Instagram! Be sure to mention me @iambaker and use the hashtag #YouAreBaker.