Orange Creamsicle Pie is one of the smoothest, creamiest, best-tasting no-bake pies you will ever have! And that flavor! Who doesn't love Orange Creamsicle? If you love this recipe (and I know you will) be sure to try my Orange Creamsicle Mousse and Lemon Mousse for easy No-Bake Dessert options! (Maybe my Orange Creamsicle Puppy Chow is a fun warm-weather option!)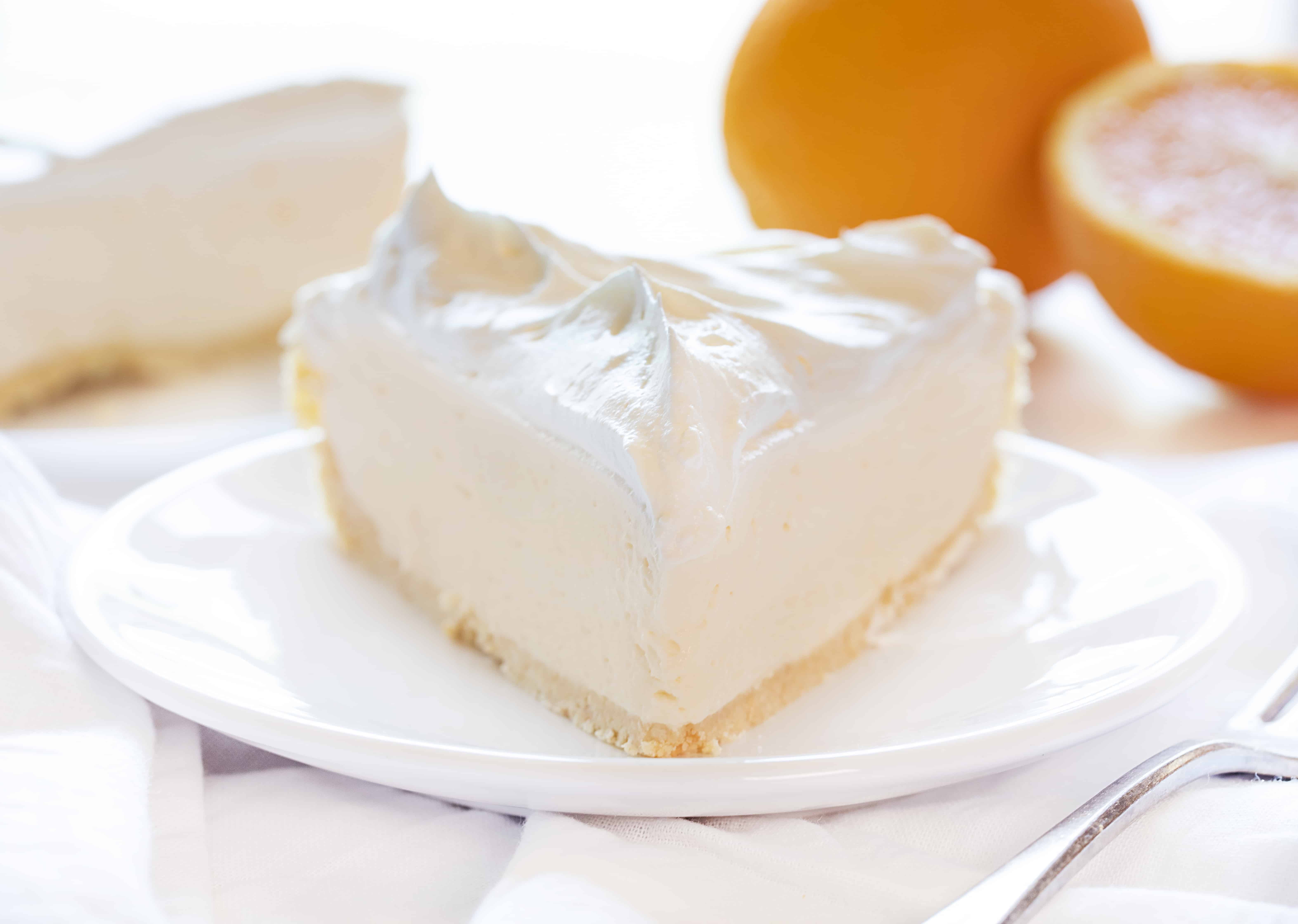 Orange Creamsicle Pie
This orange creamsicle pie is super easy. How easy? Only 7 ingredients it pulls together in under 5 minutes!
Let's talk for a minute about how I achieve that traditional "creamsicle" flavor. A creamsicle bar that you find at the grocery store typically has a vanilla ice cream base and is coated with flavored orange ice. Since we are creating a creamsicle pie, I wanted that same flavor combination, but in a light and creamy version. I attempted to get that same flavor by using a combination of REAL orange juice and orange extract, combined with a powdered sugar and cream cheese base. The results were dreamy!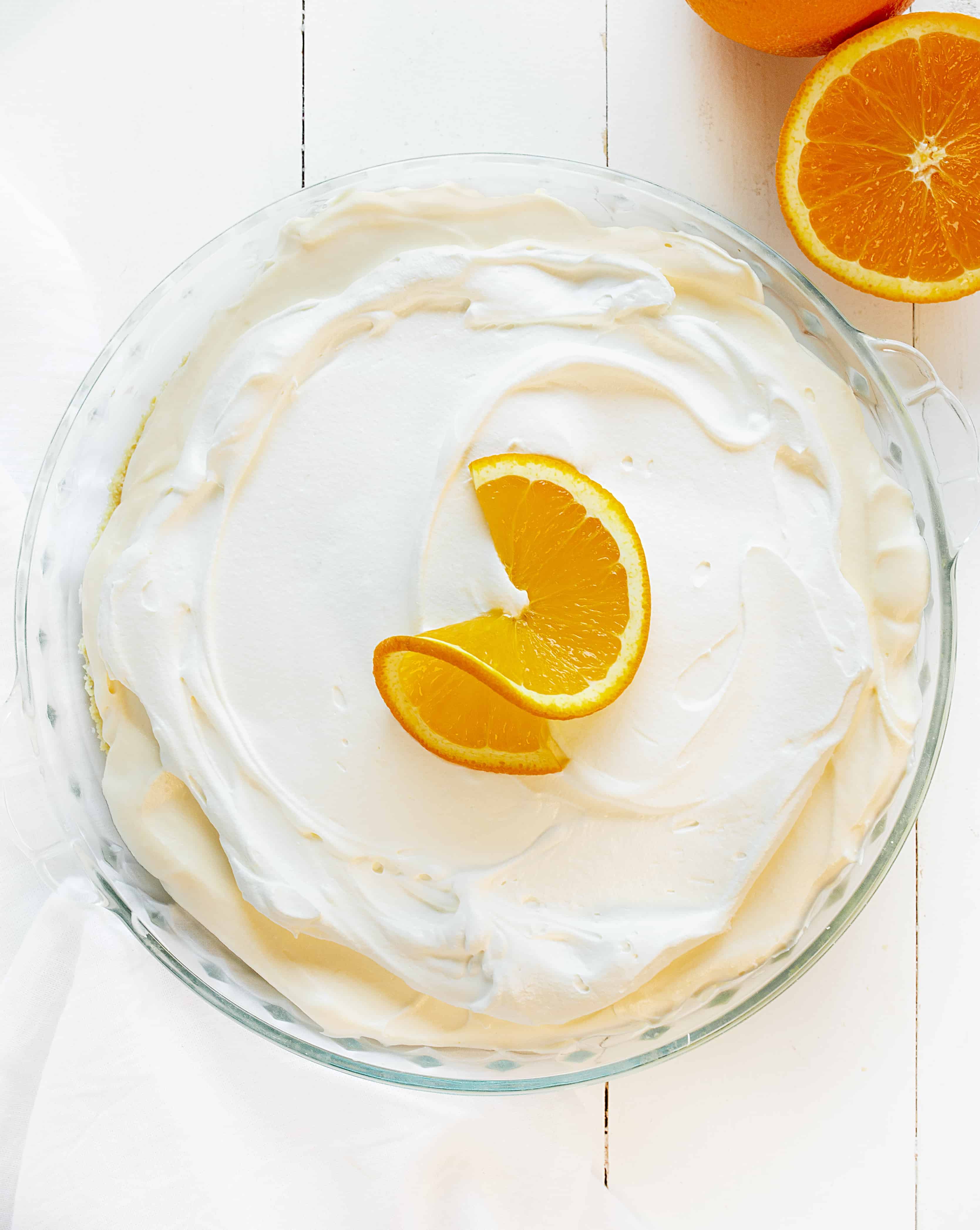 How to Make Orange Creamsicle Pie
As I mentioned, making this orange creamsicle pie is really simple. There are a few key tips to follow that will make this even easier!
Room Temperature Cream Cheese
If you aren't able to set out your cream cheese for a couple of hours ahead of assembly, here is a fun tip to quickly get it to room temperature. I remove the cream cheese from the box but keep it in the foil packaging. Set the cream cheese in a bowl of hot water and let it warm slowly. This usually takes 10-15 minutes.
Tools Matter
You will want to make sure your cream cheese is completely lump-free, which means beating it with an electric hand mixer (or in a stand mixer with the paddle attachment) until it is light and fluffy before adding any other ingredients. This is what gives my creamsicle pie the creamy texture as well as helps to blend the flavors perfectly.
Orange Extract vs. Fresh Orange Juice
If you don't have immediate access to orange extract, (Amazon can deliver it to your door!) you can just substitute additional fresh orange juice. Here is a simple equivalency:
1 tablespoon fresh orange juice = 1/2 teaspoon orange extract
This recipe uses 1 teaspoon of orange extract, so you will need 2 tablespoons of fresh orange juice. If you opt for the fresh orange juice, I do recommend adding about 1/2 tsp. of orange zest to the shortbread crust to maximize the orange flavor.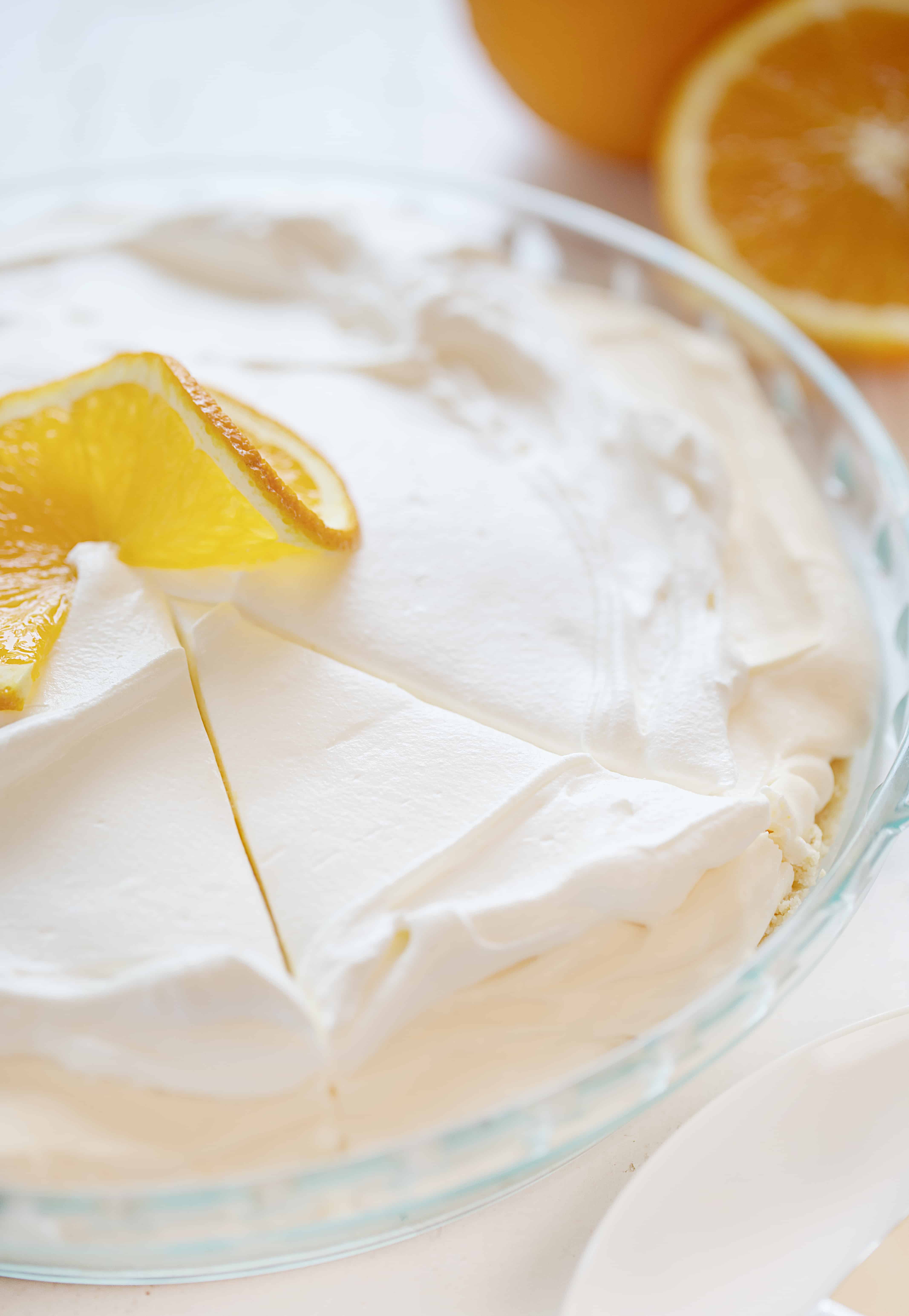 How to Make Shortbread Pie Crust
Grab your shortbread cookies (hopefully homemade shortbread cookies) and a large sealable plastic bag. Start smashing the cookies and get all your aggressions out! Shortbread cookies are naturally delicate so this is an easy job and should not take you more than a minute.
In a medium bowl, add the shortbread crumbs and the melted butter. Using a fork, work the butter into the crumbs until every crumb is coated in butter. Because we are not baking this crust, the butter will act as the glue in the chilled pie. If some crumbs are not coated with butter, they will fall apart when you try to cut the pie.
Now take your pie dish (I used an 8-inch pie dish) and press the shortbread crumbs into the bottom and slightly up the sides. You want an even layer of crumbs, so use a kitchen glass or something with a flat bottom to help create a smooth layer.
Whipped Topping vs. Homemade Topping
I freely admit that I love a big ole bite of a cool whip and love how easy it can make recipes. This recipe benefits from the stability of cool whip. However, I do like to whip up a small batch of homemade whipped cream for the topping.
Here is a recipe for Homemade Whipped Topping should you want to add it on top.
You can add vanilla extract (about 1/2 teaspoon) or even orange extract for an extra flavor kick!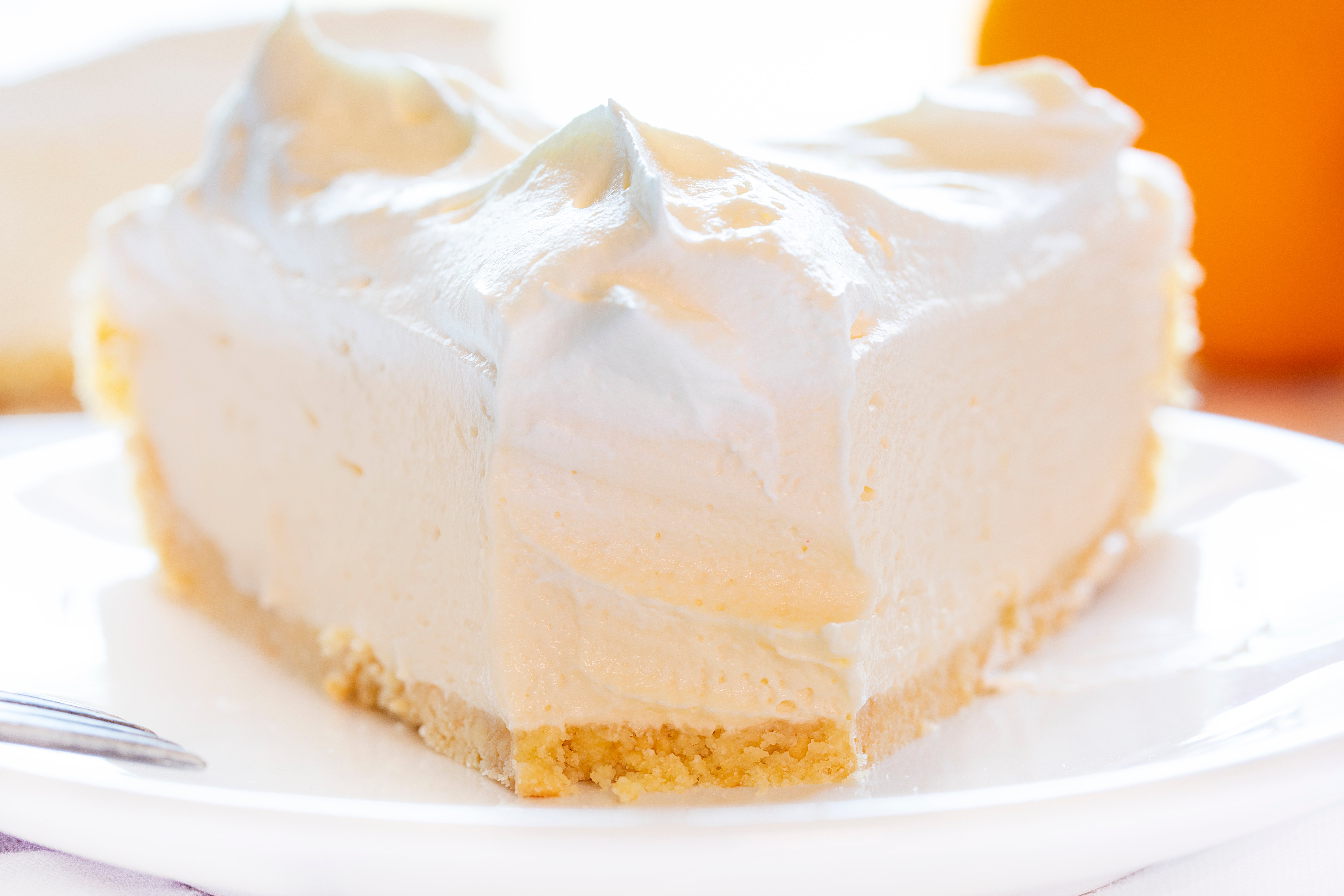 How to Make Individual Orange Creamsicle Pie Servings
Simply crush up shortbread cookies and place them in the bottom of the serving cup instead of a pie pan. After testing we found that a thinner layer was best. (Which also means you can make more servings!) The dishes I used were a bit larger (they hold about 1 1/2 cups of orange mousse) so I was only able to make 3 servings. Plan accordingly if you are feeding a crowd! 🙂
How to Serve Orange Creamsicle Pie
Chilling is an important step in this recipe.  It helps the creamsicle filling firm and creates the velvety texture essential in a no-bake cream pie.  I recommend letting it chill for at least one hour, but you can let it go all the way up to 3 days.  However, if you are letting it sit that long, I do not recommend adding the garnish until just before serving, as fresh orange will not look as pretty after sitting out.
More No-Bake Cheesecake Desserts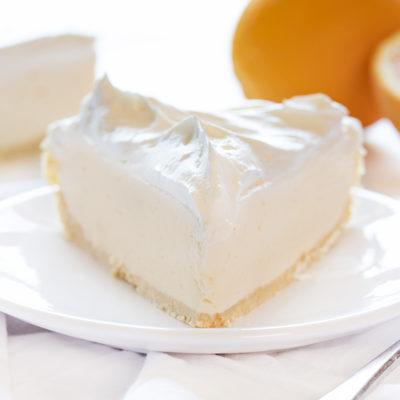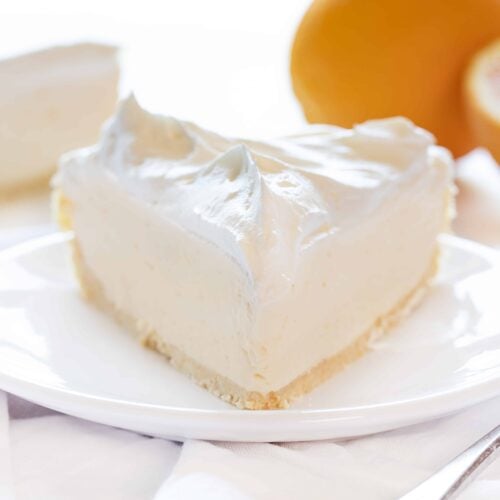 Orange Creamsicle Pie
Orange Creamsicle Pie is one of the smoothest, creamiest, best-tasting no-bake pies you will ever have!
Ingredients
Shortbread Pie Crust
6

ounces

finely crushed shortbread cookies

2

tablespoons

(28g) unsalted butter,

melted
Pie Filling
2

packages

(16 ounces) cream cheese,

softened to room temperature

1 1/3

cup

(293g) confectioners sugar

1

(about 1/4 cup) orange,

zested (optional) and juiced

1

tablespoon

orange extract

(start with 2 teaspoons and taste test)

pinch

kosher salt

2

cups

(476 g) whipped topping
Topping
1-2

cups

whipped topping,

for over the creamsicle pie filling

4

wedges

orange,

for garnish
Instructions
Shortbread Pie Crust
In a large bowl, combine the shortbread cookie crumbs with the melted butter. Pour into a prepared 8 in pie dish and firmly press to the edges to form a pie crust.
Pie Filling
In a large bowl, beat the cream cheese until it is light and fluffy.

Add in the powdered sugar, orange juice, orange extract, and salt and beat until everything is combined. (If you are adding the zest, add it here.)

Gently fold in the whipped topping.

Pour creamsicle filling into prepared pie crust. Smooth out with a small offset spatula.
Topping
Smooth out a layer of whipped topping (about 2 cups, can use more or less depending on preference) over the creamsicle filling.

Refrigerate for at least 1 hour, up to 3 days if covered. Top with an orange wedge. (optional)
Did you make this recipe?
Thank you for making my recipe! You took pictures, right? Well go ahead and post them on Instagram! Be sure to mention me @iambaker and use the hashtag #YouAreBaker.