These Peppermint Meltways truly melt-in-your-mouth!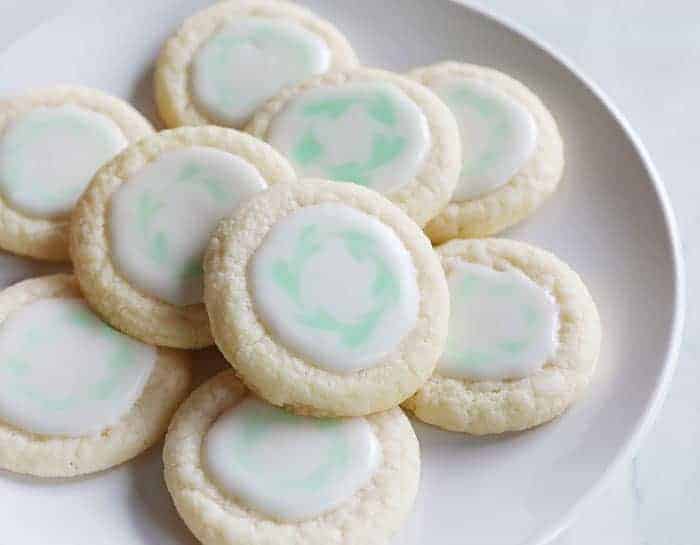 Although Peppermint Meltaways are one of my favorite cookies growing up, I really had to adapt them to fit my grown-up tastes. Every peppermint meltaway cookie I have had has crushed candy canes on it, and something about that never sat right with me. See, I love the texture of a meltaway cookie but do NOT love that texture combined with a hard and crunchy candy cane. So I made my own version and you know what? It gets RAVE reviews.
I also did pretty extensive testing with the basic recipe itself. I made batch after batch, testing every factor I could and trying to determine what I could improve.
For instance, why does every meltaway recipe involve chilling the dough? Does the benefit the final product? My results might surprise you!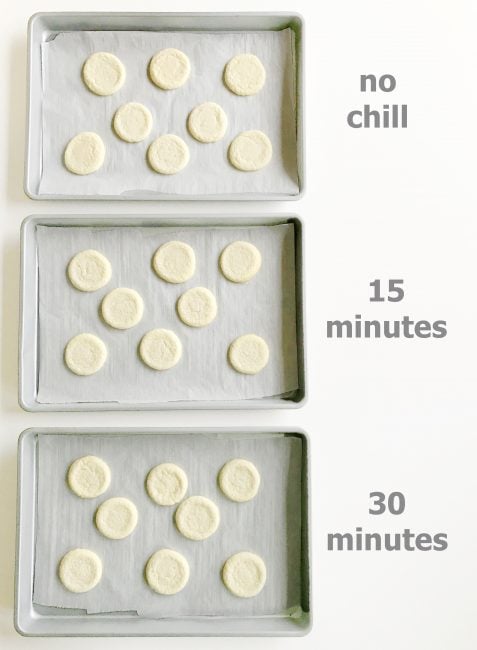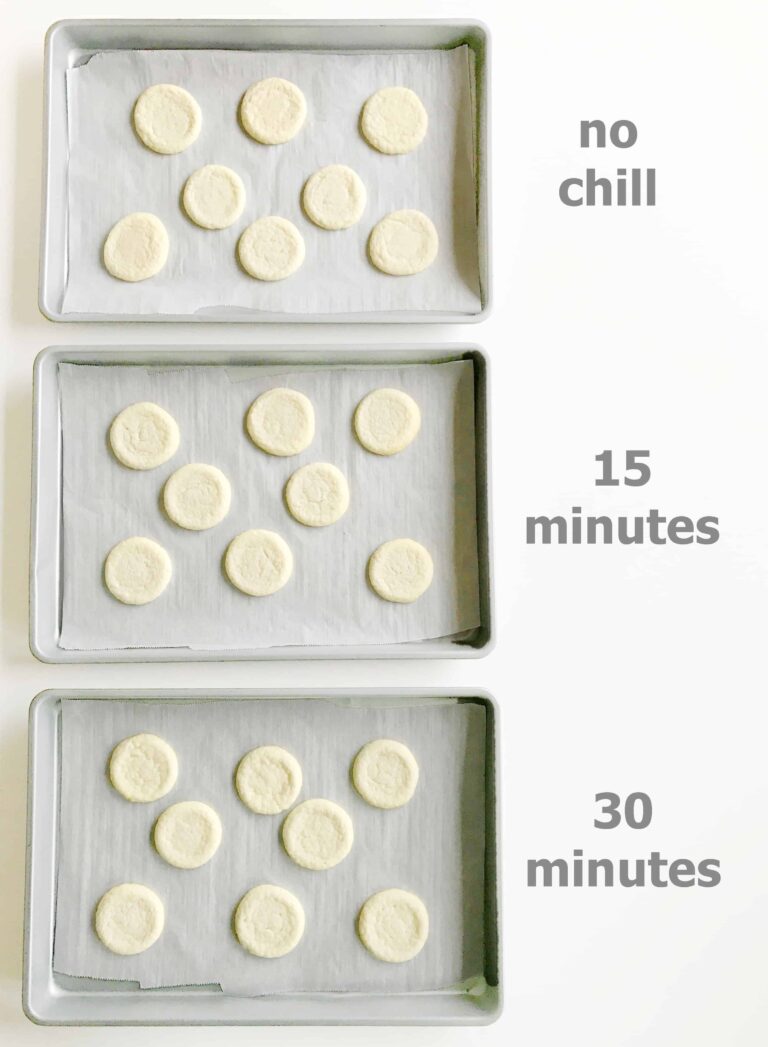 I did a little test to determine what was the optimum chilling amount for my recipe.
I saw no visible difference between chilling and not chilling the dough. I did detect a difference in texture though! The cookies that were NOT chilled seemed to be softer and have more of that "melt in your mouth" factor. The cookie that was chilled for 15 minutes was still good, but almost a bit flakey in my mouth. The cookie chilled for 30 minutes was noticeably less "melty" and more of a crispy cookie. Now, having grown up with these cookies the one that was chilled for 30 minutes was definitely what I was used to, so I can't blame anyone who loves that best! But my preference now is the UNCHILLED cookie dough.
What is the best time and temperature to bake a meltaway cookie? For my recipe, I found the optimum time to be 9 minutes at 350 degrees. I have a convection oven so normally reduce the temperature by 25° degrees when baking. That was not necessary for this cookie. You will DEFINITELY want to play around with this recipe in your kitchen to determine your best baking time and temperature.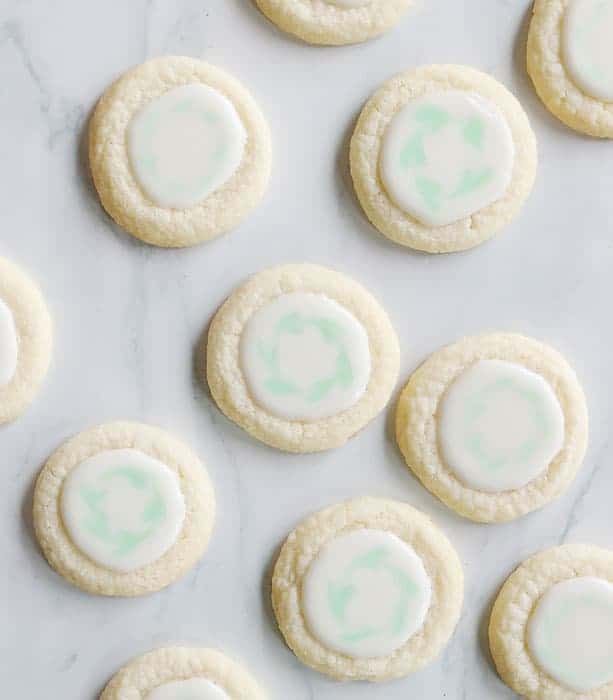 To make these cookies you will need:
cookie recipe
glaze recipe
piping bags
toothpick
scissors
parchment paper
cookie sheets
cooling racks
Bake the cookie recipe and allow to cool. Prepare the peppermint glaze and place in a disposable piping bag. If you are creating the green "wreath" design, prepare the green glaze now and place in a disposable pastry bag.
Cut off a small tip from the white peppermint glaze and pipe out a small circle on top of the cookie, then let the glaze flood in. Cut off a small tip from the green glaze and pipe dots around the edge. Run a toothpick through the green dots around the cookie to create a "wreath" of connecting hearts.
I only work with 3 cookies at a time. Pipe 3 cookies with the white peppermint glaze, then add the green dots, then use the toothpick. This glaze will start to harden quickly so it is best to work with 2-3 at a time.
Glaze will harden enough to stack cookies in about 12 hours, 24 hours is best.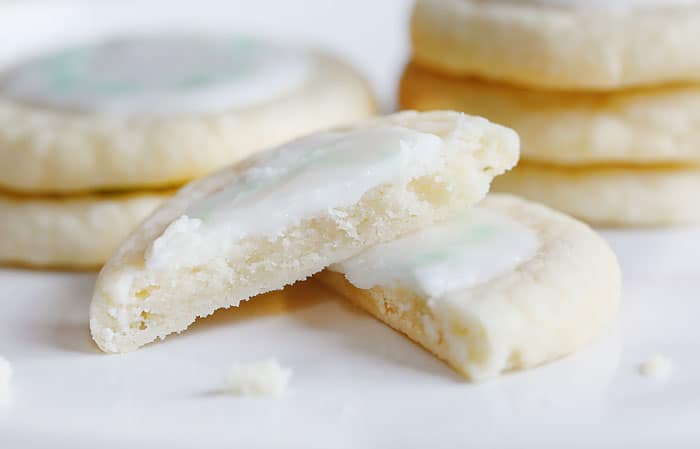 Love peppermint? Check out these other popular recipes:
Oreo Stuffed Peppermint Cookies
Thank you so much for supporting the brands that support me here at iambaker! As someone who loves McCormick products, it is truly a gift to be able to partner with them in recipe development. They make everything taste delicious! If you are sharing your holiday baking on social media, be sure to use the hashtag #NoFlavorLikeHome ! You will automatically be entered to win a McCormick Spice Prize Pack!