I wrote a post on Food Blogging Etiquette about a year ago.  I think I wrote it more for me than anyone else, as I often refer to it when I am in doubt about how to proceed.  Based on the great feedback, I decided to give it another go!
A lot has happened in the last year, lots of blogging changes, and one of the biggest happenings is Pinterest.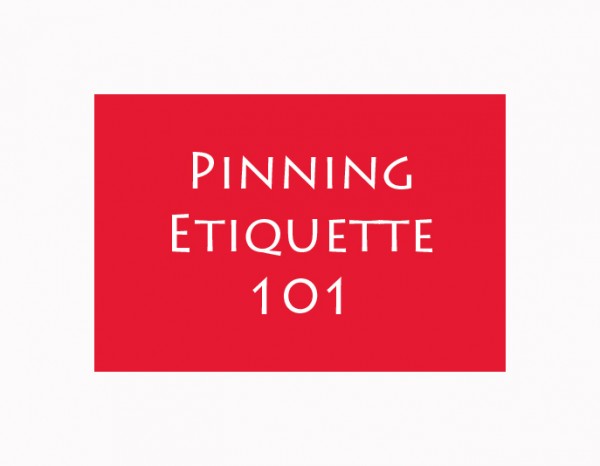 I wanted to share with you how I use Pinterest because I feel like it has changed how I blog.
This is not a "how to" as much as a "works for me".
For Personal Use:
I love pinning things to my boards.  I love going back and looking at them and being reminded of what inspired me or made me smile.
I think this is very important!
My boards are really personal to my tastes  and could even be considered boring to the majority.  There are no pretty nail polish boards or travel boards or even fitness boards.  But there are cake stands that I am obsessed with and quotes that make me laugh every single time I read them and more dessert boards then I can sometimes handle!
I love coming across new boards and seeing how they reveal peoples personalities.  Its so fun getting to know those who truly pin their hearts delight!
For Blog Traffic:
I have found that Pinterest is in my top three for traffic referrals.  That is amazing to me!  But, it also seems that this resource of traffic is mostly out of my control.  I cannot determine what (if anything) will be a popular pin.
I can, however, make sure that I have a board that is all originally sourced.  My board, i am baker blog,  is only pictures from my blog and only pictures pinned directly from the post they are from.  Out of my 34 boards, two of the boards are pins from my site only. (i am baker blog and i am baker Halloween)
Why do I pin from my blog?  It makes me feel better knowing that at least one of the images of my treats will be an originally sourced pin.  So many times I see a beautiful image and cant find the source!  Self pinning is one little attempt to rectify that situation.
When reviewing the Pin Etiquette page I see that they dont speak specifically to the self-pinning issue anymore.  Also, many big names like Better Home and Gardens and Food Network are mostly focused on pinning things from their own site.  In those instances, I really like that!   When I pull up Martha Stewarts boards, I want to see everything Martha!
Also, I am trying to always remember to put a logo on each picture.  I do this in case my items are not pinned from the original source, then people will still be able to figure out how to find my blog.
What is a non-organic pin?
Say Craftzine.com shares my Red Velvet Strawberry Shortcake.  I so appreciate the link love!  But what if someone pins my image from their site?  Then uses twitter, facebook, google +, etc. to share that link back to their personal pin board?  I (as in my site) am now twice removed.  Having a logo or blog name on my picture can help some.
If you happen to see something of yours that is pinned to a different site, feel free to leave your direct link in the comments, or even request that it be updated.  Pinterest is extremely accommodating.
For You:
I have been food blogging for just over two years now and have gotten to know some really wonderful people.  I love that I can go to Maria's site and pin some of her amazing cookies and share them with people instantly.  Or that I can visit Maria's Pinterest boards, like her A Few Favorite Recipes board, and know that if I re-pin, they are originally sourced and Maria will get all the traffic.
Chocolate Caramel Sea Salt Cookie via twopeasandtheirpod.com
Being able to instantly get other peoples images and ideas into such a huge forum is such a wonderful gift.  I am consistently so impressed by peoples talents, I just loving being able to pin their work and share it with the world.
My Personal Rules of Pinning:
Only pin from original sources.  Only re-pin if I have clicked over to find out its got an original source.  If it doesnt, dont pin it.  I do leave comments letting people know there is no original source, and most times the person who pinned it will find that source and update the link!
Tag appropriately.  Write a description for your pin (or change it for a re-pin) and tag it back to the creator when possible.  This helps others track pins from their site as well!  I am finding that the more people I follow, the more fun and creative and interesting pins I see, as well as it makes it easier to properly tag people.
'Like' and comment.  I think liking pins and commenting is just an important as pinning!
If I am BLOGGING  about something I found on Pinterest, don't link back to Pinterest.  Link back to the original source.  Saying, "Inspired by Pinterest" is like saying, "Inspired by Life."  It just does not give credit to the person who worked so hard to share their gifts with us!
And there you have it.  Do you have any rules of pinning that you abide by?  I would love to hear!