Inspired by a popular Pittsburgh Sandwich, this dip reimagines its signature ingredients – french fries and cole slaw – into one creamy, melty, mouth-watering game day appetizer!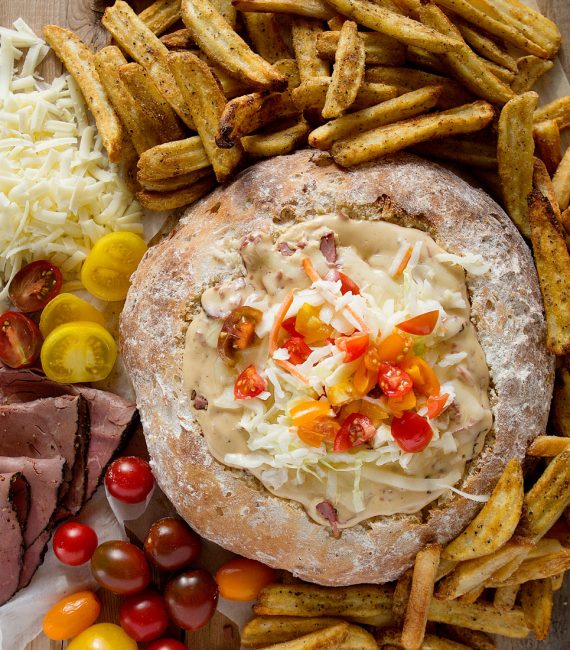 Have you all seen any of the football playoffs? I have been glued to my screen! I was lucky enough to be representing Pennsylvania in the 50 DIPS FACE-OFF, but now I am thrilled to celebrate the flavors of Pittsburgh!!
Some of those amazing flavors are the freshly grated provolone cheese, the freshly sliced pastrami, and then… my SECRET ingredient… the McCormick Pork Gravy. I tell you, that little packet of flavor makes ALL the difference! (I keep my pantry stocked at all times!)
I adapted this specific recipe from this amazing recipe from McCormick and it is part of their 50 Dips for 50 States Project. Such a fun project that has inspired me to try so many new recipes!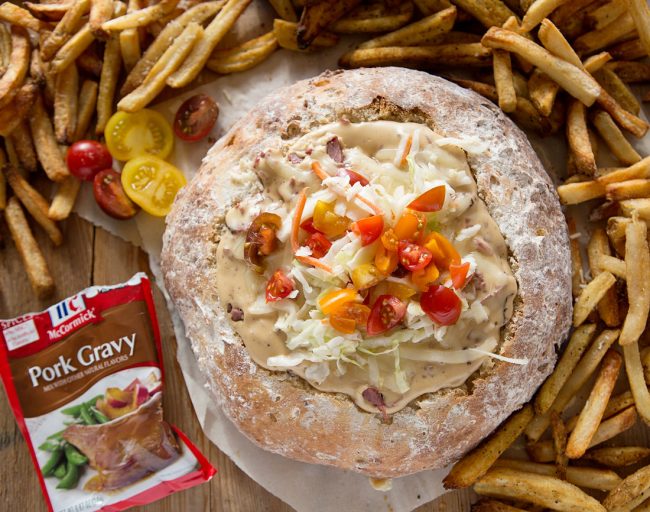 Tips for Success:
I used a freshly baked sourdough bread, but you can use whatever bread you prefer. Pumpernickel and Italian are great options! You can even serve this in a skillet and not use the bread bowl at all!
I baked my dip and french fries in the oven at the same time. You can bake your fries ahead of time if needed, but I would not bake the dip ahead of time. This dip is best served hot and fresh!
Using store bought ingredients can save lots of time. Consider getting the cole slaw from your deli when you are picking up some pastrami.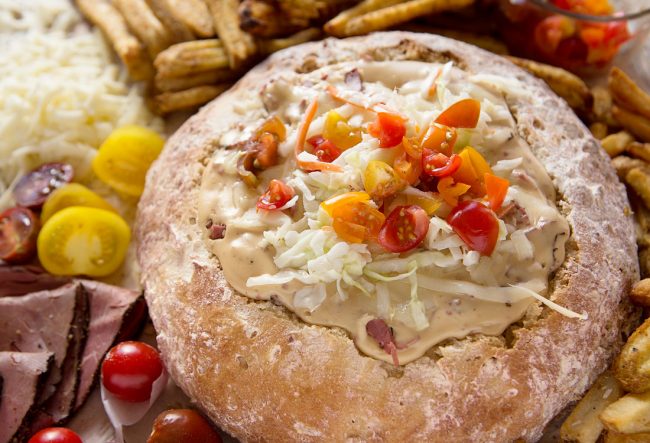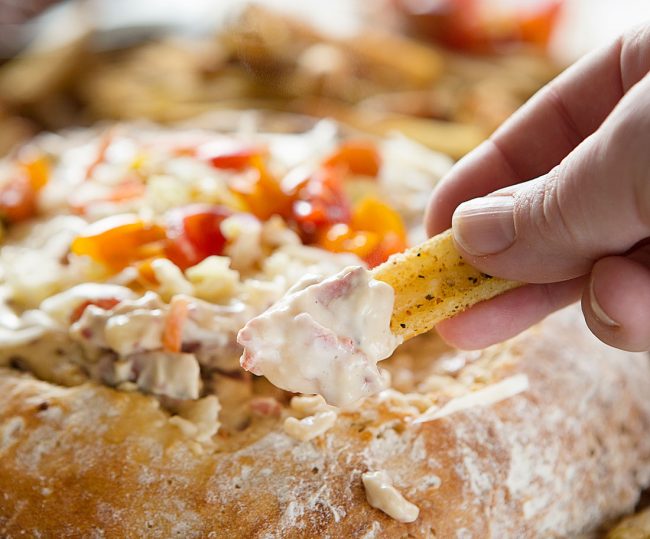 I am so excited to be participating in this dip FACE-OFF with The Recipe Critic as well as my Game-Day opponent, Carlsbad Cravings. Alyssa from The Recipe Critic made a delicious Spicy Kielbasa Chili Dip – be sure to head over and check out her amazing recipe. Jen made a Boston Baked Bean Dip. Seriously drool worthy!
As the playoffs continue, what team (and dip!) do you think will win? Pittsburgh or Boston?
Thanks so much for supporting the brands that support iambaker. I am a big fan of McCormick and love using their products (as you can tell by my pantry!) and feel so honored to partner with them. It means so much that you are willing to support them too!